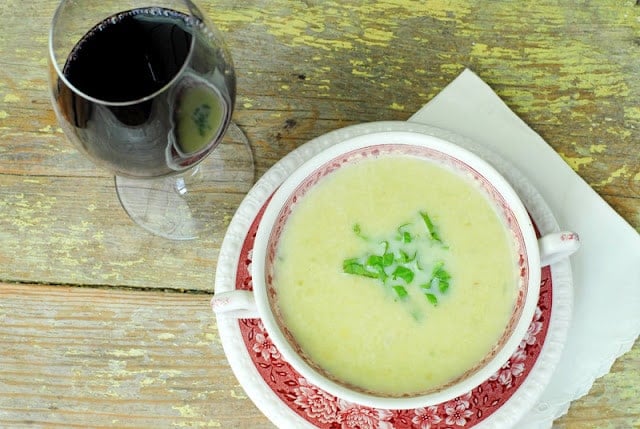 Spring in Colorado does not bring forth sleeveless Easter frocks and sandals.

It's more like a manic roller coaster ride between a tease of early summer and Mother Nature's reminder she's not quite done with winter yet.
Though nursing a sunburn from an outdoor outing this weekend, I'm writing with a woolen cap on my head and Ugg boots on awaiting more freezing rain and possible snow.

Fortunately though we were smiled upon yet again on our Farmer's Market last weekend.

I really have employed the market as my produce teacher.

I always seek out anything new and unusual, which is my personality at large, but pull myself up by my culinary bootstraps determined to find a delicious way to use all I buy.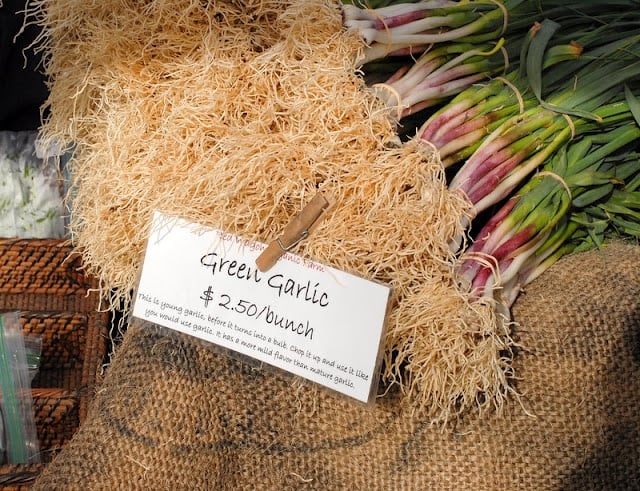 Red Wagon Organic Farm
had green garlic a week ago.

This is the tender starter of the garlic when in its nubile scallion-like state.

I bought a bunch and was glad I did as they did not have it at the latest market days ago.

I wish someone would develop a smell generating equivalent to You Tube so you could experience this heavenly scent.

It definitely smells like garlic but a milder, more hospitable version.

Almost 'eau de Garlic'.

Due to its softer pungency it can be used in different ways than cloves of garlic.

Chopped up and sautéed in most anything.

Wyatt from Red Wagon emailed me a fabulous Alice Waters recipe for Green Garlic Flan from the Chez PanisseVegetables cookbook.

Can't wait to try that but the temperatures are begging my winter staple: soup.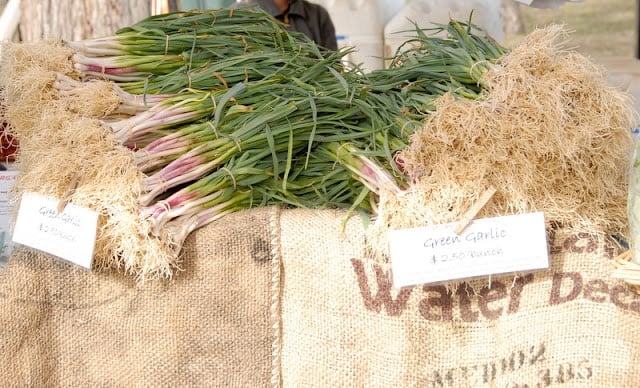 This past weekend I picked up a bunch baby leeks.

So cute.

I don't know the seller (shame on me for not asking) but it was a simple table with a wicker laundry basket of baby leeks and another with arugula and zip loc bags of pinto beans.

Simple spring fare.

Glad I did because I realized I needed more garlic to make the soup I had in mind so the leeks picked up the slack.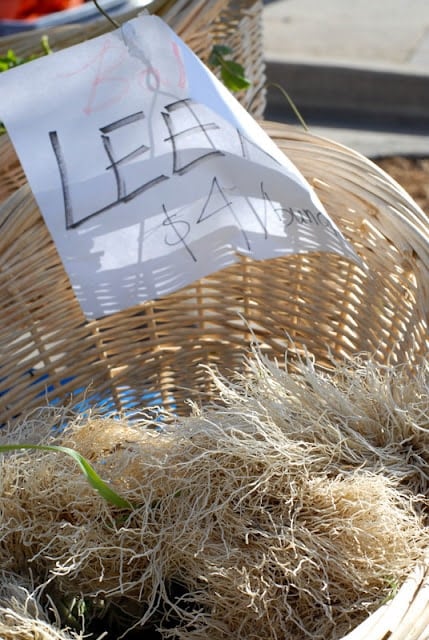 This soup is a season cusp soup for me consuming the remainder of my root cellar potatoes as well.

An h

omage to our hibernating season and greeting to spring.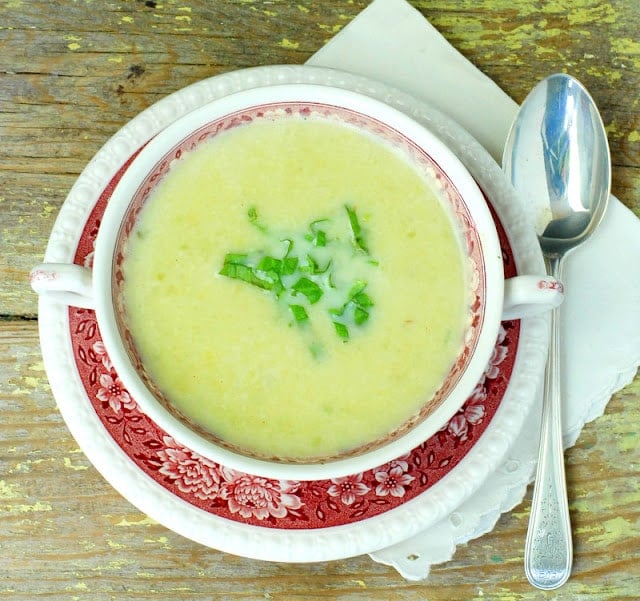 GREEN GARLIC BABY LEEK POTATO SOUP WITH BRANDY
Ingredients
·
¾ pound of green garlic, baby leeks or a mix of the two (I used 4 ounces green garlic, 8 ounces leeks)
·
2 tablespoons unsalted butter
·
2 tablespoons olive oil
·
1 pound potatoes, peeled and cut into 1 inch squares
·
1 3/4 cups milk or cream
·
Salt and pepper to taste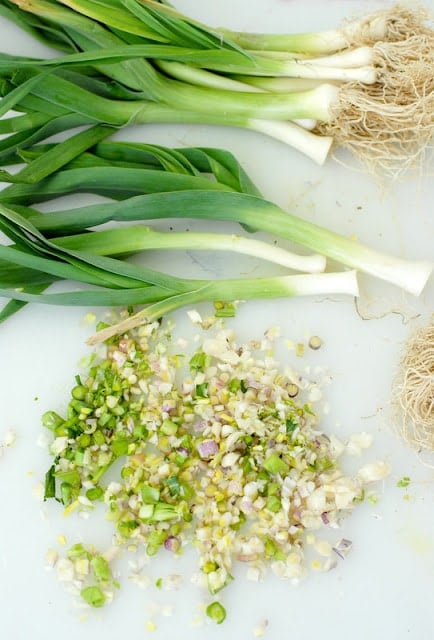 1.
Remove bottom roots and dark green tops of garlic and leeks (I save the tops to make stock; you can freeze them to do this later too).

Mince the garlic and leeks finely.
2.
In a sauce pan with lid, melt the butter over medium-high heat and add the oil.

Add the minced garlic and leeks and sauté until soft, about 5 minutes.
3.
Add potatoes, stock, milk, brandy, salt and pepper.

Bring to a soft boil and turn down heat to a simmer.

Cover and a

llow to simmer about 25 minutes until potatoes are soft.
4.
In a blender or with an immersion blender, blend soup to combine/liquefy all ingredients.

Serve warm or chilled!

I chopped up some of my left over sorrel for a tangy garnish!
Modification options:
·
To make more rich: use cream instead of milk
·
To make it vegetarian: use vegetable stock instead of chicken stock and milk