Classic Quiche Lorraine is a timeless cheesy bacon quiche recipe that is easy to make, perfect for any meal and great all year long! A great brunch dish and for Easter meals!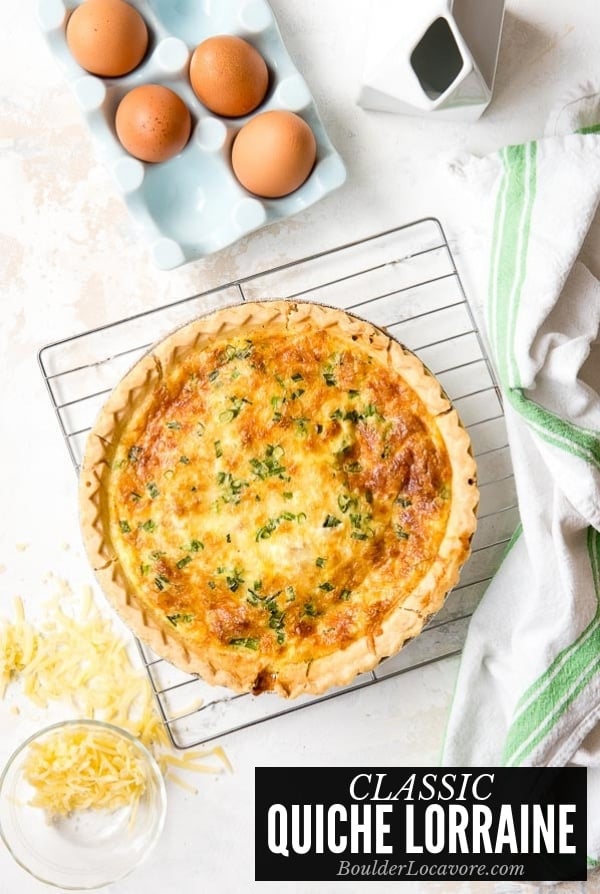 Sometimes a classic recipe is all you need for a fabulous meal and today's recipe for Quiche Lorraine is one of those.
A simple, cheesy bacon quiche that is packed with flavor and so easy to make!
Perfect for any meal of the day: brunch, lunch or dinner too.
Jump to:
Quiche was one of the first things I learned to cook when I began living on my own in college. It seemed so sophisticated. I loved that you could make it for any meal and it was perfect.
What I didn't really understand then, that I know now, is that it's very hard to mess it up. It's also very EASY to change it up and swap in favorite seasonal ingredients and seasonings.
What is the difference between quiche and Quiche Lorraine?
Whether you recall the vogue of quiche in the 1970's and 1980's, or maybe the reference in the B-52's songof the same name (though that was about a poodle), there is no separating the identity of quiche in general with the classic Quiche Lorraine.
Originally invented in Germany, like other quiches it's a savory custard pie.
It is a bacon quiche, filled with Gruyere cheese, along with eggs, milk or cream, spices and onion.
It's a flavor-packed recipe and for those more iffy about eggs, it does not taste 'eggy'.
Blind Baking the Crust
One of the key things that makes a quiche delicious is the consistency of the crust.
You've undoubtedly had a soggy crusted quiche at a brunch buffet.
That is because the crust was not 'blind baked' before filling it and baking it.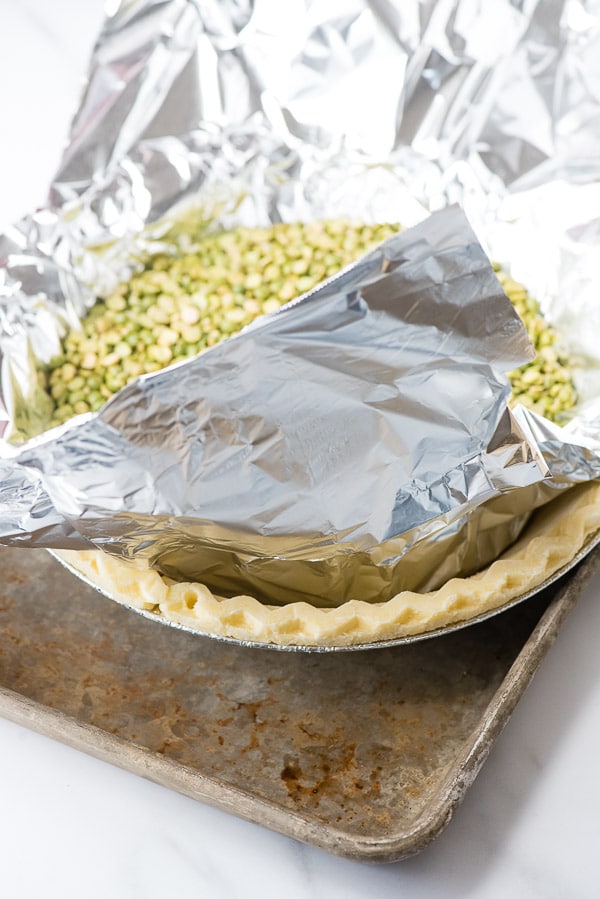 'Blind Baking' means the same thing as pre-baking. You don't have to do it blindfolded (lol).
Once the pie crust is in a pie plate it is lined with foil (with enough sticking out on the sides that the contents can be lifted out safely mid baking), filled withpie weightsor dried beans, and partially baked.
The weighted filling and foil are then lifted out, the pie crust pierced with fork tines (to keep it from puffing up) and baked longer.
Then it's filled and finally baked to make a delicious quiche.
And it can be done with a frozen prepared pie crust right out of the freezer!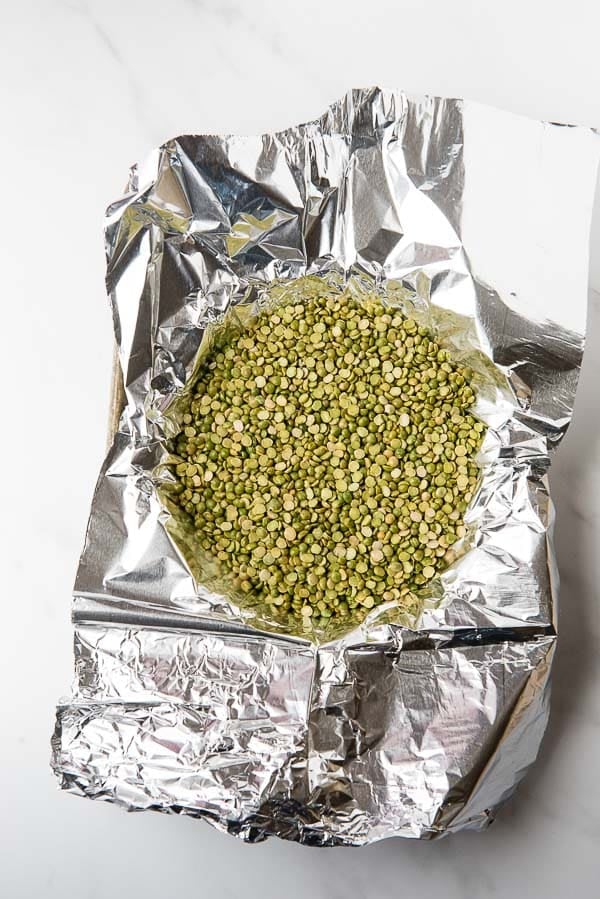 Cheesy Bacon Quiche using a Frozen Crust – A Delicious Time Saver
The recipe I'm sharing today is made with a frozen pie crust.
I used a frozen gluten-free crust (Whole Foods Gluten-Free Bakehouse to be exact) though a traditional frozen gluten crust may also be used.
If you keep frozen pie crusts in your freezer as I do, you can have this recipe on the table in a little over an hour.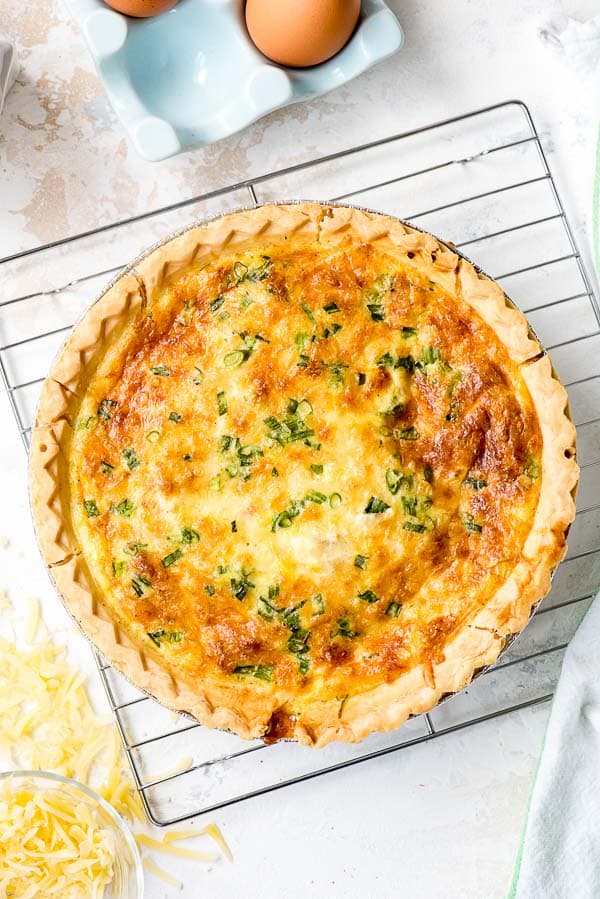 How to Make Quiche Lorraine using a Frozen Pie Crust
Find the detailed printable instructions in the recipe card at the bottom of the post below.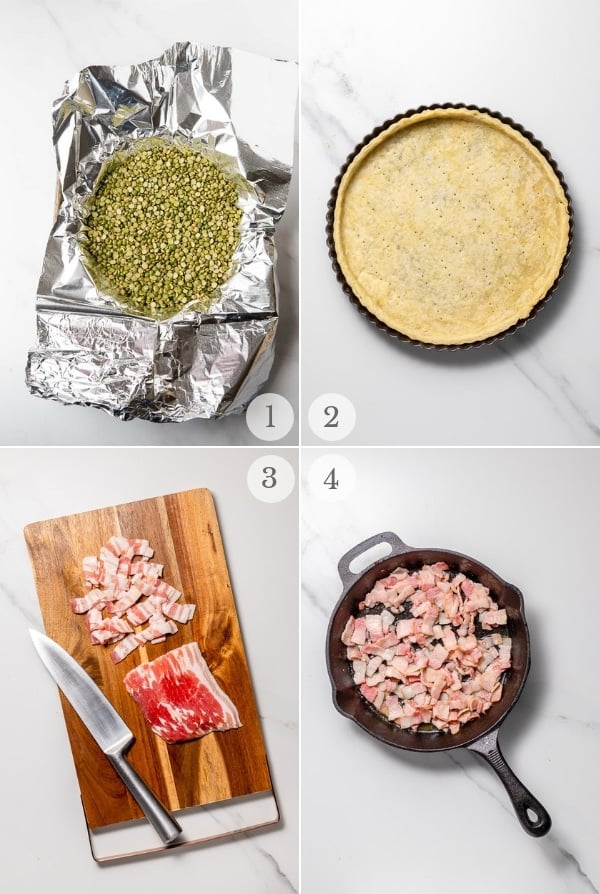 Blind Baking the Crust
In the preheated oven, place the frozen pie crust on a baking sheet, lined with foil, and filled 2/3's full of pie weights or dried beans. (photo 1)
Bake for 20 minutes; remove the foil and weights and pierce with fork tines. Bake 5-10 minutes more. (photo 2)
Bacon Prep Shortcut Tip: remove the bacon from the package without separating the slices. Cut the bacon as a whole into ½-inch strips then in ½-inch strips the opposite way.
Place all the bacon into a large preferably non-stick skillet and as it cooks it will separate into individual pieces. (photo 3)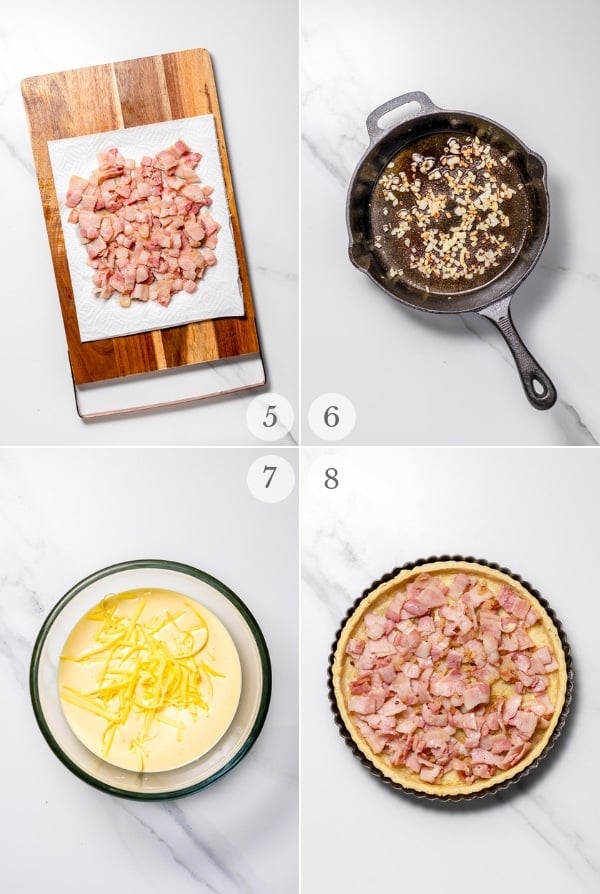 Making the Quiche
While the crust is baking, sauté the chopped bacon (photo 4) (drain on paper towels when done – photo 5) followed by some onions (photo 6).
Whisk together the eggs, half and half, white pepper, nutmeg and salt. Add 1 cup of the grated cheese.(photo 7)
When the crust is done baking, add the bacon and onions.(photo 8)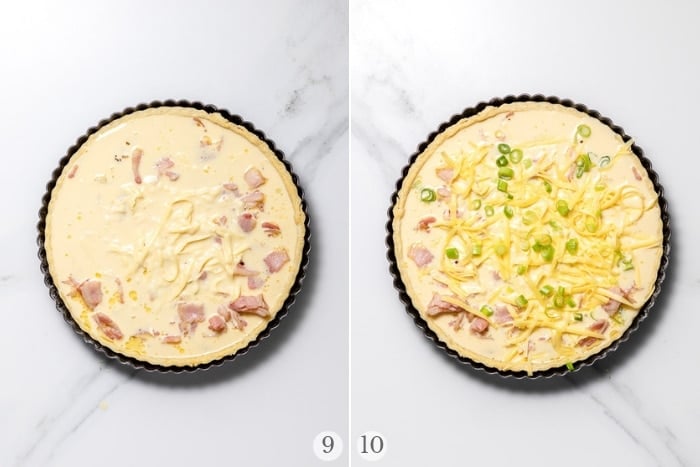 Pour the egg mixture (photo 9) in and finish with some extra cheese and onions greens (photo 10).
Bake for 30-40 minutes and allow to rest on a wire rack.
Serve warm or chilled for a later meal.
The flavor is the best served warm or at room temperature.
Using a from Scratch Pie Crust
My absolute favorite pie crust recipe is an All Butter Crust.
It's easy to make, forgiving, always flaky when baked.
It converted me from a pie crust buyer to a pie crust maker!
If desired it may be used instead of a frozen crust.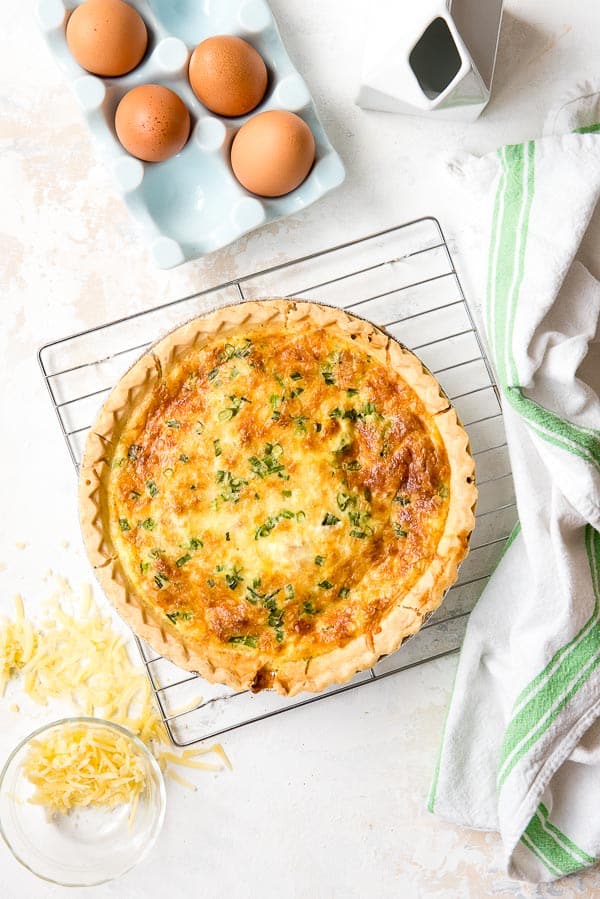 Frequently Asked Questions
What's the best Cheese to use in Quiche?
Gruyere cheese (a type of Swiss cheese) is used in this recipe as a classic ingredient. It's a sweet, slightly salty cheese that is known for its signature flavor that doesn't take over the entire flavor of the quiche. It melts very well too for a creamy result.
Cheddar cheese is also a popular choice for quiche depending on the other ingredients.
What can I substitute for Milk in Quiche?
For the best results use whole milk, Half and Half, cream or a mix of two of these.
Can I Make it Crustless?
As delicious as a traditional recipe is, an alternative is to make a Crustless Quiche. Super easy, fast and delicious too!
Recipe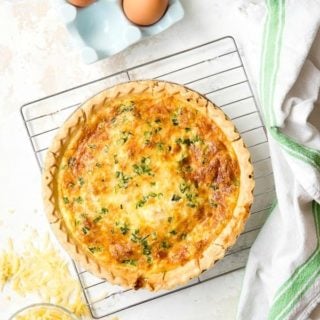 Quiche Lorraine
Classic Quiche Lorraine is a flavor-packed bacon, cheese and onion quiche. This recipe uses a frozen pie crust so no pie crust prep is required. Gluten-free or regular pie crusts may be used.
Print
Save Recipe
Recipe Saved!
Pin
Rate
Ingredients
1

9-inch

frozen Pie Crust

gluten-free or regular

1

8-ounce package

Bacon

¼

cup

chopped Yellow Onion

5

large

Eggs

1 1/4

cups

Half & Half

¼

teaspoon

ground Nutmeg

¼

teaspoon

White Pepper

¼

teaspoon

Kosher Salt

1 ¼

cups

shredded Gruyere Cheese

1 ½

tablespoons

thinly sliced scallion greens

chives or garlic scapes may be substituted
Instructions
Preheat the oven to 350 degrees.

Blind Baking the frozen pie crust: Place the frozen pie crust on a rimmed baking sheet. Line the inside of the pie crust with a piece of foil covering the crust and extended a few inches on either side (refer to the photos). Fill 2/3's full with pie weights or dried beans.

Bake the prepared crust for 20 minutes. Carefully remove the foil and weights, pierce the crust bottom and sides with a fork and bake for 5-10 additional minutes.

While the crust is blind baking, cut the bacon into 1/2-inch pieces. Refer to Bacon Prep Shortcut in blog post. Cook over medium-high until the bacon is cooked but NOT crisp. Remove to drain on 2 layers of paper towels.

Remove all but 2 teaspoons of the bacon drippings from the skillet. Add the onion to the skillet on medium-high heat and cook until transluscent. Remove and add to the bacon.

In a medium mixing bowl combine the eggs, half & half, nutmeg, white pepper and salt; whisk to combine. Add 1 cup of the grated cheese and stir together.

Once the pie crust has finished blind baking (leave it on a rimmed baking sheet for easier handling and stability when baking), sprinkle the bacon and onions evenly into the crust.

Pour the egg mixture on top, stirring it if necessary to have an even distribution of cheese.

Sprinkle the remaining ¼ cup of grated cheese on the top followed by the sliced onions greens.

Bake for 30-35 minutes at 350 degrees until golden brown on top. NOTE: the middle may jiggle slightly but will solidify when cooling (a knife may be inserted in the middle and should come out clean). Cool on a cooling rack for 15 minutes before serving.

May be served warm or cool. For best flavor after refrigerating allow the quiche to come to room temperature.
Notes
My all time favorite pie crust recipe is Butter Pie Crust. It's very easy to make (this from someone who has struggled with pie crust), flexible and creates a delicious flaky crust every time.
Nutrition
Calories:
409
kcal
|
Carbohydrates:
15
g
|
Protein:
15
g
|
Fat:
31
g
|
Saturated Fat:
13
g
|
Cholesterol:
157
mg
|
Sodium:
486
mg
|
Potassium:
191
mg
|
Vitamin A:
500
IU
|
Vitamin C:
0.9
mg
|
Calcium:
270
mg
|
Iron:
1.3
mg
Originally published: March 25, 2018