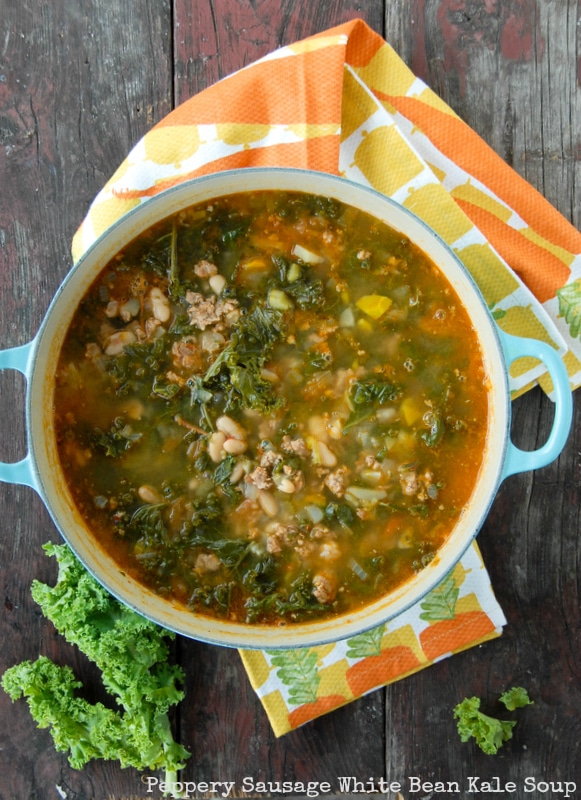 My husband is a great cook.  From time to time he'll mention what he plans to make for a meal and I KNOW you'll love it too!   So he lets me sit with him in the kitchen, notebook in hand, jotting down every detail of his creations.
It's different to cook for a food blog.  One both needs to allow inspiration to take hold but document it all so it can be passed along for you to enjoy!  The recipes I've shared of his have been very popular:  Lobster Risotto with Haricot Vert, Grilled Thai-style Chicken Thighs with Sweet Spicy Dipping Sauce and Grilled St. Louis style Ribs.  And now I have a new cold weather soup:  Peppery Sausage White Bean Kale Soup.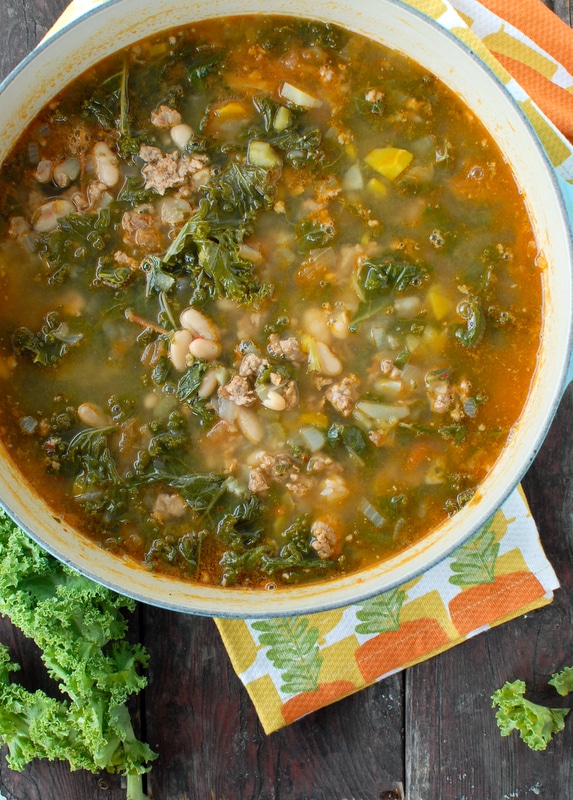 Left to our own devices we each gravitate toward different flavor profiles when we cook which affords a versatile kitchen.  The meeting place we both love is definitely rustic, country food.  At this time of year I could easily eat soup for every meal.  I love simple foods on the weekend like a Ploughman's Lunch with sharp cheeses, crusty country bread, chutneys and a little wine.  Or one pot dishes like Paella (I'm hoping he'll make one of those for you soon!) or chicken thighs with loads of flavor, rice and potatoes.
While we were waiting out the end of our recent biblical rain storms, he ventured out on foot to explore the surrounding area for damage and to walk 3 miles round trip to our favorite market.  He took a backpack and came home loaded up with more pounds of groceries than I could imagine carrying to my car let alone on my back for a mile.  He decided to make a spicy sausage, white bean, kale soup.  Was I ever glad he did.  As soon as he described his vision I begged to have him jot down every detail so I could share it with you.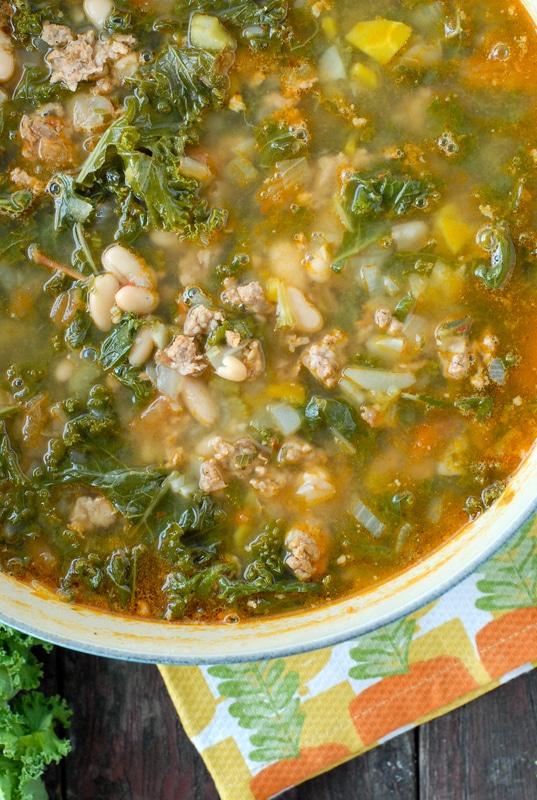 It is fantastic.  It's peppery from the seasoning and the sausage.  The flavors blend to remind you winter food may be the best of the entire year.  The curly kale provides a wonderful visual, texture and flavor without being overly 'vegetable-y' tasting for any that aren't so keen on that.  I'd tell you more about it but writing about it has made me so hungry I think I need to go have some more.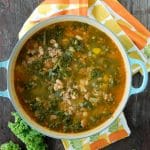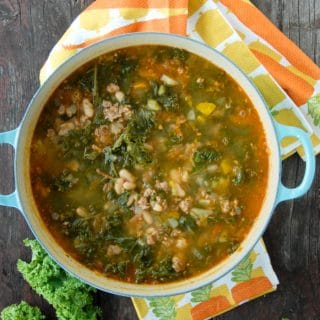 Peppery Sausage White Bean Kale Soup
This simple, hearty, savory soup is a signature of the cold weather season. Soul-warming.
Ingredients
Ingredients:
1

medium Yellow Onion

, chopped

2

stalks Celery

(with leaves), chopped

2

large Carrots

, peeled and chopped

1 ½

pound

loose Spicy Italian Sausage

2

large Tomatoes

, cored and chopped

1-29

ounce

can Cannellini Beans

(or other white bean), drained

1

quart

Low Sodium Chicken Broth

1

bunch Curly Kale

, leaves stripped from stems and hand shredded

1

teaspoon

Kosher Salt

1

teaspoon

freshly ground Black Pepper
Instructions
Instructions:
In a large pot (6 quarts or larger), brown the Italian Sausage over medium heat (3 minutes).

Add the onion, celery and carrots; cook 10 minutes stirring frequently.

Add the tomatoes and cook 5 minutes; stirring frequently.

Add the cannellini beans, chicken broth and 1 quart water. Turn heat to high, bring to a boil then reduce heat bringing the soup to a simmer. Simmer for 5 minutes.

Add the kale leaves, stirring to combine with soup. Simmer for 20 minutes.

Add salt and pepper (taste to ensure it meets your personal preference).