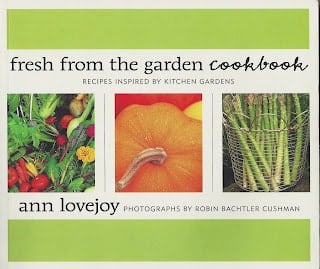 As promised I am sharing another favorite, lesser known seasonal cookbook.

If you might be fortunate to hail from the Pacific Northwest you undoubtedly know of Ann Lovejoy.

She's an accomplished author in the cookbook and gardening genres.
I first came upon Fresh From The Garden Cookbook: Recipes Inspired by Kitchen Gardens in a local Boulder bookstore and unabashedly will admit it was a complete visual attraction for me.

I DID judge this book by its cover and rightly so.

It's a charming 6 ½ inch by 8 inch format, with beautiful photos of vegetables on the front and throughout the contents.

(There you go publishing houses, I AM a victim of your marketing wiles.)
The inside does not disappoint with recipes grouped by season, each section starting with suggested menus and also grouping recipes by type per season.

Additionally she's included gardening notes for each season and insets about a variety of subjects from No Cold Tea to how to select oranges.

It's very usable and practical, and cute!

Each

recipe title is done in a friendly hand script font followed by notes from Ann Lovejoy and the delicious recipe.
When I wanted to track Ann Lovejoy down to ask her permission to print some recipes and feature her I scoured the internet and the trail ran cold at a column she'd been doing for the Seattle Post-Intelligencer.

I somehow found an address for her and mailed her a letter on Bainbridge Island, Washington.

I promptly received a very warm email about my request with permission granted to share a few of her favorite recipes!
Ann is involved with so many projects!

I'd love to share some of what she is doing with you.
·
"For many years, until last spring, I wrote a weekly cooking column as well as a gardening column for the Seattle Post-Intelligencer, which failed after well over 100 years–a sad loss.
·
Recently I began blogging on a friend's website
, as Green Gardening With Ann Lovejoy
. Log House Plants is a pioneering wholesale nursery in Oregon with a long history of developing and introducing new and unusually good plants, including many terrific vegetables and herbs. As an example, all the stevia (an herbal, calorie-free sugar substitute) grown commercially today is widely available because my friend Alice Doyle of Log House Plants saw a need and enlisted the help of the world's largest seed house (Sahin, in Holland and all over the world) to refine and improve the germination rate from 5% to 95%–a minor miracle of breeding. Check out the Log House offerings and you will be ready to triple your garden space–there are so many enchanting things to try, including beautiful perennials and annuals.
My blog includes many seasonal recipes. This week, I'm featuring local chanterelles and the uncommon matsutake mushrooms that occur naturally in our Northwestern woodlands in wet autumns.
(Note: this was written in October but I'm sure it can be found on her blog!)
·
I wrote a cookbook as a pro bono project for Harmony Hill, a transformational (and free) cancer retreat on Hood Canal in Union, Washington. My husband and I have been on the board for the past 3 years but have now stepped down.

It's called Cooking At Harmony Hill: Recipes for Hope and Healing, and includes all sorts of seasonal foods that are healthy and delicious and easy to recreate at home
.
·
I also do two beautiful foodie wall calendars for Amber Lotus Publishing, both of which may be of some interest. One is called The Organic Kitchen Garden and the other is A Year of Healthy Living and both are full of seasonal recipes and tips on finding local food (one of my own fascinations). "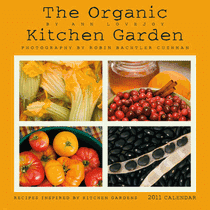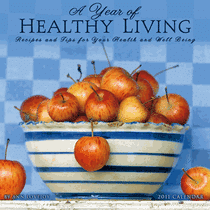 Ann concluded by saying, "I am so lucky to be living in the Northwest, where winter is mild and organic farms are right close at hand. In my own little garden, I am still picking tomatoes and basil and have gorgeous greens, celery, broccoli, cabbages, Brussels sprouts and herbs coming on for winter harvest."

This was as of October so I'd guess she is not harvesting as much as of my publishing this!
I asked Ann my own burning question: Do you feel Local or Orangic is more important?:
Ann responded, "I would have to vote that local and organic are equally important and that rather than weight the merits of each, we can all simply do our daily best to grow/eat/share more of both with as many people as possible."

I have a new copy of Ann's cookbook that wants a home by Christmas!

To enter you may leave a comment on this post telling me your favorite holiday food and why you love it! The Giveaway will be open through midnight Thursday December 9. A winner will be selected using Random.org and published on Friday December 10.
Additionally for extra entries you may:
1.
Follow me on Twitter

@BoulderLocavore (good for one additional entry),
2.
Sign up to follow me in Google Friends (good for 2 additional entries!)
If you are already doing the additional entry items (or one of them) I will count that (please indicate in your blog comment which you are doing or both).
As I pored over the cookbook several times for recipes to share I found it very difficult to choose.

I also found myself in a deep state of envy of the natural spoils at Ann's fingertips in her region.

Having 'locacore envy'. Sigh….
WINTER SALAD with HOT CRANBERRY DRESSING
This delightful salad sings to your senses, providing a delicious different accompaniment for anything from roast pork to grilled fish.

The sparkling dressing is also terrific over steamed vegetables or roast chicken.
·
2 cups (about 8 leaves) thinly sliced savoy cabbage
·
2 cups shredded spinach leaves
·
4 satsuma oranges, peeled and sectioned
·
1 Walla Walla Sweet or red Bermuda onion, chopped
Hot Cranberry Dressing ingredients:
·
4 strips bacon, chopped, or 1 tablespoon olive oil
·
3 cloves garlic, chopped
·
2 cups cranberries, rinsed and picked over
·
About 6 ounces orange juice concentrate
·
About ¼ teaspoon kosher or sea salt
·
About ¼ teaspoon freshly ground black pepper
1.
Toss the cabbage and spinach together in a large salad bowl.

Scatter the satsumas, cashews, and half the onion over the leaves.
2.
To prepare the Hot Cranberry Dressing, in a frying pan, cook the bacon over medium-high heat until crisp and brown.

Remove the bacon from the pan and drain on a paper towel.

Pour off all but 1 tablespoon of the bacon drippings, add the garlic, and cook, stirring, until pale golden, 3 to 5 minutes.

Add the cranberries and water, bring to a boil, reduce the heat, cover and simmer until the cranberries pop, about 7 to 8 minutes.
3.
Remove the cover, increase the heat to medium-high, and cook, stirring often, until the liquid is reduced by half.

Stir in the orange juice concentrate, 1 tablespoon at a time, until the sweet-tart balance tastes just right.

Season to taste, starting with 1/8 teaspoon each of salt and pepper.

Toss the dressing with salad and serve immediately.
CRUSTY BAKED SALMON WITH 'CURLY BLUE' KALE
Zippy with fresh lime, this delicious baked salmon has a peppery rosemary crust and sits on a bed of crunchy, 'Curly Blue' kale.

You can, of course, use any kind of kale, depending on what looks best in the garden or at the market.
·
1 ½ pound salmon fillet
·
1 teaspoon fresh rosemary leaves
·
1 teaspoon dried lavender flowers
·
1 teaspoon cracked black peppercorns
·
1 bunch 'Curly Blue' kale, trimmed and shredded, about 4 cups
·
1 red onion, finely chopped
·
1 lime, quartered, for garnish
1.
Preheat the oven to 350 degrees.

Rinse the salmon and pat it dry, then rub the skinless side with the olive oil.

Set the fish, skinless side up, in a baking dish.

In a small bowl, combine the rosemary, lavender, salt, peppercorns, and bread crumbs and pat over the fish.

Bake until opaque, 25 to 30 minutes.
2.
Arrange a bed of kale on each of 4 plates and top with the onion.

Put a piece of the hot fish on each kale bed and serve, garnished with a lime wedge.
Recipes and text published with written permission by Ann Lovejoy.