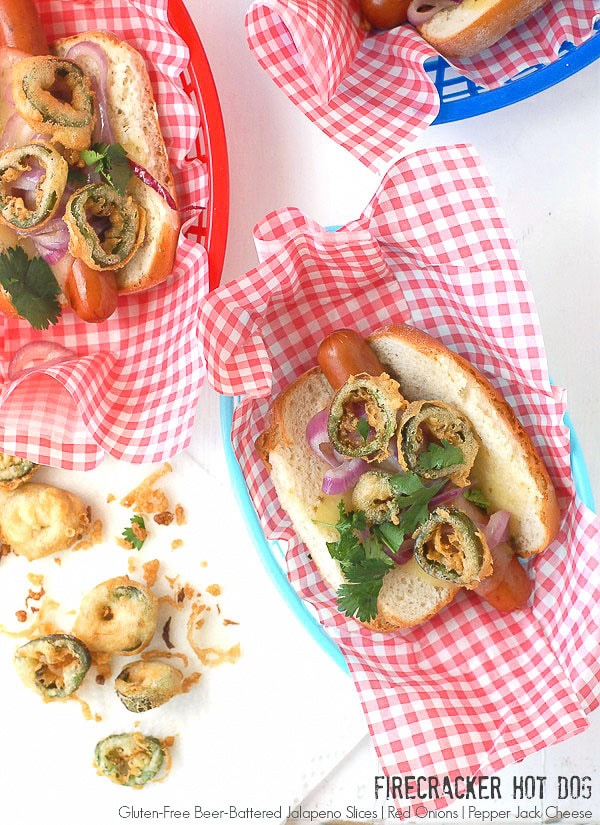 Fourth of July is certainly the patron holiday of the grill.  Can you imagine celebrating without it?  Me either.  And while I love a juicy burger as much as the next girl I think hot dogs have gotten a raw deal over the past years.  A mainstay of my youth, always boiled and always served with macaroni and cheese made from a box, they seemed to have disappeared as their ingredients were highly scrutinized.
I don't exactly know what was ground into the wieners I was served as a kid but I can say with certainty, what may once have been the left over bits and bobs at the meat factory have been replaced by savory quality ingredients without fillers rendering a mouth-watering delight without competition.  The flavor of a quality hot dog simple cannot be trumped.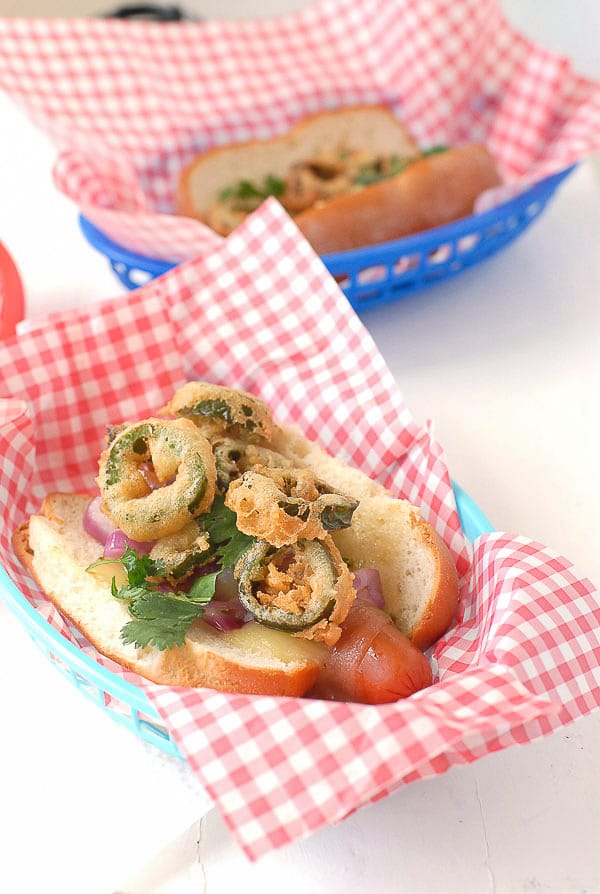 With Fourth of July in mind, I was contemplating a frisky, sassy addition to our family grill plans and of course to share with you!  As I pondered options I roped in my husband who gets all the inspiration credit for the Firecracker Hot Dog I'm sharing today!  The combination of perfect ingredients always deliver and remind one a dish does not need to be fancy to WOW.
This dog will become your favorite if you love some heat, spicy goodness and a crunchy texture.  The key of course if selecting good quality hot dogs.  Reading the ingredients is always crucial to ensure you are buying something which will star with flavor.  The dogs I used for this recipe are from Niman Ranch, a mixture of pork and beef (without nitrates, raised without antibiotics or hormones, all vegetarian fed and are gluten-free).  One might wonder if hot dogs really can differ all that much and the answer is a resounding YES they can.  Like any other cut of meat, you usually get what you pay for.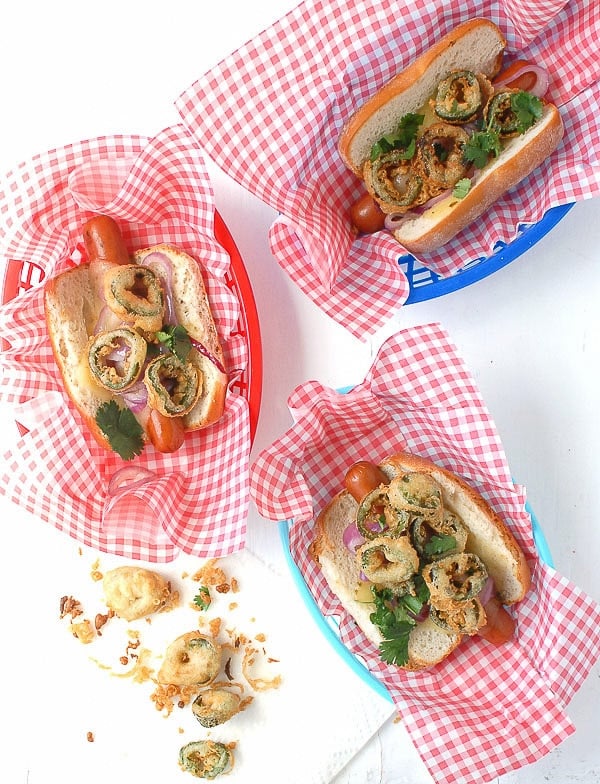 The Firecracker Hot Dog features a melted slice of Pepper Jack cheese, grilled or sautéed red onion slices topped with crispy, gluten-free beer-battered deep-fried jalapeno peppers for a kick.  Each bite is indescribably delicious!  One thing when working with chile peppers is that the heat level can vary incredibly.  In this case I found once fried the jalapenos almost tasted sweet without much heat; the opposite can be true as well so it's always best to taste before serving to gauge the spicy-factors for your diners.  Also consider using vinyl gloves and washing hands diligently, avoiding touching any mucus membranes after handling chile peppers.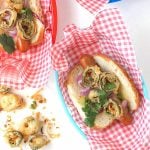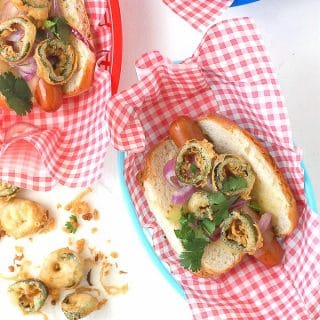 Firecracker Hot Dog
Spark up a regular hot dogs with some spicy Pepper Jack cheese, sweet sauteed onions and crunchy, deep fried Jalapeno Chiles. All prepared gluten-free.
Ingredients
Hot dogs

Buns

(gluten-free or with gluten depending on preference)

1

deli slice Pepper Jack cheese per hot dog

(hand sliced equivalent amount may be substituted)

1

large Jalapeno chile pepper per serving

1

large slice Red Onion per serving: 1/4 inch thick

, sliced to form rings

Fresh Cilantro leaves for garnish
Ingredients for Beer Batter and jalapeno deep frying:*
Vegetable

, Canola or Sunflower oil for deep frying

1

cup

Gluten-Free Flour

(I used King Arthur's Gluten-Free Flour blend)

6

ounces

(1/2 bottle) Lager-style Gluten-Free Beer

2

teaspoons

Cornstarch

1

teaspoon

Kosher Salt

1

teaspoon

Black Pepper

, freshly ground
Instructions
Instructions for Beer Battered Deep Fried Jalapeno peppers:
To prepare jalapeno peppers: Slice off the stem of the jalapeno. Using a paring knife, gently cut out the inner membrane and seeds of the pepper, leaving the outside of the pepper intact. Tip: I keep a pair of long needle-nose pliers in my kitchen tool drawer specifically for cooking projects and they work perfectly for this step.

Slice the jalapeno(s) into rings approximately 1/4 inch thick.

Pour 2-3 inches of oil into a medium size heavy pan or pot. Position a cooking thermometer in the oil but not touching the bottom of the pan. Over medium to medium-high heat, heat the oil to 375 degrees.

Set paper towels on a plate of baking sheet to drain the fried jalapenos.

In a bowl combine all the dry ingredients for the beer-batter. Slowly pour in some of the beer and whisk to combine allowing the foam to subside. Pour in the remaining beer and whisk to combine. The batter will be thin.

Using heatproof tongs, dip jalapeno slices individually into the batter, allowing them to be coated fully. Lift coated sliced above the batter and allow to drain slightly.

Place battered jalapeno slices into the heated oil and cook for a few minutes until they begin to turn golden brown. Remove and place on prepared paper towels. Repeat for all slices.
Instruction for cooking onion slices:
Grilling: brush each side of the onion slice with oil and allow to grill a few minutes per side until grill marks are present and the onion softens becoming slightly translucent. Separate onion into rings when removed from grill.

Pan sauteing; Pour a small amount of oil into a heavy skillet. Cook onion slices over medium-high heat, stirred periodically to separate onion slice into rings, allowing them to cook until soft and translucent.
Preparing the Firecracker Hot Dogs:
Cook hot dogs by desired preparation method (grilling or pan frying preferred). On the grill or in a skillet, place a slice of Pepper Jack cheese on a hot dog and allow it to being to melt.

Place hot dog in a bun on serving plate. Top with the sauteed onions, fried Jalapeno slices and cilantro leaves; serve.
Recipe Notes
*any leftover batter may be used to batter and fry other vegetables.