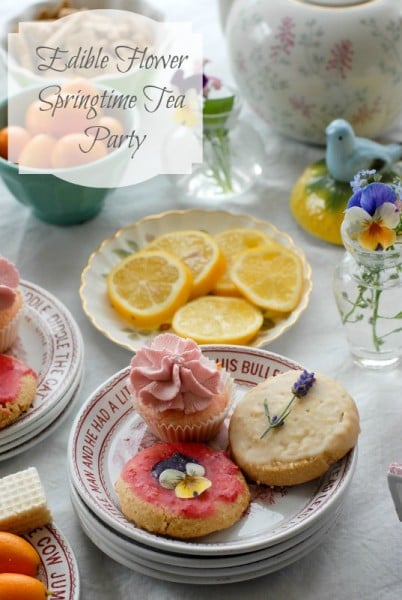 When was the last time you had a Tea Party? With cookies, cakes, tea, friends (big or small but not just stuffed animal friends)? I don't know when I did either. Time to change that. The onset of spring breathes new life into everything and for me my creativity abounds searching for outlets.
I'm not sure what made me quest for a tea party but it became an idea like a carpool, picking up aspects along the road until it arrived at becoming an Edible Flower Springtime Tea Party. As I began to spin through ideas I quickly became overwhelmed wondering where the heck I'd find the time to prepare everything from scratch. I would of course need to have a gluten free tea and then the idea hit me: what about purchasing high quality baked goods and embellishing them to the theme of the party? I could still whip up the details from scratch and linger over the fun crafty-part delivering a beautiful experience in a smidgeon of the time. And so it began!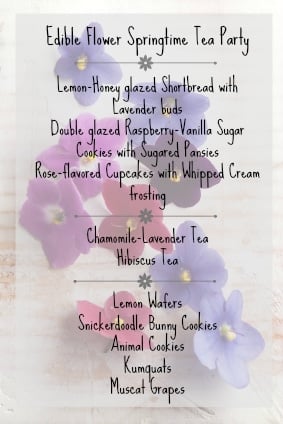 Many people do not realize there are edible flowers. There is an herb company where I live that actually grows edible varieties and you can find them packaged at the grocery store with the rest of the fresh herbs to not only beautify your food but enhance the flavors. It's key however that you know which flowers are edible and which are not, as well as have a safe source for them. Perhaps you grow them in your garden and are sure they have not been sprayed with anything inorganic or a pesticide. Or purchasing them from local farmers or reliable sources (grocery stores even carry them in the produce area but do not adapt those from the floral department not knowing whether they have been treated with something inedible).
For my Tea Party I chose some favorites: Johnny-Jump-Ups (violas or mini pansies), lavender buds and rose though I used it in the form of an extract. I decided to sugar the pansies to place on the top of cookies and use the lavender as an edible decoration on a cookie as well. I wove the rose flavor into cupcakes, big and small. The best way to describe the flavor of a rose cupcake would be that they taste how a rose smells; soft, delicate and rose-flavored. Instructions for how to sugar pansies and Raspberry-Vanilla double glazed Sugar Cookies with Sugared Pansies will be in the next blog post!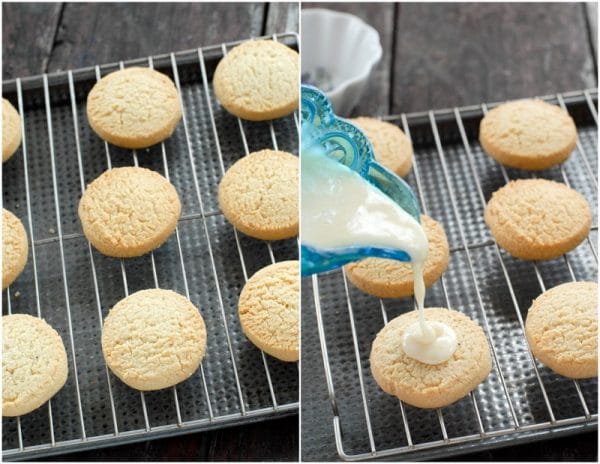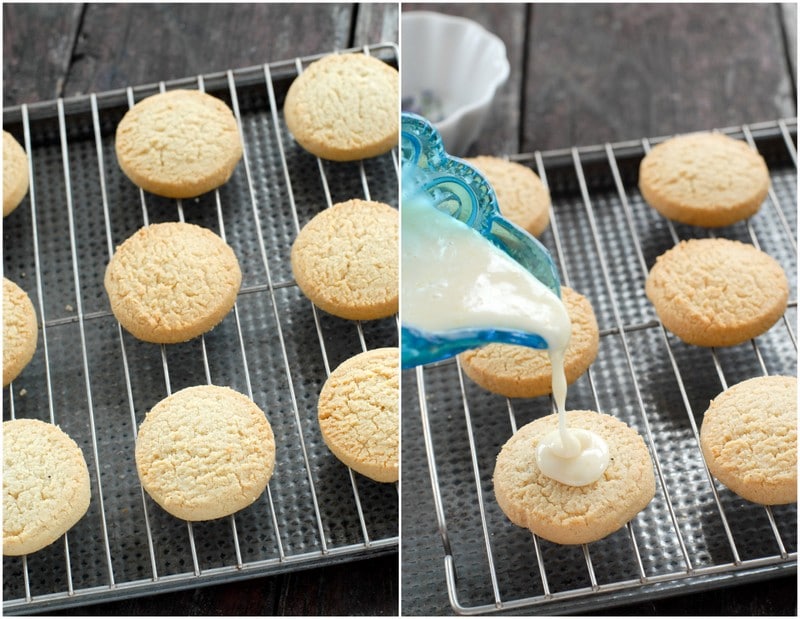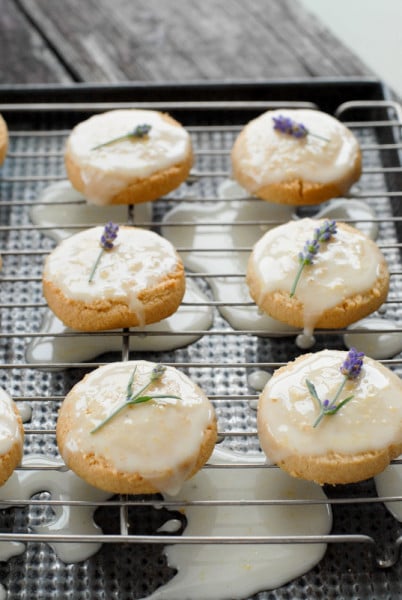 It's easy to find tea made from flowers and you can make your own using the same guidelines above. I selected Chamomile-Lavender Tea and Hibiscus Tea feeling the flavors would complement the baked goods and loving the lemon yellow and bright pink of the teas.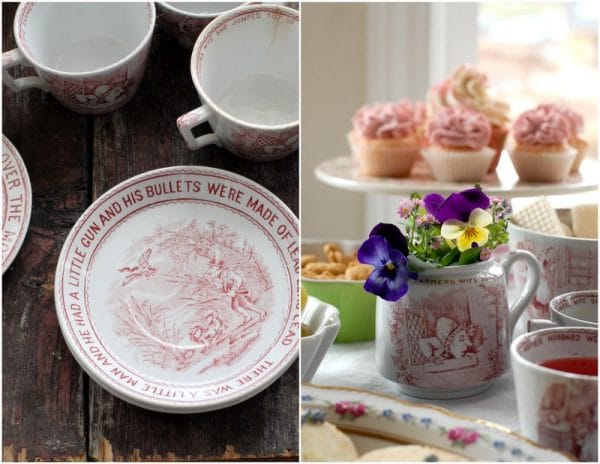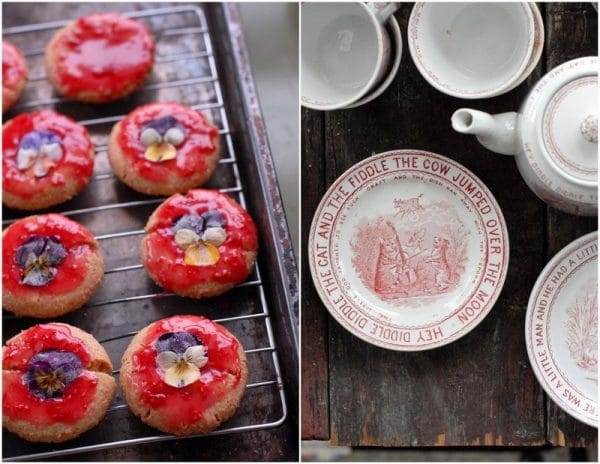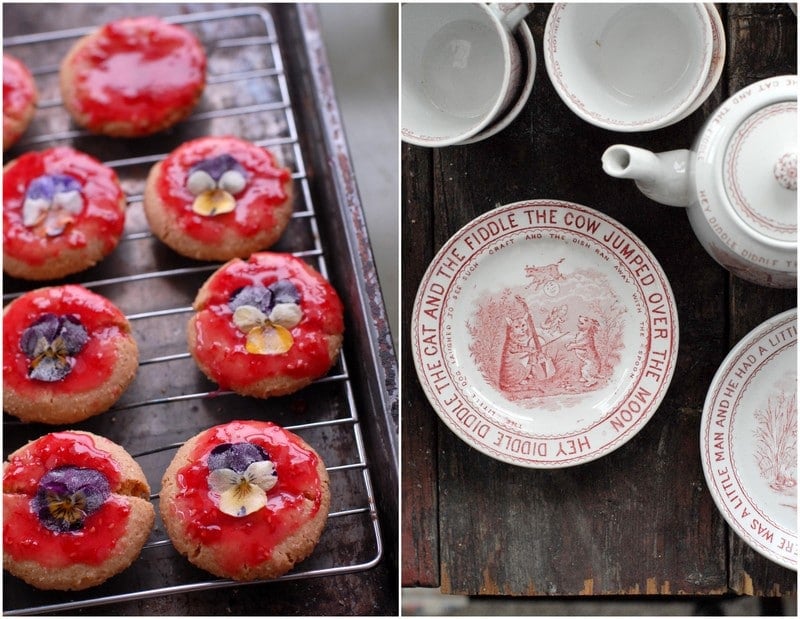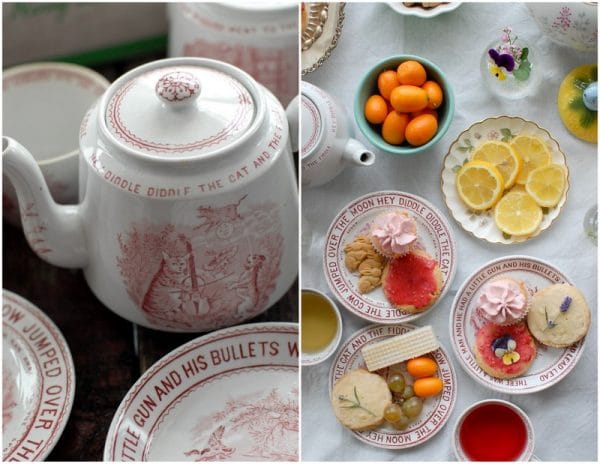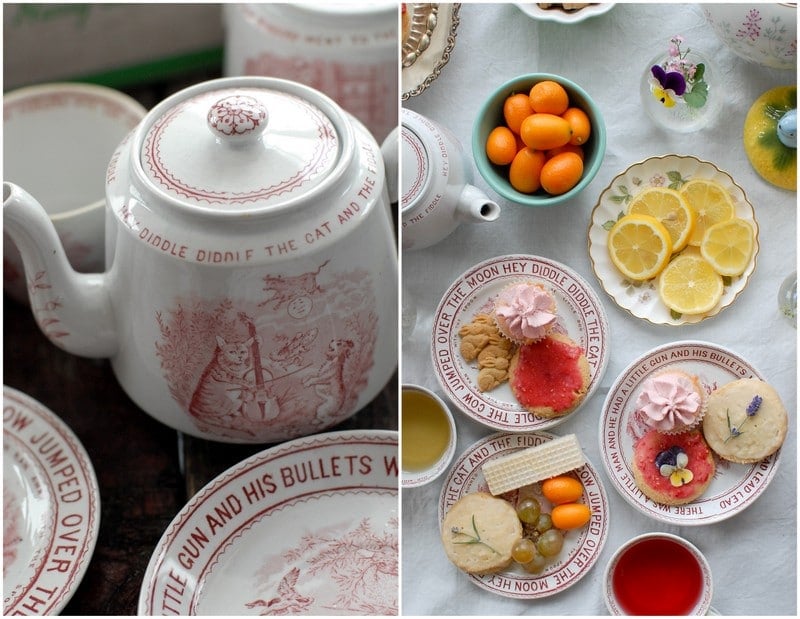 Regardless of what you choose to make and serve, the surprise of a Tea Party will be exciting and fun to anyone! My party guests were delighted with everything served, and were none the wiser that I had not made everything from scratch (which of course you can as well!).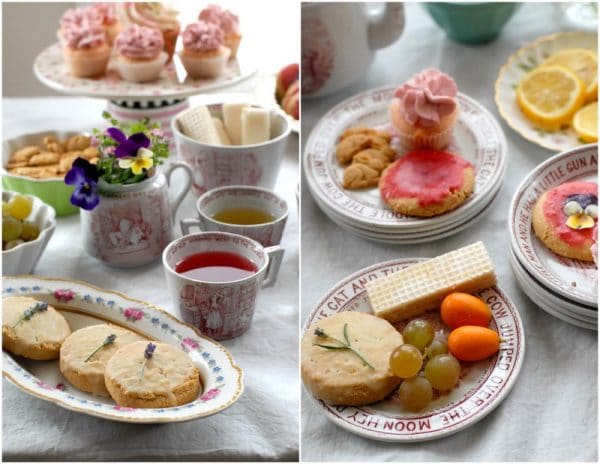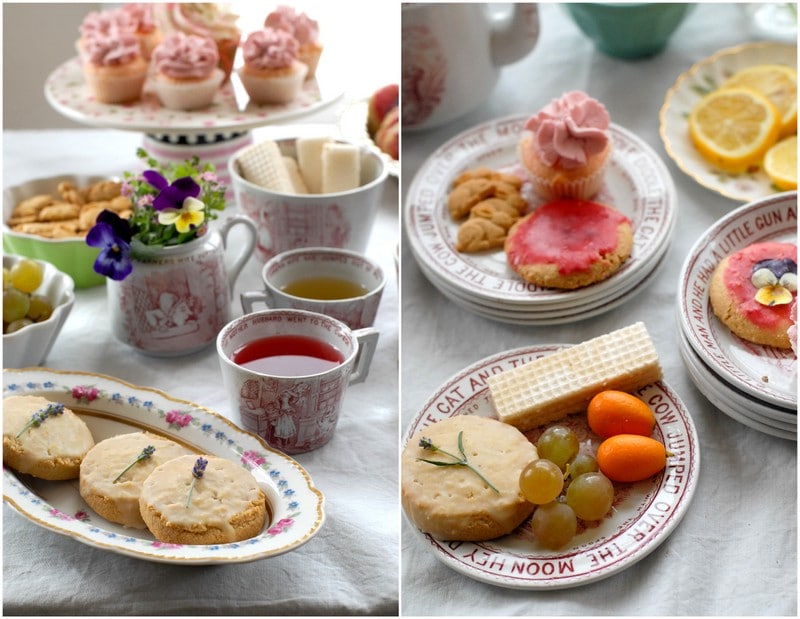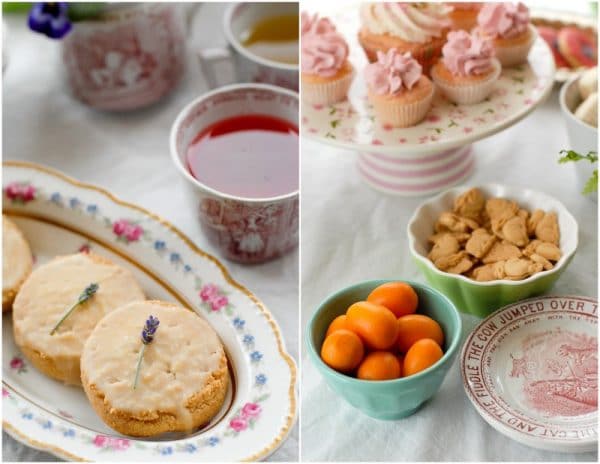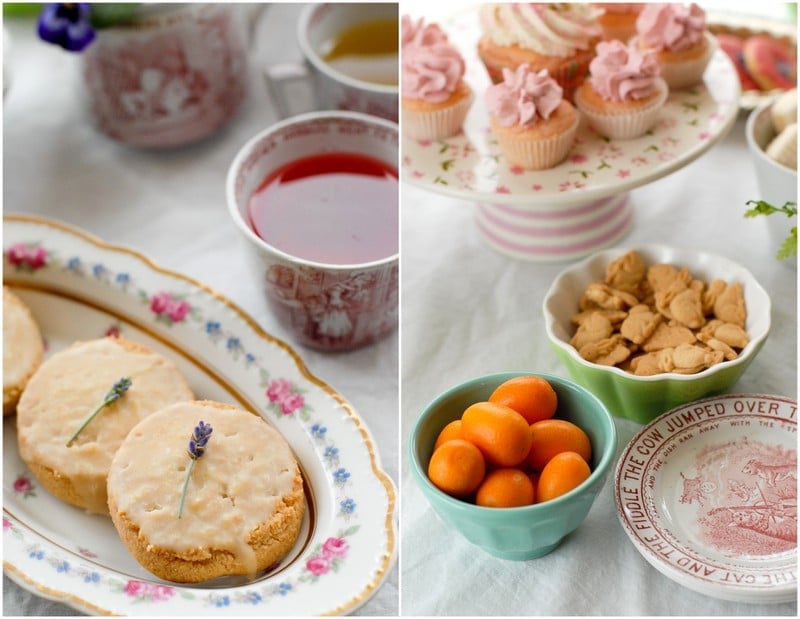 Recipe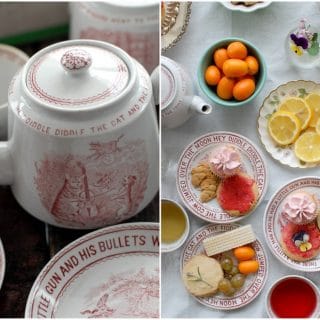 Edible Flower Springtime Tea Party
These bright spring recipes for Rose Cupcakes with Whipped Cream Frosting and Lemon-Honey glazed Shortbread with Lavender Buds are the hit of any event of meal. Using edible flowers adds a unique touch as well as visual beauty! These versions are gluten free based on the mixes and cookies selected. Any cake mix or cookies may be used.
Print
Save Recipe
Recipe Saved!
Pin
Rate
Ingredients
Ingredients for Rose Cupcakes with Whipped Cream Frosting:
1

box favorite Vanilla Cake mix

(I used Lillabee's Gluten Free cake mix)

½

teaspoon

Rose Extract

Red Food coloring

(I like India Tree Dyes, all natural, but they can fade when baked)

1

pint

Heavy Whipping Cream

1 1/2

teaspoon

Vanilla Extract

2

tablespoons

granulated Sugar
Ingredients for Lemon-Honey glazed Shortbread with Lavender Buds:
1

dozen

(12) Shortbread Cookies (I used Amy's gluten free Shortbread)

1

cup

Confectioner's Sugar

3-4

tablespoons

freshly squeezed Lemon Juice

2

teaspoons

Lemon Zest

1

tablespoon

Honey

Small lavender buds; 1 for each cookie
Instructions
NOTE: The cupcakes may be made the day prior (keep in a sealed, refrigerated container). If using this Whipped Cream frosting it is best to frost them right before serving them. Though the frosting will hold up and they can be refrigerated, they look best when freshly frosted.
Insructions for Rose Cupcakes with Whipped Cream Frosting:
Prepare vanilla cake mix adding the rose extract and food coloring to make cupcakes pink (if desired) to the mix. Line muffin pan with decorative cupcake papers (I double line them so if any oils soak into the liner, the outer liner is still pristine in appearance). Fill as directed and bake as directed. Remove and cool on a cooling rack.

In a free standing mixer all heavy whipping cream, sugar and vanilla. Beat slowly until cream thickens and then on high speed until whipped cream thickens past the 'stiff peak' phase to be a lightly spreadable frosting. Note: monitor the cream closely because it can turn to a butter thickness quickly.

When rose cupcakes are full cooled pipe or spread frosting on cupcakes. Keep chilled until serving.

the refrigerator. Ideally they would be made the morning of an afternoon tea party._
Instructions for Lemon-Honey Glazed Shortbread:
Gently rinse and pat dry all the lavender buds.

In the bowl of a freestanding mixer (handheld mixer is ok too) combine sugar, 3 tablespoons of the lemon juice, lemon zest and honey. Beat until fully combines and thick. Dip a spoon into the glaze and allow it to drip back into the bowl as a test for thickness. The thicker the glaze the more heavily coated the cookie will be. If it's spreadable thickness, add more lemon juice a teaspoon at a time until thickness desired.

Place a cooling rack on a baking sheet. Place cookies on the rack (this allows excess glaze to drip into the baking sheet, keeping the cookie from sitting in glaze and not create a mess in your kitchen).

Slowly pour the glaze over each cookie to cover the full top.

Place a lavender bud in the glaze. Allow glaze to fully harden before serving (30 minutes approximately). If not serving immediately, keep in a sealed container, chilled until serving.
Nutrition
Calories:
160
kcal
|
Carbohydrates:
35
g
|
Protein:
1
g
|
Fat:
1
g
|
Saturated Fat:
0
g
|
Cholesterol:
0
mg
|
Sodium:
298
mg
|
Potassium:
26
mg
|
Fiber:
0
g
|
Sugar:
18
g
|
Calcium:
94
mg
|
Iron:
0.8
mg
Disclaimer: (Ebible Flowers) The author has thoroughly researched all the aforementioned edible flowers. However, individuals consuming the flowers, plants, or derivatives listed here do so entirely at their own risk. The author cannot be held responsible for any adverse reaction to the flowers.