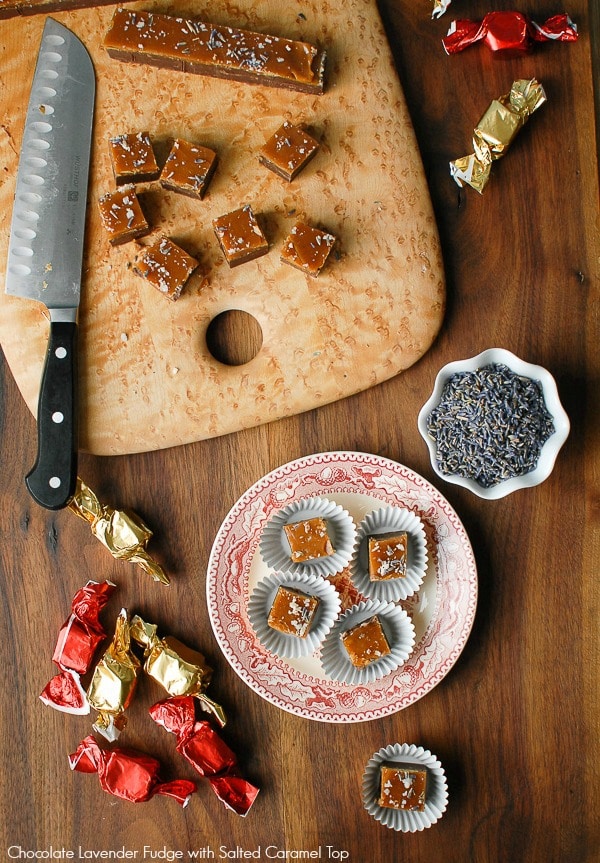 Did you ever notice fudge really doesn't make an appearance outside of the holidays? Think about it. It rolls out around December, makes an appearance at Valentine's Day and with novel, pastel updates for Easter but then it goes dormant. Am I right?
I'm not a huge fudge eater but I do love a good piece of fudge around the holidays. I think if people realized how effortless it is to make, it might challenge the waistlines of more households year round. It is not the most robust in the hotter months, undoubtedly whimpering under mid-day heat at summer picnics, but would happily await the indulgences of a sweet tooth in the cool of a refrigerator.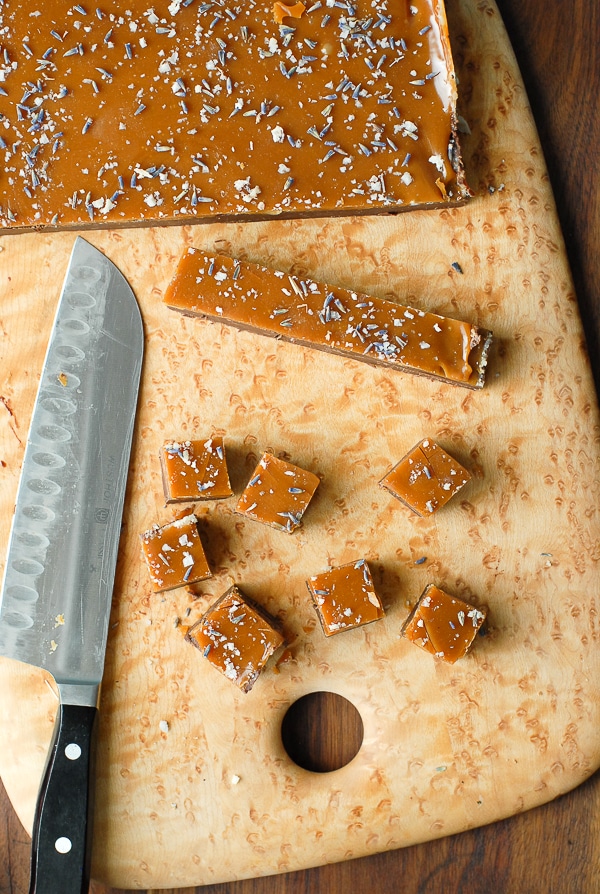 At this time of year when I for one fight to stay warm and enjoy a gas burning fireplace in my library office all day long, fudge is in its element. The flavor possibilities are endless and the internet is buzzing with delectable options for gifts, for Santa, for noshing while decorating the Christmas tree or just to make a day a little bit sweeter.
Fudge is a 'no bake' treat which I also love. Historically holiday baking has been a favorite pastime in December and part of my family's Countdown to Christmas. Now with a child in Middle School and one in High School, heavily laden on weeknights with homework, and swim team practice for the elder, a surprise baking session is usually not in the cards. This year I'll be sharing some no bake recipe options that anyone can both work into their schedule and make! If you are a tentative baker, these recipe will be right up your alley and you'll get no complaints from your audience (in my case I was tempted to lock up the sweets in the spirit of preserving them long enough for their Dad to have a taste when he returned home from work).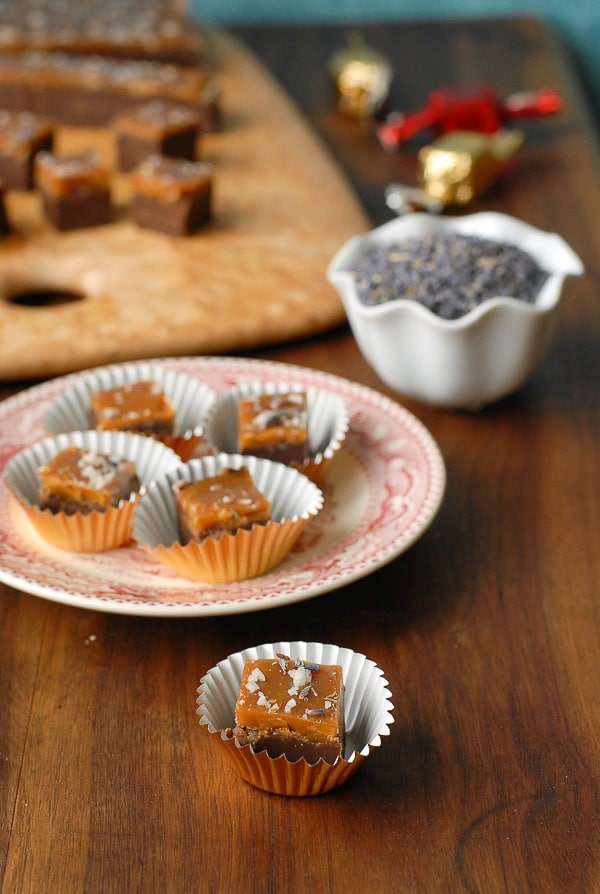 Never liking to jump on a mainstream bandwagon, I wanted to make fudge that was a bit unexpected. I love using culinary lavender in cooking (check out these fun savory and sweet recipes ideas using it). It adds a flavor of Provence to anything in my book and who doesn't like to be transported when eating, (fudge, in this case)? When using lavender be sure to use culinary lavender found in the spice section (or bulk section) of stores such as Whole Foods. Lavender designated for crafting, such as potpourri, has been treated with preservatives and is inedible.
To top this lux fudge is a bit of salted caramel. If you have not made caramel from scratch before it is very easy however there are points in the process when you may be absolutely convinced you've done something wrong! Caramel is melted sugar with cream and butter added; that's it! The process begins with the sugar on its own, heated, until it melts. It appears to begin melting and then chunks of sugar will form before it finally releases to the liquefaction process. I for one was sure the first time I'd messed it up, but it's just part of the process. Again when stirring in the butter and cream the mixture begins to percolate like a little mud pot and you won't imagine this mixture will become a silky caramel; but it does. Once it is removed from the heat the bubbles begin to dissipate and it turns into a thick, luxurious caramel. When complete the caramel is firm without being candy-like hard, and softens at room temperature without becoming gooey. The fudge is fantatic on its own if you prefer to bypass the caramel top. Though the finished flavors of the two together are unique and divine.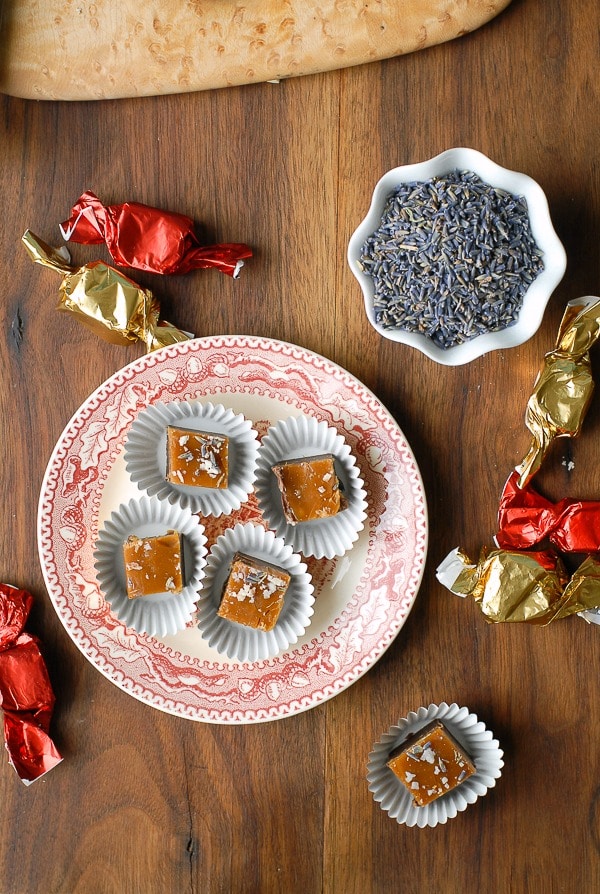 Recipe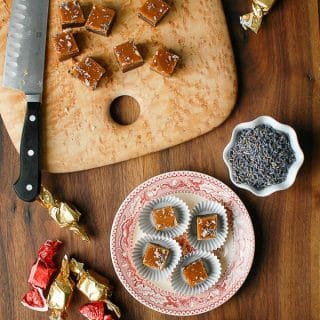 Chocolate Lavender Fudge with Salted Caramel Top
The sophisticated flavor of chocolate and lavender make this creamy fudge unique and unexpected. The addition of the salted caramel top make it a home run. The fudge is fantastic on its own for those preferring to stop there. The caramel provide an additional dimension to the depth of flavor.

Print
Save Recipe
Recipe Saved!
Pin
Rate
Servings:
144
Aproximately 144 3/4-inch squares
Ingredients
Ingredients for the Chocolate Lavender Fudge:
16

ounces

(2 ½ cup) Semi-Sweet Chocolate Chips

1 14-

ounce

can Sweetened Condensed Milk

3

tablespoons

Unsalted Butter

1

tablespoon

Culinary Lavender

, finely ground (in a spice grinder, clean coffee grinder or with a mortar and pestle)
Ingredients for Salted Caramel Top:
½

teaspoons

Sea Salt granules

, Grey Salt or flaked finishing salt

1

teaspoon

Culinary Lavender

1

cup

Granulated Sugar

4

tablespoons

Unsalted Butter

¼

cup

Heavy Whipping Cream
Instructions
Instructions for Chocolate Lavender Fudge:
Line a 9 by 9 inch square baking pan with foil. Set aside.

Place all ingredients into the top of a double boiler or heatproof metal bowl over a pot of boiling water. Stirring often, allow the chocolate chips and butter to melt and all combine into a smooth, creamy mixture.

Spoon the mixture into the prepared pan and smooth top. Cover with plastic wrap and chill in the refrigerator a few hours until set or overnight.
Instructions for Salted Caramel Top:
Remove the lavender fudge from the refrigerator to sit at room temperature while the caramel is prepared. In a small bowl mix together the finishing salt and lavender for the top of the caramel; set aside.

Place sugar in a heavy saucepan over medium-high heat. Allow sugar to warm until it begins to melt (approximately 5-8 minutes). Begin to stir the sugar to hasten melting and ensure no burning; stir until fully liquefied (approximately 10-12 minutes from starting to heat the sugar).

Reduce heat to medium and add the butter. It will splatter to be careful to avoid getting burned. Stir to fully melt and incorporate the butter.

Slowly drizzle the cream into the caramel mixture, again it will splatter. Stir to fully mix together. Remove from heat and allow to cool only for 3 to 4 minutes (if it cools longer it will begin to set and not spread on top of the fudge).

Spread the caramel on the top of the fudge quickly smoothing it evenly over the top. Quickly sprinkle the salt and lavender mixture on the top of the fudge before it sets. Return to the refrigerator to set for a few hours.

Remove the fudge from the refrigerator to cut it. Lift the fudge in the foil out of the 9 x 9 pan. The caramel top will be firm but can be cut and will soften when at room temperature. Cut the fudge into ¾ inch by ¾ inch pieces. I found this is most easily done but cutting a strip of ¾ inch wide fudge and then cutting it into pieces. Wrap in candy foil or serve straight away!
Notes
When removed from the refrigerator the caramel is firm but will allow cutting. Once it sits at room temperature it becomes semi-soft (between firm like a brittle and gooey like a thick sauce), making it easy to eat and easily staying atop the fudge. The recipe may be cut into pieces of any size but I find the richness and beautiful flavoring leaves a 3/4 inch square piece a perfect size.
The two parts of the recipe are very quick to make though each needs a few hours to chill.
Nutrition
Calories:
39
kcal
|
Carbohydrates:
4
g
|
Protein:
0
g
|
Fat:
2
g
|
Saturated Fat:
1
g
|
Cholesterol:
3
mg
|
Sodium:
4
mg
|
Potassium:
29
mg
|
Fiber:
0
g
|
Sugar:
4
g
|
Vitamin A:
35
IU
|
Vitamin C:
0.1
mg
|
Calcium:
11
mg
|
Iron:
0.2
mg
More fudge recipes I think you'll love from talented blogging colleagues:
Chocolate Peanut Butter Holiday Fudge {Family Fresh Cooking}
Peppermint Tuxedo Fudge {Bakers Royale}
Chocolate Fudge {Heather Christo}
Gum Drop Fudge {Shugary Sweets}
Crazy Delicious Dairy-Free Chocolate Fudge {Oh My Veggies}