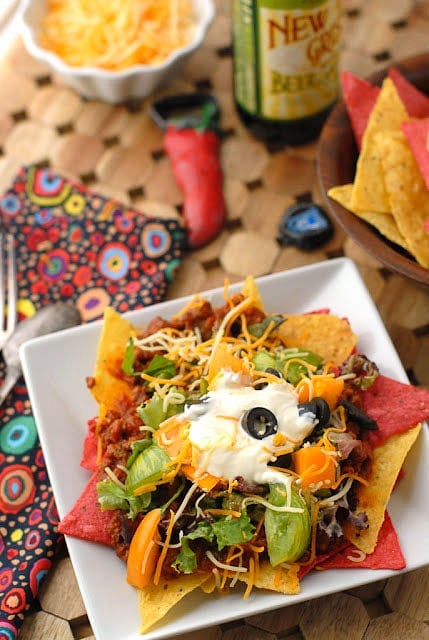 I would be lying if I were to say I did not squirm a bit then hitting 'post' due to the title of this recipe.

Knowing this recipe was conceived of in an era before fear of being sued and being 'PC' were guideposts for decision making makes me feel a bit better about its origin, BUT I'd like to go on record to say 'trains are safe' and though I've never visited, I'm sure Tijuana is a lovely place.
Setting aside potential tsk-tsk's for being tasteless or insensitive, I will say when I pulled this out of the family archives it could not have screamed the 1970's louder.

I imagine at the time it was considered 'alternative', even bohemian and 'risky' to serve at a dinner party being as free form as it is.

So much left to chance in the layering which is not firmly specified in the measurements.

Definitely a 'do your own thing, Man' kind of meal.
I love this time of year and the flavor profiles that define it.

However as we careen headlong into cooking marathons of predictable foods, having something free, easy ('easy, like Sunday morning'…..) and smacking of completely untraditional holiday fare offers a nice reprieve.

I like to mix it up a bit.
After making it I'd describe this to be a precursor to current day Nachos in a 'Sloppy Joes meets Nachos meets the inside of a taco' type of way.

The consistency of the sauce (the only part you cook) is closer to a thick Sloppy Joe texture with Mexican food overtones.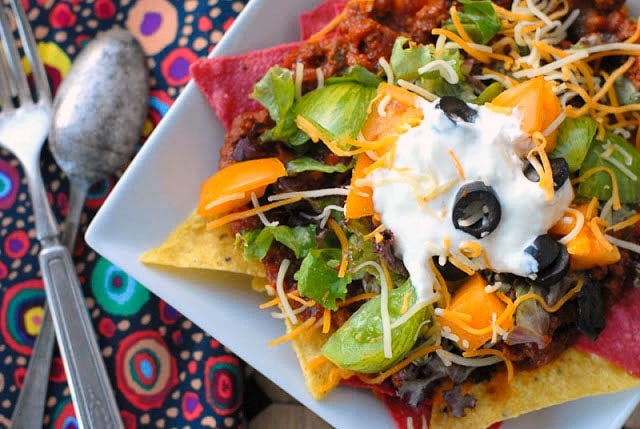 My first question in reading the recipe?

'How the heck do you eat this?'

After doing so I would say both by hand and a fork.

The lower chips need a boost from a fork where those on top can be used to dig.

My mother remembers my Grandmother serving it to 'company'.

My Grandparents were cultured, though not pretentious people.

Knowing them I'd guess the appeal was the novelty of this dish in comparison to traditional buffet-cocktail party-dinner party food of the era.
Rest assured in my vintage recipe resurrection I have not derailed my locavore sensibilities nor am I tempted to paint my kitchen Antique Gold with Burnt Orange and Avocado accents (or begin wearing Nehru collars).

I used organic, non-GMO locally made corn chips from different colors of corn.

Local meat, lettuce from my CSA farm, locally grown organic heirloom tomatoes, hormone free sour cream from a dairy coop (same with the cheese).

In the spirit of the dish, you make it how it fits for you.
You can make the sauce ahead of time.

You can make the sauce and freeze it so it is available to bail you out when meal prep time wears thin.

You can alternate turkey for the beef.

You can do anything you want (man)!