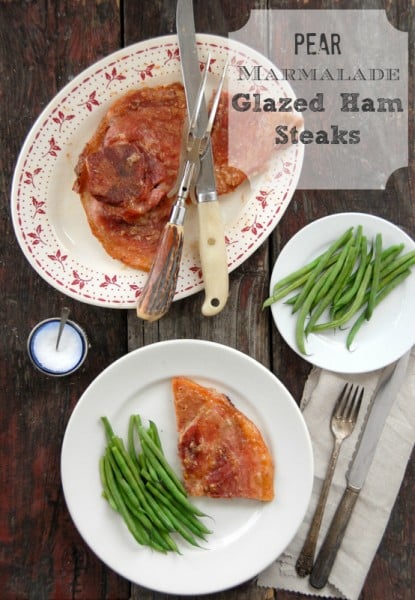 Do you ever find yourself in a menu rut? Or feeling on a busy day that you want to make a healthy meal but don't have the energy to pull it all together? Me too.
During the week I want to prepare easy, nutritious meals that have great flavor but I usually don't plan very far in advance. Though I grocery shop almost daily (fortunately at a neighborhood market that is stocked with organic, local produce, excellent 'clean' meat and everything else we would need), we also have a freezer stocked with local meat from our CSA farm, seasonal produce I've frozen in season, frozen gluten-free foods and other odds and ends. On a day last week I found myself looking into the face of an overly burdened day of deliverables and decided I really needed to make something from what we had on hand.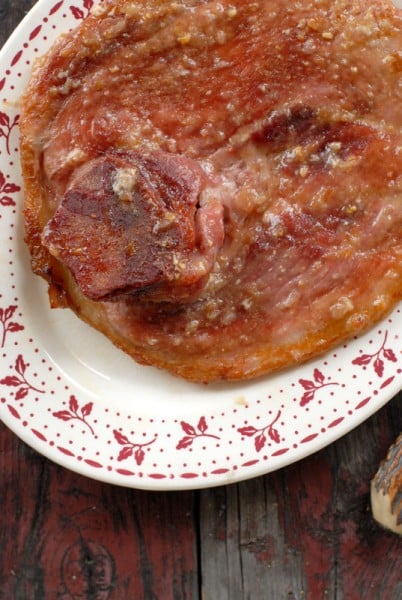 In the freezer I found two Ham Steaks we'd purchased from our neighborhood farm. A ham steak is a thick cut of ham usually at least ½ inch thick, round, with or without a bone. I wasn't sure how to prepare it but imagined it could not be that hard. With a bit of research I realized it is one of the more simple dishes to make, with many options from pan frying, to grilling or baking. I created a Pear-Marmalade Glaze with the intent to bake the ham steaks. They emerged tender, moist, sweetly flavored in perfect contrast to their naturally salty disposition. I served them with some steamed Haricot Vert and called it a day. My family loved it and was none the wiser that it was not a meal planned with deliberate intent!
Ham tends to be a special occasion dish. I do not think to make one outside a holiday and part of that is due to the quantity. A ham steak is a perfect to add to meal rotations for ease and flavor. An important thing I learned while developing my recipe is that ham steak can be raw (as in this recipe), smoked, cured, or pre-cooked. It's important to know which you are preparing. This recipe is for raw ham steaks however should you have one that is precooked you can follow the same preparation but only cook it for 20-25 minutes, enough to heat it through and absorb the glaze but not dry out.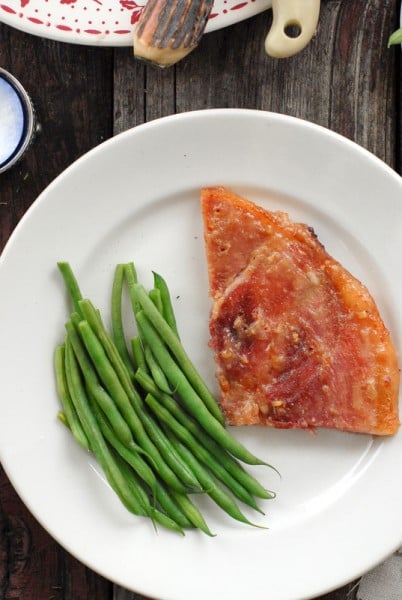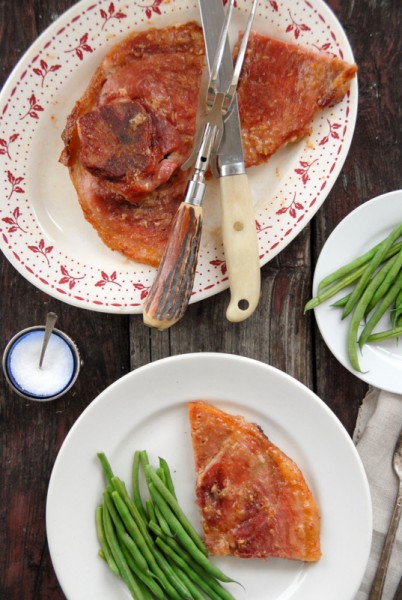 I find some very inspired recipes in the Udi's Gluten Free Community where I am a Community Leader. I opened a conversation there hoping to find more quick dishes like this that are healthy without compromising flavor. Do you have some favorites you whip up when time is at a premium? We'd love to hear about them. Please jump in the conversation below and add any personal favorites you make in a pinch!