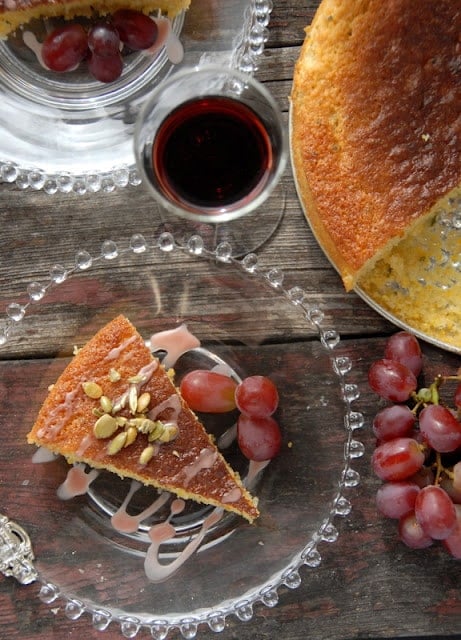 I fondly refer to the busy nature of this time of year as trying to fit a size 24 woman into a size 2 dress for all the deliverables. Whether one is beholden to the frenzy of the end of a school year or the abrupt seasonal shift to summer, it always seems a bit madcap to me. Despite farm fresh produce starting to unveil itself for a new season I have been feeling that making gluten free frozen pizza nightly for dinner is even too difficult to find the time for of late.
This past weekend bore a reprieve from our almost 90 degrees temps with fog and rain. After living for years in Northern California I delight in the rare appearance of fog in Boulder. It completely transforms the landscape and always makes me feel I have a valid excuse to stay at home. Like a Pavlovian reaction to the charcoal skies, it always makes me want to bake.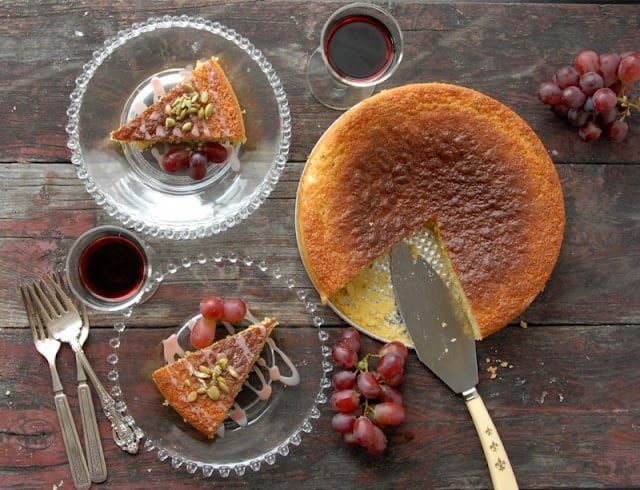 I have not ever had an Olive Oil cake and candidly the first time I heard of one I was a little bit grossed out. 'Olive oil' does not lead me down dessert lane mentally however after seeing them springing up enough curiosity got the best of me.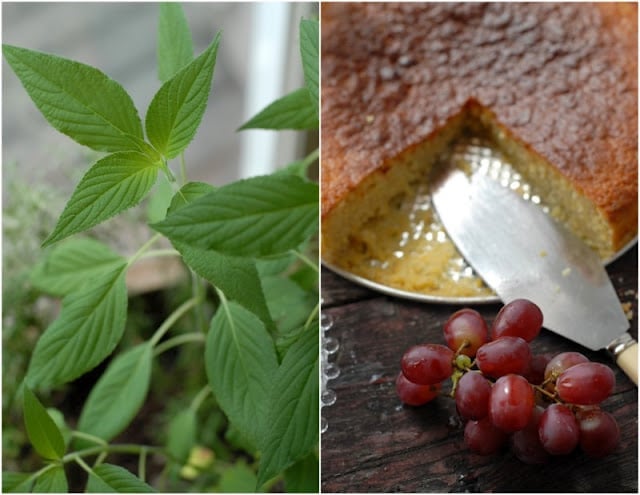 I have had two large, thriving pots of herbs which have successfully overwintered indoors, one of which contains a gorgeous Pineapple Sage plant. It has been winking at me each time I pass it in the past two weeks. Noting its incredible growth spurt of late, showing new, limey colored slightly fuzzy leaves, I've been pondering a cocktail application but settled on folding it into an Olive Oil cake attempt. Pineapple sage does have a pineapple flavor and is lighter in flavor than traditional culinary sage. It can usually be found with culinary herbs either in the grocery store or where herb plants are sold. It's very easy to grow in a pot or the garden.
I loved the idea of making the texture of the cake a bit more rustic and granular than a traditional cake. In my mind that meshed with the concept of an Olive Oil cake which I also envisioned not to be sweet like a traditional cake but rather taking some sweetness from the sugar and some from the almond flour and the addition of the honey flavored Greek yogurt.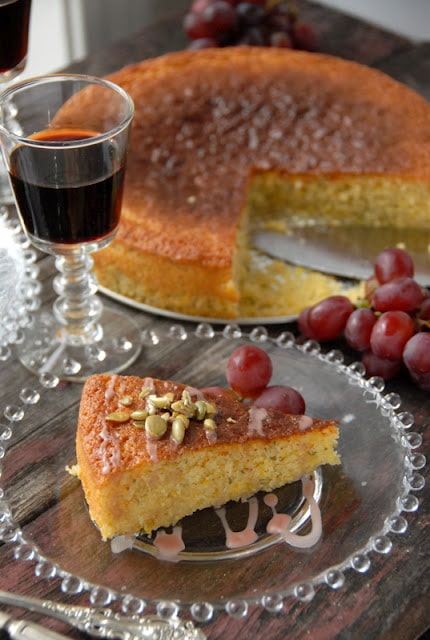 I was delighted with how this cake turned out. It is moderately dense (more dense than a layer cake; not as dense as a pound cake), perfectly sweet and moist. I love its rustic essence and more organic sweetness. Hope you will too!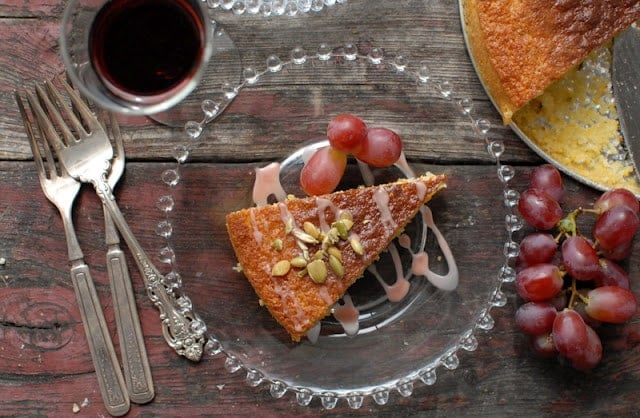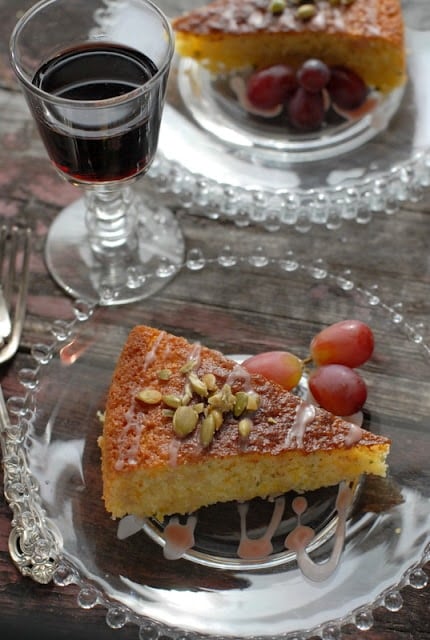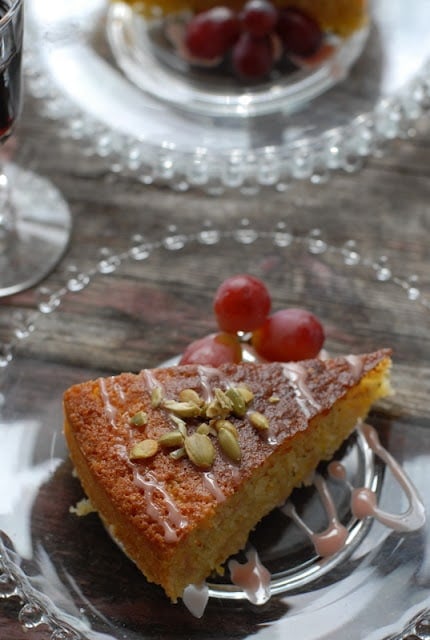 Recipe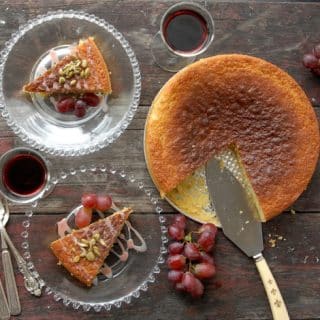 PINEAPPLE-SAGE OLIVE OIL CAKE with PORT GLAZE
Olive oil cakes are simple and rustic. This version uses pineapple sage for an earthy flavor.
Print
Save Recipe
Recipe Saved!
Pin
Rate
Servings:
8
8-12 depending on slice sizes
Ingredients
3

eggs

room temperature

¾

granulated sugar

½

cup

honey Greek yogurt

2/3

cup

olive oil: 2 tablespoons Meyer lemon olive oil and the remainder extra virgin olive oil

preferably not with a strong, overbearing flavor for a total of 2/3 cup

1/2

cup

all-purpose

gluten free or regular flour

¾

cup

almond flour

½

cup

cornmeal

fine-grind

2

teaspoons

baking powder

¼

teaspoon

salt

2

tablespoons

Pineapple sage

diced (regular sage may be substituted)

1

cup

confectioner's sugar

3

tablespoons

port wine

¼

cup

roasted pepitas

shelled pumpkin seeds, rough chopped*

Suggested garnish: Seedless red grapes
Instructions
Preheat oven to 350 degrees. Butter a 9 inch spring form pan and set aside.

In the bowl of a standing mixer (or in a bowl with a handheld mixer) beat eggs until a bit frothy. Add sugar and beat until combined.

Add yogurt to egg-sugar mixture; beat to fully combine. Slowly drizzle olive oil into egg-sugar mixture while beating on medium speed to allow oil to fully integrate to egg-sugar mixture.

In a separate bowl stir to combine flour, almond flour, cornmeal, baking powder, and salt. With mixer at medium speed, spoon flour mixture into the egg-sugar-oil mixture a large spoonful at a time, allowing it to combine before adding more flour.

Once combined add diced sage and mix just to combine. Do not over mix.

Pour into prepared pan and bake for 30-35 minute (until lightly browned on top and toothpick comes out clean). Remove from oven and allow to cool before releasing the sides of the pan to cut and serve.
Making the Glaze
Combine the confectioner' sugar and port wine. Whisk to fully combine leaving no lumps of sugar.

Lightly drizzle on cooled, room temperature cake. Suggested drizzle method: use a squeeze bottle with a cone top to more precisely drizzle the glaze over the cake slices.

To serve: Sprinkle with chopped pepitas and serve with red grapes.
Nutrition
Calories:
397
kcal
|
Carbohydrates:
32
g
|
Protein:
8
g
|
Fat:
26
g
|
Saturated Fat:
3
g
|
Cholesterol:
62
mg
|
Sodium:
103
mg
|
Potassium:
208
mg
|
Fiber:
2
g
|
Sugar:
16
g
|
Vitamin A:
120
IU
|
Vitamin C:
0.2
mg
|
Calcium:
97
mg
|
Iron:
1.8
mg