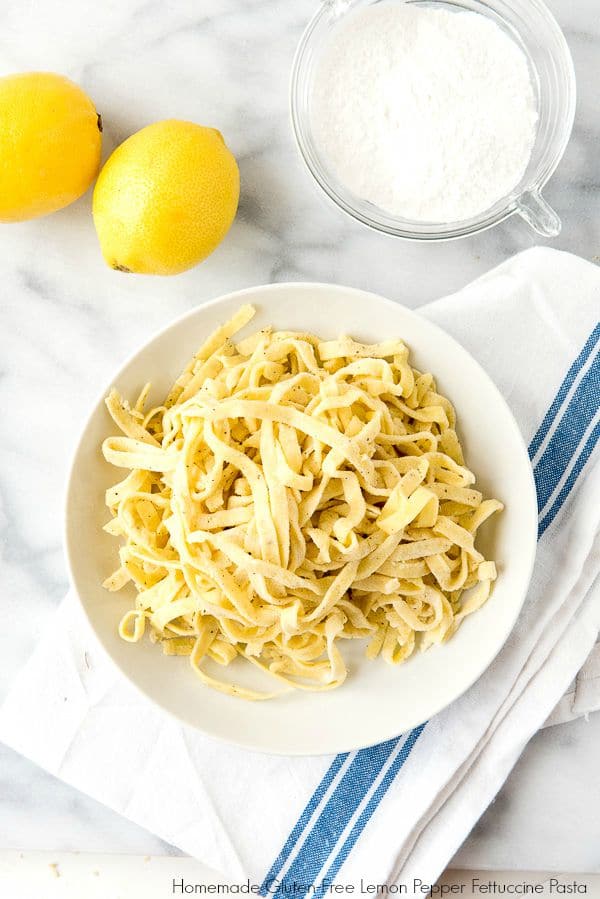 This recipe has been long in the preparation. Most of that preparation has been in my head actually, thinking about it and with a bit of trepidation! I've made Homemade Gluten-Free Lemon Pepper Fettuccine pasta!
I think we all have those lingering 'someday I'll do that' type endeavors and trying my hand at homemade gluten-free pasta has been a longstanding one for me. We've owned a pasta maker for as long as I can remember but I've never seen it out of the box. Now that I've made this recipe I'm sort of embarrassed it took this long.
Jump to:
The entire process of making pasta is quite easy. All the ingredients are combined in a food processor then rolled out in smaller quantities and fed into a pasta machine, which gradually flattens the dough until it is thin enough to feed through the fettuccine cutter (also part of the pasta maker).
Though I did dry some of the pasta as an experiment, I found simply tossing with a bit of rice flour keeps the pasta separated for cooking.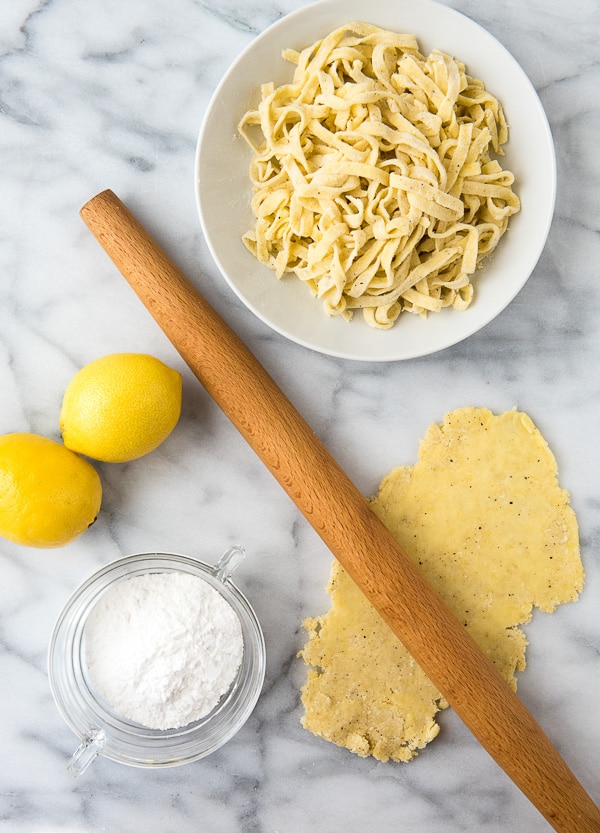 This is sort of a double Bucket List project as it's my first attempt at baking by weight, instead of volume. I've been curious about that for a long time but candidly it's a bit like learning the metric system when all you've known is the cups and ounces.
It seemed a big experimental leap and I've not made the time to hone my baking bilingualism to jump. The core of this recipe is adapted from a Jamie Oliver gluten-free pasta recipe, which through experimenting with several variations I finally landed on the perfect balance of flavors and texture I was seeking.
I did experiment with spooning the weight-based quantities into measuring cups and making the recipe again using the cup measurements only. One would imagine the result should be identical however it isn't; close, but not exact.
Flours all weigh different amounts so 1 cup is not created equal and when scooping flour from a bag, the density in the cup can vary. For this recipe I've included each weight as well as an equivalent in volume, though I would urge if you have a scale that has grams use that option (I've included the conversion to ounces too). If not, spoon the flour into your measuring cups instead of scooping it directly.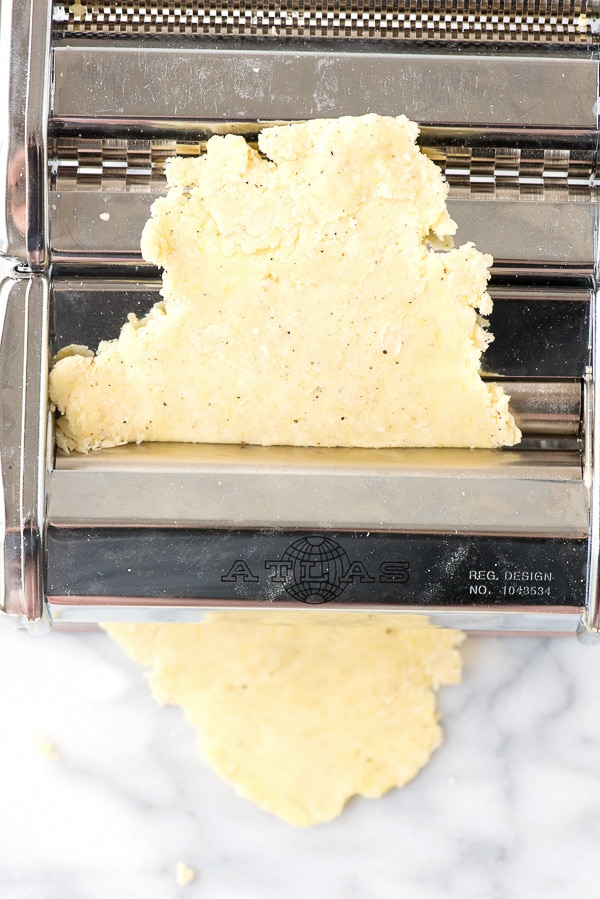 A key difference between making gluten-free and gluten pasta is less elasticity without gluten as a binder for the dough, leaving the gluten-free pasta to tear if rolled too thinly. Do not use the smallest/thinnest settings on your pasta machine. The noodles need a bit more substance to compensate for the lack of gluten.
Our pasta machine is an Atlas 150 which can be found online on Amazon.com for around $70 (the price tag on the box of ours is $29.99 giving a sense of how long it's been in the box!).
There are other pasta machines as well as motorized options (the motorized versions often for double the price and a motor really isn't needed). Pasta makers are simple machines with two rollers and a setting dial to vary the thinness of the pasta, rolling it from the about 1/8 inch at the start into thin sheets to feed through the attached fettuccine or spaghetti cutters.
Should you not have a pasta machine, there are many tutorials on the internet such as this one by Cook's Illustrated on making fettuccine without a pasta machine, guiding how to do so. Working with gluten-free dough will be a bit different if you've made gluten pasta before due to the lack of elasticity but still can be hand rolled and cut.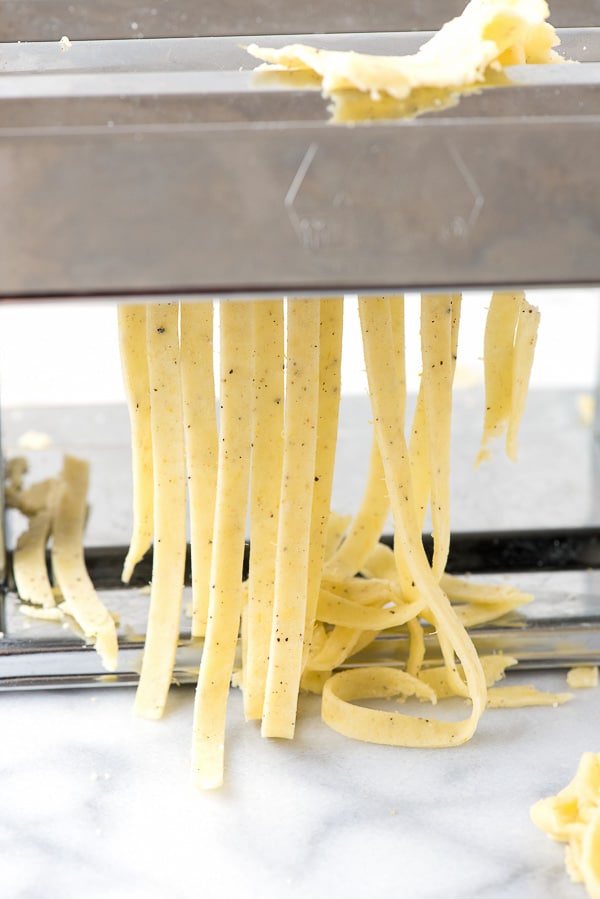 This bright-spicy flavored pasta is mouthwateringly delicious. It is fantastic on its own or as a side dish with a lighter protein such as salmon. It's a great option for those preferring a plant-based diet. Regardless of whether your dietary focus is gluten-free or not, you'll love this pasta!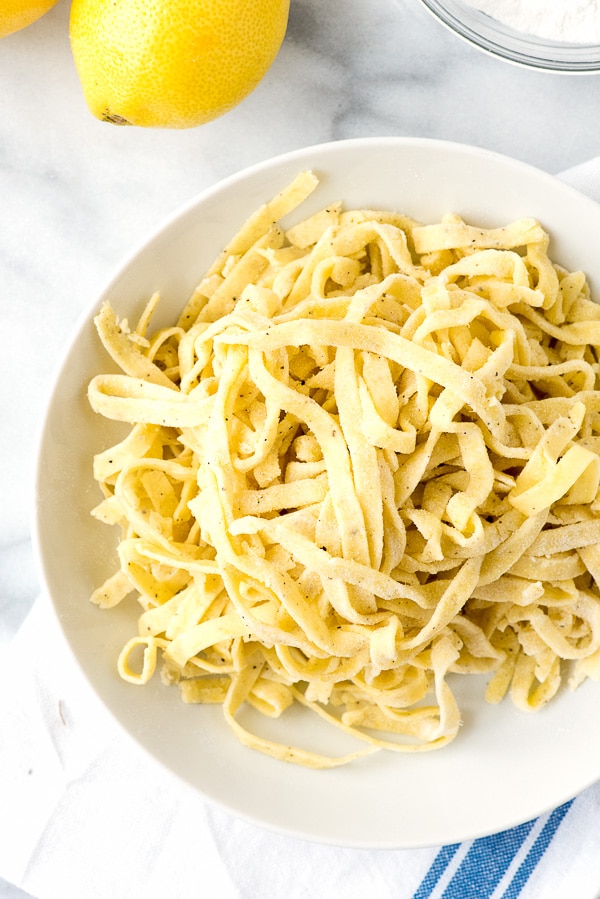 Recipe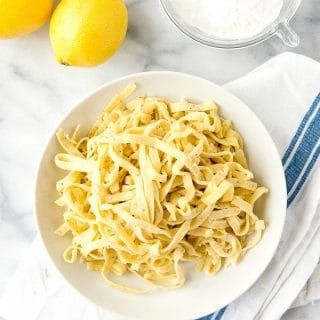 Homemade Gluten-Free Lemon Pepper Fettuccine Pasta
Whether a gluten-eater or not, this pasta is loved by all! A bright lemony flavor with a light bite of black pepper makes it great on its own or as an exciting side dish. A few tips: if possible measure the first two flours in grams on a scale (closest conversion into ounces also provided). If using measuring cups, spoon the flour into the cups and level off with a dining knife; do not scoop the flour. Keeping the parts of the dough covered with a damp kitchen towel until it is rolled out and cut in the pasta machine will keep it workable and prevent it drying out. Fresh pasta only needs to boil in lightly salted water for a few minutes before it's ready! Toss with a light sauce or browned butter and some fresh Parmesan cheese.
Print
Save Recipe
Recipe Saved!
Pin
Rate
Ingredients
150

grams

/5.3 ounces

(approximately 1 cup plus 2 tablespoons) White Rice Flour

50

grams

/1.8 ounces

(approximately ¼ cup plus 2 tablespoons) Potato Starch

1

tablespoon

Corn Flour

2

tablespoons

Xanthan Gum

¼

teaspoon

Kosher Salt

3

large Eggs plus 1 Egg Yolk

, room temperature

1

tablespoon

Extra Virgin Olive Oil

Juice of ½ Lemon

Zest of 3 Lemons

1

teaspoon

of freshly ground Black Pepper
Instructions
Process ingredients through a food processor with a dough blade. Knead on a lightly floured board until combined (2-3 minutes).

Divide dough into 4 pieces. Work each quarter from rolling out to cutting, leaving the other quarters covered with a damp kitchen towel until using. Using a rolling pin, roll dough quarter to 1/8 inch thick. Pass through pasta machine on widest setting (the rolled dough may be cut in half vertically to fit into the pasta machine if needed) (1), then 2 settings thinner (#3) and 2 settings thinner again (#5).

Pass the flattened dough through fettuccine cutter. Toss pasta lightly in rice flour to prevent sticking and set aside until the entire batch has been processed.

Bring a large pot of lightly salted water to bowl (there should be enough room for the pasta to boil freely). Add the homemade pasta and cook for 3 minutes or until done (it cooks quickly since it is fresh), stirring occasionally during the cooking to ensure the pasta noodles are separated. Drain and top with your favorite simple sauce such as a bit of browned butter with sautéed herbs and a sprinkle of fresh Parmesan cheese.
Nutrition
Calories:
284
kcal
|
Carbohydrates:
46
g
|
Protein:
7
g
|
Fat:
7
g
|
Saturated Fat:
1
g
|
Cholesterol:
122
mg
|
Sodium:
343
mg
|
Potassium:
215
mg
|
Fiber:
5
g
|
Sugar:
0
g
|
Vitamin A:
180
IU
|
Vitamin C:
0.5
mg
|
Calcium:
30
mg
|
Iron:
0.9
mg
This conversation was originally sponsored by Silk. The opinions and text are all mine.