Bison Chili with Black Beans has big flavor and is an easy chili recipe. A fun twist on traditional chili recipes.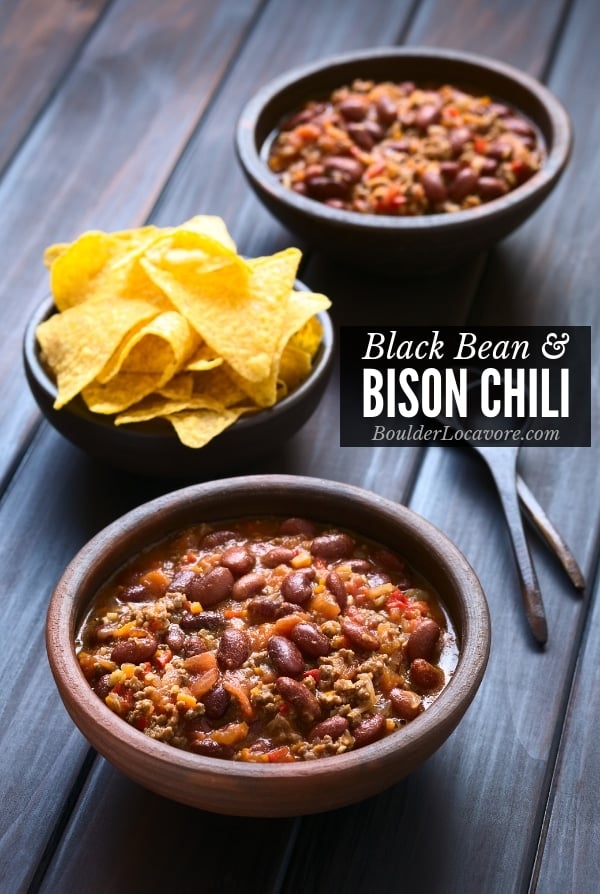 Updated February 2019
Whether staying warm by a fire or striking out for some wintery outdoor adventure, Bison Chili with Black Beans is a perfect spicy recipe to enjoy!
Earthy spices to tackle bone-chilling temperatures head on are just the start of what makes this bison chili so irresistibly good.
Why Bison Chili?
Bison has become popular over the past several years mainly due to being a leaner red meat than beef.
It is also richer in flavor than beef without tasting gamey.
Lastly, it's packed with great nutrition so some promote it as a 'healthier red meat'.
Bison is readily available in most grocery stores; usually pre-packaged as ground meat in 1-pound packages.
NOTE: if bison isn't available in your area, ground beef may be substituted.
What Does Bison Taste Like?
Honestly, it's very close to ground beef. Slightly lighter in flavor and a bit sweeter.
It does not taste gamey at all.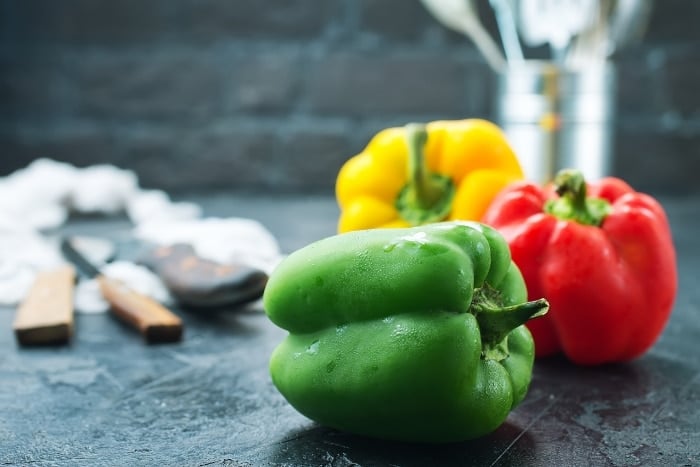 Ingredients in Bison Chili
Long ingredients lists tend to make me shy away BUT this bison chili is a different story.
The length of this bison recipe is deceiving in that most of the ingredients are either canned or spices to be quickly measured out.
There is a time-saving tip to prepare the vegetables too!
Here is what is in this bison chili recipe:
olive oil
ground bison/buffalo meat (lean ground beef may be substituted)
corn (canned, frozen or fresh)
diced tomatoes (canned)
kidney beans (canned)
black beans (canned)
yellow onion
garlic cloves
red bell pepper
yellow bell pepper
green bell pepper
canned diced mild green chilies
chili powder
kosher salt
ground cumin
red pepper flakes
black pepper
tomato juice or Bloody Mary mix

Make It Spicy or Not
The amount of spiciness can be controlled by starting with the amount of chili powder and red pepper flakes and adding more later if more heat is desired.
Also either tomato juice (mild) OR Bloody Mary mix (spicy) so make your choice to suit your taste.
Time-Saving Preparation Tip
Instead of hand chopping the onions, garlic and peppers, process them in a mini chopper or food processor!
Because they are added to the bison chili at the same time, they can be chopped together instead of separately too.
How to Make Bison Chili with Black Beans – Step by Step
Heat the olive oil in a large heavy pot or Dutch oven over medium-high heat.
Add the ground bison and brown, breaking up the meat into small pieces. NOTE: no pink color should remain.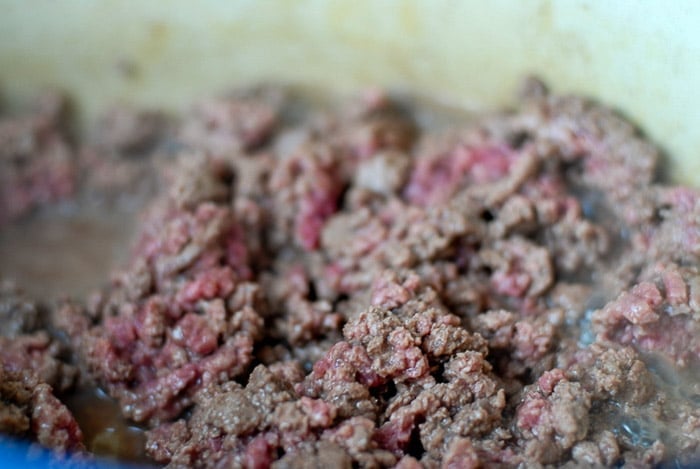 Combine the remaining chili ingredients (not the toppings); stir to fully mix together.
Cover and simmer over low heat for 45 minutes; stirring periodically to prevent sticking.
Serve with desired toppings.
Toppings for this Bison Recipe
I personally think the toppings may be the best part of eating chili!
Not only can additional flavor be added but sour cream in particular is great to tone down spicy heat!
Here are some suggested toppings for this easy chili recipe:
Fresh torn cilantro leaves
Shredded Mexican blend or Cheddar cheese
Sour Cream
Soft corn tortillas are great for dipping too!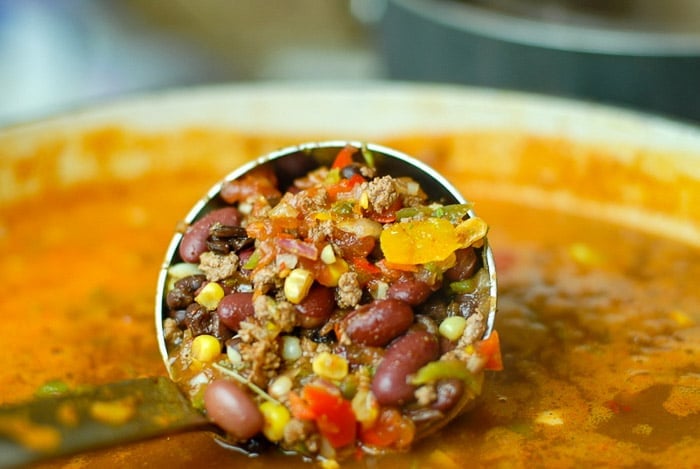 Serve with this delicious Cornbread recipe!
How to Store Bison Chili
Bison chili is fantastic the following day.
Like many chili recipes, the flavors continue to develop even after the cooking has ended!
Store in the refrigerator in a sealed container for 3-4 days.
How to Freeze Bison Chili
Chili is a great recipe to freeze! The texture is not affected by freezing and thawing.
The flavor stays great too!
How To Freeze:
Cook and cool the chili.
Add to a freezer safe container or bag (leaving 1/2-inch space at the top for expansion if using a container).
Freeze for 4-6 months.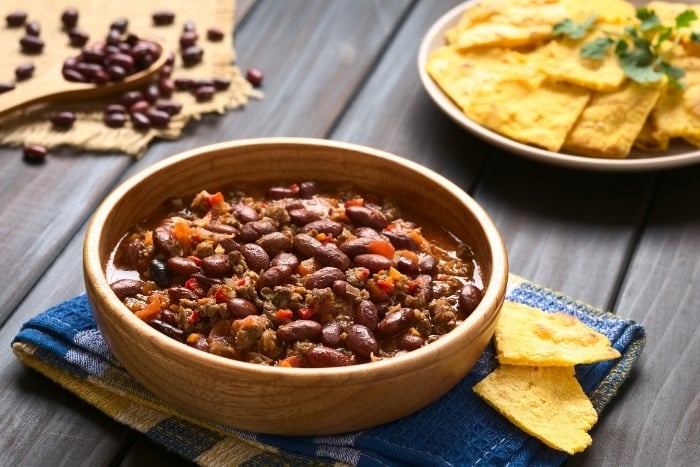 Want more chili recipes? The Best Chili Recipes has choices for all diners and multiple cooking methods (slow cooker, Instant Pot and conventional).
If you made this Bison Chili with Black Beans recipe, please RATE THE RECIPE below in the comments!
Recipe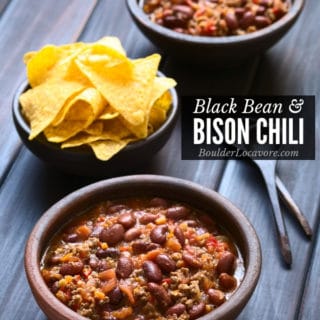 Ingredients
1

tablespoon

olive oil

1

pound

ground bison/buffalo meat

(lean ground beef may be substituted)

2

cups

corn

canned, frozen (no need thaw) or fresh

1

15-ounce can

diced tomatoes

undrained

1

15-ounce can

kidney beans

drained and rinsed

1

15-ounce can

black beans

drained and rinsed

1

medium

yellow onion

chopped

2

garlic cloves

minced

1

red bell pepper

chopped

1

yellow bell pepper

chopped

1

green bell pepper

chopped

1

4-ounce can

mild green chilies

2

tablespoons

chili powder

1 1/2

teaspoons

kosher salt

or to taste

2

teaspoons

ground cumin

2

teaspoons

red pepper flakes

1/2

teaspoon

black pepper

1 1/2

cups

tomato juice or Bloody Mary mix *
Optional ingredients
2-3

teaspoons

Epazote

(an herb used in Mexican cooking which diffuses the digestive effect of beans)
Suggested Toppings
Chopped fresh cilantro

Sour cream

Grated Cheese
Instructions
Heat the olive oil in a large heavy pot over medium-high.

Add the bison/buffalo meat and brown, breaking into small pieces as it cooks (3-5 minuts). NOTE: there should be no pink color remaining. If substituting ground beef, drain (bison will render almost no fat).

Add the corn, diced tomatoes, beans, onion , garlic, peppers, green chilies, spices and tomato juice or Bloody Mary mix. Stir to fully combine.

Simmer, covered, for 45 minutes, stirring periodically to prevent sticking.

Serve in bowls with toppings as desired.
Notes
*Tomato juice will be mild and Bloody Mary mix will add more spiciness to the recipe.
Nutrition
Calories:
429
kcal
|
Carbohydrates:
32
g
|
Protein:
26
g
|
Fat:
23
g
|
Saturated Fat:
8
g
|
Cholesterol:
79
mg
|
Sodium:
1919
mg
|
Potassium:
1073
mg
|
Fiber:
6
g
|
Sugar:
10
g
|
Vitamin A:
3210
IU
|
Vitamin C:
139.9
mg
|
Calcium:
69
mg
|
Iron:
5.7
mg