There is no more simple chicken recipe than Roasted Sweet Tea Chicken Thighs. Marinated overnight in prepared sweet tea, the chicken is tender and slightly sweet, cooking up with perfectly crackling skin with oven-roasting.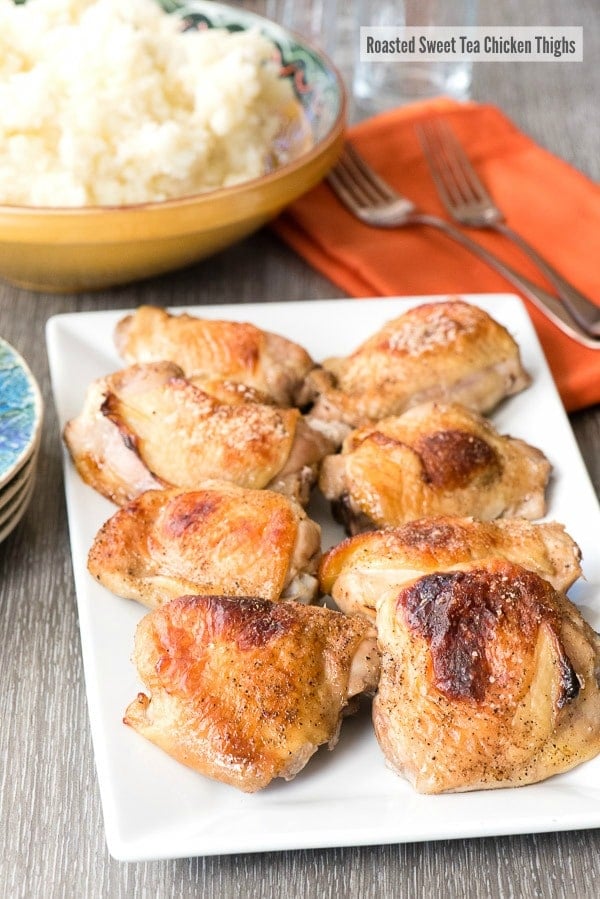 This delicious recipe is sponsored by Lipton, a brand I've loved my whole life! All opinions are my own.
My family is small and all dwell above the mid-line of the United States. Our lineage has roots in California, New York, Washington D.C., and my Grandmother attended Sweet Briar College which is as far south as our habitation has traveled.
My husband's paternal family hails from Alabama and I was never more clear about food being love than my first visit to meet them. We eloped, my husband and I, and had a native wedding ceremony in Fiji barefoot on the beach dressed in traditional native clothing. We sent everyone a word puzzle via express mail arriving the day prior to our departure so everyone knew we were flying off to get married.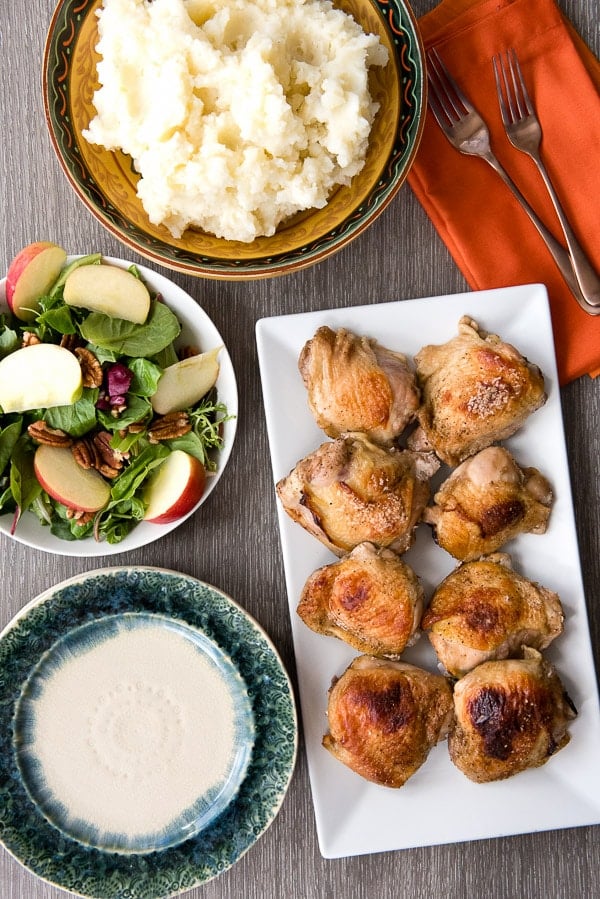 Shortly after returning my new Sister-in-Law made arrangements to fly us down to Alabama in secret to surprise my in-laws who were visiting family at the time. Meeting the extended family was like being folded into a cozy blanket that had been warmed by the sun. Their openness was the epitome of Southern hospitality. And there was the food.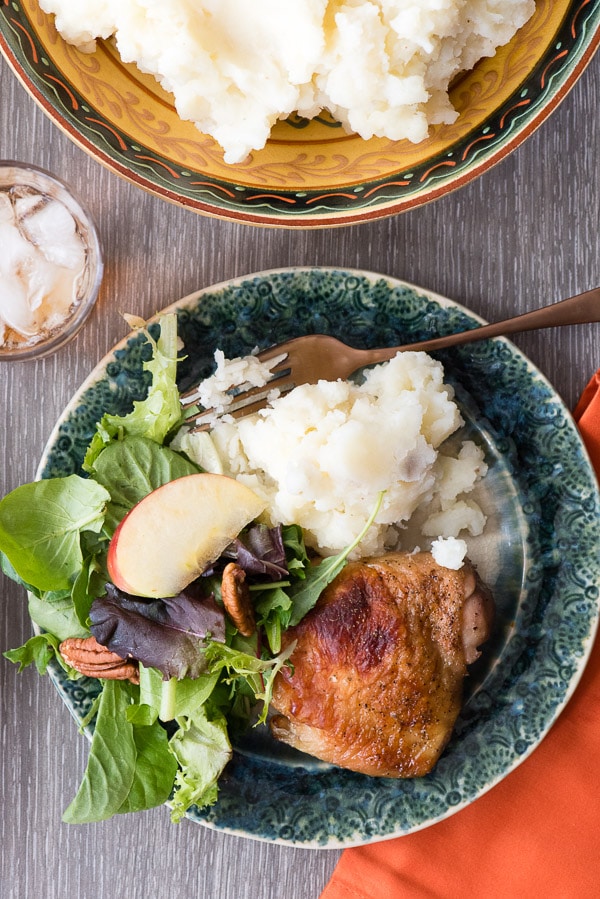 My husband's Aunt Mayblane (pronounces 'may-bleen') insisted on cooking a traditional Southern meal including everyone's favorite dishes. It was like Thanksgiving for the preparation and attention to detail. She pulled out a huge fryer for hush puppies and catfish. There was fried chicken, okra, cornbread and macaroni and cheese. The bounty of her enormous garden added fresh tomatoes, corn and pink-eye purple hull field peas to the mix. The sweet tea flowed and it really was a feast to behold.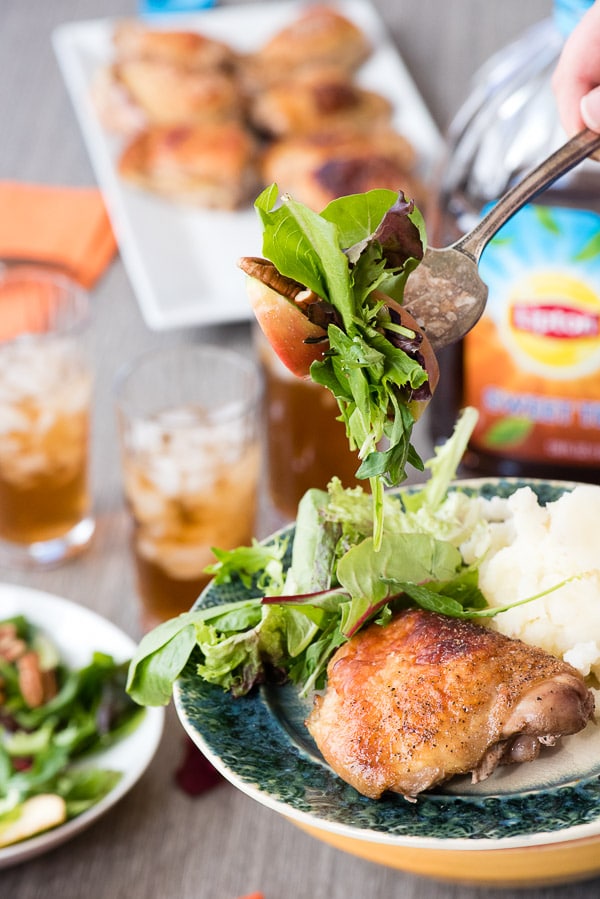 Many of the dishes I had not tried before and was thrilled to have a chance to have them homemade. Mayblane was perhaps the warmest, most loving person I'd ever met and it is a memory I've carried with me ever since.
We too in our married life have lived north. California, Northern Virginia (outside Washington DC) and Colorado. Our families are spread far and wide, and we don't get together nearly as often as we'd like to. Due to constraints of time and obligations, I have personally not been able to go back to Alabama to visit since my children were small.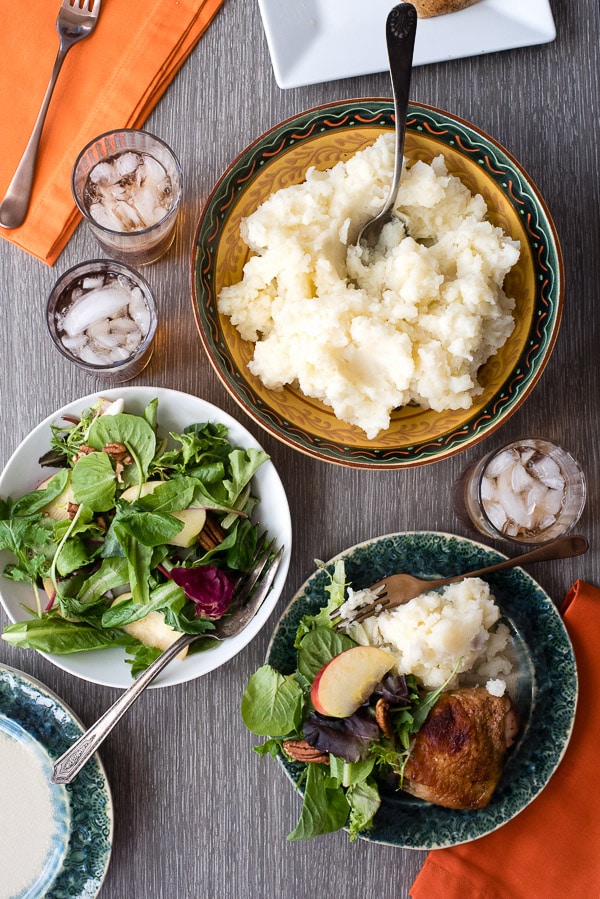 Just as Mayblane showed her love through her food, we feel love through little glimpses of her food from afar. She's been on my mind lately and though I am now gluten-free, don't have a hush puppy fryer and fried chicken probably is a bit more than my waistline could manage right now, I have reimagined her gracious hospitality in my own spin of Roasted Sweet Tea Chicken Thighs.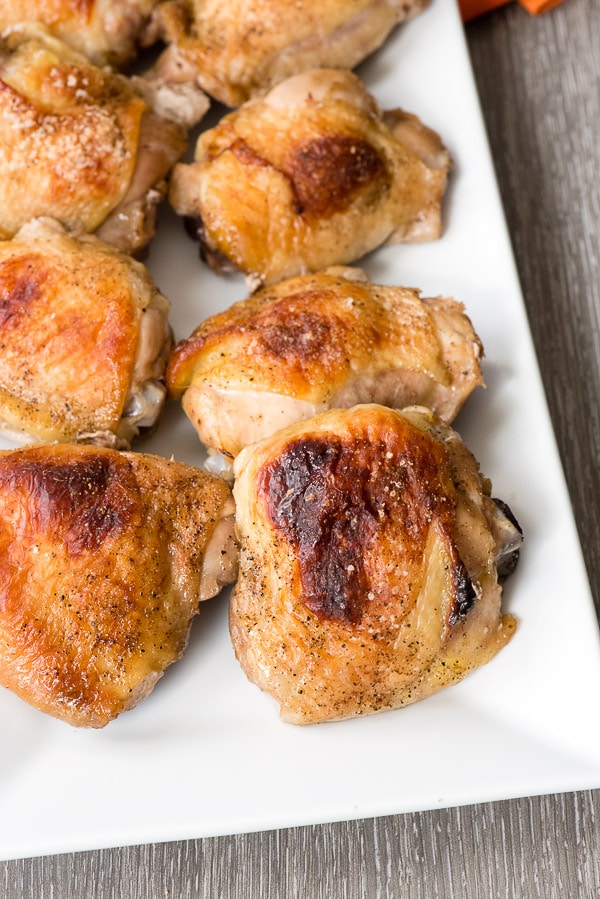 It's a simple recipe with only two ingredients (outside of the salt and pepper). Marinating the chicken thighs in prepared sweet tea tenderizes the chicken and oven-roasting produces the crackling skin of the chicken thighs we all love. I would serve it with traditional mashed potatoes and my latest favorite fall salad.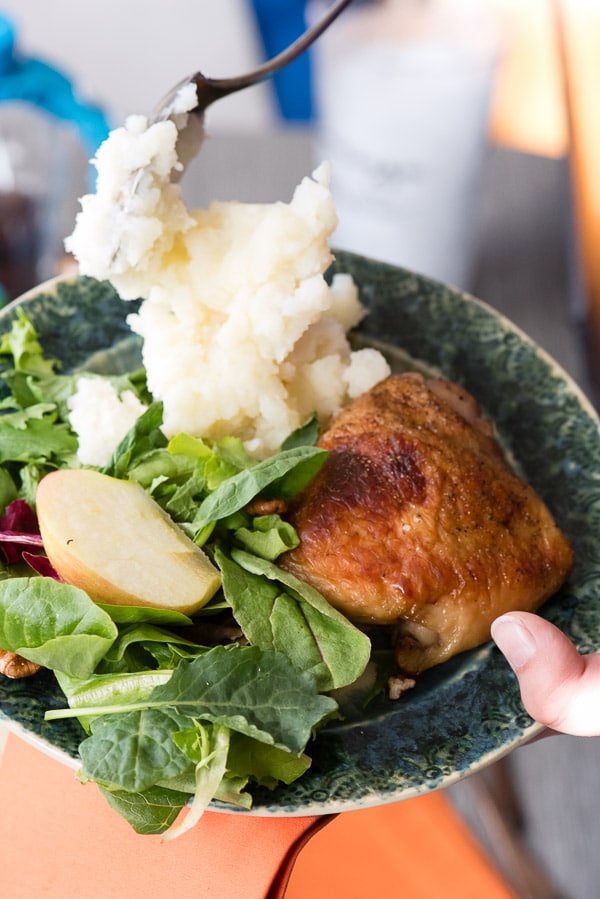 The power of food memories and associations are truly binding. We drink iced tea with dinner too which always makes me think of our family in the south, especially when having sweet tea.
Regardless of whether you have southern connections or not, I think you'll love this Roasted Sweet Tea Chicken Thigh recipe. The preparation could not easier; combine the chicken and sweet tea in a gallon zipper plastic bag and allow it to marinate for 24 hours. That's it!
Consider serving this with an Arnold Palmer drink!
Recipe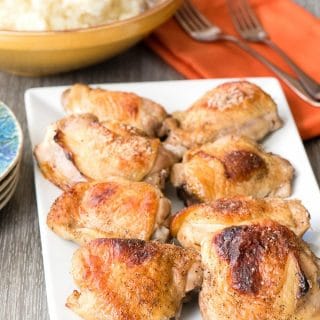 Roasted Sweet Tea Chicken Thighs
Marinating chicken thighs in prepared sweet tea tenderizes the meat and gives a slight sweet flavor to these irresistible chicken thichs.
Print
Save Recipe
Recipe Saved!
Pin
Rate
Ingredients
8

Chicken Thighs

(bone in, skin on) (approximately 3-4 pounds if larger thighs)

4

cups

Lipton prepared Sweet Tea

(approximately 4 cups; enough to cover the chicken thighs)

¼

teaspoon

Kosher Salt

¼

teaspoon

Garlic Salt

Freshly ground Black Pepper
Instructions
Put the chicken thighs in a gallon plastic zipper bag and cover with prepared sweet tea. Seal, squeezing out as much air as possible. Tip: I either leave the bag in a mixing bowl in the refrigerator or double bag it to avoid potential spills.

After 24 hours: Preheat the oven to 350 degrees. Spray the bottom of a baking dish with non-stick spray. Remove the chicken thighs from the sweet tea, allowing excess liquid to drain off. Place chicken thighs in the prepared baking pan.

Sprinkle the chicken thighs with the kosher salt, garlic salt and pepper and bake for 40-45 minutes. Internal temperature of the chicken thighs should be 165 degrees and the juices will run clear when fully cooked.
Nutrition
Calories:
248
kcal
|
Carbohydrates:
0
g
|
Protein:
18
g
|
Fat:
18
g
|
Saturated Fat:
5
g
|
Cholesterol:
110
mg
|
Sodium:
235
mg
|
Potassium:
275
mg
|
Sugar:
0
g
|
Vitamin A:
90
IU
|
Calcium:
9
mg
|
Iron:
0.8
mg