When planning the best family beach vacations, finding special locations with tons to do for everyone is key. These Best East Coast Beaches for Family-Friendly Vacations have it all!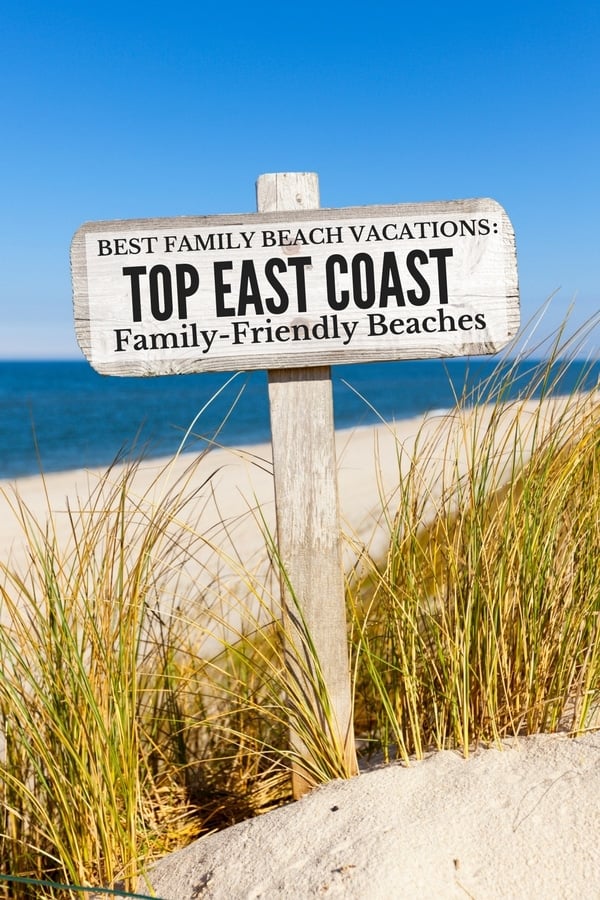 The time is now to start planning, preparing, and finalizing family-friendly summer vacations.
While there are many great vacation options to choose from, most families find that beach destinations are at the top of their vacation wants and needs.
And do you blame them?
Depending on where you live and the climate that you've been dealing with for the past few months, you're more than likely a little stir crazy yourself.
It's the time of year everyone is looking for beach time relaxation ideas.
How to Pick The Perfect Beach for the Best Family Beach Vacations
Jump to:
The great thing about traveling to a beach is there is something for everyone in the family to do.
The first step is to decide if you want an east coast or west coast beach.
The next step is to start looking for a beach that offers lots of great activities for you and your family.
Swimming, snorkeling, diving, surfing or just laying out in the sun.
Those are just a few of the many activities that make for the best family beach vacations.
While beaches are a great place to take a family trip, to ensure your best beach vacation, make certain the beaches you plan on visiting are truly family-friendly.
Do your own independent research on the best east coast beaches below.
You'll quickly know why they all have an average rating of 4.5/5 or more from TripAdvisor and are considered some of the top family-friendly beaches.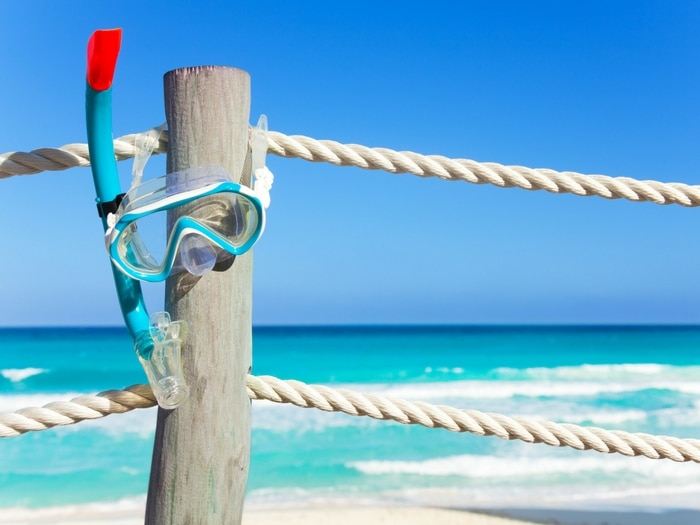 How to Avoid the Beach Crowds
Summertime and crowds are often synonymous with beach going.
Some tips I've found work well when going to beaches in the summer are:
Going at off times of day.

Arrive early when it's still cool and most vacationers haven't rolled out of bed.
Take a dinner picnic and go in the late afternoon or evening.

Avoiding weekends, mid day or going in the off season can also make for a lighter crowd situation.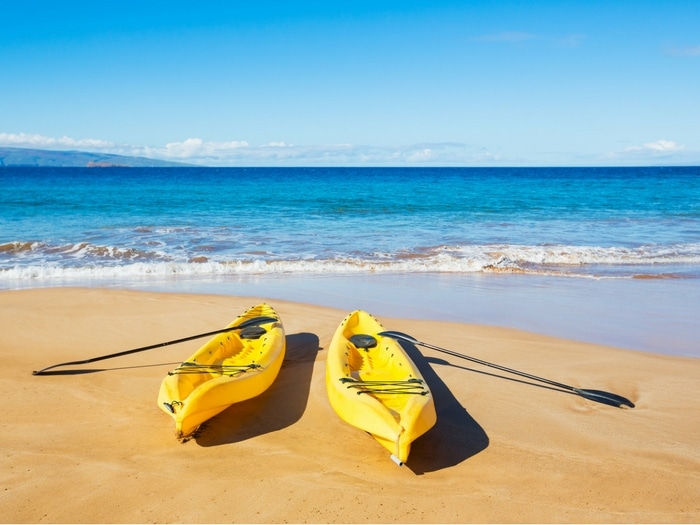 What makes a Beach 'Family-Friendly'?
For the purposes of this list of family-friendly beaches I used this criteria:
Multiple things to do for all ages and interests:

water activities
beachcombing
bird watching
paid activities both at the beach and in the surrounding area.

Lodging or places to grab a quick bite to eat close by.
I also love beach locations with cool activities allowing experiencing the unique aspects of the area.
Best East Coast Beaches – Selection
All of these best east coast beaches received high rankings in travel site reviews, as well as recommendations from friends.
I personally avoid crowded beaches at all costs but sometimes beaches are just too good to pass up experiencing.
In that case I use the tips above to avoid the crowds!
Looking for a few suggestions for the best east coast beaches that are family-friendly?
Here are a few options that may help you along in your best family beach vacations planning (beach websites linked in titles)!
Best East Coast Beaches for Family-Friendly Vacations
Tucked on the Gulf of Mexico, Clearwater Beach is lined with resorts that are full of family-friendly activities.
No question why it was named US Best Beach by TripAdvisor in 2018.
With miles of sand to run around and build in, your family is certain to have a blast on this beloved beach.
Don't forget to try out the parasailing and take a nice long stroll on the pier.
The sunsets are amazing, the breeze is warm, and there are many fun activities; such as taking a Pirate Cruise or visiting the Clearwater Marine Aquarium nearby (home of Winter the dolphin from the 'Dolphin Tales' movies).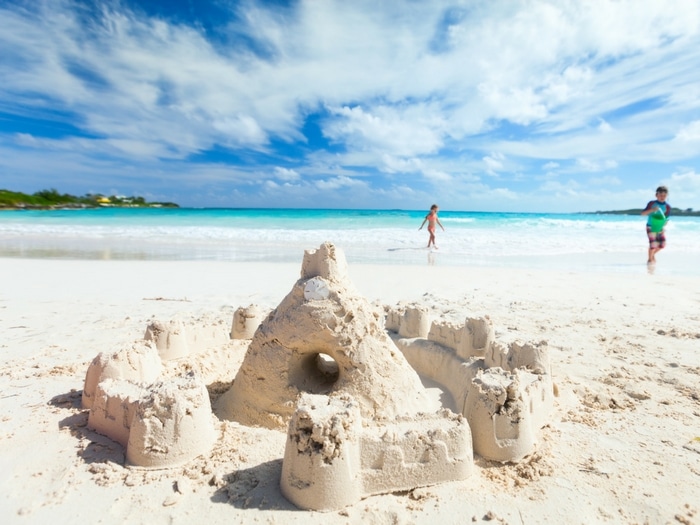 If a vacation to the "world's most beautiful beach" is on your bucket list, then this is the east coast beach that you've been dreaming of.
There are miles upon miles of white sand await you and your family.
Plus, the beach is surrounded by a ton of different family-friendly restaurants and activities.
Try your hand at Geocaching, or take a sea fishing charter (for all skill levels).
Enjoy some snorkeling in the clear waters.
Don't take my word for it!
Book your next beach vacation to this amazing beach. You'll see exactly why it made the list as one of the Top 25 Beaches in the US.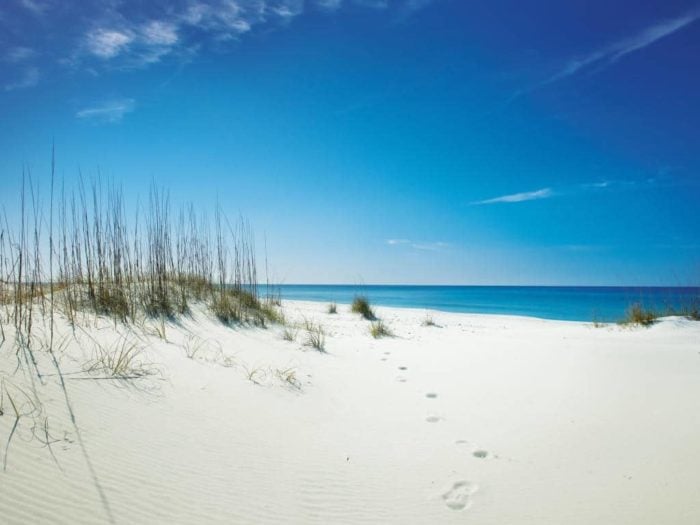 This beach screams family-friendly with its pier that runs up and down the beach lined with shops and places to eat.
The entire town in itself is actually a great place to stay as a family as well.
Take a ride on the Ferris wheel located just off the pier. Or just spend hours as a family relaxing on the beach.
You can try your hand at crabbing, kayaking (a personal vacation favorite for me) or even go old school with some kite-flying.
Once you discover the beauty of this city and all that it has to offer, you'll be wishing that your vacation could last just a few days longer.
New for 2022
OC Waterpark – This family friendly waterpark opens June 18th and is full of fun, thrills, and water rides! A great way to spend some time in the water with lots of activities for the kids.
Music Pier – Be sure to take a stroll down the Music Pier on Thursday nights during the summer months when there are fun music concerts happening!
During the summer months, Thursday nights offer free entertainment for the family!
It's also important to note that Orange City is a "dry" town so there won't be any sales of alcohol allowed.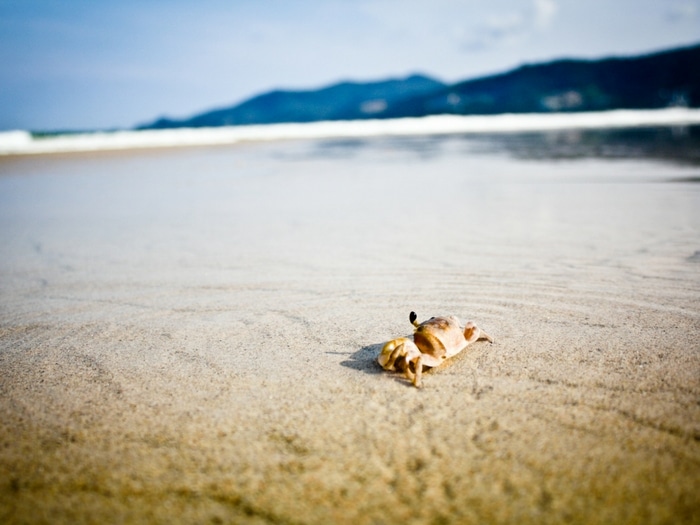 Have a hankering for some beach time and a ride on one of the tallest Ferris wheel in the country?
Myrtle Beach is the perfect place for you and your family to visit.
The beach shoreline offers over 60 miles (yes, miles!) of white sand to spend the day lounging around in.
If you get tired of the beach life and need a bit of a break, there are plenty of golfing options (including mini golfing) and shopping as well.
Take a dolphin watching cruise, hit the ocean-front water park or rent a pontoon boat perfect for families or groups.
And make certain to check the calendar in the area because you may just happen to stumble upon a great festival or two while you are there!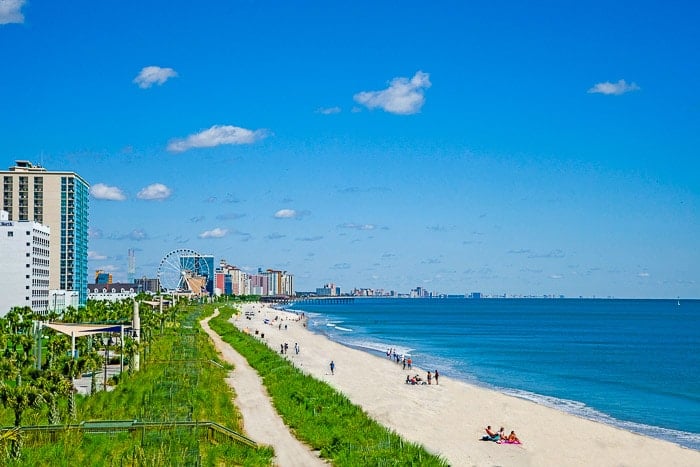 Just 18 miles outside Savannah, Georgia, spend the day picking up shells along the shore or just relaxing in the sun.
The great part about this beach is that it's part of an island.
There are tons of different shops to explore and hours of fun for the entire family.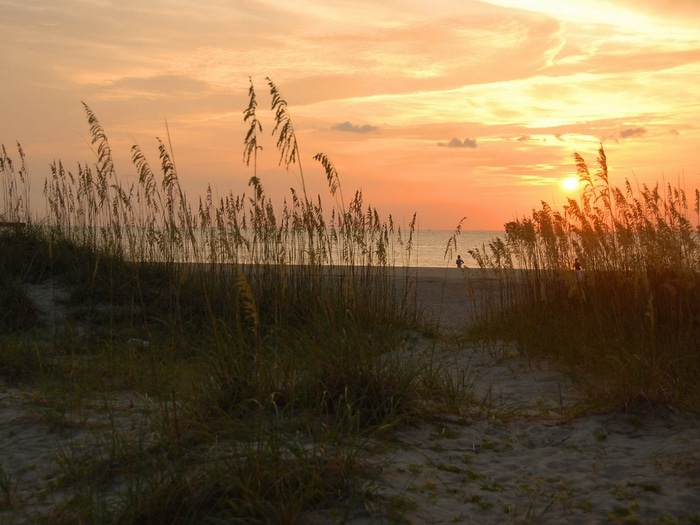 While the beach gets crowded during the hot summer days, it's super simple to just take a beach break and do some sightseeing.
Tour the Tybee Lighthouse and museum, the Tybee Marine Center or for nature-lovers the McQueen's Island Trail.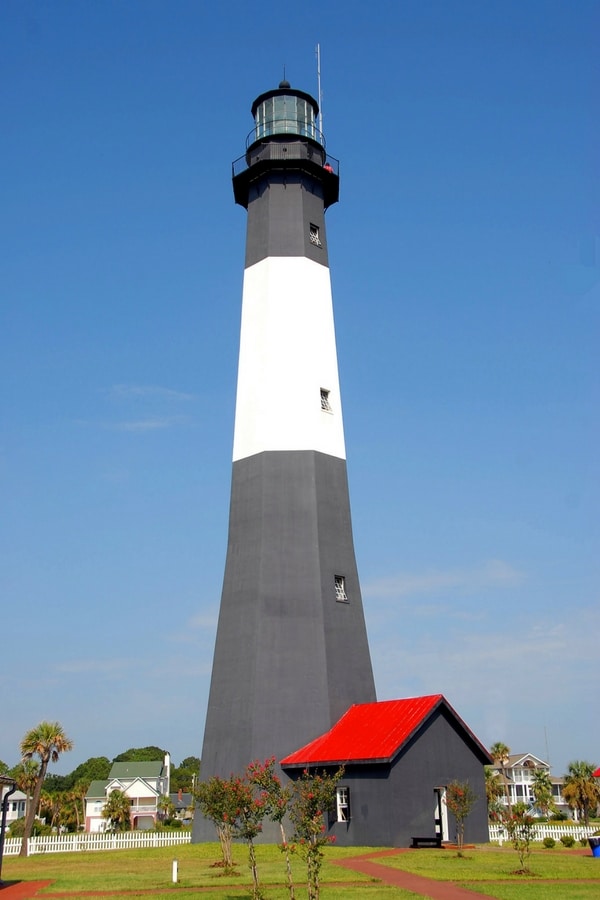 Looking for a beach with walking trails and the sounds of waves pounding the shores?
If so, this is the more rustic family-friendly beach that you've been looking for.
Rent paddle boards or do a sea kayaking tour. (New for 2022) If you book online with Portland Paddle to rent a paddle board, the entrance free to getting into the park ($8/person) is free.
The naturally dark sky makes for fantastic star gazing and aurora borealis viewing in the winter.
Pack a picnic lunch, relax and enjoy the beauty of everything Mother Nature has to offer.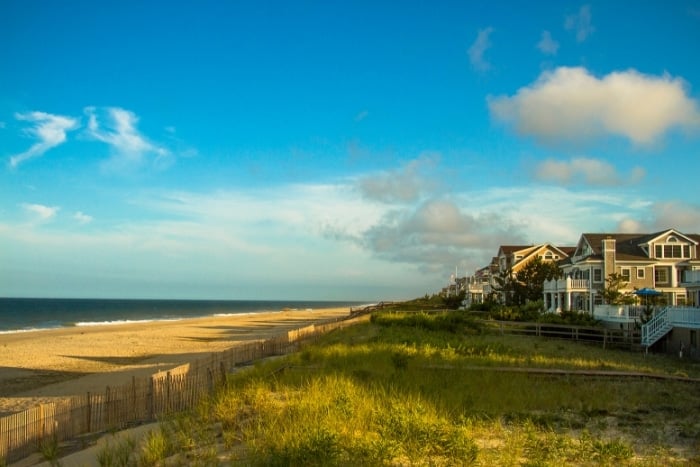 Kick off your shoes and let your toes feel the sand that stretches for miles along the shoreline of the Atlantic Ocean.
The beach is clean and well maintained.
Bethany Beach has a "small town vibe" that is instantly welcoming.
If you're looking for a beach that you can relax in and not feel the pressures and stresses of a crowd, this is the one for you.
Bring a good book and rest easy knowing that your family will love running around on the beach.
Lots of Relaxing Fun at this Best East Coast Beaches Choice
Explore the beautiful boardwalk that is lining the ocean.
Take the local trolley for twenty-five cents each way (you can even track its whereabouts online) to get around town for some low-key sightseeing.
Forget a beach chair or umbrella? Rent one at Steen's and they'll even set it up for you.
Feel like catching your own supper? Take a family outing to go crabbing! Guided excursions are fun for the whole family.
Grab some local produce from the Farmer's Market to round out your local meal (summer months).
And if you plan your days accordingly, arrive early or late to see a sunrise and sunset that is one that you'll never ever forget.
Be sure not to miss the Movies on the Beach too!
Plan a visit to the Nature Center while you're in town. It's open all year long and a great learning experience for the kids.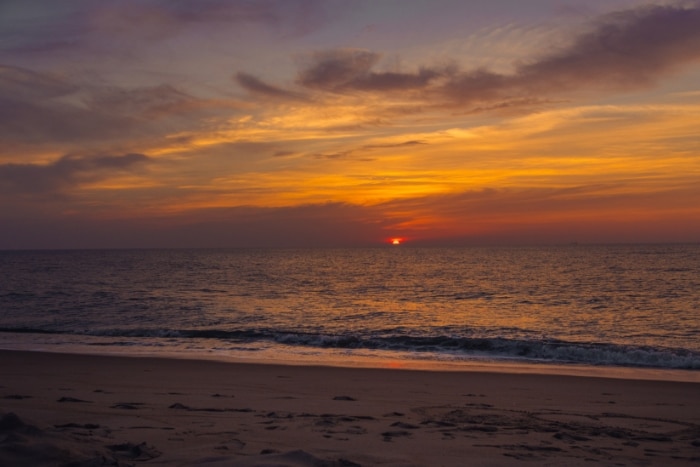 While these are just a few of the amazing family-friendly beaches that line the East coast, there are a ton of other great options as well.
Do your research, pick a state that you want to visit, and pack up those bags for a beach getaway that your entire family will love!
Do you have a favorite family-friendly beach on the East Coast?
I want to hear from you about your best family beach vacations!
OR if you've visited any of the beaches on this list please leave a comment with your experience.
More Family-Friendly Travel Ideas:
Did you like this Best Family Beach Vacations (East Coast) travel guide or any other recipes/posts on BoulderLocavore.com?
FOLLOW ME on: