True confessions?

I fell prey to TV series marathons over the Christmas Break.

Over time it metamorphosed into a socio-anthropological obsession over mainstream humanity's side roads.

Hoarders, Intervention, Teen Moms, I Used to Be Fat, Half-Ton Dad (1035 pounds to be exact) , Animal Hoarders (NOT animals who hoard, but people who hoard animals; like 119 dogs and cats in one case, all of which were kept inside).
I did not quest after these shows but having the TV on in the background while piling laundry to put away and writing my holiday cards, I was sucked in.

I began to pause the TV when needing to leave the room.

Recording the end of the episode I could not live without seeing.

Even getting season passes on TiVo for a few (which I quickly cancelled the next day when regaining my senses….except for Hoarders).
The most disturbing had to be My Strange Obsession on TLC.

The episode I watched featured two people.

One with an obsession with sleeping with her hair blow dryer, on, next to her in the bed and the other one who eats toilet paper (clean).

The latter snacks on it all through the day and even takes sheets in her purse to the movie theatre where she was shown popping pieces into her mouth like popcorn.

It is estimated she's consumed 1,200 pounds of TP in her lifetime.

The follow on episode proves to 'out' a ventriloquist who will only talk through her dummy and a woman who ingests abrasive household cleanser.

As you might imagine, it was painful to watch.
A bit more mainstream, although nonetheless painful, is the Food Network's series Worst Cooks in America whose second season premiered this week.

Some of the concoctions made by these desiring-to-'improve' home cooks were revolting.

There was Kelsey, the girl who put boatloads of cayenne pepper in a dry pan at high heat, almost sending the entire gaggle of contestants to the hospital with a complete noxious smoke out.

Then there was Erika, who admits she eats like a kid and cooks like a kid.

She prepared the bologna quesadilla with processed cheese from a can seen below, fashioned with saltines into an image of the sun (in her defense she gave a very heartfelt plea, that she truly wanted to learn which swayed me onto her fan list).

Kat throws whole peppercorns into her quiche; yum.

Lina (who rightfully was sent home) prepared 'Bloody Eggs' (her title) filled with catsup.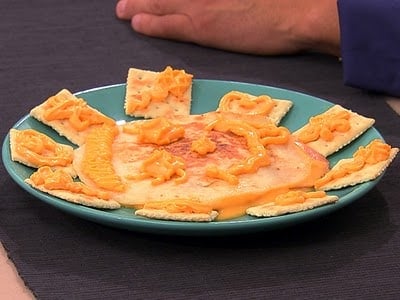 Photo courtesy of the Food Network website
In the spirit of this show I found this little gem in Nana's recipe box and decided it would be the perfect recipe to accompany this post.

I treated this recipe as I did my TV viewing; with open mind and suspended judgment (an active effort, believe me) to see if the 'punch line' holds true.

I'll spare you photos of the preparatory steps for fear the FCC might shut my blog down for infractions on my reader's basic human decency.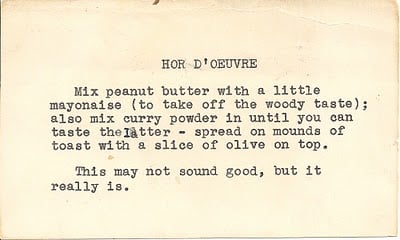 ·
¼

cup smooth peanut butter
·
2 ½ teaspoons mayonnaise
·
¾ teaspoon curry powder
·
Sliced green pitted olives (garnish)
I used organic smooth peanut butter, canola mayonnaise, some curry powder from Singapore and toasted gluten-free bread cut into 2 inch by 1 inch pieces (desparately trying to give this a fighting chance from an ingredient quality perspective).
I followed the recipe fully which is how I derived my proportions above.

The mixture is spreadable but is closer to a liquid than a thick spread.

I could not taste the olive (maybe black would be better for taste, for color I thought green would be better).
My verdict
:

It's decent.

I was so disgusted about the combination of ingredients that I was sure I would not like it.

It really was not bad (t

hough it still does gross me out a bit).

Not quite ready to serve it at my next cocktail party.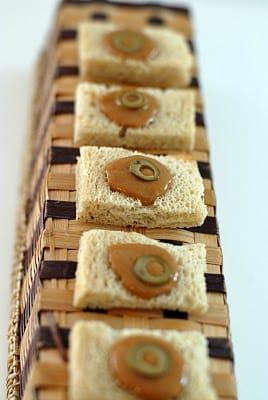 On second thought, is it just me or does this look like animal droppings?!