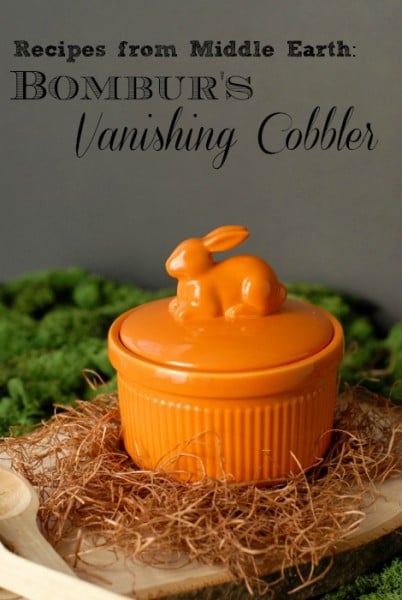 Whether having read The Hobbit sometime in the last 75 years since the book's original publication or having been introduced by the epic film trilogy of The Lord of the Rings, there are few not anticipating the release of the first (of a trilogy) The Hobbit movie December 14. I for one read the book in my youth, enchanted by all the distinct magical civilizations and characters to whom I became quickly devoted. My foggy memory of the details of J.R.R. Tolkien's work was vividly jolted back intact by the Lord of the Rings movies which I've seen multiple times, most recently back-to-back in a thrilling marathon over last Christmas break. The plot, though at times dark (supposedly motivated by Tolkien's experience of the rise of Hitler) is captivating not only from the visual grandeur but truly from the compelling characters, at the heart of which are the hobbits themselves
On December 14 the story will begin anew with release of the first story in the series: The Hobbit: An Unexpected Journey. Beginning with Bilbo and wizard Gandalf, an adventure will begin the quest of 'the ring' which threatens to force all into the peril of great evil and darkness if in the wrong hands. Despite the life-and-death propositions, an underlying theme in all the movies holds true: Hobbits are chowhounds. They are tiny, barefooted, simple souls with an appetite befitting several mammals five times their size. A daily dining regimen would be comprised of First Breakfast, Second Breakfast, Elevensies, Luncheon, Tea and Supper. Several trips to Costco would be required if anticipating hosting even one Hobbit as a weekend house guest.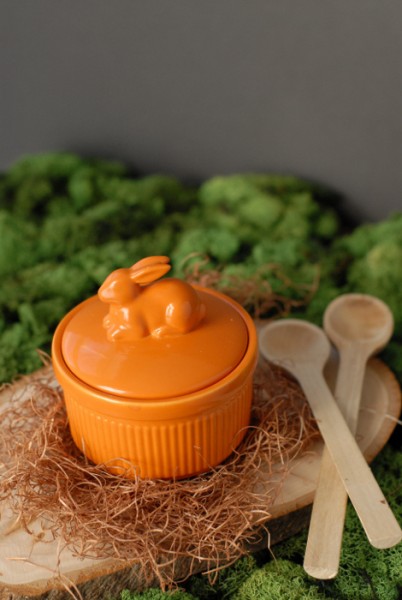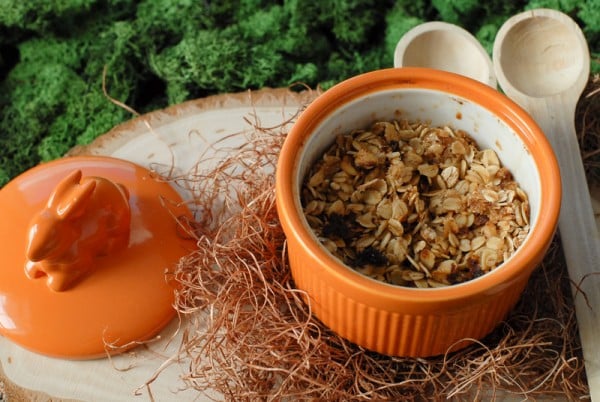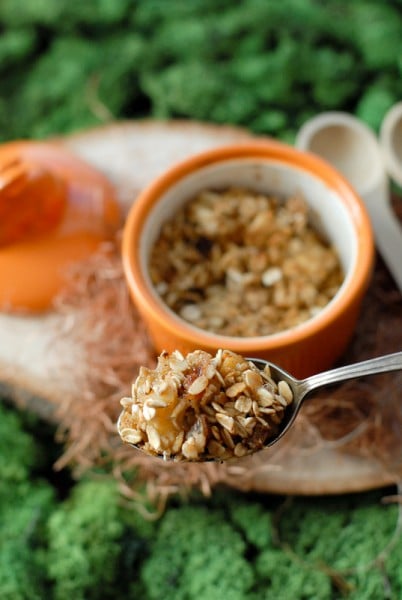 This fixation on food inspired me to track down upcoming Hobbit cookbooks in anticipation of the movie release. My sleuthing lead me to two publishers slated to release Hobbit cookbooks per announcements last year. Sadly the deals were cancelled and no new cookbooks are planned to be released. However all was not lost and I made two discoveries. Warner Brothers, the producer of The Hobbit movie has established an online cookbook; Recipes from Middle Earth. It is populated with eccentric recipes from contributors (you can add your own!) along with a core recipe selection by Bombur, a portly food-loving dwarf appearing in the upcoming movie. For fun I decided to make one of Bombur's recipes, Vanishing Cobbler, modifying it to fit the current season. By the looks of Bombur (see below) I doubt he'd mind, as long as he could eat it he'd be happy! It's a rustic dish befitting the residents of Middle Earth, (as well as any modern day Age-of-Man household) and got me excited about the movie!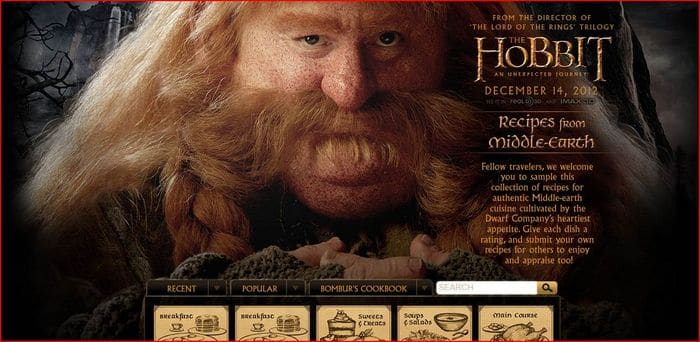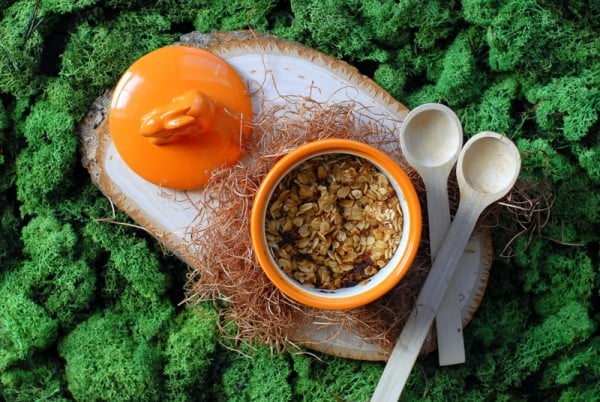 Recipe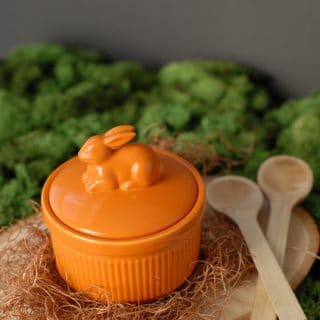 Bombur's Vanishing Cobbler
The original recipe for Vanishing Cobbler used berries though I changed it up to feature current season fruits: fresh and dried reconstituted. The directions are brief in the original recipe, as I imagine Hobbits and Dwarves are more focused on the eating and not the preparation! I embellished the preparation steps a bit and chose to make my cobbler in mini individual Hobbit-size cocottes. Directions for making a pan also included.
Print
Save Recipe
Recipe Saved!
Pin
Rate
Servings:
1
9x9 pan or 6 1-cup mini cocottes
Ingredients
¼

cup

total mixed dried golden raisins and/or dried sweetened cherries and/or dried sweeten cranberries

(use any combination of the three or any one of the three)

½

teaspoon

vanilla extract

1 ½

cups

dry oats

(use gluten free oats if making gluten free version)

½

cup

brown sugar

1

large apple

(approximately 4 1/2 ounces), peeled, cored and chopped into small pieces

3

seckel pears or one medium non-seckel pear

(approximately 6 ounces), peeled, cored and chopped into small pieces

Juice and zest from one tangerine

½

teaspoon

ground cinnamon

Dash allspice

1

tablespoon

granulated sugar

6

tablespoons

melted butter

, unsalted (and some unmelted butter for greasing pan)
Instructions
Preheat the oven to 325 degrees. Prepare a 9x9 inch baking pan or 6 mini 1 cup cocottes by greasing generously with unsalted butter.

Place one cup of boiling water into a small heat-proof bowl. Add the ¼ cup of dried fruit and ½ teaspoon vanilla extract. Allow to sit until fruit is soft and has plumped back up (about 20-25 minutes).

In a second small bowl mix dried oats and brown sugar. Set aside.

Using a slotted spoon, remove the dried fruit, draining the liquid from it and place in a large separate bowl. Reserve the vanilla-water.

In the bowl with the dried fruit, combine the chopped apple, pear, tangerine juice, tangerine zest, granulated sugar, cinnamon and allspice; stir to combine and coat fruit.

Place fruit mixture in the prepared baking dish or in the cocottes (distributing evenly). For cocottes: Add 1 teaspoon of the reserved vanilla-water per cocottes. For baking dish: 2 tablespoons if using a baking dish.

Cover with the oat-brown sugar mixture.

Pour melted butter evenly over the top of the cobbler (distributing it evenly if using cocottes).

If using cocottes, place them on a baking sheet. Cover baking dish with foil, and cocottes with lids. This allows steaming of the liquids to soften the oat topping.

Bake 45 minutes to 1 hour, checking to ensure the oat topping has become soft. Remove from oven and serve when cooled slightly.
Notes
Adapted from 'Recipes from Middle Earth'
My second discovery was though no cookbooks are being published there are two new hobbit books which have just been released: The Unofficial Hobbit Handbook and The Unofficial Hobbit Trivia Challenge.
If there has ever been a question you wondered about a hobbit's existence it is answered in the Unofficial Handbook. The inside scoop on all the facets of life in the Shire from social practices, having adventures, survival in the wild, 'Facing Fears and Confronting Evil' and even a few recipes thrown in (including one for Savory Garlic Dragon which looks quite simple; does Whole Foods carry fresh dragon?!). A favorite chapter of mine was on Self-Defense; 'The Art of Running and Hiding'. The book covers every aspect of Hobbit life allowing full immersion into what life would be like if one were one of these sweet creatures. A 'must' for all hobbit lovers!
How much do you REALLY know about The Hobbit? The inhabitants of Tolkien's world from elves and dwarves to those in the artistic realm-of-man he's inspired? Can you answer these questions:
What color were Thorin Oakenshield's stockings?
What was Gandalf's name in Tolkien's first draft of The Hobbit?
Which actor sang "The Ballad of Bilbo Baggins" (in possibly the worst music video ever created)?
Disclosure: I was not compensated for the writing of this post. Commentary represents my personal beliefs. I was provided review copies of both books in the giveaway.