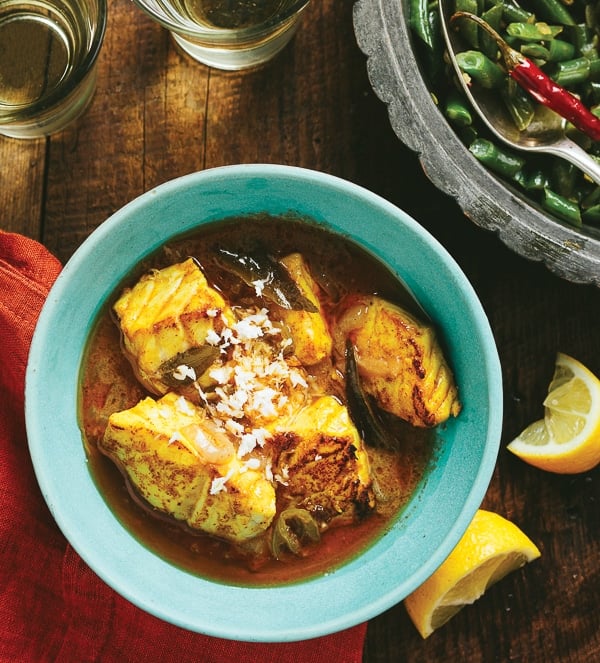 As the school year begins and the cool of fall begins to creep into the subtly shorter days, my slow cooker becomes a mainstay of my weeknight kitchen arsenal. I am unwilling to sacrifice flavor or originality to make a meal so always appreciate innovative recipes allowing me to prepare something quickly in the morning and not think of it again until it's time to serve it up at dinner time.
To say I was excited when opening the package containing a review copy of the just published The New Indian Slow Cooker cookbook would be a gross understatement.
I immediately thought the concept was genius and personally was thrilled at the prospect of serving up Indian cuisine via my slow cooker, something I would have never imagined possible. I love Indian food and it tends to be naturally gluten-free making it all the more fun to review.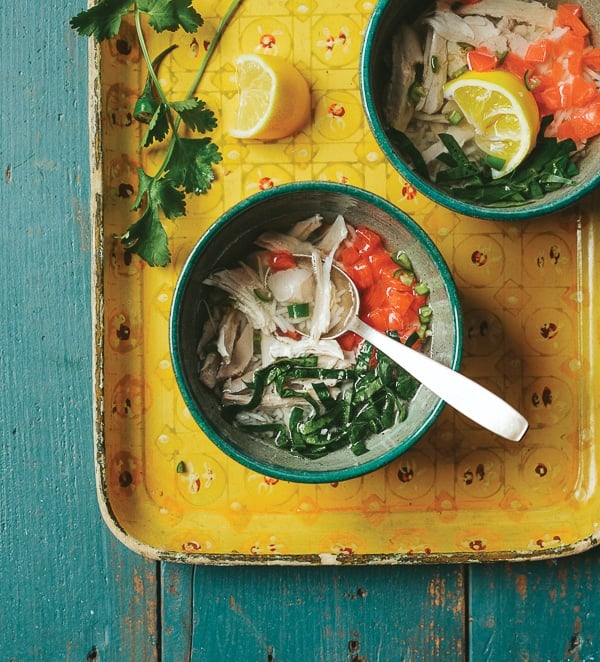 The New Indian Slow Cooker Cookbook offers 60 authentic fix-it-and-forget it recipes for Curries, Dals, Chutneys, Masalas, Biryanis and more. These are not ethnically dumbed down recipes but rather include all the classic spices and seasonings you'd expect combined with the ease of using a slow cooker.
I know from making curry personally the success of recipes like these is the slow blending of flavors making them an apt partner for slow cooking.
Apropos for a slow cooker cookbook, the education of the recipes begins slowly. Soulful, beautiful photographs lead the reader through the basics of the Indian kitchen: the spices (including preparation of spice blends), key support ingredients (basmati rice, chickpea flour, ghee, pastry flour), and Lentils and Beans. Key techniques such as Cutting Up a Whole Chicken are also covered keeping true to traditional Indian cooking.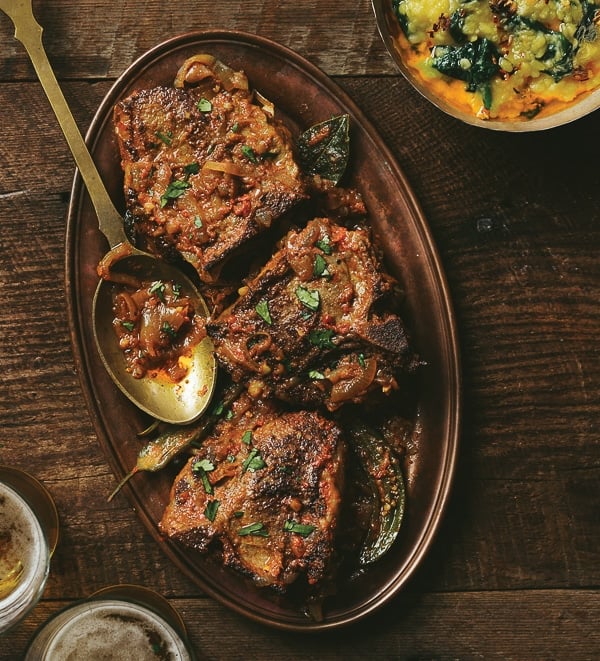 The New Indian Slow Cooker Cookbook shares recipes for Basics and Accompaniments, Soups and Rice Dishes along with the headline categories listed prior. To call the cookbook's photography 'mouthwatering' would be a gross understatement.
The photos set the tone for the cuisine and conjure the vibe of the food; warm, deeply flavored, aromatic. Each section begins with notes on the role of the genre of recipes in traditional Indian homes making it all the more relatable. The recipes range from those short and simple, such in the cases of starters, accompaniments, soups and chutneys, to those more lengthy and complex with many in between.
The cookbook is original and opens up the opportunity to enjoy classic Indian dishes through a means that seemingly understands time constraints for cooking, yet the desire for fantastic food.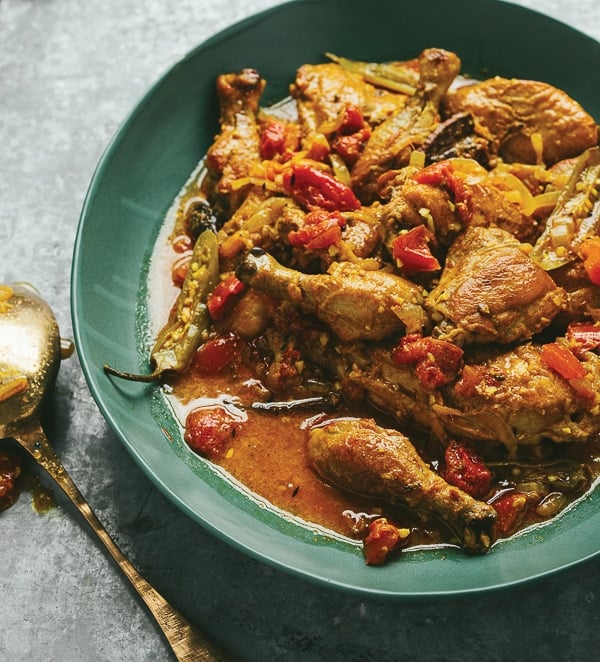 Author Neela Paniz was raised in Bombay, India, and after moving to the United States opened a popular take-out restaurant in Los Angeles, 'Chutney's Indian Take-Out'. She went on to open the contemporary Indian restaurant in Napa, Neela's, as well as penned 'The Bombay Cafe' which cemented her as a leading voice of contemporary Indian cuisine.
How to make Slow Cooker Kerala Fish Curry (meen moili):
"There are many recipes for meen moili, a fish curry from the southern state of Kerala. I got this one from a well-known South Indian chef many years ago, and it has remained my go-to South Indian fish curry. Steamed basmati rice (page 24) and Green Beans with Mustard Seeds and Onions (page 84), are perfect accompaniments.
If cooked over too high a heat, coconut milk tends to separate, so the benefit of the slow cooker is that it allows you to use coconut milk with ease.
Here, simmering the milk with spices results in a luscious sauce. This dish is perfect for entertaining, as you can keep the curry warm in the cooker while adding sautéed pieces of fish, and they will hold without overcooking or falling apart. Shrimp is a great alternative, too." -The New Indian Slow Cooker Cookbook
More Recipes You'll Love!
Recipe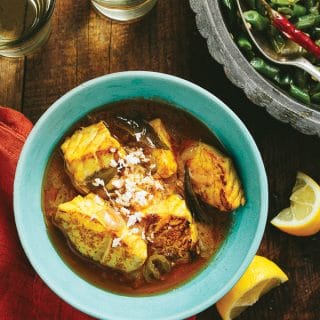 Ingredients
Instructions for the Masala Paste:
3

cloves

garlic

, minced into a paste

1/2

teaspoon

ground cloves

1

teaspoon

ground cinnamon

2

teaspoons

ground fennel seeds

2

teaspoons

ground Indian red chile*

2

tablespoons

ground coriander

1

teaspoon

ground black pepper

11/2

teaspoons

salt

1/2

cup

water

1

tablespoon

oil

2

medium

onions

, sliced thin

2-3

serrano chiles

, sliced thin

1

1-inch piece

fresh ginger, peeled and julienned 10 to 12 kari leaves*

2

15-ounce cans

coconut milk

1/2

cup

water
Instructions for the Fish:
11/2

pounds

mild white fish fillets

, such as red snapper, tilapia, or thin fillets of halibut

Juice of 2 lemons

1

teaspoon

turmeric

1/2

teaspoon

salt

2-3

tablespoons

canola oil

Lemon wedges

, for garnish
Instructions
Before prepping the ingredients, turn the slow cooker on to the high setting for 15 minutes, until the insert is warmed through.

In a bowl, mix the ingredients for the masala paste until combined then set aside.

Heat the tablespoon of oil in a skillet over high heat. Add the onions, chiles, ginger, and kari leaves and fry for 2 minutes, until the onions are just soft. Transfer to the slow cooker insert.

Add the masala paste and stir in the coconut milk, rinsing each can with 1⁄4 cup of water and adding this to the slow cooker.

Cook for 2 1/2 hours on low. This curry can be made ahead of time to this point and either kept on the warm setting for up to an hour or cooled and then reheated quickly in a saucepan when you want to continue with the next step.

Trim and cut the fish into 2-inch pieces. In a bowl, combine the lemon juice, turmeric, and salt and mix in the fish to coat well. Let stand for 20 minutes.

Drain the marinade from the fish.

Heat the oil in a skillet over medium-high heat and, working a few pieces at a time so as not to overcrowd the pan, fry the fish for 1 to 2 minutes on each side, until the edges are lightly browned.

Transfer the fish with a slotted spoon to a paper towel–lined plate and set aside. Once all the fish is sautéed, carefully transfer the pieces to the hot curry and simmer for another minute or more, depending on the thickness of the fish. Serve hot, garnished with lemon wedges.
Notes
NOTE If using shrimp, allow for five or six size 16⁄20 shrimp per person. Peel and devein the shrimp before using. Sauté the shrimp in a skillet over high heat with 1 tablespoon oil for a few minutes, just until they become opaque, before adding to the curry. Be careful not to overcook them, as they will get rubbery. VARIATION For a vegetarian version of this curry, serve with corn on the cob cut into 11 ⁄2-inch pieces. Boil the corn until tender, about 3 to 4 minutes, and then add to the curry. Bring the curry to a quick boil and serve. Allow for 2 or 3 pieces of corn per person.
Nutrition
Calories:
487
kcal
|
Carbohydrates:
5
g
|
Protein:
84
g
|
Fat:
14
g
|
Saturated Fat:
3
g
|
Cholesterol:
207
mg
|
Sodium:
2548
mg
|
Potassium:
1370
mg
|
Fiber:
1
g
|
Sugar:
1
g
|
Vitamin A:
75
IU
|
Vitamin C:
10.4
mg
|
Calcium:
72
mg
|
Iron:
3
mg
Disclosure: Reprinted with permission from The New Indian Slow Cooker by Neela Paniz (Ten Speed Press, ©2014). Photo Credit: Eva Kolenko. I received a copy of The New Indian Slow Cooker Cookbook for the purpose of this review. All opinions are my own.