Dark chocolate truffles infused with rose flavor are a luxurious, elegant chocolate dessert that are as beautiful as they are delicious. Learn how to make homemade chocolate truffles to give as gifts or to treat yourself with.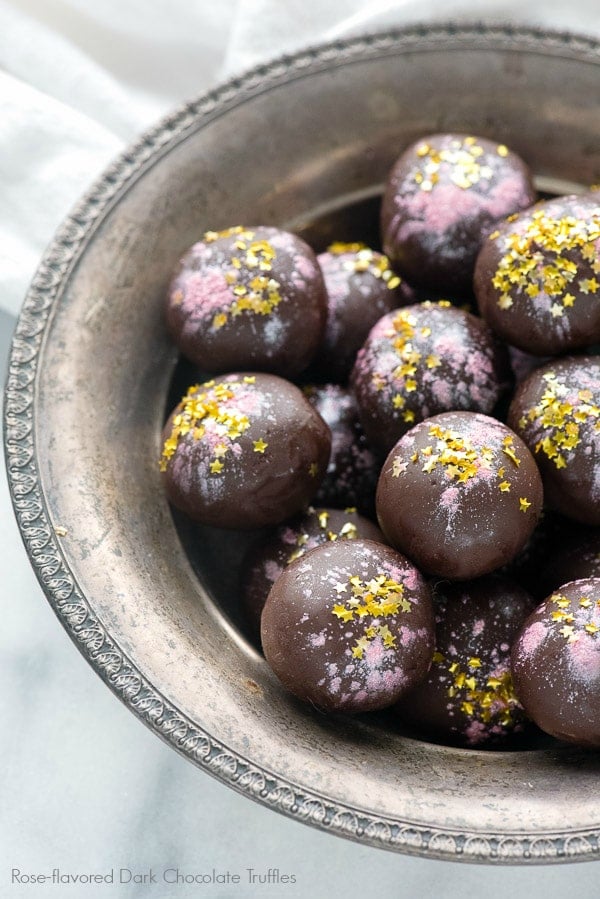 Dark chocolate truffles really are on the top shelf in the chocolate confection hierarchy. The cost and packaging remind us of this. Their perfectly round prim form, often with exotic flavors, nested in fancy boxes with only a few sold together imply their luxe standing.
Dark Chocolate Truffles: Sophisticated Sweets
Unlike drugstore candy that is approachable and commonplace for all, truffles infer by their mere presence that they might be too good for us, too sophisticated for a normal palate. That they shouldn't be eaten while wearing holey jeans or flip flops. And certainly not without mascara or lipstick. A collection of them in one place touting complex combinations of fillings and outer coatings can feel like stumbling into a cocktail party of the best and brightest, urging one to consider if they are good enough to be in their company. They are a bit snooty, or maybe it's just how we look at them.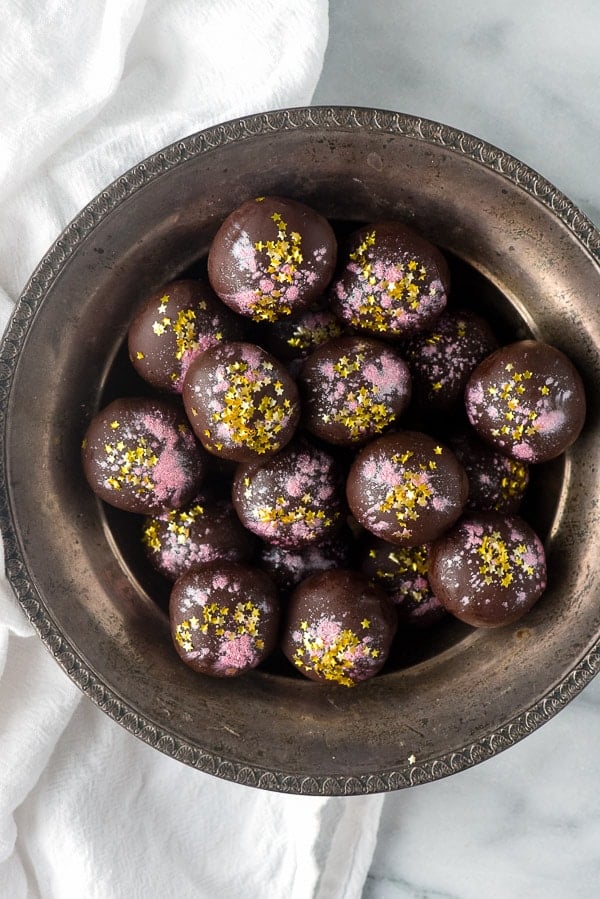 Did you know you can easily you can make dark chocolate truffles yourself? That's right. You don't need to pay $3 for one in a little gold box. I had not realized this until office friends began giving them as gifts. I was shocked wondering where they got them and how they could afford to give them out en masse.­­ I soon learned they are a fairly simple homemade confection and though I don't make them often it's always fun when the mood strikes.
Never liking to do anything mainstream I'm sharing my latest conco­­­­­­­­­ction with an eye towards Mother's Day: Rose-flavored Dark Chocolate Truffles. We love rose flavoring in my house in fact I've made enough rose recipes to do a roundup of 10 Rose-flavored Dessert Recipes. I typically have used rose extract in most of my recipes however rose water is also popular especially in Middle Eastern recipes. It can be a very strong flavor so taste what you make and start with a small amount of the rose flavor, increasing slightly until reaching your preferred flavor is key.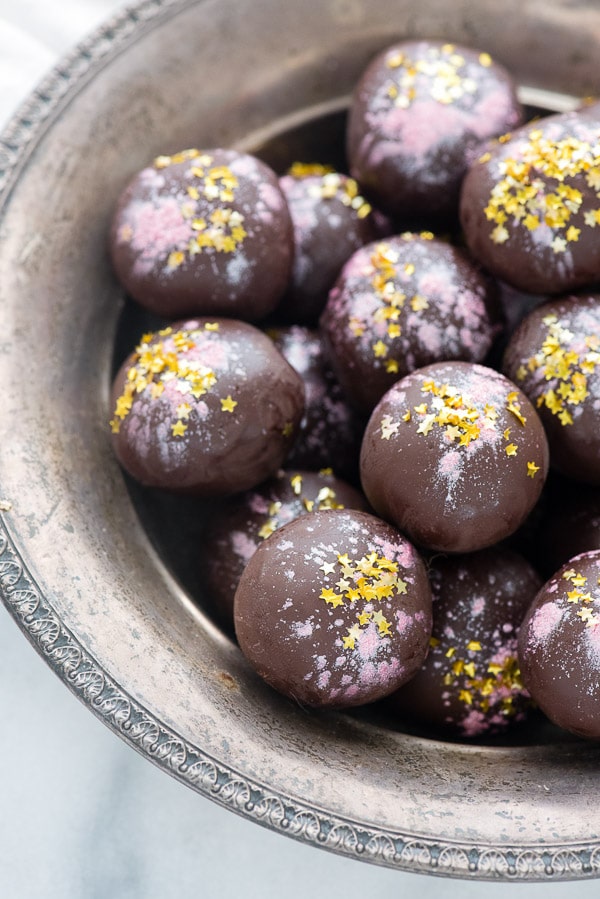 How to Make Dark Chocolate Truffles
In the case of these truffles I began cooking without setting out my mise en place. I dove into the pantry for the rose extract only to realize I'd rearranged everything and did not have time to locate the extract. Instead I used a new rose water, which I found in the end was fairly potent more like an extract. The moral to this story is every rose water or extract differs from the next so tasting while cooking is important not to overwhelm the dish.
I've used a few different methods for coating the truffles and allowing them to set. This time I tried something new inspired by a short video from Saveur on dipping truffles. The video uses toothpicks inserted into the truffles for swirling and allowing the truffles to harden off a surface which can cause pooling to form a 'foot'. Once again I began the process, ran downstairs to grab a piece of Styrofoam leftover from a craft project as suggested by the video and couldn't find it. Get everything ready before you begin; do as I say, not as I do!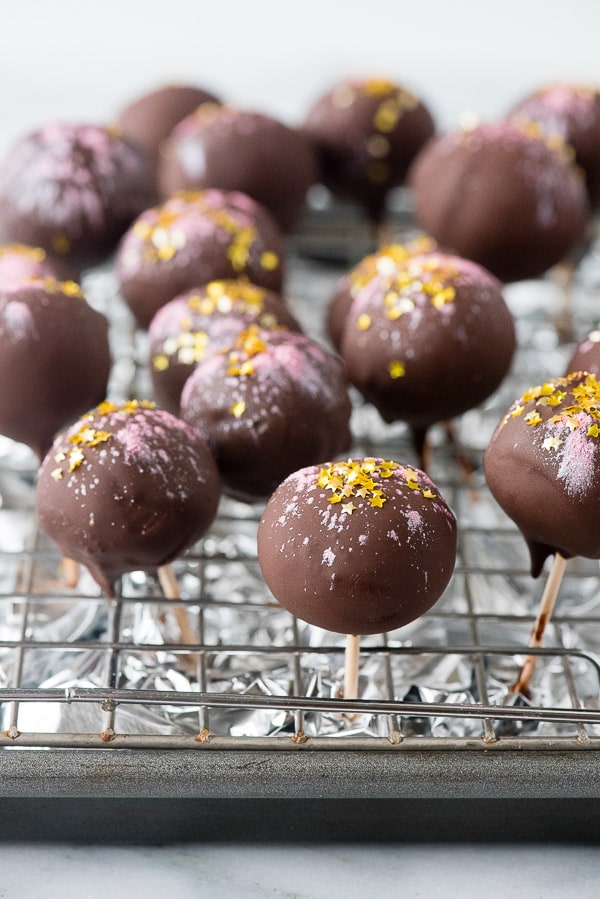 With no time to waste, I quickly came up with an alternative; tin foil gently wadded and then compressed between a baking sheet with sides and a cooling rack. This provides cushioning to insert toothpicks into and the cooling rack provides additional stability. A grid cooling rack may be used or two cooling racks with non-grid pattern, turned at 90 degrees to allow a grid to be formed.
I wanted a simple, fun decoration on top and used edible pink pearl dust and edible stars which are both Wilton products and can be found in the baking section of a craft store, fine cookware shops or online. The decorations may look more like a pop art project than the design work of a confectioner but it's good by me.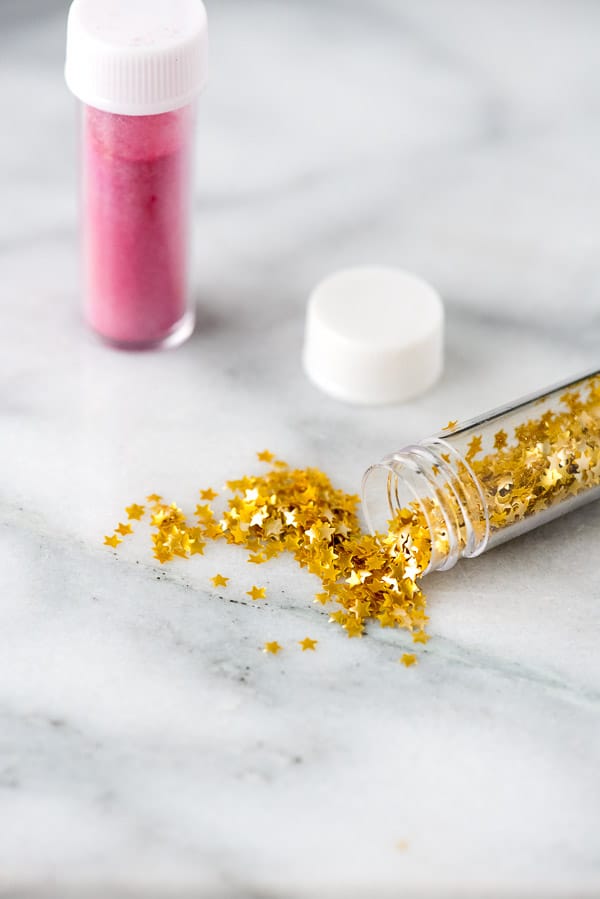 The rose flavoring with dark chocolate is an unexpected flavor combination and a sophisticated one. Rose flavoring tastes like roses smell. Ponder that for a moment! With our sense of smell and taste being linked they are the only sense that are interchangeable in this way and it makes for fun flavor play!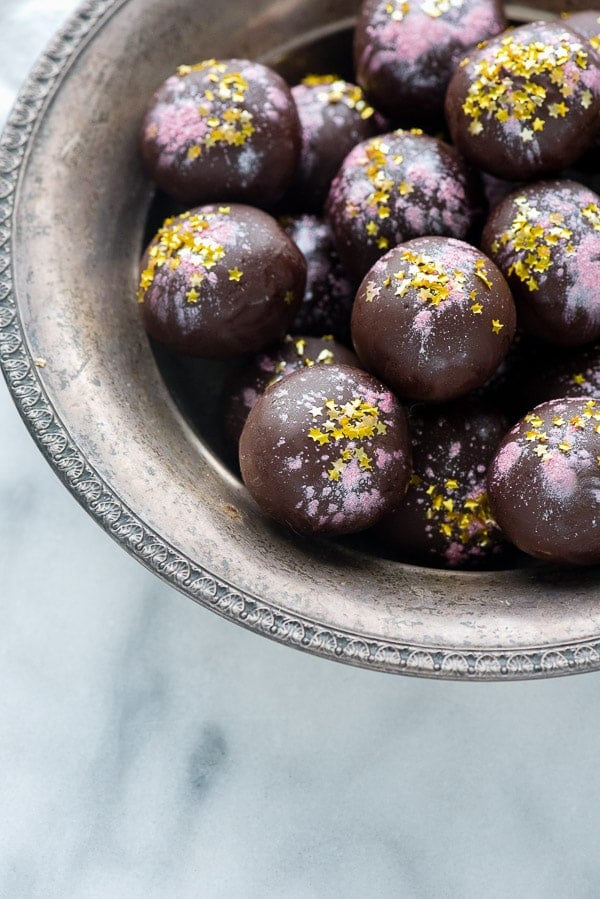 Recipe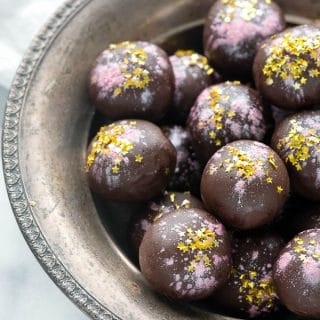 Rose-Flavored Dark Chocolate Truffles
The smell of roses translates into rose-flavored dark chocolate truffles for a luxurious treat!
Print
Save Recipe
Recipe Saved!
Pin
Rate
Servings:
30
aproximately 30 1-inch diameter truffles
Ingredients
1

cup

Heavy Whipping Cream

6

ounces

Bittersweet Chocolate

(70% cacao), grated or chopped into thin slivers

6

ounces

Se mi-Sweet Chocolate

, grated or chopped into thin slivers

1/4-½

teaspoon

[Rose Water

(I used Nielsen-Massey Rose Water)

10

ounce

package Bittersweet Baking Chips

(60% cacao)
Instructions
Fully line a 9 by 9-inch baking pan with foil.

In a medium heavy saucepan, heat the cream over medium to medium-low heat until starting to simmer. Watch and stir as the cream heats to avoid burning.

Add the chocolate and stir constantly to melt the chocolate; around 2 minutes. Remove from heat and stir in the rose water. Spoon into the prepared pan, cover with plastic wrap and refrigerate until the chocolate is completely chilled; 4 hours or overnight.

Line a baking sheet with parchment paper. Using a melon baller scoop balls of the chocolate from the chilled pan and place them onto the prepared baking sheet. Chocolate may be rolled between the palms of your hands to form balls. Note: the balls will be rolled again so they do not need to be perfect at this stage. Place the sheet in the refrigerator and chill for at least 15 minutes.

Remove the pan, rolls the balls gently between the palms of your hands to smooth out the balls. Insert one toothpick into each chocolate ball with a pointed end outside the chocolate ball (if there is only one pointed end on the toothpick). Place back onto the baking sheet and place in the freezer for 30 minutes.

When 10 minutes is left before the chocolate balls are ready to be removed from the freezer, prepare a stand for the dipped truffles either by using a block of Styrofoam or gently wadding sheets of thin foil, placing them onto a baking sheet with sides and positioning a grid pattern cooling rack (or two cooling racks on top of each other in opposite directions to form a grid; see photos) pushed onto the foil compressing it. Assemble any decorations for the truffles as well.

In a heatproof small metal bowl, placed atop a simmering saucepan of water, place the chocolate baking chips and stir often while they melt. Stir until smooth.

Remove the chocolate balls from the freezer and one by one, holding the toothpick, swirl the ball in the melted chocolate to coat it. Hold it over the bowl of chocolate and gently shake to allow excess chocolate to drip back into the melted chocolate. Place the toothpick into the foil on the prepared baking sheet or Styrofoam block and apply decoration. Repeat to coat and decorate all the truffles. Place in the freezer to fully set for at least 20 minutes. Do not discard the melted chocolate in the bowl.

Once the truffles are set, reheat the chocolate over a saucepan of water. Remove the toothpicks from the truffles and dab a small amount of chocolate on the toothpick hole to cover it. Place the truffles on a parchment lined baking sheet placed in the refrigerator to harden. Store in the refrigerator.
Notes
The bulk of the total recipe time is comprised of chilling periods.
Truffle recipe adapted from the James Beard Foundation.
Nutrition
Calories:
144
kcal
|
Carbohydrates:
11
g
|
Protein:
1
g
|
Fat:
10
g
|
Saturated Fat:
7
g
|
Cholesterol:
11
mg
|
Sodium:
14
mg
|
Potassium:
130
mg
|
Fiber:
1
g
|
Sugar:
7
g
|
Vitamin A:
120
IU
|
Vitamin C:
0.1
mg
|
Calcium:
41
mg
|
Iron:
0.8
mg