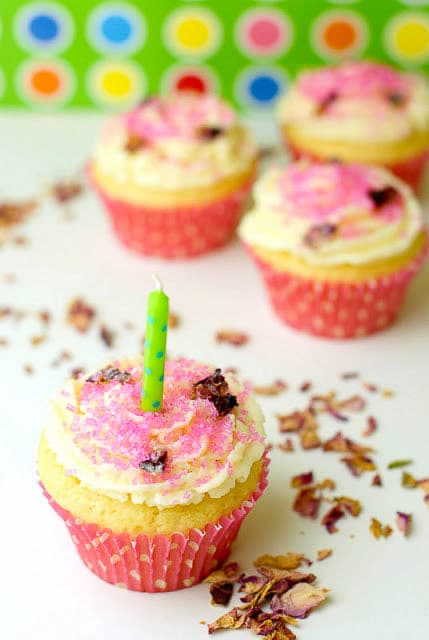 When originally publishing this fun recipe for Rose-Cream Filled Vanilla Cupcakes with Candied Rose Petals I was a fairly new blogger. The gift of 'context' or backstory eluded me so many of my first recipes were shared straight up with succinct forwards such as 'these cupcakes are great, you should make them' before diving into the recipe. I'm sure readers were struck with the terse invitation!
This recipe in particular was created as a special surprise for my daughter's birthday who would have been about 11 at the time. We had stumbled upon some rose extract at a cooking store and we were both enchanted at the idea of making food whose taste was how roses smell! Wanting to do something more exciting than merely flavoring the cupcakes or the frosting, I decided to fill the cupcakes with a rose-flavored buttercream to add a surprise in the middle which no one would guess until having a bite!
They turned out beautifully, the rose-cream nestled in simple vanilla cupcakes with vanilla frosting sprinkled with Candied Rose Petals (another fun project). I served the cupcakes with Rose Vanilla Ice Cream with Candied Rose Petals which everyone loved. I realize it probably sounds like rose-flavored overload, but the whimsy of using rose extract got the better of me and I gave into the whimsy of it all. Fortunately I realized early on that a little goes a long way in terms of using the extract for flavoring, and though I served up many rose-flavored treats, they were not overwhelmingly intense as they can be if too much flavoring is used.
What we felt would probably become a 'one hit wonder' in terms of rose flavoring turned out to be a coveted flavor which appears through Boulder Locavore recipes. One never knows were a simple idea will lead and what flavors one will grow to love!
These pretty cupcakes reveal a big surprise with delicate rose-flavored pink filling! The unexpected find makes them truly special and unique. The amount of rose extract is very small, but produces a big flavor and gives these cupcakes a soft rose taste. There are multiple methods to fill cupcakes and after some experimentation this method worked perfectly to preserve the integrity of the cupcake and allow a 'just right' amount of filling.