Peach Ginger Mint Paletas (fruit popsicles) feature juicy ripe peaches, undoubtedly one of summer's most prized fruits. Peaches have never tasted better than in this peach ginger fruit popsicles recipe!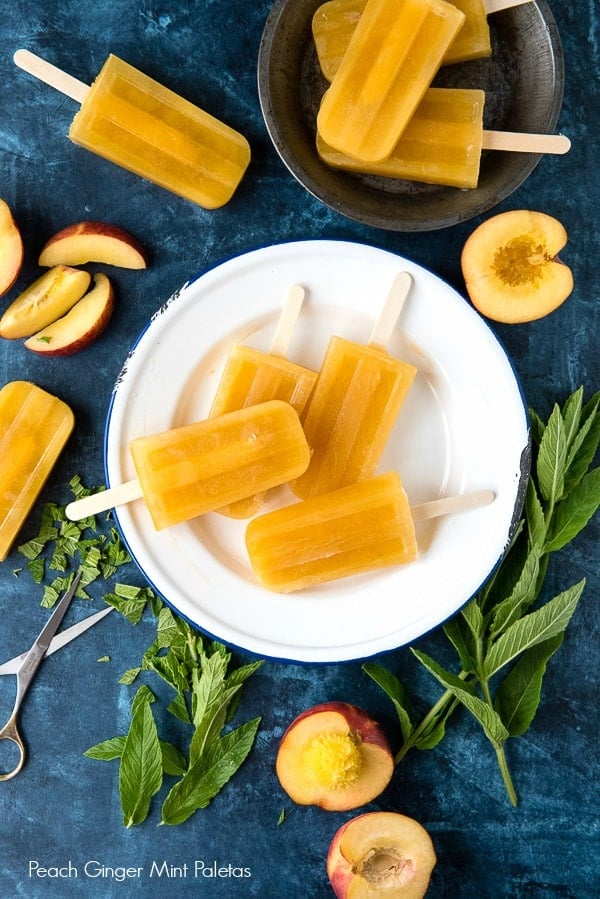 This post is sponsored by Gourmet Garden and all opinions are my own.
Fresh Fruit Popsicles – Summer's Best Frozen Treat
As summer heats up I'd happily eat popsicles any time of the day. It's a different way to stay hydrated and is thirst quenching while taking the edge off the dog days of summer.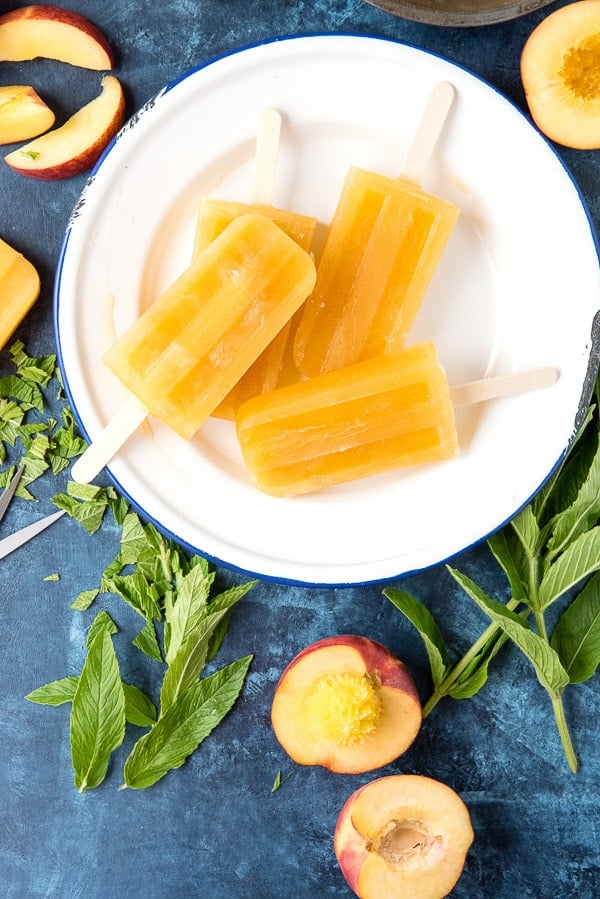 When I was growing up, there weren't a big variety of popsicles. The popsicles from the store or 'the ice cream man' truck were the double popsicles in an adjoining diamond pattern that could be split to share with a friend. Grape, lime and orange were the flavor mainstays. One could hear the twinky music of the ice cream truck coming, allowing just enough time to sprint into the house, grab some change to queue up for a purchase.
Any homemade popsicles would have been made in Tupperware molds with rounded ends and plastic bottoms adjoined to the stick. They were made with Kool-Aid or Tang I suppose and I loved sucking the color and flavor from them leaving an icy form behind.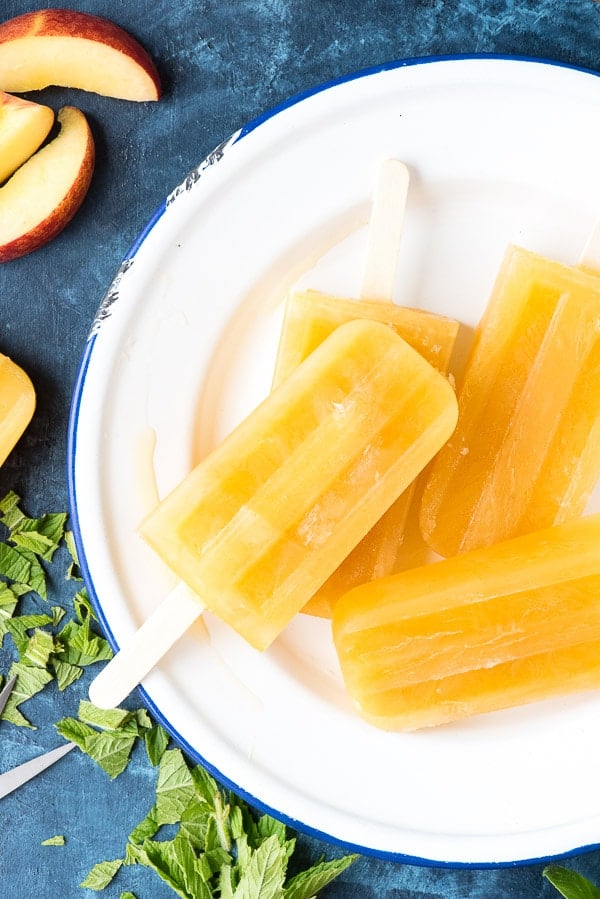 These days popsicles have been elevated to a boundless home art and the ice cream truck has retired into the deepest fears of my parental mind never to be visited by my children. Popsicle forms are readily available at stores and online in every imaginable shape from bugs, to rockets and my favorite vintage shape mold used for these Peach Ginger Mint Paletas. Wooden sticks are inexpensive and even bathroom size Dixie cups make great molds for popsicles (along with squatty sticks to match).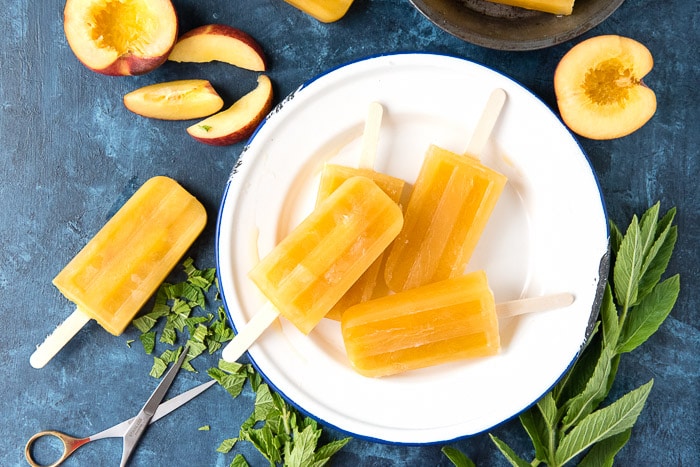 My freezer is full of popsicles most of the year actually. I love a boozy cocktail popsicle as much as refreshing juice popsicles. Summer offers a great time to create popsicles or paletas from pureed fruit. Pureed fruit at its juicy ripest then poured into a mold and frozen, transforms into a refreshing seasonal treat to take the swelter out of any summer's day.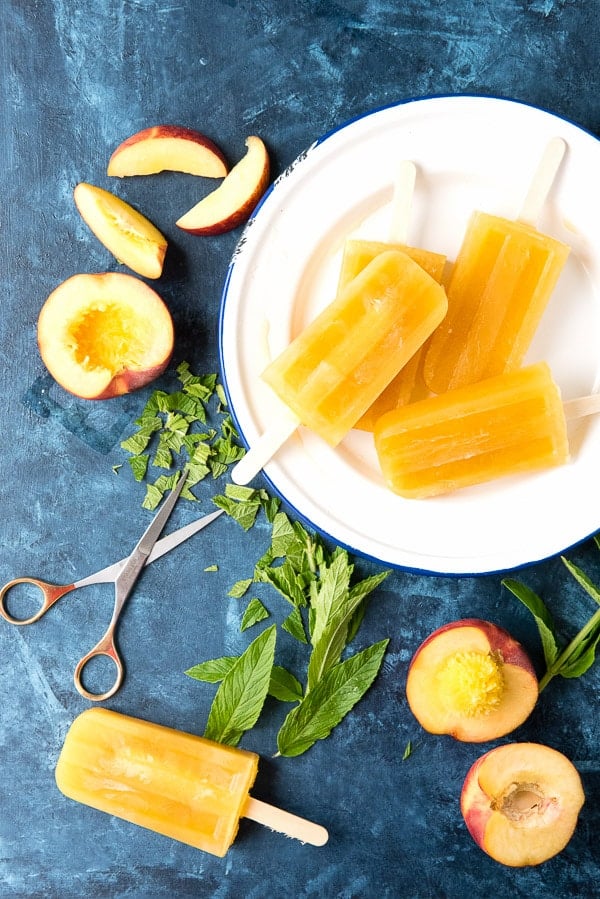 I'm sharing a version of this today with Peach Ginger Mint Paletas. The only downside of these seasonal popsicles is when the fruit is no longer available. Never fear, these popsicles can be made one of two ways: with peach nectar or pureed peaches. Peach nectar is available year round while peaches only appear in many locations during the summer. These popsicles are too good to be restricted to summer! Fresh peaches make a thicker popsicle with the opportunity to add chunks of fruit if desired while peach nectar is a pure sweetened juice popsicle. Both are delicious.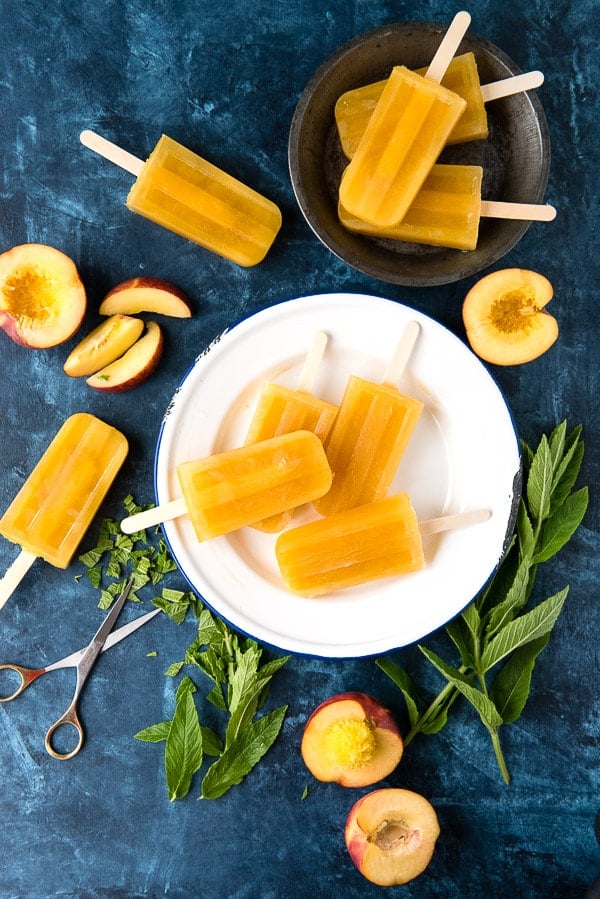 My friends at Gourmet Garden have partnered to create this summery recipe. I love their lightly dried herbs and stir-in pastes. The stir-in ginger paste in particular takes the hassle out of peeling and chopping ginger. Two squeezes into the measuring spoon is the only effort required to add the zippy spice that makes these peach ginger popsicles so special!
Supplies Needed
Besides fresh peaches, mint and bit of sugar, you only need two simple supplies to make this easy popsicles recipe:
More Recipes You'll Love!
Recipe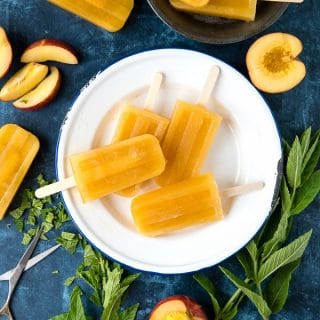 Ingredients
26

ounces

(measured in a liquid measuring cup) Peach Nectar or Peach Puree*

2

tablespoons

Gourmet Garden Stir-In Ginger

2

tablespoons

roughtly chopped fresh Mint leaves

(approximately 20 large leaves)

2

tablespoons

Lemon Juice
*Ingredients for Peach Puree:
4-6

large fully ripe Peaches

, peeled and pitted

1/8-1/4

cup

granulated sugar
Instructions
Instructions for Peach Puree:
Add the peaches and 1/8 cup of sugar into a blender. Puree. Taste and add more sugar if needed 1 tablespoon at a time. Ensure the yield is 26 ounces (as measured in a liquid measuring cup).
Instructions for Peach Ginger Mint Paletas:
Pour the peach nectar or peach puree in a medium sauce pan along with the ginger, mint and lemon juice. Bring just to a boil over medium-high heat and remove from heat. Allow to infuse for 1 hour, strain through a sieve and pour into popsicle molds.

Cover molds and insert wooden sticks. Tip: applying a layer of foil over the top of the mold or lid of the mold allows placement of wooden sticks and they will not float out of the mold.

Freeze for several hours or overnight. Run hot water for a few seconds on the outside of the mold to release pops!
Nutrition
Calories:
75
kcal
|
Carbohydrates:
19
g
|
Protein:
0
g
|
Fat:
0
g
|
Saturated Fat:
0
g
|
Cholesterol:
0
mg
|
Sodium:
5
mg
|
Potassium:
154
mg
|
Fiber:
1
g
|
Sugar:
17
g
|
Vitamin A:
430
IU
|
Vitamin C:
9.3
mg
|
Calcium:
10
mg
|
Iron:
0.3
mg