A fun cocktail for the fall season, Ginger Pear Gimlet, has warming flavors of ginger and a homemade Ginger Pear Simple Syrup!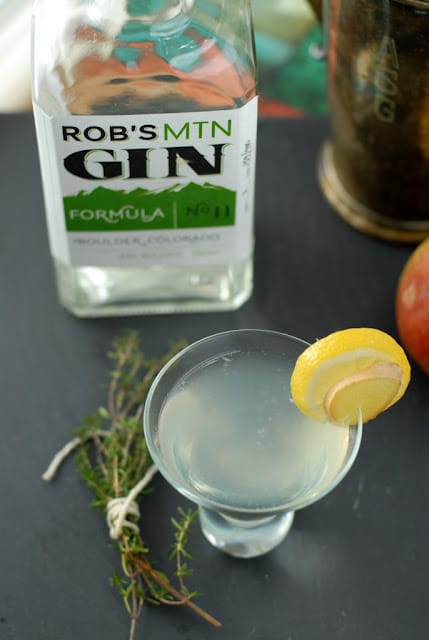 When Rob Masters (President of the Colorado Distiller's Guild, and Distiller of Rob's Mountain Gin) put out a cry for help to his friends (I'm lucky to be one of them) to do one last Juniper Berry picking for his special edition fundraising Growing Gardens gin, I was thrilled. For a locavore this is the best kind of field trip (and further evidence that doing someone else's chores is always more fun than your own). I did not want to appear over zealous so I waited a bit (one thousand one, one thousand two, one thousand three…) before ricocheting back an email signing up for duty. Not only is Rob a friend but I love everything about this gin.
The juniper picking just happened to fall on a day of hurricane speed winds. Power was out in surrounding areas. My house was shaking. I sent a meager text referencing the High Wind Alert, wondering if that might affect our plans to which Rob responded 'a little wind never hurt anyone'. Though I half expected a scene from the Wizard of Oz with cows somersaulting past my car window, I'm always up for a challenge and there was no way I was going to wimp out (which was good because the picking crew was slim).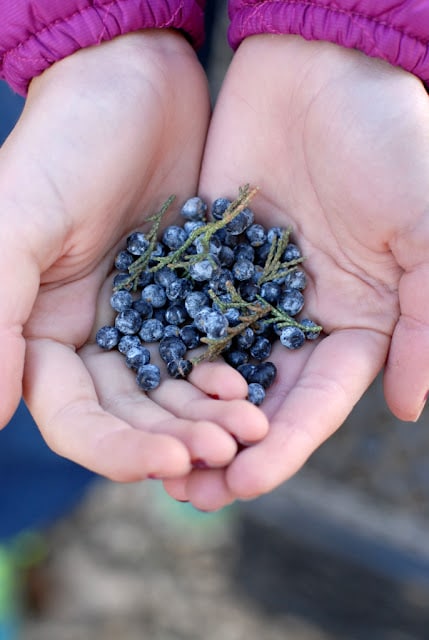 The juniper berries Rob uses are from Ollin Farms in Longmont Colorado. It is a sweet family farm with a CSA, regular involvement at the Boulder and Longmont Farmer's Market and a warm weather Farm Stand (they do farm dinners too!). I met Mark, the farmer, who actually grew up on the property and he exuded a warmth like the sun. A guy you'd want to spend an afternoon with talking about the history of the land, his farm and anything else that might pop to mind. Rather than blathering on I will share a short video I found on their website. Mark tells the story much better. If you ever wondered why buy from local farmers I think listening to him might illustrate the great kind of folk you'll meet.
There are several large, and I surmise old, juniper trees on Mark's farm. This cause seems a prestige destiny for these berries. We were outfitted with milk crates to stand on and cloth shopping bags which Rob quickly pointed out do best with one handle looped around one's neck to put the juniper berries into. They are easy to pick; you roll them between your fingers and they pop off the branch. I was curious how to know if they were ripe and basically it is only the shriveled clearly old ones that cannot be used. They are pungent, in the most beautiful chalky shade of deep midnight blue. As with plums they have a film on them which polished off.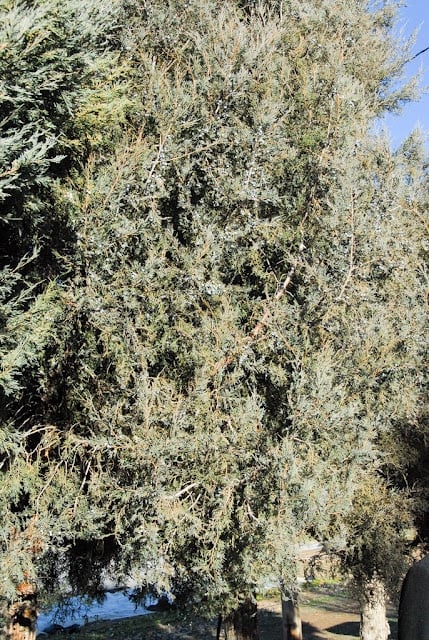 Our task was to pick a pound of berries which would allow for 200 bottles of Rob's Mountain Growing Garden Gin. This would be the last batch made to wrap up the yearlong project. With Mother Nature giving us a kind reprieve we made quick work of it. During the picking Jeffrey Woodruff from Growing Gardens showed up (and I'll note there were other Growing Garden volunteers who had shown up to pick). He and Rob had come up with the idea of a fundraiser locavore gin about a year ago. Growing Gardens is the organization in Boulder that owns all the community garden plots throughout the city as well as has a children's gardening program, Cultiva, which this gin's proceeds were originally intended to help with. The focus of benefit has broadened over the year to now be used for anything the program needs.
A few years ago when I was toying with either getting a community bed myself or adding a raised bed in the middle of my lawn, I researched Growing Gardens. They are an impressive organization and clearly popular as their garden beds are like rent-controlled apartments in New York City when trying to get one in the more popular locations. They have clearly filled a need that is growing as people seek to grow their own food. The demand for their offerings is high.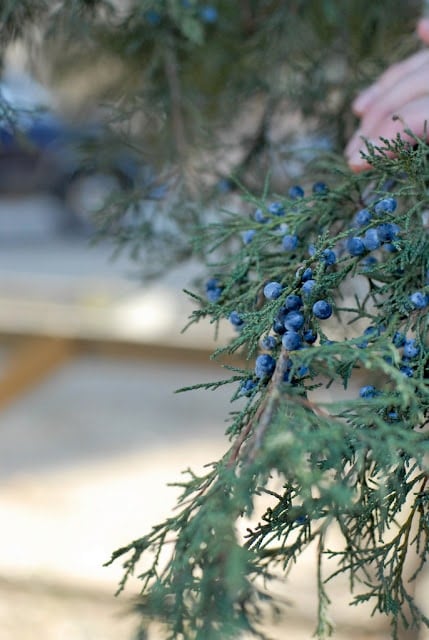 I will say I love this gin. I love its contents; everything from within a 15 mile radius of the distillery. Juniper berries and some botanicals from Ollin Farm and more from the community gardens themselves. I love the intent, the full circle 'giving back' philosophy about it. But really it comes down to the flavor and it's good. It has a beautiful fresh herbal profile that brightens any cocktail. The idea that it is a limited edition makes my locaPOUR self a bit twitchy wondering how many bottles I can buy before the crew of the TV show 'Hoarders' will knock at my door for an intervention.
This guide on How to Make Simple Syrup gives lots of great information and easy recipes! The simple syrup for these Ginger Pear Gimlets is also included in the recipe below.
All these efforts culminate this Thursday evening (November 17) at the Boulder Distillery for the Fall Harvest party from 5:00-8:00 p.m. The cost is $50 and you will receive a bottle of Rob's Mountain Growing Gardens gin and two cocktails. The distillery is a very fun place (after juniper berry picking they were hosting an 80's Ski Party that night); you'll be sure to meet new friends, fall in love with this gin and contribute to a great cause.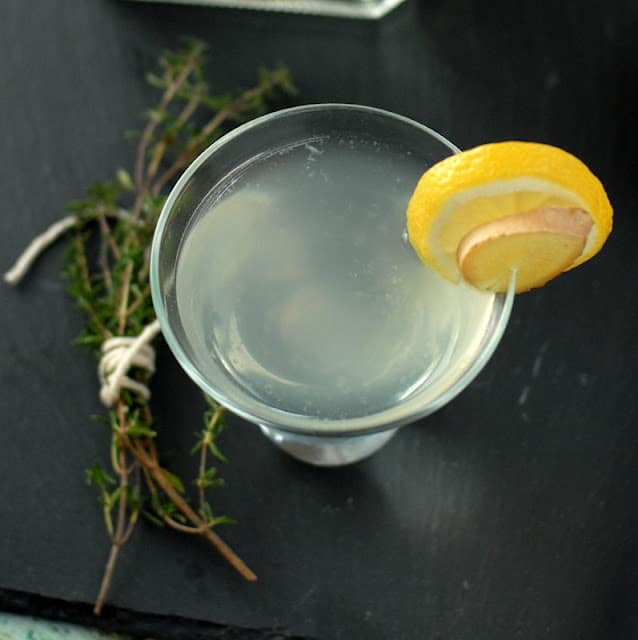 For those readers well outside the geography unable to join in the festivities, I did not want to leave you hanging. I whipped up a cocktail in honor of this occasion based on some cocktail chat Rob and I shared while picking. I do believe it may be my favorite fall cocktail now. I simply l-o-v-e it. Hope you will too!
Recipe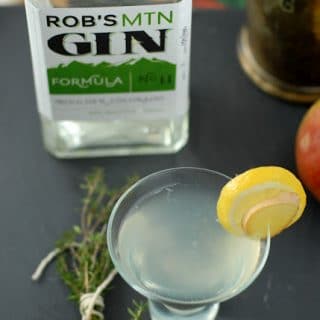 Ingredients
Ingredients for Ginger Pear Thyme Simple Syrup:
8

ounces

water

8

ounces

sugar

1/3

cup

peeled

, sliced ginger

1

medium firm but ripe pear

(I used a Comice), peeled, cored and cut into 1 inch pieces

10-15

sprigs of Thyme

(Lemon Thyme if available)
Ingredients for Ginger Pear Gimlet:
2

ounces

gin

¼-1/2

ounce

Ginger Pear Thyme simple syrup

½

ounce

freshly squeezed lemon juice
Instructions
Instructions for Ginger Pear Thyme Simple Syrup:
In a small sauce pan combine the water and sugar over medium heat, stirring until dissolved and simmering. Stir often and do not allow to overheat.

Add the ginger, pear and thyme. Bring back to a simmer. Turn off heat, cover and allow to infuse for an hour or until you like the flavor.

Strain through a fine sieve, pressing with the back of a sturdy (wooden is good) spoon against the ginger, pear and thyme to be sure to extract all the flavor.

Put in a sealable glass container and refrigerate for up to two weeks.
Instructions for Ginger Pear Gimlet:
Combine ingredients in a shaker with 1 cup crushed ice. Shake, strain and drink!
Nutrition
Calories:
134
kcal
|
Carbohydrates:
0
g
|
Protein:
0
g
|
Fat:
0
g
|
Saturated Fat:
0
g
|
Cholesterol:
0
mg
|
Sodium:
0
mg
|
Sugar:
0
g
|
Vitamin C:
5.5
mg
On a separate note please check out this article that was featured in the New York Times Sunday magazine about Colorado Distillers.

We've got it going on here!

Click here to read.