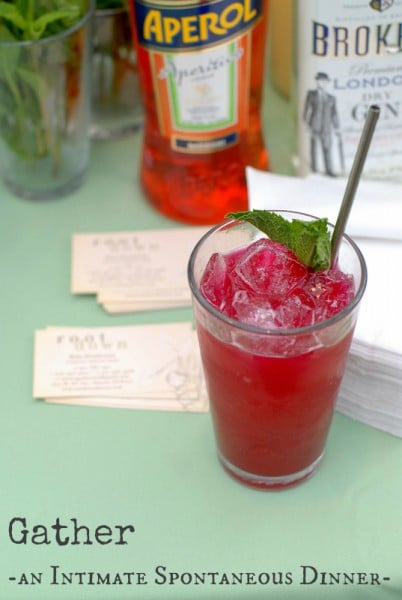 Ordinarily when I attend a dinner that I know I'll be sharing on my blog, I research first so I'm prepared. This was not the case last week when heading to Denver for 'Gather: a Spontaneous Intimate Dinner' at the Denver Botanic Gardens featuring locally-heralded chef, Daniel Asher, from the hot spots Root Down and Linger. Sheepishly I'll admit I had not done my homework in this case, however had I there would not be much to find.
I had been invited with a very small group of media to participate in a dining experience developed by the Botanic Gardens and their catering partner, Catering by Design, about a year ago in which a local chef known to celebrate and feature local ingredients in their cuisine would develop a multicourse meal for a group of up to 75 dining patrons tucked away in special locations at the Denver Botanic Gardens. The events are rife with the element of surprise. The dinners are not announced with much notice (but held on average quarterly); the guest chef is kept under wraps as well.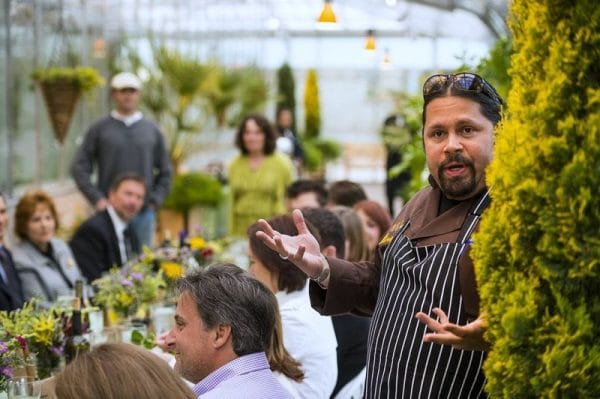 The dining initiative bears the goal to reach beyond the bounds of the Botanic Gardens to attract like-minded local food devotees to comingle over their own BYOB beverages and love of inspired cuisine; to be graced with the finest ingredients and creativity our culinary landscape has to offer. I also learned the culinary and food-growing focus of the Denver Botanic Garden offerings was staggering. They hold 600 classes per year and in the arena of food they range from children's instruction on growing plants and then harvesting to eat them, cooking classes with guest chefs (there is a full industrial kitchen onsite) as well as a number of food and drink centric festivals drawing thousands to enjoy an evening while wandering through 45 different gardens.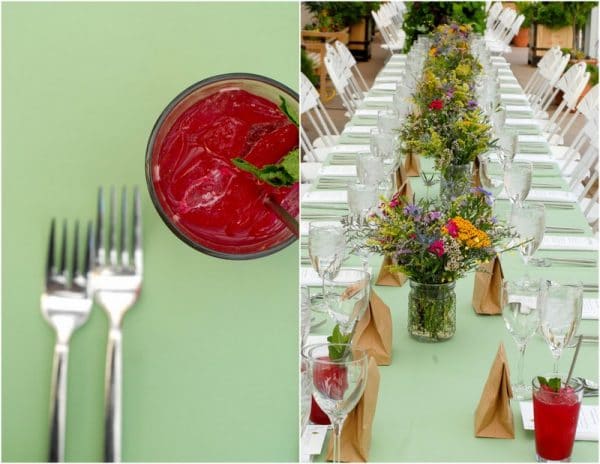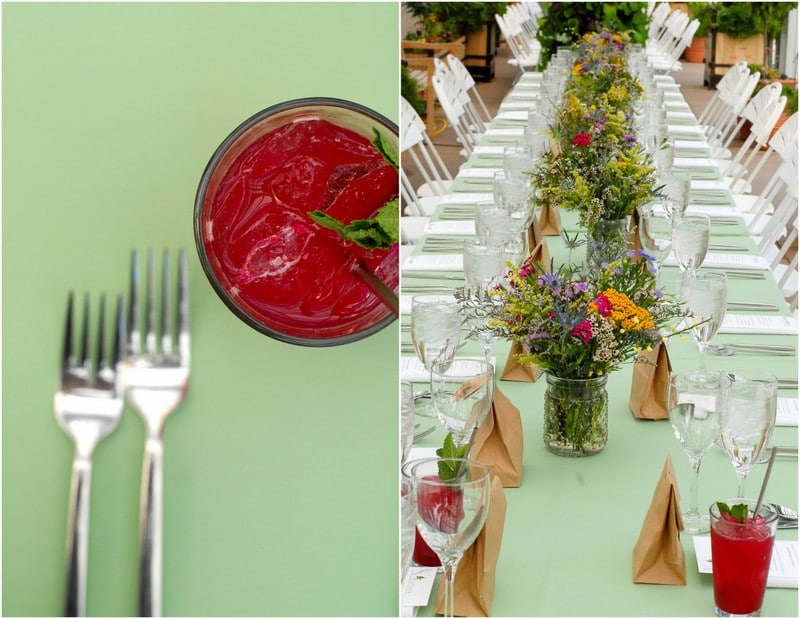 I am probably the only person in Northern Colorado who had not been to Root Down or Linger in Denver. I enjoyed their food at last year's 'Do at the Zoo' fundraiser but each time I've intended to dine at one of the restaurants there have not been reservations or some other complication. I knew I would love it. Friends have been calling and emailing since the day the restaurants opened telling me it was completely my type of restaurant with a garden feeding the restaurant kitchens, whole organic food served with creativity and flair giving pause for reflection and admiration. Attending Gather was not only a treat due to its unique approach but also a realization of a long overdue culinary bucket list entry.
As chilly pre-snow storm dusk set in, Gather guests trickled in to start the evening with a cocktail fashioned for the event: a Beet Down. As violent as is the name, so was the soothing of the sublime pink color of this fresh cocktail. Patrons were holding their glasses to the fading sun, capturing its essence with smart phone cameras, primed by the lovely tablescape for the dinner to come.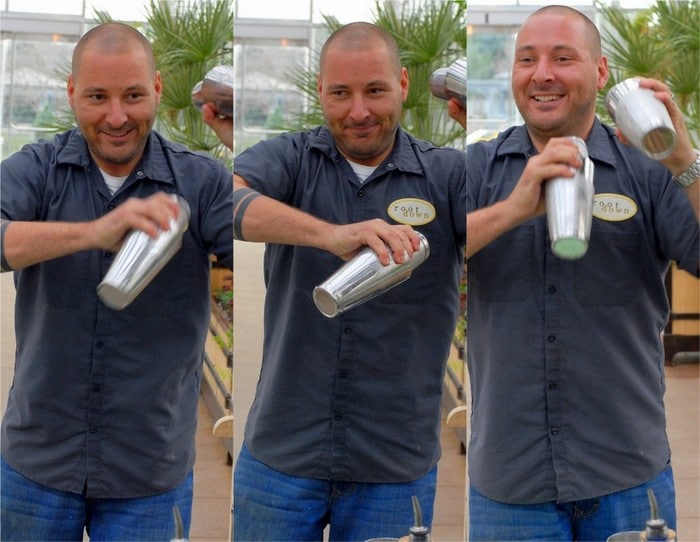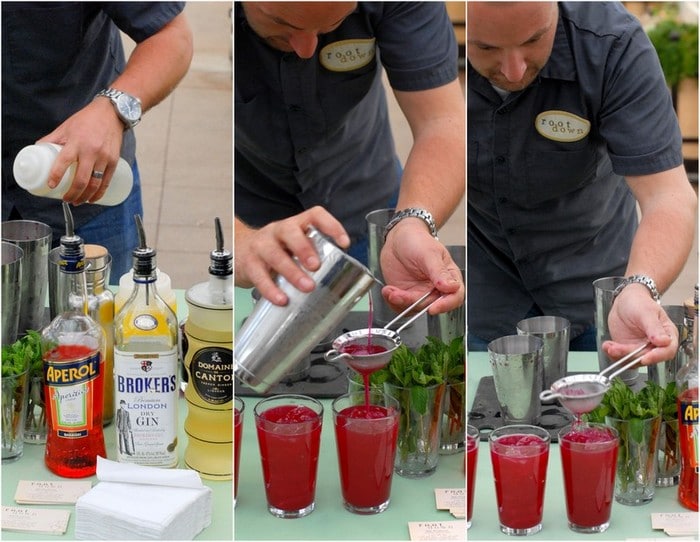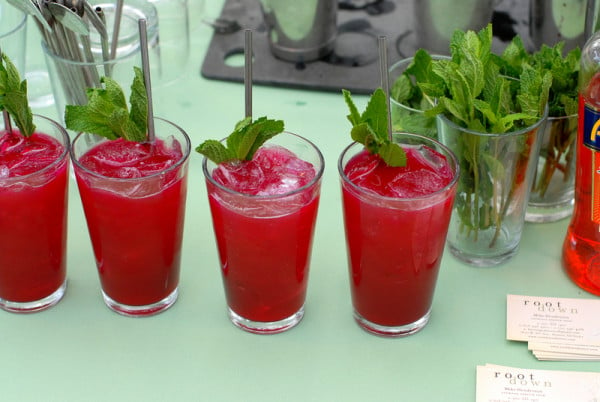 Recipe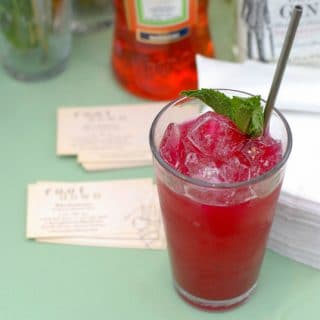 Ingredients
1 1/2

ounces

London Dry Gin

1

ounce

Aperol

3/4

ounce

Canton Ginger Liqueur

1

ounce

Lemon Juice

1/2

ounce

Red Beet Juice*

6-8

Leaves

of Mint
Instructions
Combine all ingredients in a cocktail shaker, add ice, and shake vigorously for about 10 seconds. Strain into a Collins glass filled with fresh ice, garnish with a sprig of mint.
Notes
*For red beet juice use a juice extractor to juice red beets. For every 8 ounces beet juice add 1 teaspoon rice wine vinegar.
Original recipe printed with permission from Root Down/Linger
Nutrition
Calories:
254
kcal
|
Carbohydrates:
11
g
|
Protein:
0
g
|
Fat:
0
g
|
Saturated Fat:
0
g
|
Cholesterol:
0
mg
|
Sodium:
1
mg
|
Sugar:
10
g
|
Vitamin C:
11
mg
Gather is served communal style with two long tables seating guests and offering chance meetings of new friends. Later in the evening as we parted the dinner I overheard two couples who clearly would come again excitedly twittering about the people they sat next to saying 'we REALLY need to sit by them again!'. I suspect this outcome is the hope of the Gather organizers to bring like minded eaters together who appreciate the depths and thought going into these exquisite meals, finding others sharing their passion in the process.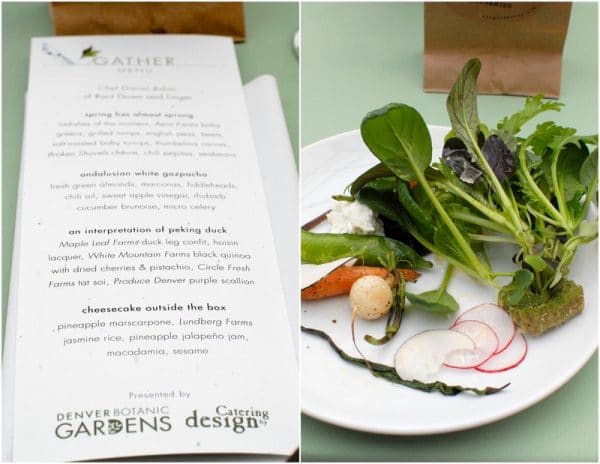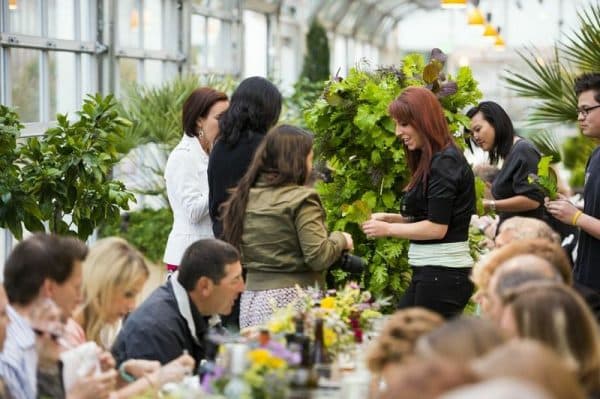 Anyone who views food merely as sustenance would find themselves converted by the dinner at the hands of Chef Asher to embrace food as edible art. From each course sprung ingredients and methods I had not experienced, providing standout flavors and visual form on their own to be woven into a concert of flavors and textures when mixed. A fantastic introduction during the salad course was a hydroponic spicy greens 'bush', made up with several hundred plants appearing as another garden accoutrement, but revealed as an experiential aspect to the meal whereby patrons could augment their salad plate by picking some additional greens from the fixture. Food is never so alive as when eating it just upon picking and the vibrancy of the dish told that tale in spades.
With each new visionary course, Chef Asher addressed the diners with unbridled passion for every aspect of every dish. We were enchanted by his tales of fresh green almonds and fiddlehead ferns, white gazpacho and Thumbelina carrots leaving us somewhere between the experience of viewing an art installation as our plates were delivered and a riveting story we never wanted to end. Each moment of the food was savored and appreciated beyond measure.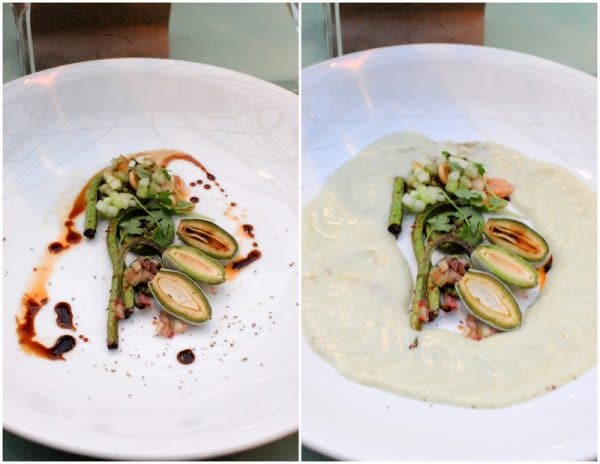 I left in the cold, cold night, all senses sated from the vibrancy of the meal, the company and the perfection of this secret dinner's unfolding. Eventually the Denver Botanic Gardens hopes to draw from food gardens they are now planting to feed into these inspired pop-up dinners allowing diners an even greater connection with the source of their food.
To attend a future Gather dinner, watch the Denver Botanic Gardens calendar. Next dinner planned for an undisclosed date in September!