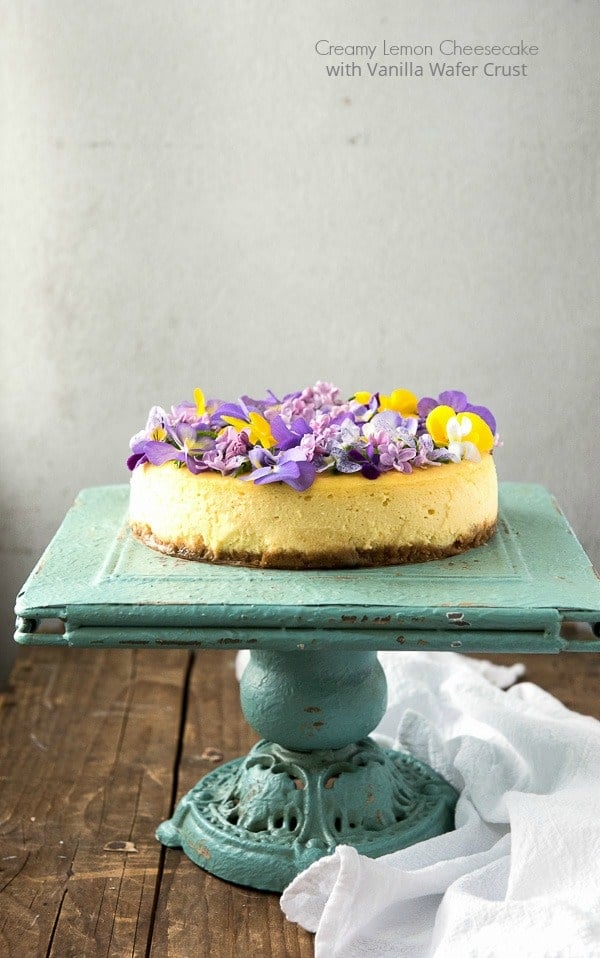 Today is my birthday and I'm serving up cheesecake. Creamy Lemon Cheesecake with Vanilla Wafer Crust to be exact. Gluten-free (or regular, as gluten vanilla wafers will work great too).
When I was a kid I loved cheesecake. It was not the type of dessert we'd ever have at home. In fact I think I didn't realize 'real people' could make cheesecake themselves until I was well into adulthood. It just seemed to mysteriously get created at fancy restaurants. I felt it was way too elegant and sophisticated for a regular home kitchen!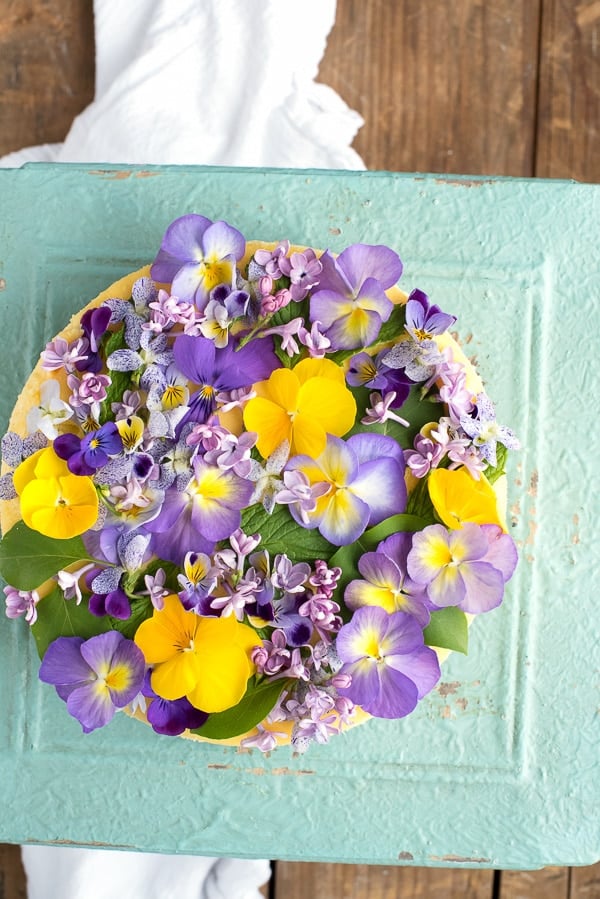 The genesis of this particular cheesecake was from the desire to see if cheesecake could be made in a slow cooker (don't laugh; remember, it's my birthday). Being a food blogger allows going out on a culinary limb, sometimes to hit it out of the park and other times learning things we dream up just aren't meant to happen.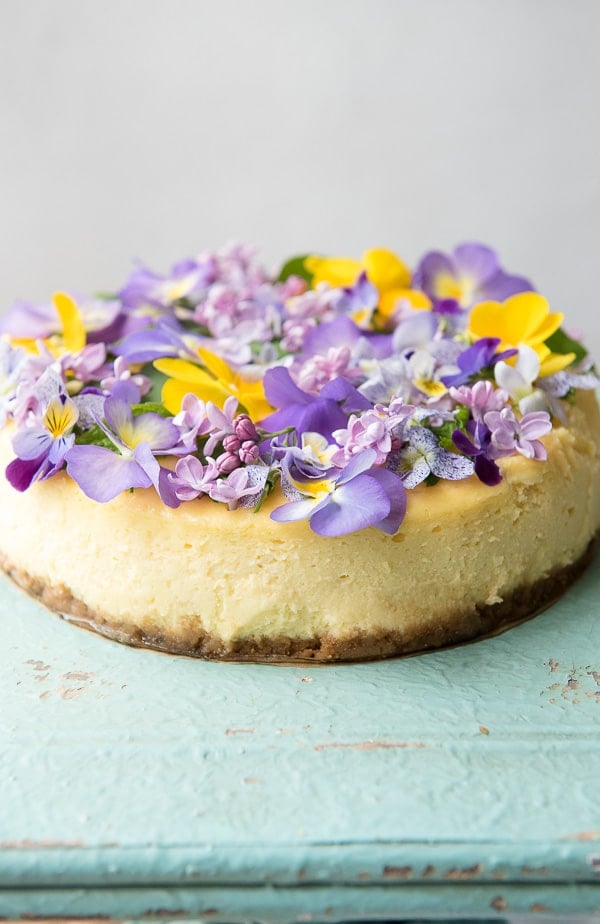 I'm a bit fascinated with making a dessert in my slow cooker but this was not to be the one. First, I should clarify I was not actually going to make the cheesecake in the slow cooker. I wanted to cook it in the slow cooker. I did some research and came up with what I felt was my best guess of what might produce a fantastic cheesecake, not heating the kitchen in summer as a warm oven does. The cheesecake emerged after hours of cooking slow and low, concealed by paper towels beneath the lid to absorb excess moisture. It tasted fantastic though not as creamy as I'd hoped and with some ravines in the top.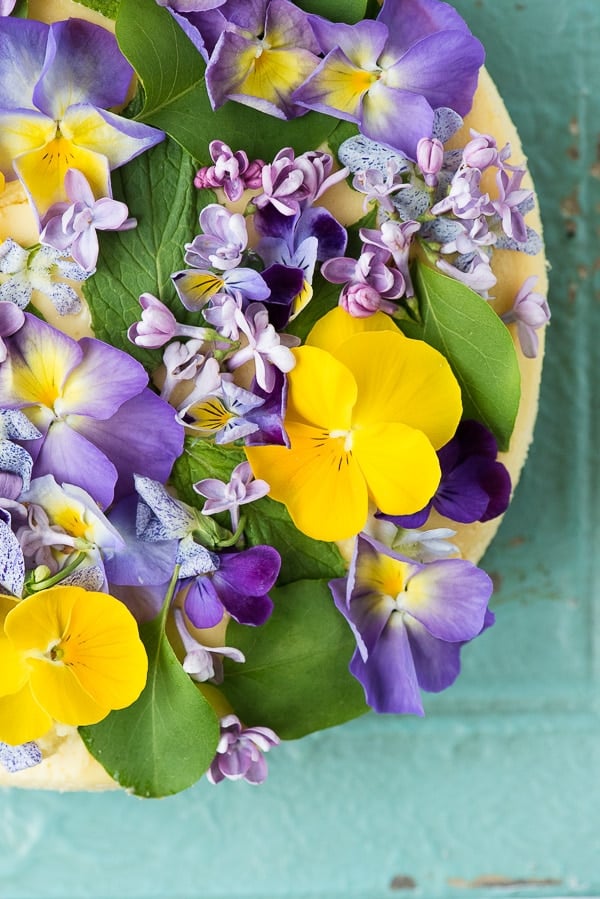 I tried again with opposite temperature and time settings arriving at the same end result as the first time. In both cases there was an odd creeping up on one side of the cheesecake, escaping over the top of the pan and beginning to slide down the outside. Like it was trying to escape. No one wants to serve a dessert that looks like it's trying to run away no matter how delicious it might be, so I accepted defeat and went on to traditional methods leaving multiple cheesecake rejects in my culinary wake.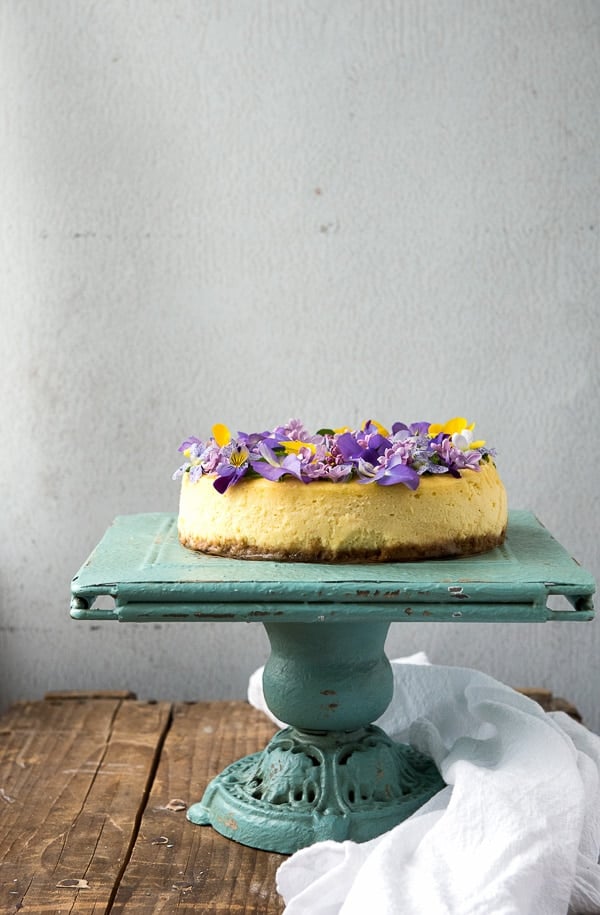 Candidly, this was all good. When I baked this lovely cheesecake in a traditional water bath, it turned out better than any cheesecake I've ever had at those magical hoighty-toighty restaurants of my youth. It is so creamy, lemony and irresistible; exactly what I'd want on my birthday. I decorated the top with edible flowers from my garden (you can easily find them at stores in the herb section). My husband thought it was very pretty and reminded him of a hippy bride in the 70's. I loved that. And I think you'll love this cheesecake too.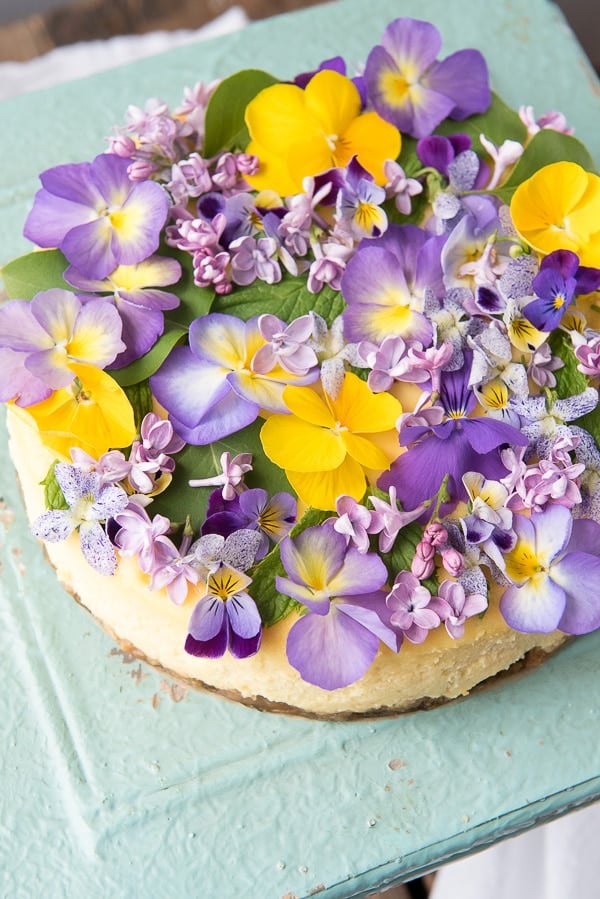 Recipe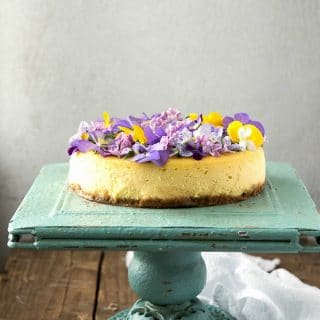 Creamy Lemon Cheesecake with Vanilla Wafer Crust
Cheesecake can seem a heavy dessert for warmer weather however the bright lemon flavor and creamy texture of this cheesecake is perfection any time of the year. A light vanilla wafer crust is a great flavor match as well. Optional decoration with edible flowers captures the warm weather feel. Edible flowers can be found at grocery stores in the herb section. Be sure to use flowers from a trusted source and ensure they have not been sprayed.
Print
Save Recipe
Recipe Saved!
Pin
Rate
Ingredients
Ingredients for the crust:
1 ½

cups

Vanilla Wafer crumbs

(I used a gluten-free version by Kinnikinnick)

¼

cup

plus 1 tablespoon Unsalted Butter

, melted

2

tablespoons

Granulated Sugar
Ingredients for the filling:
2-8

ounce

packages Cream Cheese

, room temperature and softened

1

cup

Granulated Sugar

1

cup

Sour Cream

3

eggs

, room temperature

1

teaspoon

Vanilla Extract

1

teaspoon

Lemon Extract

2

tablespoons

Lemon Juice

Zest of 1 Lemon
Instructions
Preparing the Crust:
Preheat the oven to 325 degrees. Lightly butter the inside of an 8-inch springform pan. Cover the outside bottom of the springform pan with two to three layers of foil to prohibit any liquid getting into the pan when cooking.

Combine the cookie crumbs, butter and sugar in a small mixing bowl. Stir together until all crumbs are coated and it looks like wet sand.

Pour the crumbs into the bottom of the spring form pan and tamp down with fingers or the flat bottom of a drinking glass. Set aside.
Preparing the Filling:
Using a mixer cream together the cream cheese and sugar until smooth.

Add the sour cream, vanilla and lemon extracts, lemon juice and lemon zest. Mix at medium-high speed to incorporate all the ingredients.

Add eggs, one at a time, and mix to fully blend all ingredients into a smooth filling. Pour filling into the prepared crust.

Spoon the filling into the prepared crust. Place the cheesecake in a roasting pan and fill pan with boiling water until halfway up the side of the springform pan. Bake for 50 minutes; the cheesecake will still be jiggly but will continue to firm up.

Turn off the oven, leave the door closed and leave the cheesecake in the oven for 1 hour.

Remove the cheesecake from the roasting pan and remove the foil. Gently run a knife around the outside of the cheesecake to allow it to easily separate from the pan as it cools. Place on a cooling rack until it reaches room temperature; 1-2 hours.

Prepare a piece of foil to loosely cover the cheesecake. Poke a few holes in it with a knife or bamboo skewer; this will allow any remaining condensation from the chilling to escape and not drip back onto the cheesecake. Chill for at least four hours and preferably overnight. Run a knife around the outside of the cake before loosening the springform pan sides and gently removing the outer ring.

To cut cheesecake: Fill a tall glass or jar with hot water. Run a long knife under hot water and wipe dry. Slice the cheesecake dipping the knife in the hot water and drying it in between cuts.
Nutrition
Calories:
176
kcal
|
Carbohydrates:
22
g
|
Protein:
2
g
|
Fat:
8
g
|
Saturated Fat:
4
g
|
Cholesterol:
49
mg
|
Sodium:
88
mg
|
Potassium:
73
mg
|
Fiber:
0
g
|
Sugar:
16
g
|
Vitamin A:
270
IU
|
Vitamin C:
0.8
mg
|
Calcium:
33
mg
|
Iron:
0.9
mg