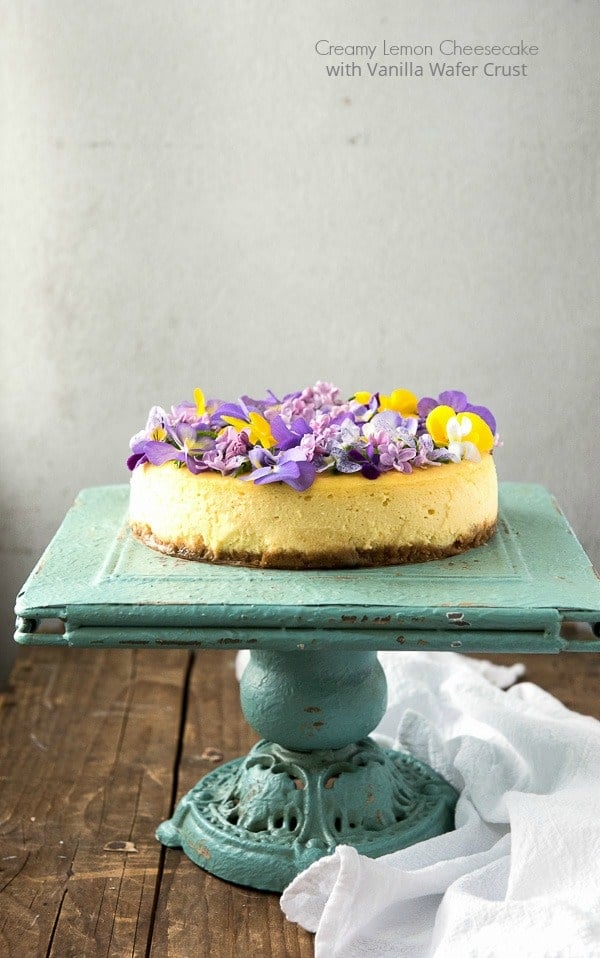 Today is my birthday and I'm serving up cheesecake. Creamy Lemon Cheesecake with Vanilla Wafer Crust to be exact. Gluten-free (or regular, as gluten vanilla wafers will work great too).
When I was a kid I loved cheesecake. It was not the type of dessert we'd ever have at home. In fact I think I didn't realize 'real people' could make cheesecake themselves until I was well into adulthood. It just seemed to mysteriously get created at fancy restaurants. I felt it was way too elegant and sophisticated for a regular home kitchen!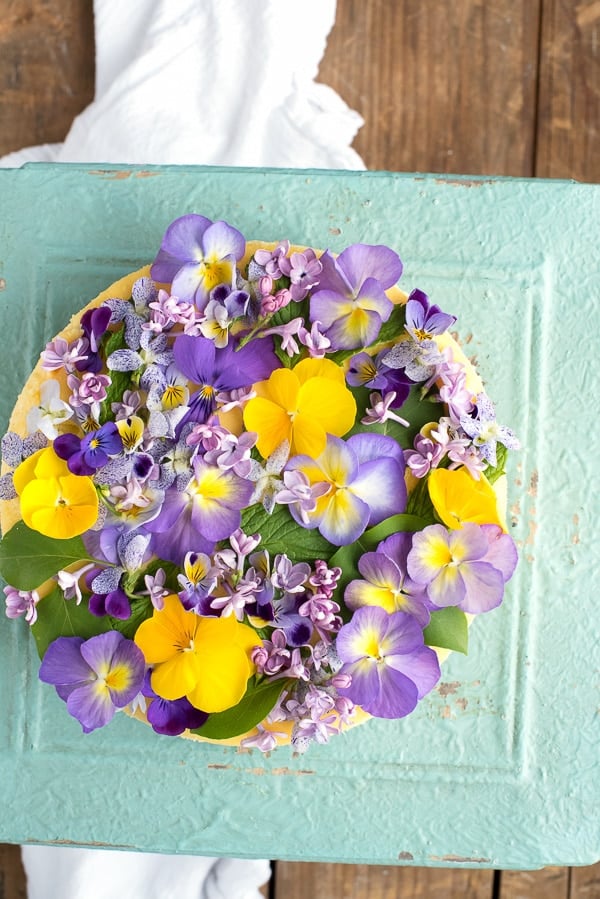 The genesis of this particular cheesecake was from the desire to see if cheesecake could be made in a slow cooker (don't laugh; remember, it's my birthday). Being a food blogger allows going out on a culinary limb, sometimes to hit it out of the park and other times learning things we dream up just aren't meant to happen.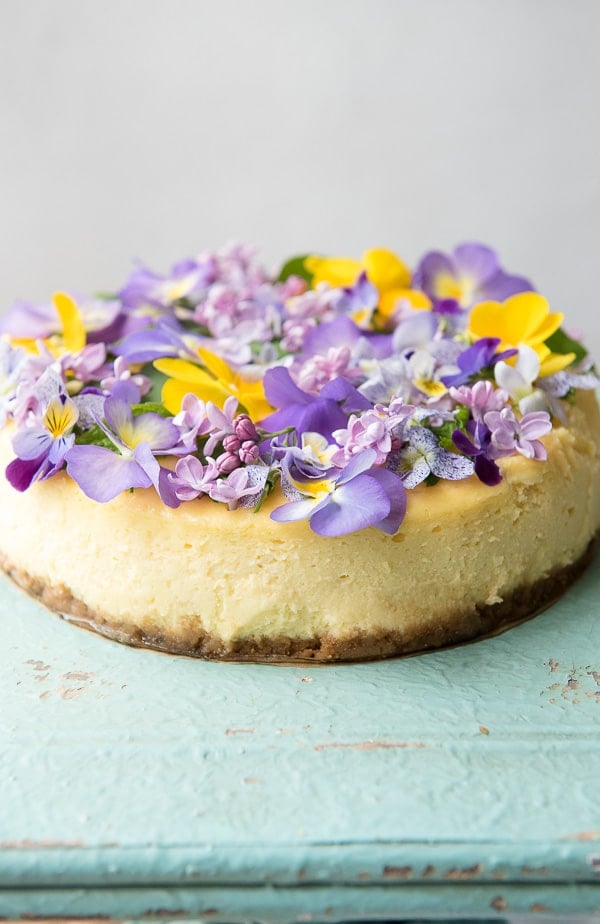 I'm a bit fascinated with making a dessert in my slow cooker but this was not to be the one. First, I should clarify I was not actually going to make the cheesecake in the slow cooker. I wanted to cook it in the slow cooker. I did some research and came up with what I felt was my best guess of what might produce a fantastic cheesecake, not heating the kitchen in summer as a warm oven does. The cheesecake emerged after hours of cooking slow and low, concealed by paper towels beneath the lid to absorb excess moisture. It tasted fantastic though not as creamy as I'd hoped and with some ravines in the top.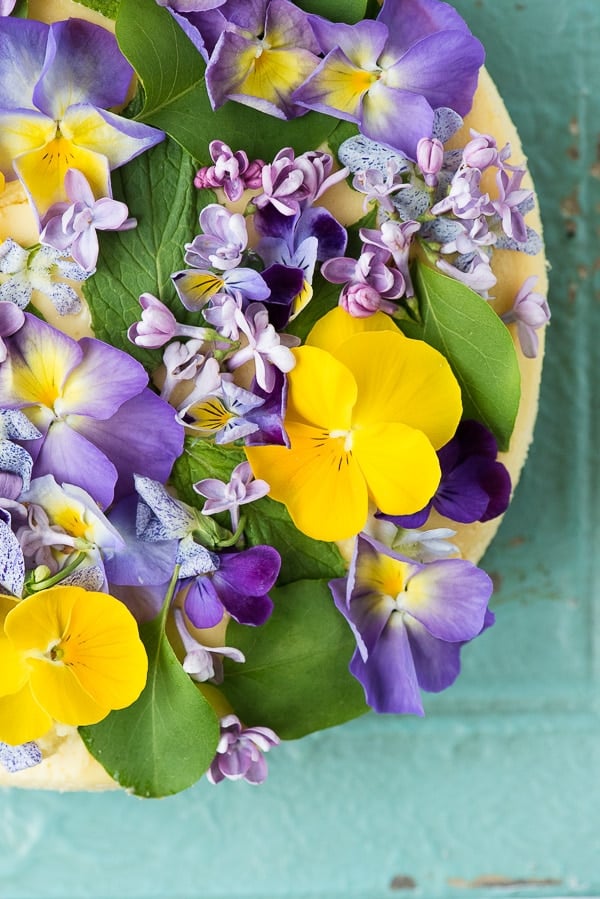 I tried again with opposite temperature and time settings arriving at the same end result as the first time. In both cases there was an odd creeping up on one side of the cheesecake, escaping over the top of the pan and beginning to slide down the outside. Like it was trying to escape. No one wants to serve a dessert that looks like it's trying to run away no matter how delicious it might be, so I accepted defeat and went on to traditional methods leaving multiple cheesecake rejects in my culinary wake.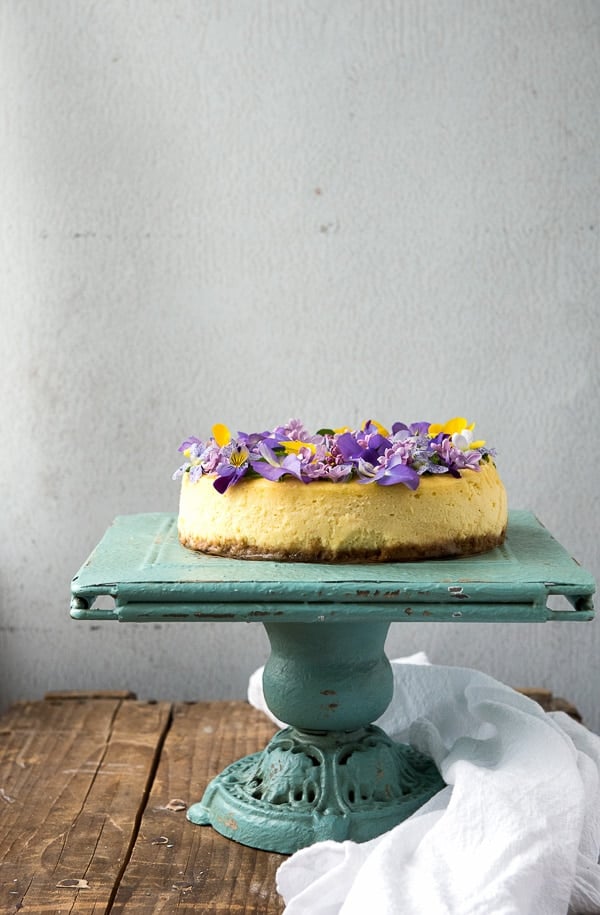 Candidly, this was all good. When I baked this lovely cheesecake in a traditional water bath, it turned out better than any cheesecake I've ever had at those magical hoighty-toighty restaurants of my youth. It is so creamy, lemony and irresistible; exactly what I'd want on my birthday. I decorated the top with edible flowers from my garden (you can easily find them at stores in the herb section). My husband thought it was very pretty and reminded him of a hippy bride in the 70's. I loved that. And I think you'll love this cheesecake too.