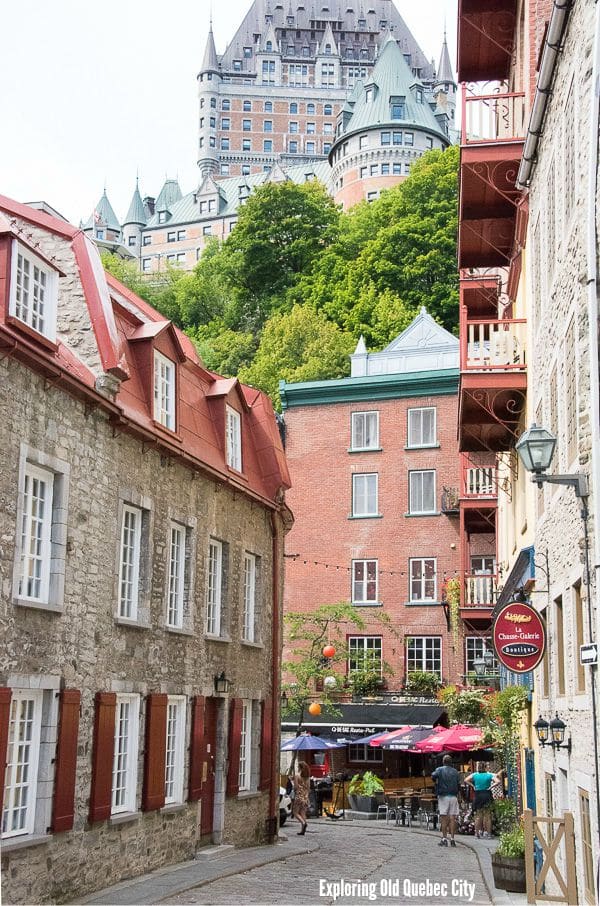 After a whirlwind trip through Prince Edward Island, Cape Breton Island, Nova Scotia and the Bay of Fundy in New Brunswick, we started the long haul home to Colorado with a final 48 hour stop in Old Quebec City. My husband had been there before and suggested I'd love it as it is the only city that really feels like Europe in North America. I couldn't agree more.
I first fell in love with the architecture and began snapping photos within minutes of getting out of the car. Each building was more charming than the last. Old Quebec City is a UNESCO World Heritage site and is the only walled city north of Mexico. Between the stone buildings, cobblestone streets and Old World charm, the heartbeat of history is alive here, intermixed with modern cuisine, and a prevalent art culture seen everywhere.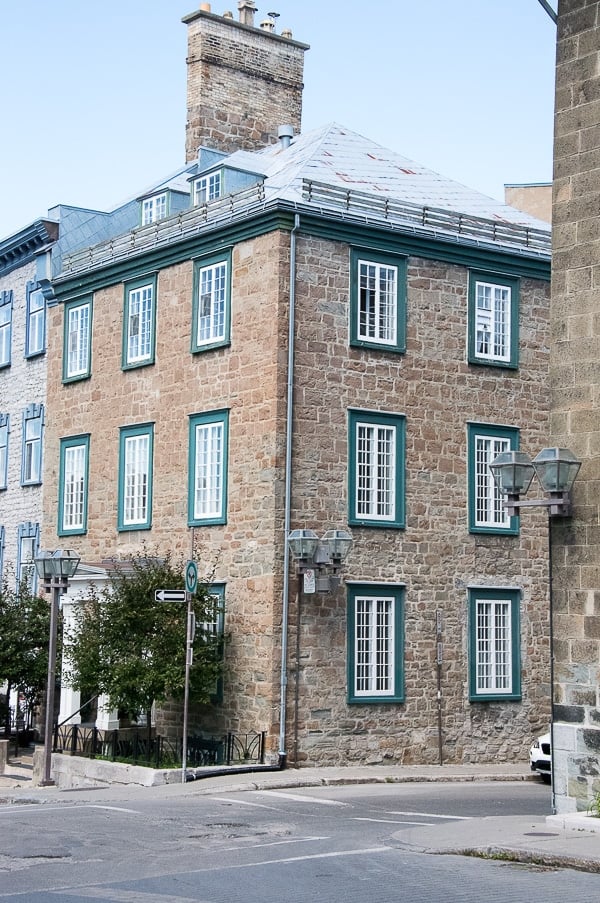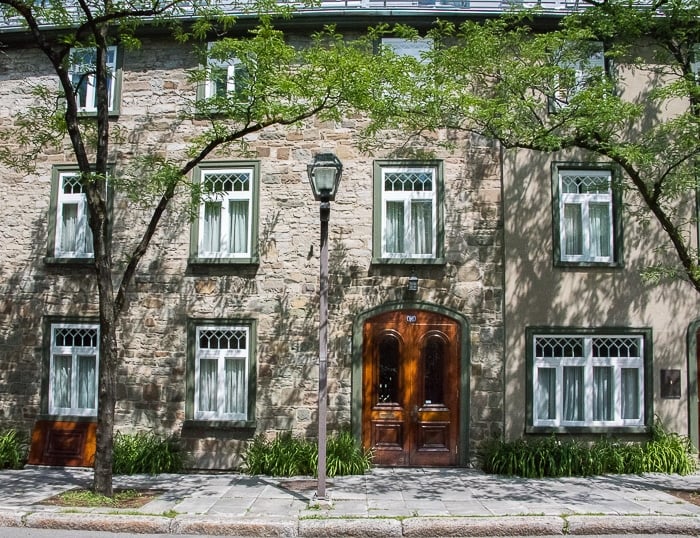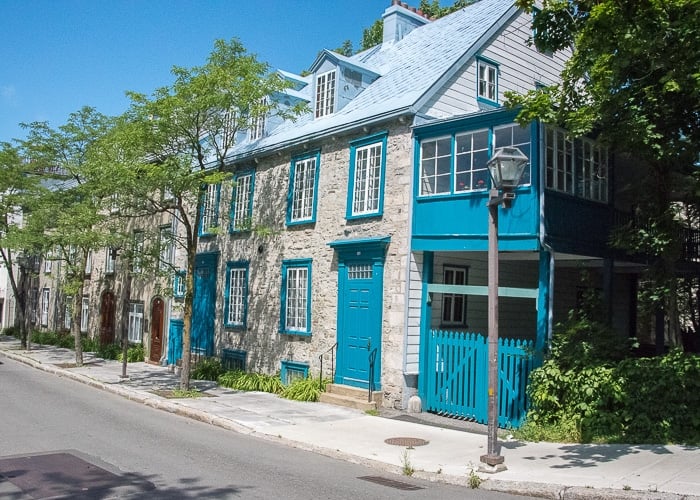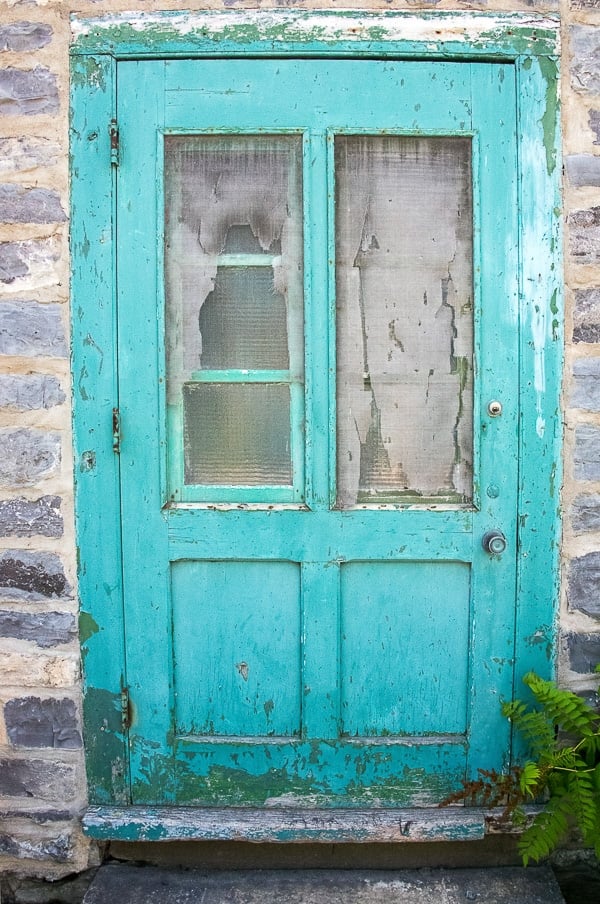 The founding of Quebec City (the portion now known as Old Quebec City) was in 1608 by Samuel de Champlain, a French explorer. The cliffs of the area presented a perfect spot for an eventual fortress (in what is known now as the Upper Town) but initially he established a trading post along the St. Lawrence River (in what is now known as the Lower Town). It also became the capital of 'New France'. The city was to play a pivotal role in the struggle between France and England for the control of North America.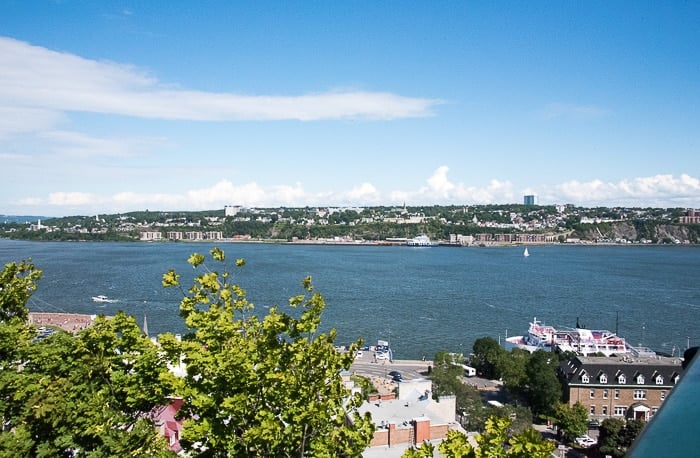 England first attacked the city in 1690 but due to the strong defenses it was not captured until 1759. In September of 1759 the climactic battle occurred outside the established walls of Quebec City where General Wolfe (British) defeated General Montcalm (French) and France lost North America to England. In 1774 the British passed The Quebec Act which allowed the French to keep the Roman Catholic religion and their culture so even though the city was controlled by Great Britain it retained its French character and still does today.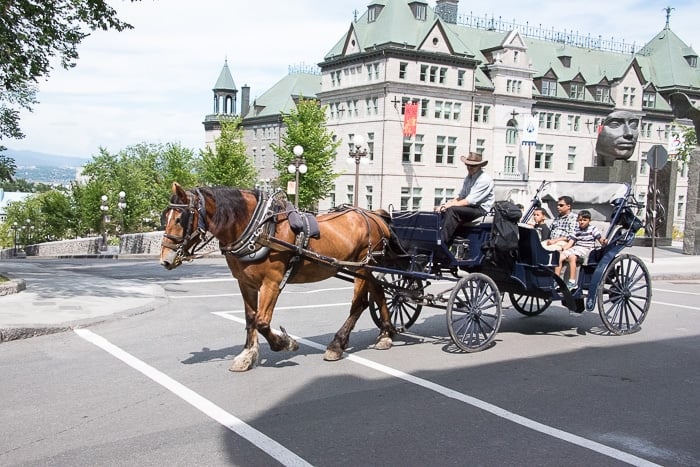 Old Quebec City is relatively small and definitely a place where walking is the best way to take in the sights (although many horse drawn carriages are available for hire too). Though only there a short time, we covered a lot of ground and loved every minute. As one might imagine, it is a French-speaking city and we noted all the normal bilingual signs we'd seen in prior Canadian locations bearing English followed by French, were swapped with French leading in Quebec province. English is readily spoken especially in areas where visitors are apt to go such as shops and restaurants.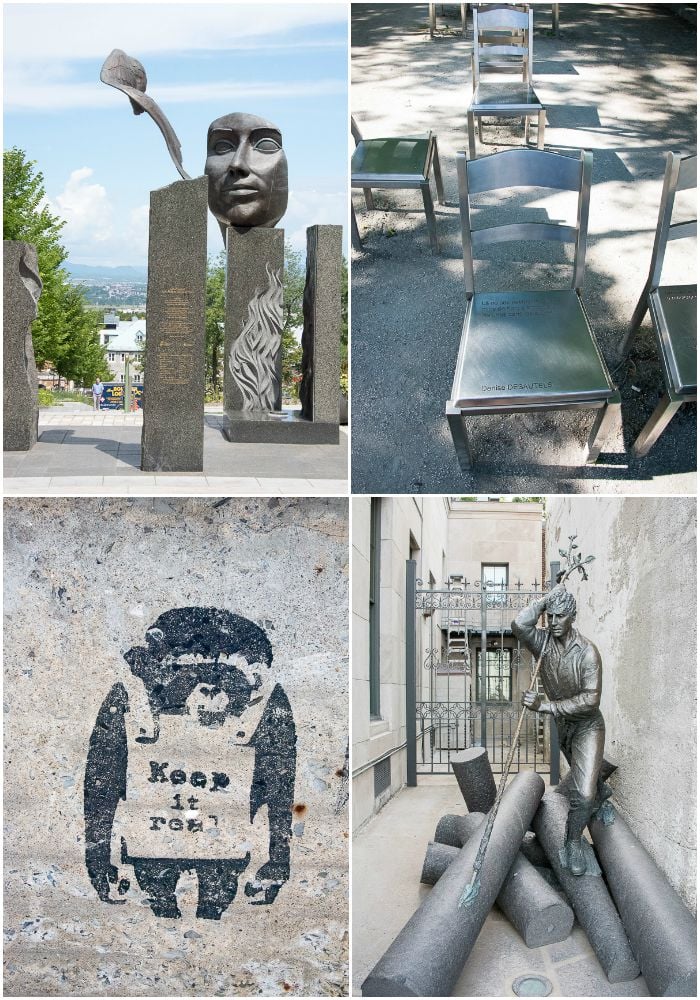 Our first stop was to visit Artillery Park Heritage Site. In 1712 a military presence was established on this site to protect the Saint Charles River and housed 150 soldiers. Now visitors can view demonstrations by docents in period military costume as they demonstrate loading and firing muskets, lead optional tours around the multiple building on the grounds or explore some of the original ammunitions storage underground. The Dauphine Redoubt, the mini fortress, includes a four story building housing a prison as well as lavish officer's quarters which can be toured. There is an entry free to visit Artillery Park (unless possessing a Parks Canada pass) and the Parks Canada Xplorer Program is available at this site. It took us about 1 hour to view everything and complete the Xplorer Program activities.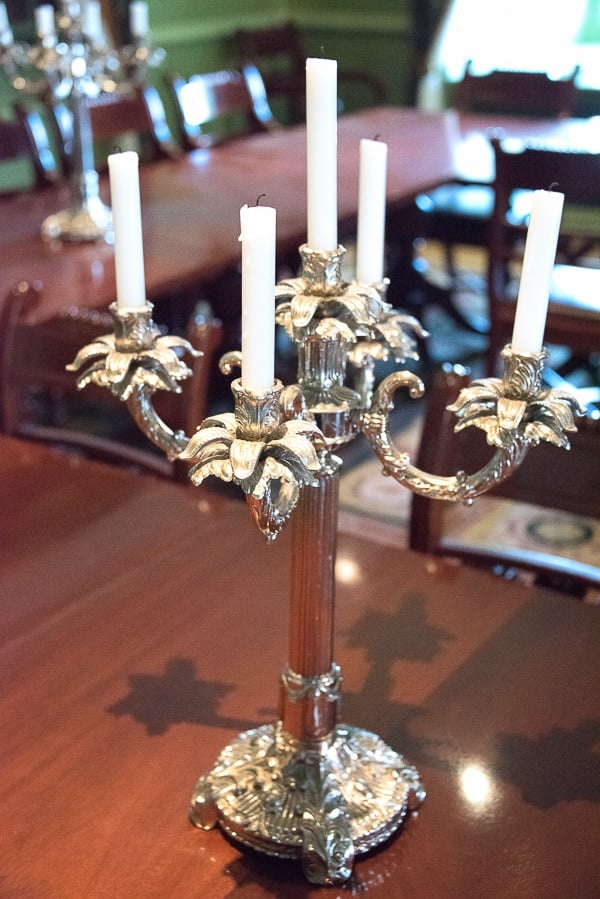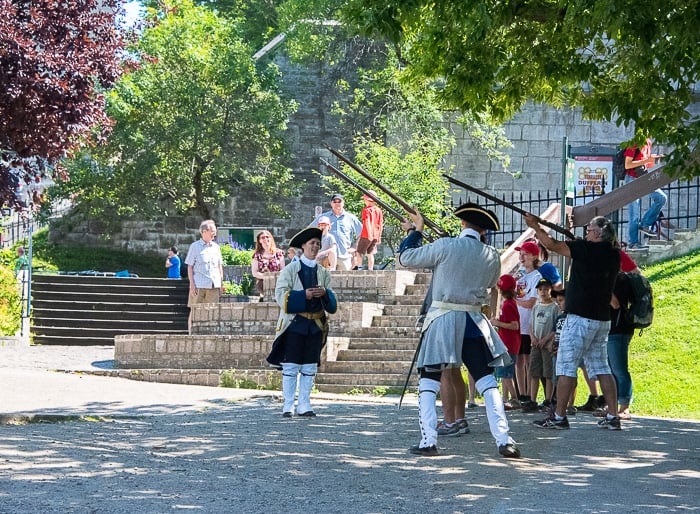 A 'must see' on most activity lists for Old Quebec City includes spending time at Fortifications of Quebec National Historic Site. We realized after arriving that it is not an actual singular location but a network of locations and historic information relating to the city's walls. Both Artillery Park and the Saint-Louis Forts and Chȃteaux National Historic Site are part of the historic site.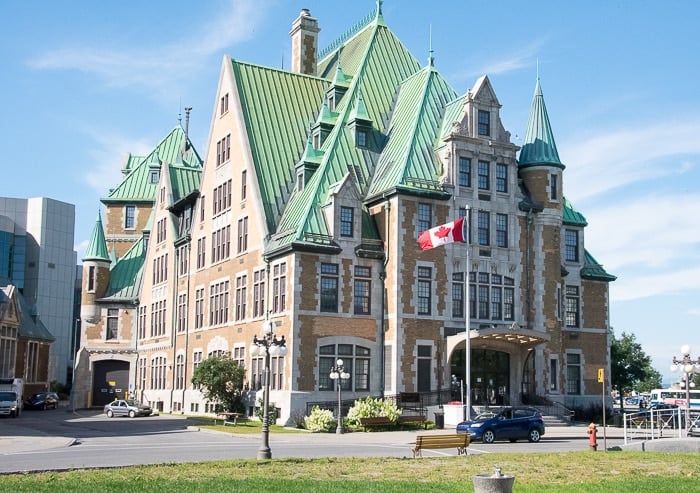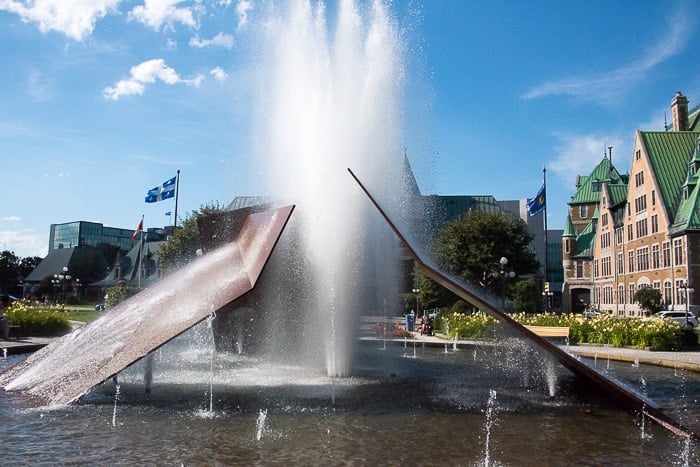 From Artillery Park we walked about 15 minutes to the Dufferin Terrace and the Saint-Louis Forts and Chȃteaux National Historic Site which is directly in front of Chȃteau Frontenac, said to be the most photographed hotel in the world (established in 1893). This historic site offers a view into the original residences of the French and British Governors holding office between 1620 and 1834. Steps from the ground level boardwalk take visitors into what feels like an archaeological site full of artifacts and vestiges of the prior structures. There are activities for children (including the Xplorer Program) and though interesting is was a bit dank and claustrophobic for me. It's certainly offers a unique view into the past of Old Quebec City.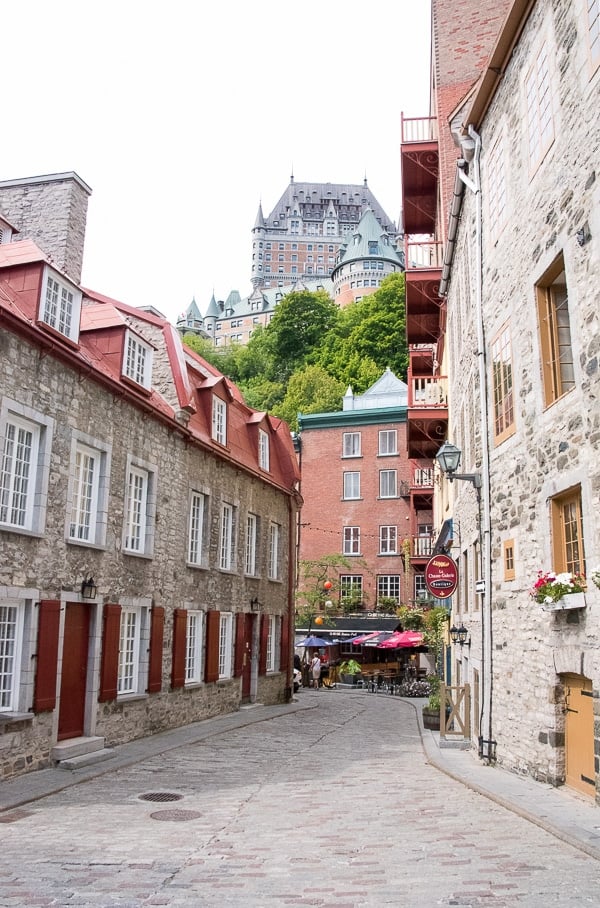 NOTE: As of 2018 Hotel Marie-Rollet changed management so the review here may not represent the current hotel service.
After our excursions it was time to check in to our hotel, Hotel Marie-Rollet, which we'd picked specifically due to its location in the heart of the old city on Rue Sainte-Anne.
The four story walk-up hotel (no elevator) was originally built in 1876 and includes vintage pieces in the rooms. There is a small roof top terrace for guests with a table and chairs as well. Parking can be quite tricky in Old Quebec City and the hotel helped us with a special parking location due to having a carrier box on the top of our SUV.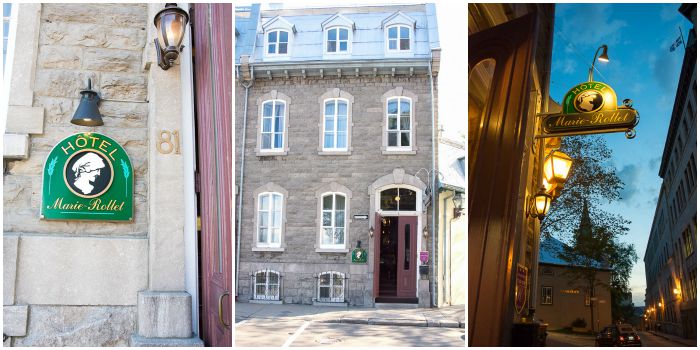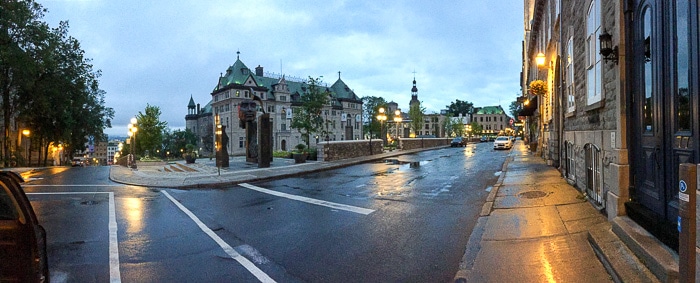 Our room (#3) was on the ground floor, actually the door was but once inside there were a few steps down to the spacious bedroom. It was well furnished with a king or queen bed (not remembering now) as well as a pull out sleeper bed for two. It had been renovated to include top of the line appliances and a small table and chairs allowing dining in (which is always a great option as a gluten-free traveler). The bathroom was spectacular having also been newly remodeled with sophisticated touches causing a clamoring of our crew to spend time showering to enjoy the ambiance. The room had a small window that didn't provide a view but let in some light during the short time we were in the room itself. This area is dense with a variety of hotel options and is in the heart of restaurants, museums, and historical outings.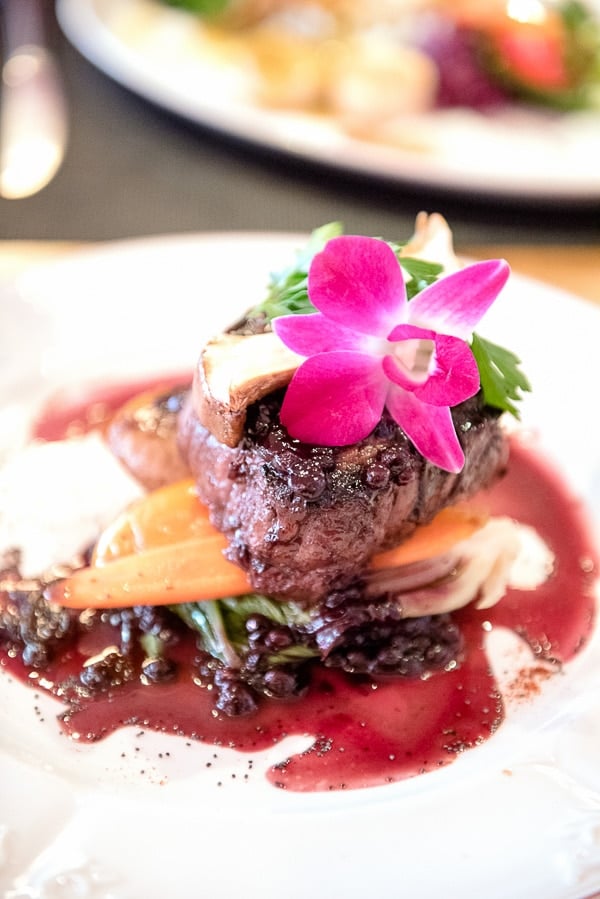 We walked about 3 minutes to an early dinner at 1640 Bistro. We picked this restaurant for the French cuisine, local ingredients and ability to accommodate gluten-free diners (with panache). We got a reservation for the opening of their dinner service around 4 p.m. and found it quickly filled both indoors and for outdoor dining. Our meal was fantastic. I had a Beef Filet Mignon with a Blueberry and Port Sauce that was perfection. We started the meal with a platter of local cheese and charcuterie. My daughter had a large bowl of local Mussels in a curry sauce and my husband Beef Bourguignon. We finished off the meal with a lavish Chocolate and Fruit plate which included discovering a new fruit: the ground cherry. The restaurant is just in front of the Chȃteau Frontenac hotel and in a buzzing few blocks full of street artisans drawing portraits as well as Rue de Tresor, a small alleyway where local artisans display their paintings for sale.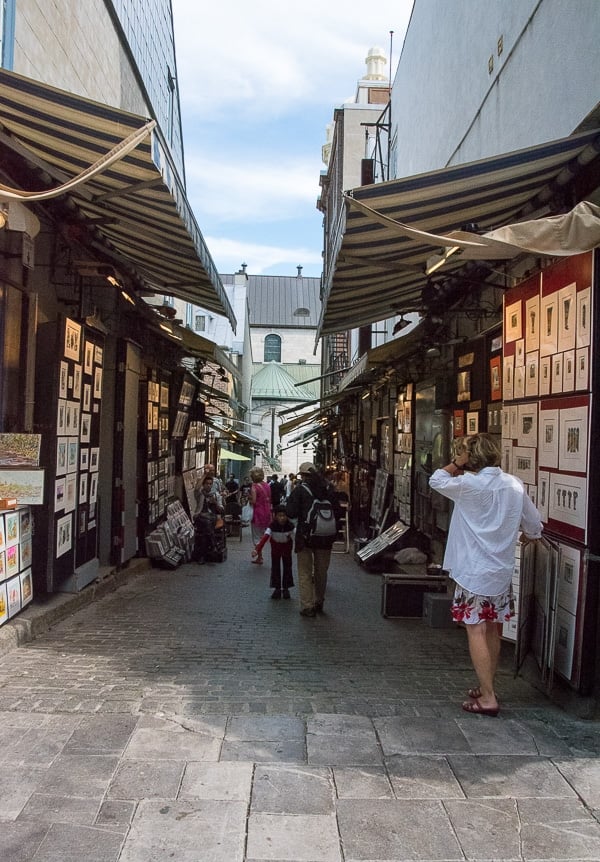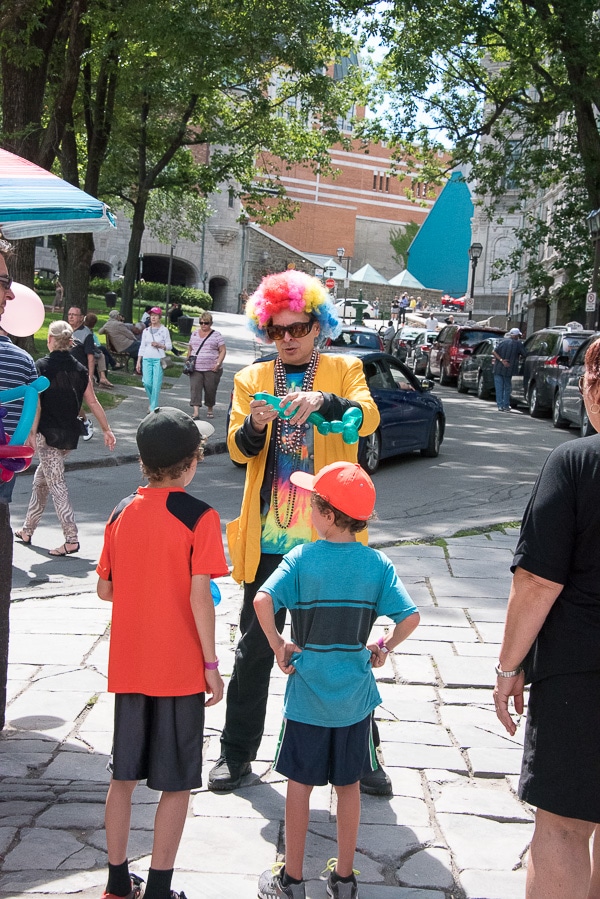 The next morning we wandered down a block to the Pain Beni for breakfast. A hip spot, the food was as on point as their modern décor. Hotel Marie-Rollet had given us a discount coupon for breakfast which seemed as good a reason as any to try it. Were we glad we did. Menus in brown paper bags were delivered along with a great cup of coffee to start. I had Classic Egg Brouillade; creamy scrambled eggs with feta cheese, chives, bacon, tomatoes and gluten-free toast. The show-stopper was their hash browns; cubes of soft potatoes with a thin crisp exterior. After trying to figure out how they were made our server confirmed they were deep fried. Truly heavenly. They are open for all meals of the day offering indoor and outdoor dining. The cuisine if inventive and fun. Definitely recommend.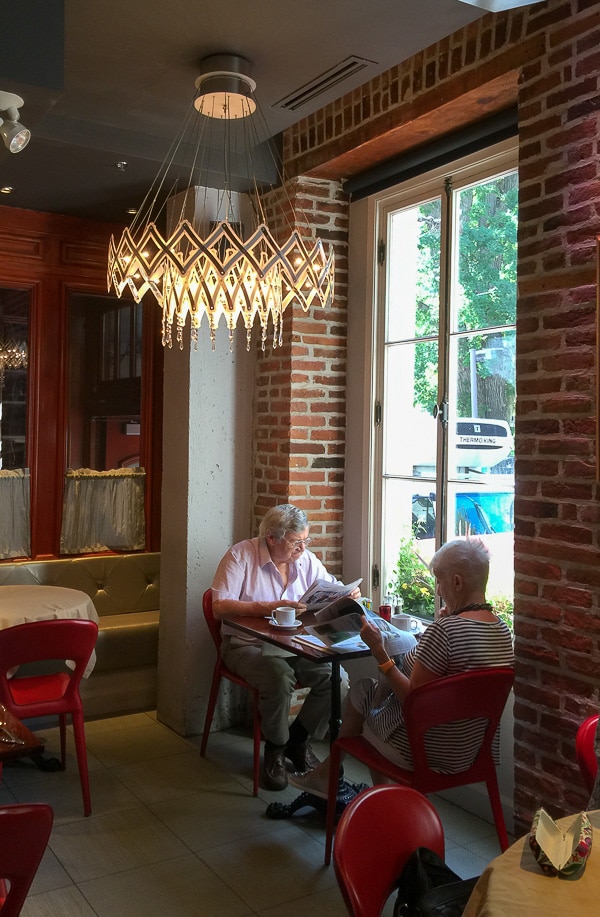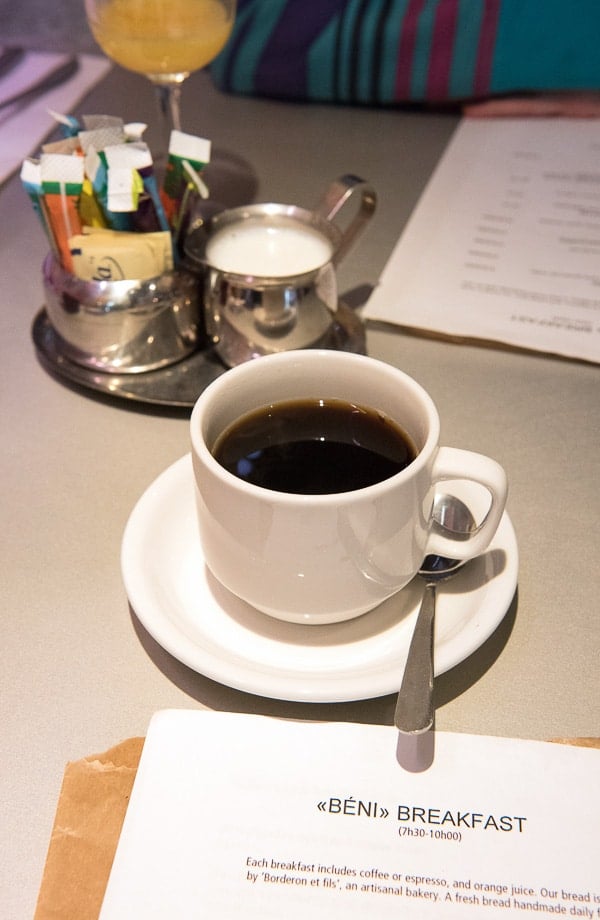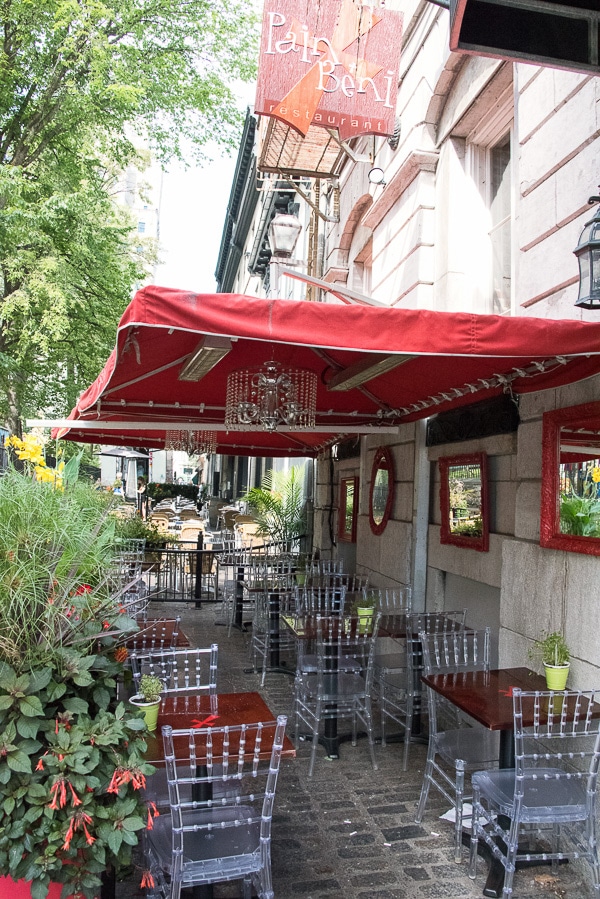 After breakfast we strolled into the Lower Town along the river. Equally charming to the Upper Town, the Lower Town is full of shops which were interesting with innovative, quality wares. Gourmet food shops, restaurants, clothing stores, kitchen wares, and art shops all beckon the eye, winding through quaint cobblestone walkways. There is a steep staircase from the Dufferin Terrace to the street level below for visitors to snake down a steep street to reach the flatter section of the Lower Town. As an alternative a funicular is available to transit between the Upper and Lower Towns sparing some of the incline.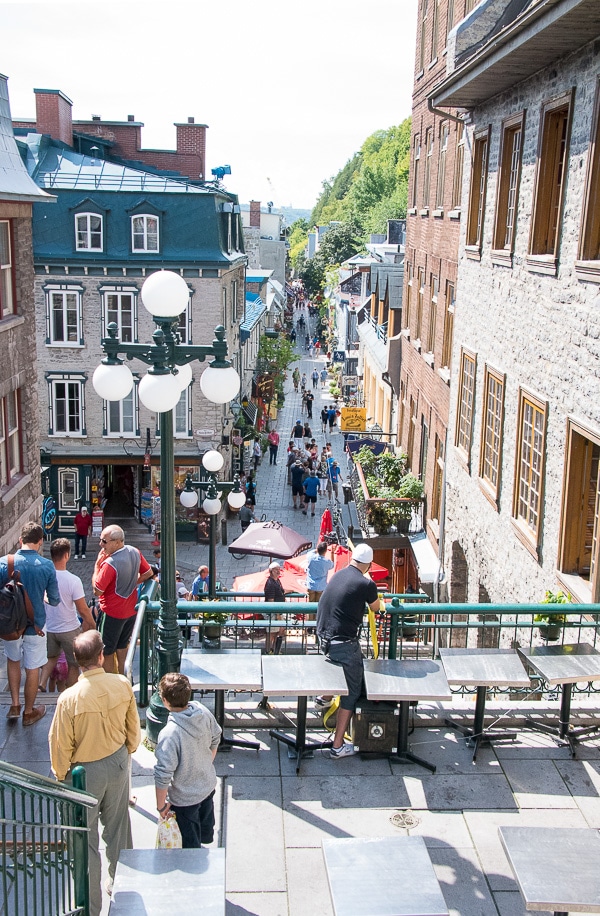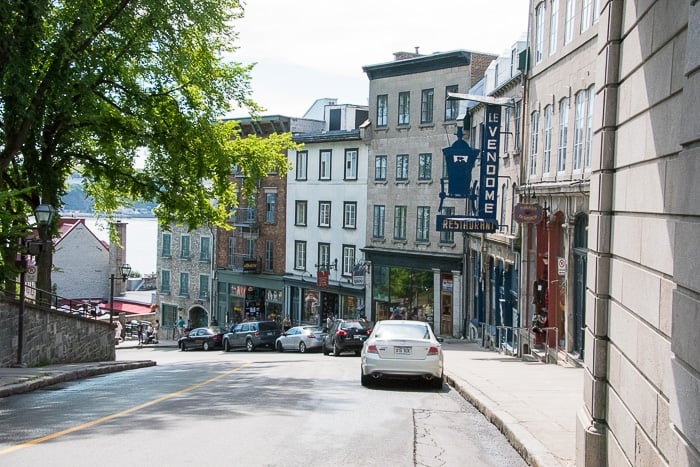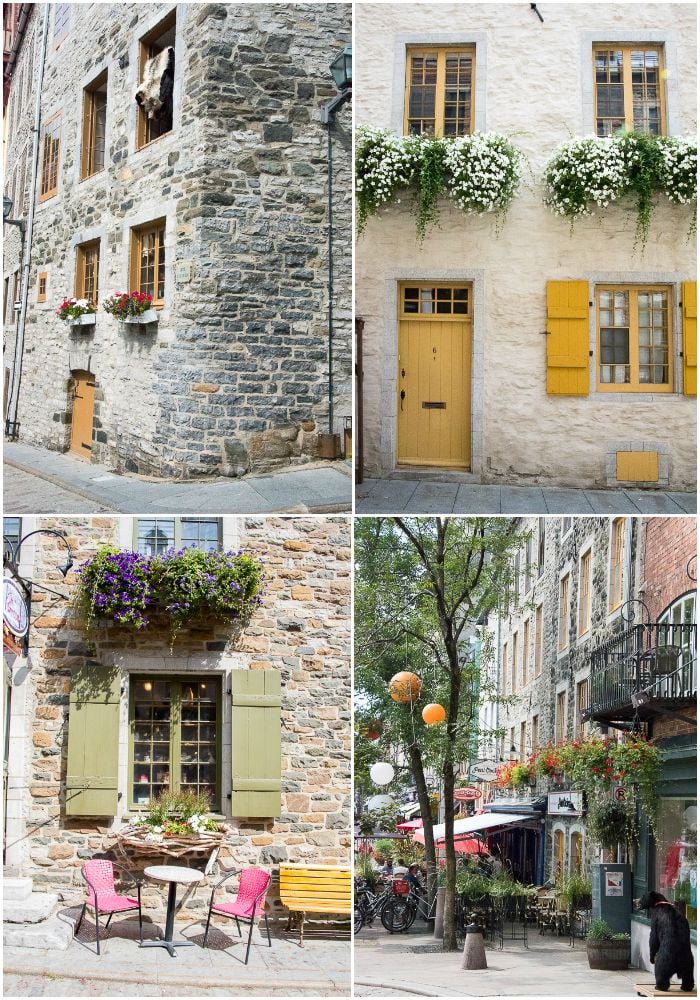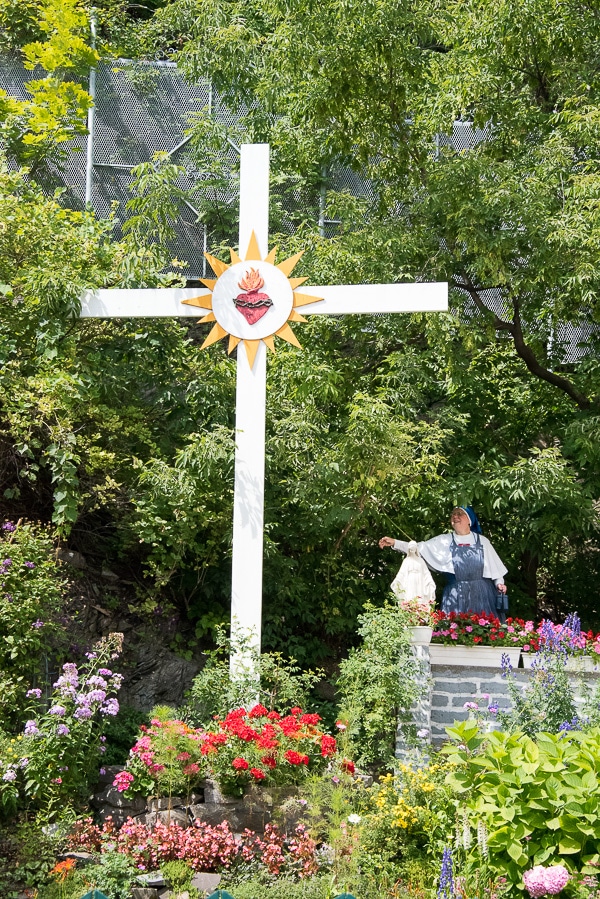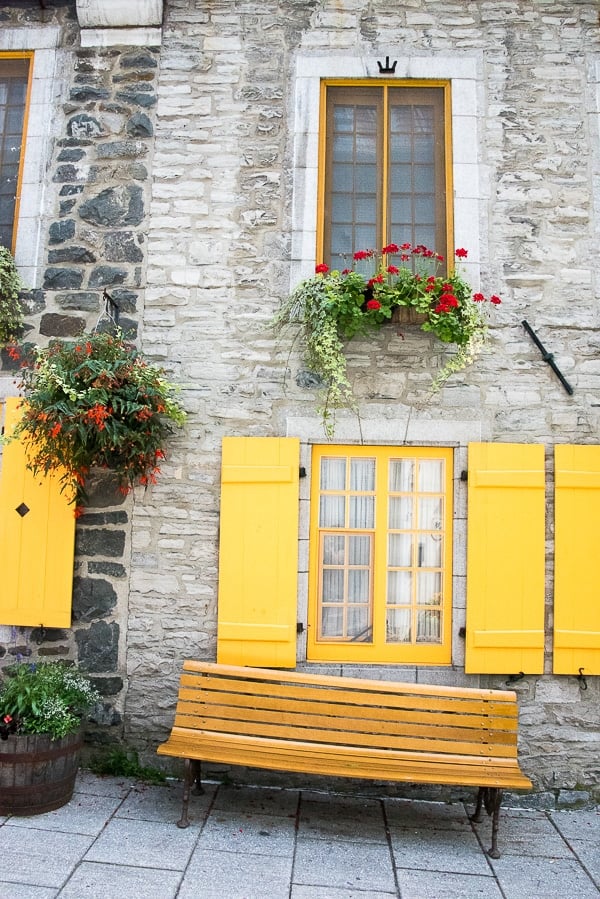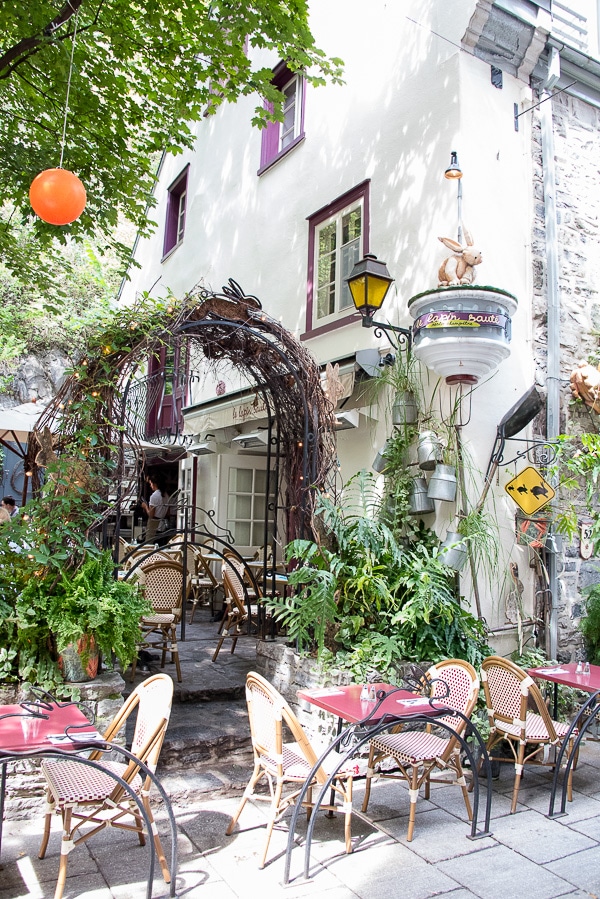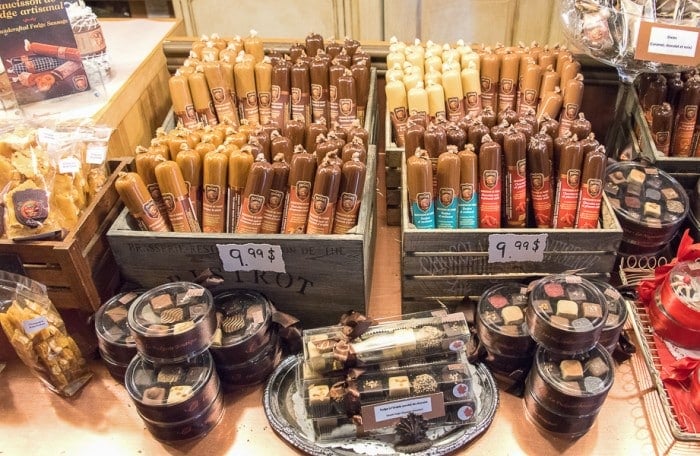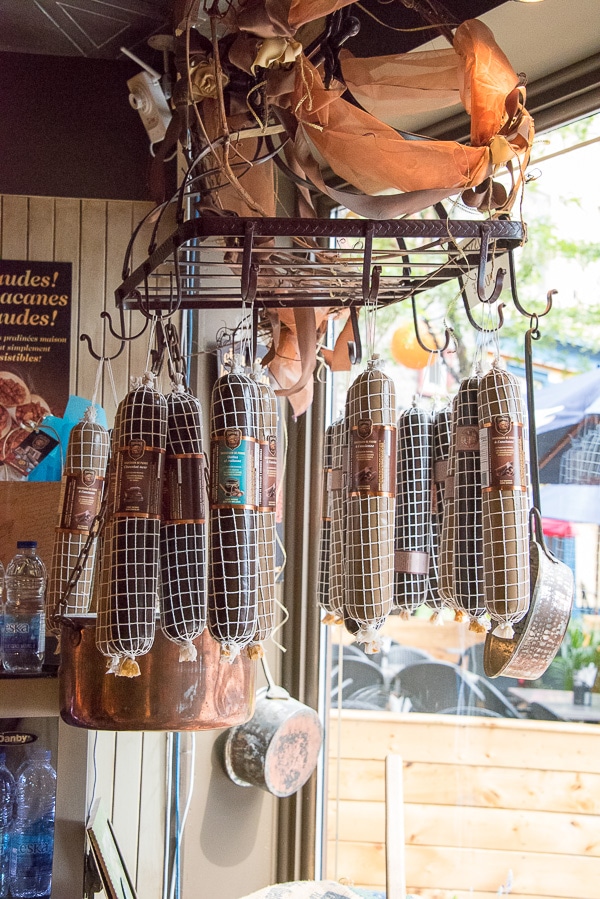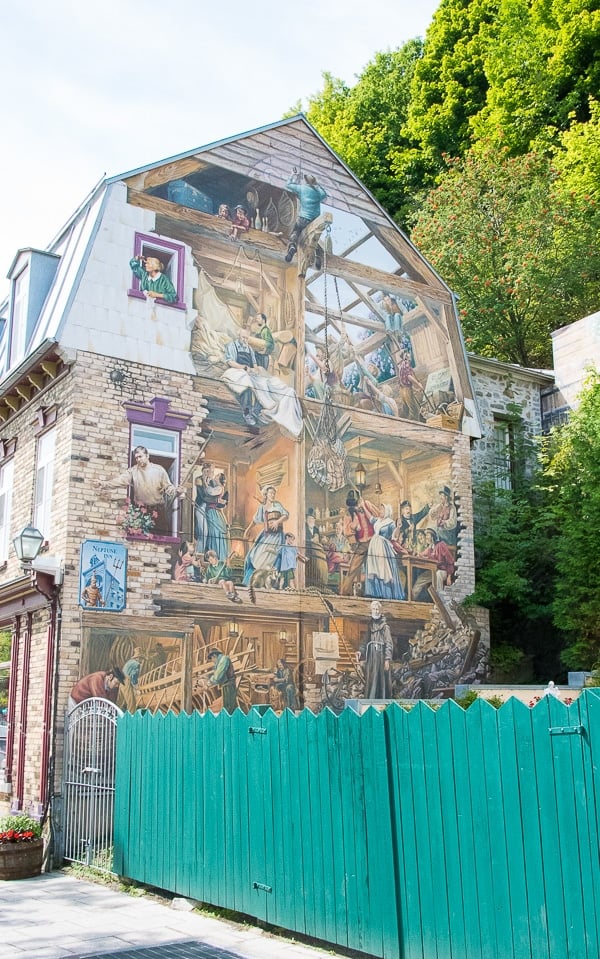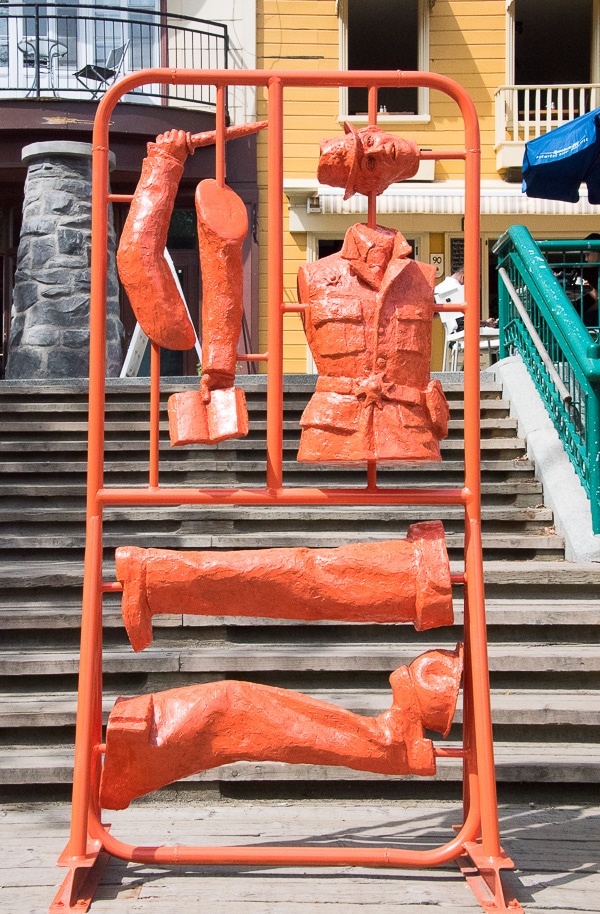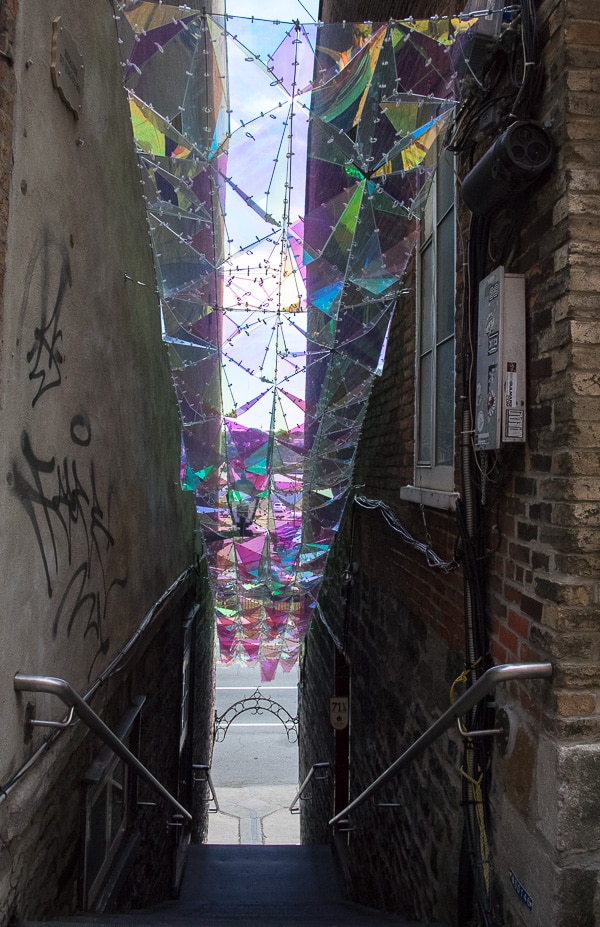 For lunch we headed back toward the water but in the opposite direction to Chez Victor known for their inventive burgers and ability to host gluten-free diners with little compromise. They have multiple locations in Old Quebec City and we ate at the Rue Saint Paul location which is in the bottom floor of an office building. You'd never expect to land in such a contemporary den when wandering through the building to find the restaurant. Every aspect of this restaurant is cool right down to the signs for the restroom.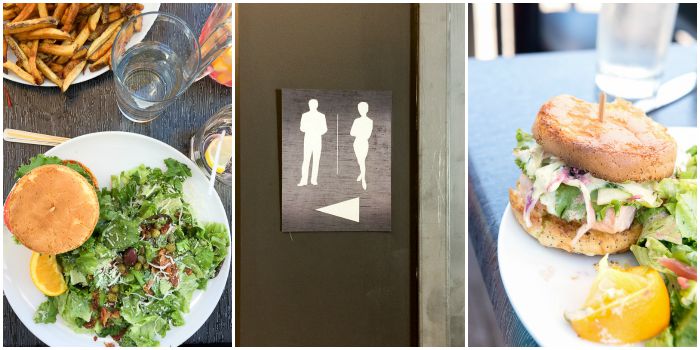 The menu is exciting and it was their listing for innovative forms of poutine that inspired my own poutine recipe when returning to the States. While sitting outdoors sipping their house sangria I decided on The Sanglier: Boar, Migneron cheese, portabella and oyster mushrooms cooked in brandy, lettuce, tomatoes, maple and rosemary mayonnaise. Need I say more? Definitely a 'must eat' restaurant.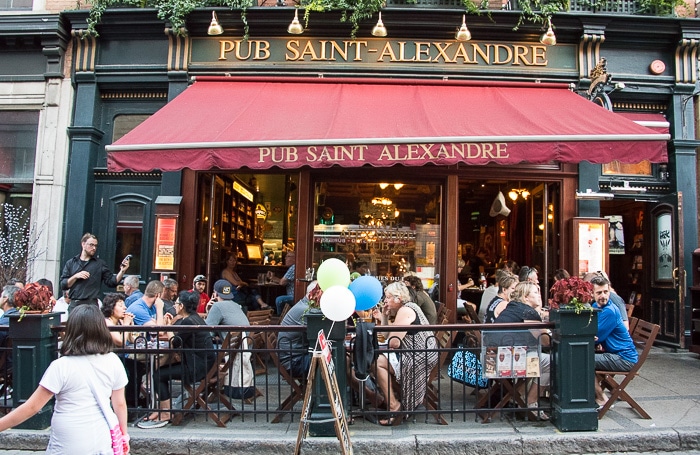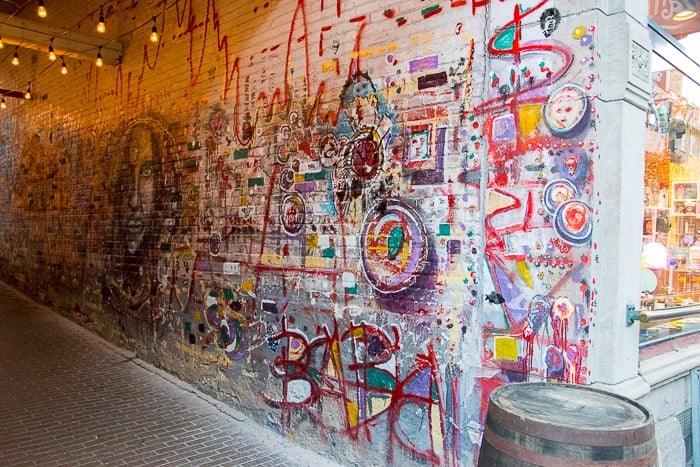 Later in the afternoon we took a walk through the Sainte-Jean neighborhood which is partially closed off allowing visitors to wander the streets without competing with vehicles, to stop at one of a number of cafés to dine outdoors or hit the many bohemian shops along the street. We wandered into a Renaissance shop where one could buy authentic period costumes, swords, or any other thing you could think of from the time; all well made with prices commensurate with the quality. Not something you find just anywhere. We found several stores to browse through and the verve of a summer's night could be felt everywhere in the district.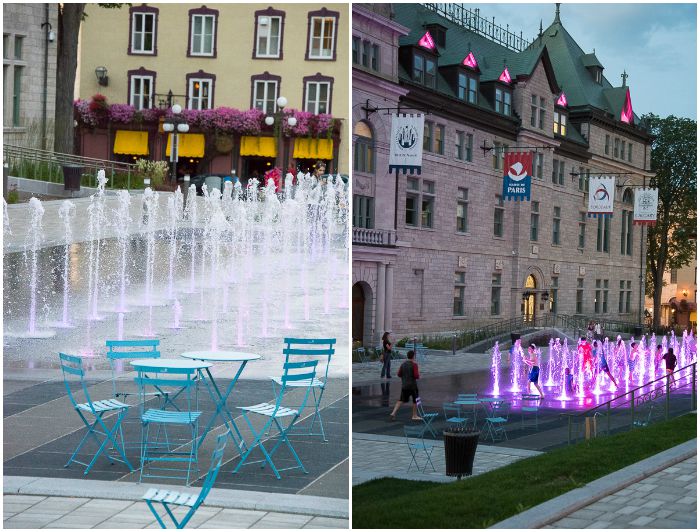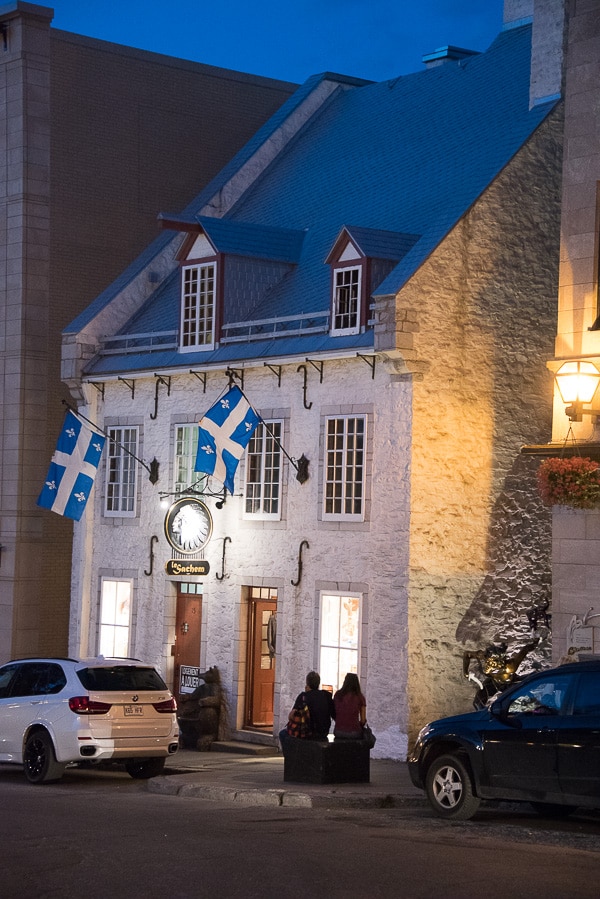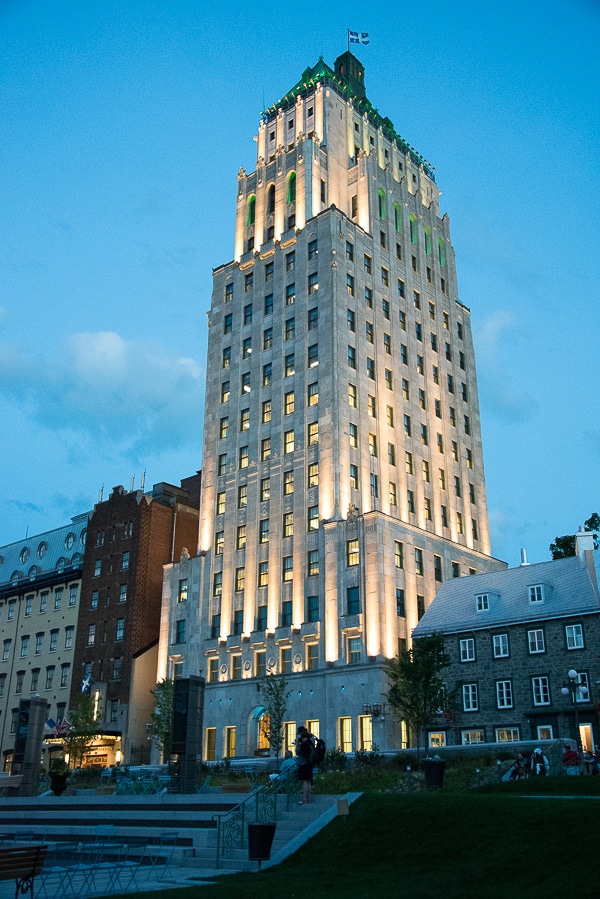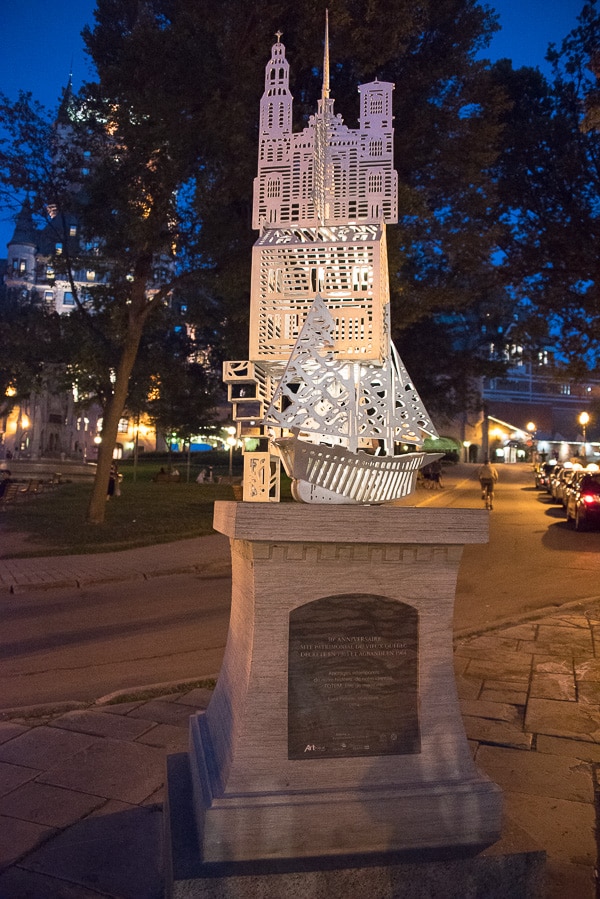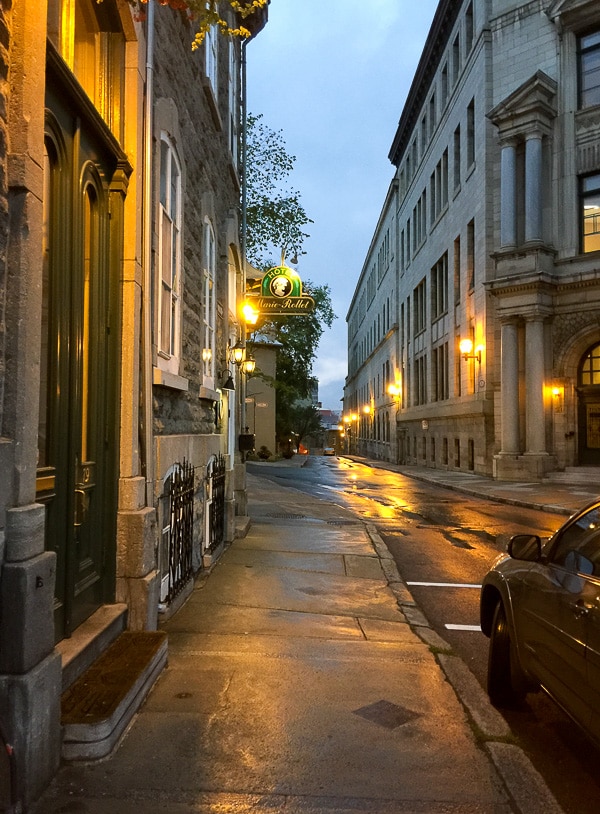 Our last stop was the iconic Chȃteau Frontenac, hoping to grab a cocktail and take in the ambiance of the treasured hotel. The cocktail was not in the cards but merely wandering through the hotel's lobby and shops, soaking in the grandeur of a bygone era was a treat. I'm banking on a second visit to Old Quebec City perhaps with a stay at the famous hotel.
As we pulled out of Old Quebec City at 5:00 a.m. the following day, loading the car in the quiet of the early new day, streets wet from an overnight rain, I felt it was a perfect last stop to end our amazing 6,000 mile road trip. Old Quebec City stands alone in its European essence, with so many activities and exploration opportunities in any season.