A savory twist on a breakfast favorite: English Muffin French Toast with Bacon-Maple Gravy. Think French Toast meets biscuits and gravy for a flavor-packed hearty morning meal. AND it's gluten-free!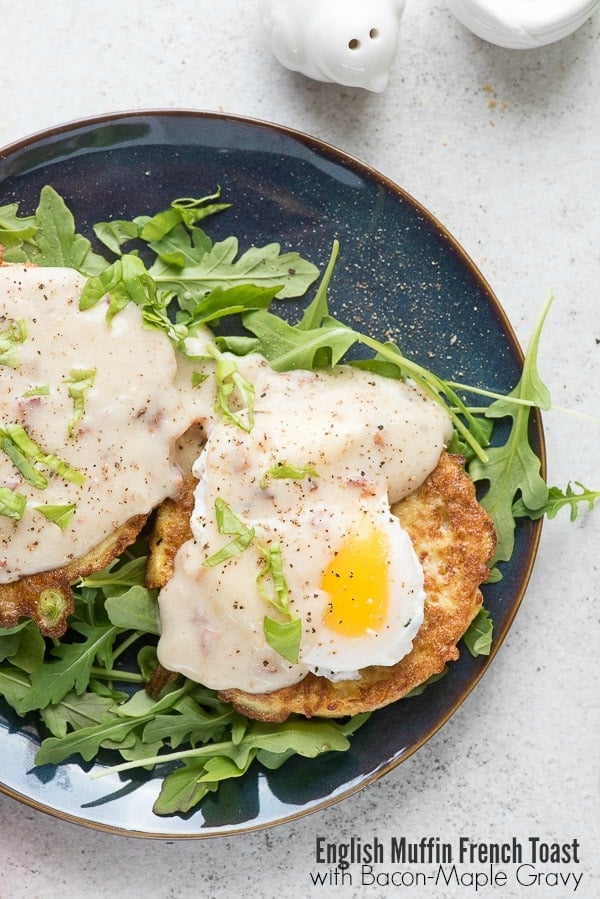 This post is sponsored as part of Boulder Locavore's ongoing partnership with Udi's Gluten Free. All opinions are my own.
I love coming up with new breakfast ideas. I've mentioned this before but I feel breakfast is my least creative meal of the day…..maybe since I'm still half asleep. My crew likes to eat at totally different times; some when they first wake up, some a few hours later. One thing we all have in common however is loving a warm savory breakfast dish. My latest favorite? English Muffin French Toast with Bacon-Maple Gravy.
French toast is always an easy breakfast option but generally it's made in sweeter flavors. One of my long-time gluten-free partners, Udi's Gluten Free, has just released some new English muffins this month; both Whole Grain and White varities. To most people that would read like *shoulder shrug* and a blasé 'ok'. But to we gluten-free, anything new or that we've left behind in our gluten-free journey is like Christmas coming early.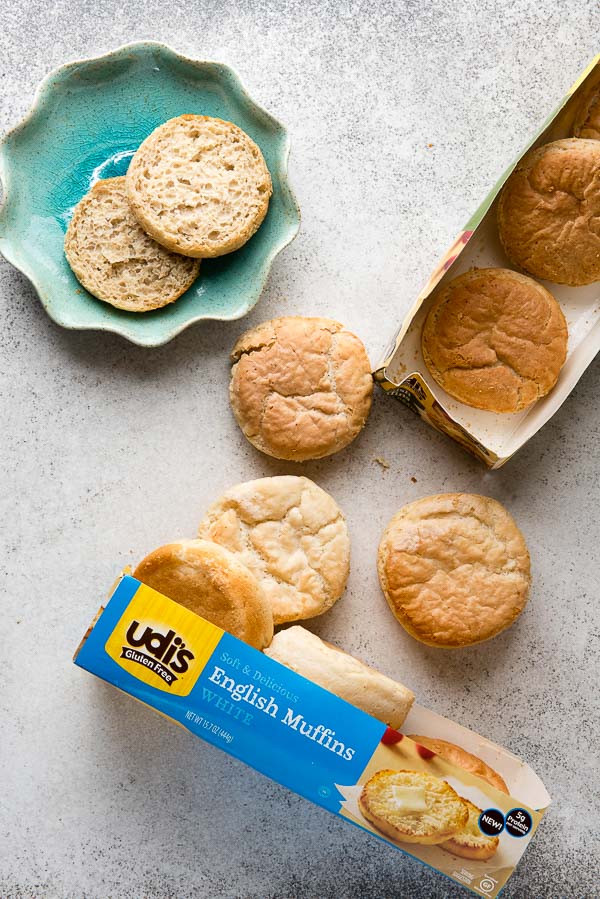 I am a long time Eggs Benedict lover. I love the salty Canadian bacon, the savory poached egg and of course the hollandaise sauce. A toasty English muffin is more than mere toast. There is something perfect about its round shape and dense, craggy consistency that I've always loved.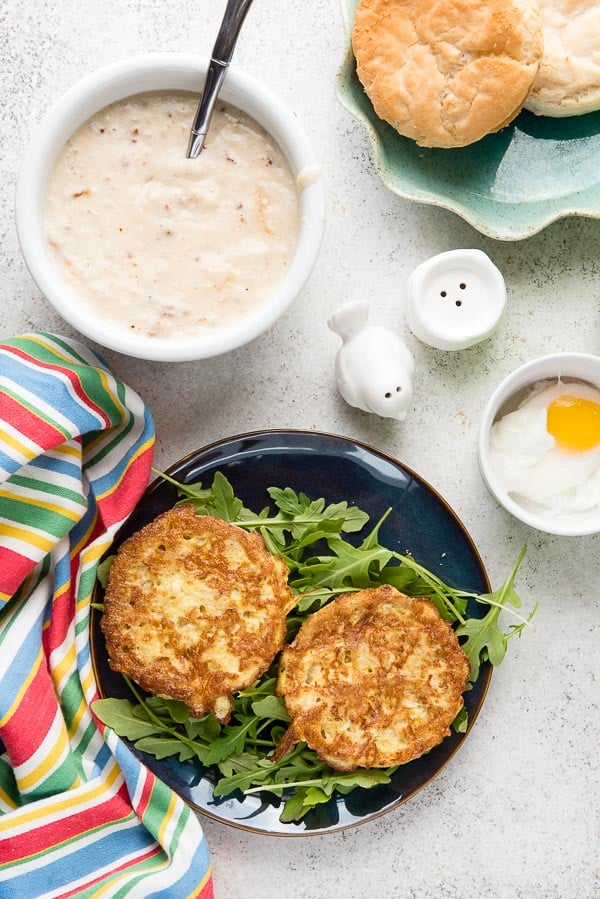 As I was thinking about all the ways I've missed eating them, the idea of turning them into savory French toast came to mind. One thing I never grew up with that my husband has talked about from his Southern relatives is biscuits and gravy. It's a bit of a foreign concept to me and certainly one to those gluten-free.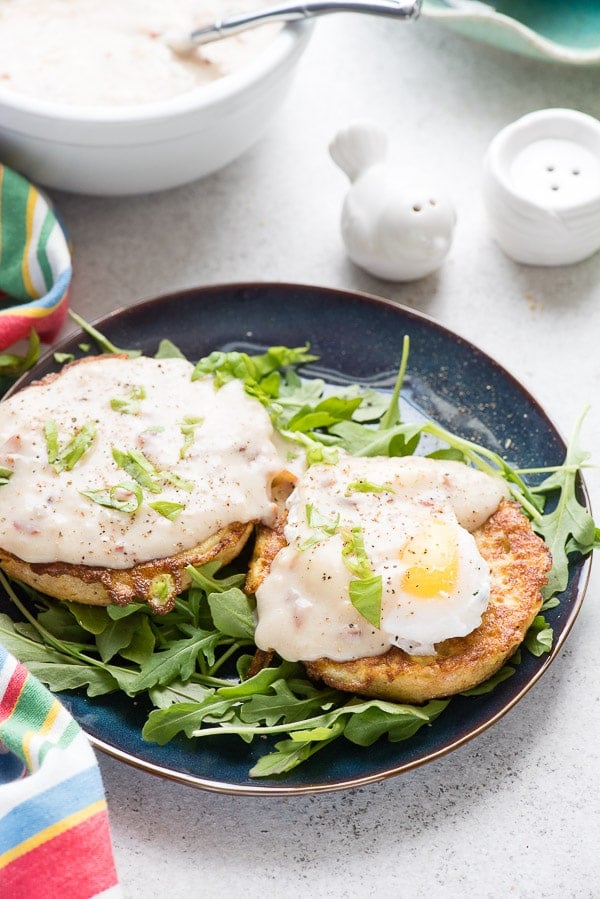 However, I was imagining savory English muffin French toast with a slathering of gravy, maybe an egg on top, and something I personally have grown to love with breakfast, some fresh greens (I always go for a bed of peppery arugula).
The end result did not disappoint and I'm so excited to share it with you today! I made a Bacon-Maple Gravy that is irresistible. The gravy has a mix of salty and sweet flavors with the maple syrup and some apple juice in it. It is made with some bacon fat for flavor but I add the chopped bacon back in for texture in this recipe and it's heaven.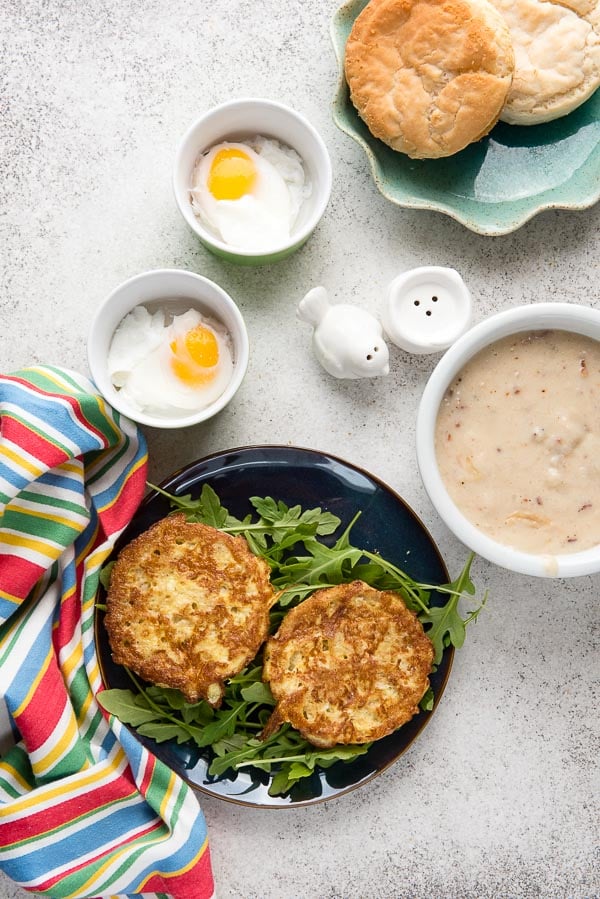 A fried or poached egg may be added on the top and again I love it on some greens but serve it however YOU'D love it! AND if savory isn't your thing when it comes to English muffin French toast, forego the gravy and use traditional syrup instead.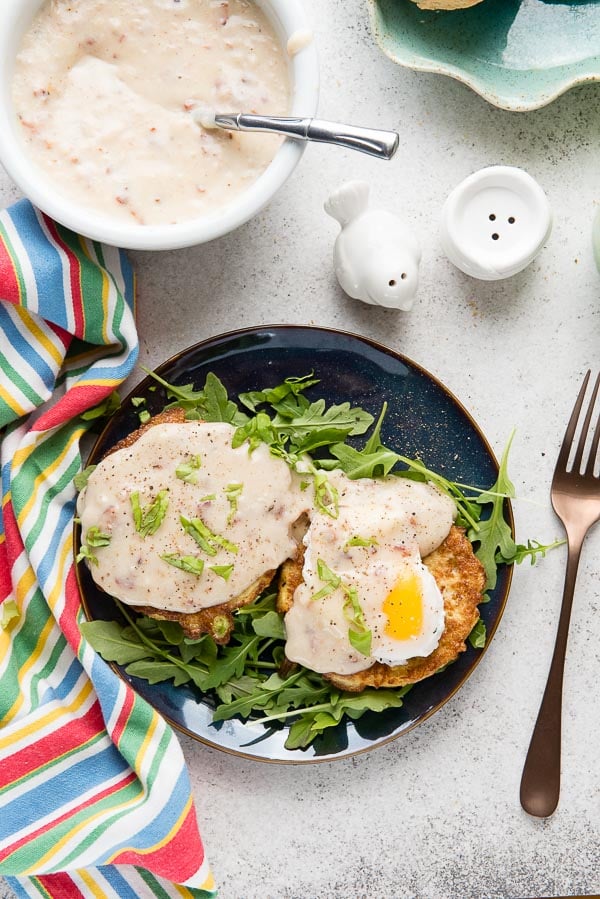 Plain old French toast will never be the same after trying this English muffin French toasts slathered in salty, sweet Bacon-Maple Gravy in the style of biscuits and gravy. It's a hearty breakfast that's filling and irresistibly tasty!