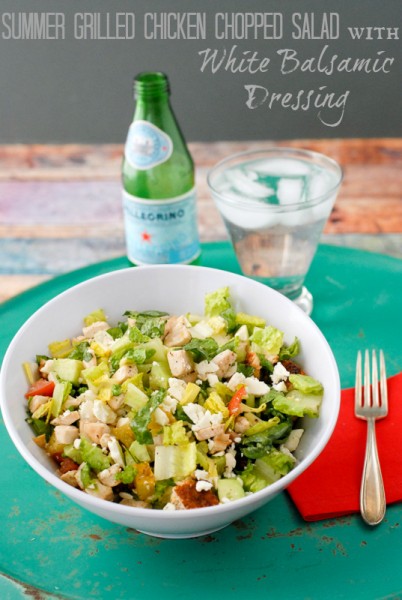 I've been waiting patiently to share a fabulous summer salad I fell head over heels for on a recent trip to Las Vegas: Summer Grilled Chicken Chopped Salad with White Balsamic Dressing. The time finally feels right with the past five weeks of clockwork snow storms behind us and our temperatures bypassing spring and heading straight for the dog days of high summer this week.
Over part of Spring Break we flew to Las Vegas for a multi-generational family gathering. We were a group of varied interests and abilities spanning a 70 year age spread! It was a perfect location for us, allowing everyone their own pace and usually meeting for a few fabulous meals and a show daily.
We stayed at the Mirage Hotel which is perhaps more kid-friendly and offers less opportunities for a mom to drape something swiftly over the innocent eyes of younger folk to shield view of some of the more colorful action passing by! My Sister in Law had artfully screened performances for age-appropriateness, dining venues for our gluten needs, suggested days of the week to dodge if I elected not to explain the term 'lewd' to my 10 year old. All aligned landing us in a bit of an out-of-body power vacation in one of the more surreal microcosms in the U.S.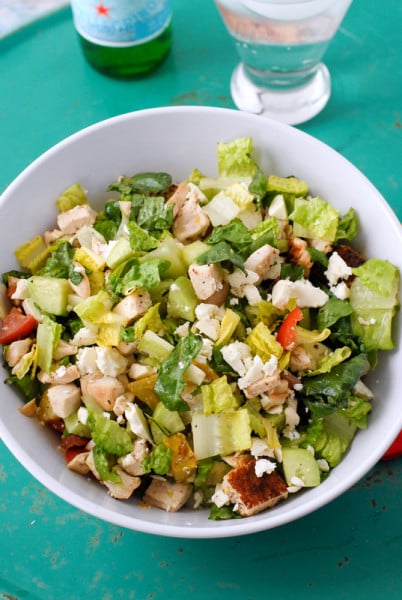 We watched volcanoes erupt after dark at the Mirage. We took a gondola ride at the Venetian on the mock canals of Venice lit by an enchanting faux sky-scape, serenaded by the dulcet tones of our Italian-born Gondolier (much to the embarrassment of our teen daughter). We elevated to the top of the Eiffel Tower for a nighttime view of The Las Vegas Strip (the main drag of hotels) and a showing of the extravagantly choreographed fountains at the Bellagio. We saw Cirque de Soliel, the white tigers of Siegfried and Roy. We ate fabulous Kobe and Wagyu Beef, black truffle mashed potatoes and drank champagne and enjoyed each other's company after too much time passing.
The sights and sounds were more than memorable (and the people-watching fascinating) but what made me feel like I was really on vacation was eating at the palm tree lined Paradise Café poolside at the Mirage, which we did for at least one meal a day. A gentle breeze was always blowing and though the temperature was not the usual blaze, the smell of sunscreen hung in the air and I did not need to wear my Ugg boots which qualified as 'the tropics' by my meager standards.
The first day we convened for lunch and I ordered the Summer Grilled Chicken Chopped Salad. It arrived in an extravagant asymmetric white melamine bowl fit for four (all the meals are ample in Vegas) perched on an edgy placemat, demonstrating the showmanship you'd expect in Las Vegas. It was eccentric, fresh and tasted like summer. The dressing was light with a balsamic tang but with a fresh twist. I knew it was the type of salad I'd crave all summer long. After you have a refreshing bite, I think you might too!