When driving through Colorado Springs, usually en route to Santa Fe or Taos, I've thought I really should spend a weekend there knowing it has much exploration to offer. It is a gorgeous setting nestled in the bosom of 14,000 foot Pikes Peak. As work the wiles of serendipity, my family and I were invited to come to Colorado Springs to experience The Broadmoor hotel, an iconic Grande Dame sparkling every one of her well-deserved five stars in all aspects of her offerings. One quickly feels the depth of the Broadmoor's nearly 100 year history however it's worn with a sense of approachable elegance not with pretense, nor is it 'tired' as some become bearing the weight of such age. This was my first visit to the sunset-hued property, protected by towering mountains overhead, and it will surely not be my last.
The Broadmoor is perfect for people like me; those craving diversity, depth, variability and exploration. Frankly the Broadmoor is perfect for anyone which makes it so unique. It is a vast property comprised of the original stately hotel building and an addition of the West Building (where we stayed), as well as off property lodgings including a newly acquired Emerald Ranch perched high atop the Cheyenne Mountain perfect for groups or business events. It houses a golf course, tennis courts, onsite spa, fitness center, pools, and a large central lake perfect for a stroll or outdoor exercise. There are 20 eateries on property of all dining genres from a gourmet 'to go' shop, to fine dining with nationally accredited chefs, an authentic English pub, a French themed tavern and several others in between. We arrived with great ambition of seeing all the Colorado Springs sights and quickly found the Broadmoor like a sleek easy chair; we sunk into its charm and only left once over a three-day weekend to go to the Cheyenne Mountain Zoo (a mere five minutes away, available by hotel shuttle and originally started with a number of exotic animals the Broadmoor housed on property.)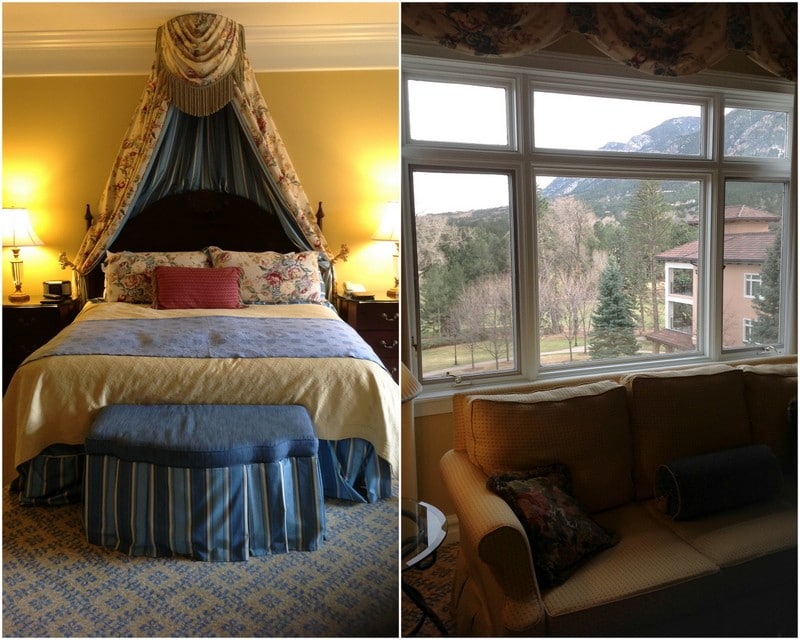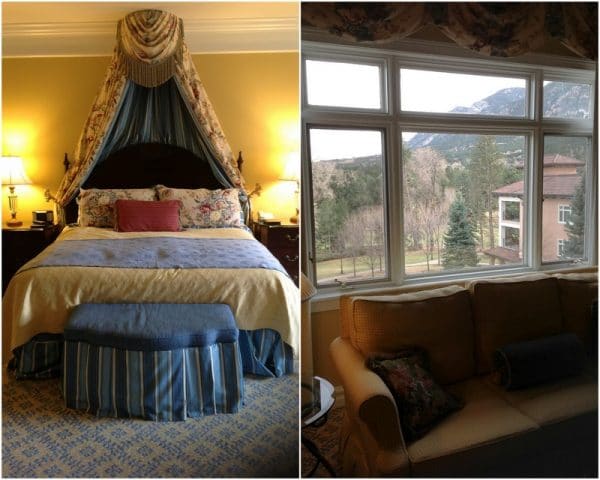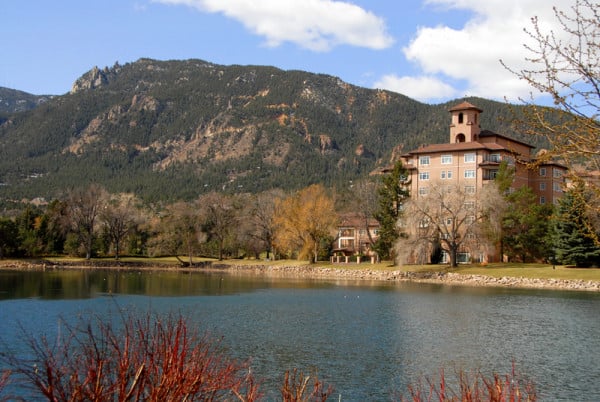 I found the Broadmoor fascinating. It is artfully decorated in luxe detail of a grander era and at the same time several areas are sleek and modern. It reminded me of the Canadian railway hotels of the early 1900's where one would 'summer'. The original founder, Spencer Penrose, had the vision of creating the opulence and grandeur of lodging he experienced in Europe at the time which was not present in the United States.
The outdoor areas are dotted with heavy, plush wrought iron chaise lounges poised to enjoy the lake and a little sip of a signature cocktail, or to enjoy a good read and some charming company. We spent an entire morning exploring the more than 20 shops and art galleries tucked around the Broadmoor, all high quality and catering to everything from fly fishing, to pet needs, gourmet kitchen accoutrement, apparel and for us the piece de resistance, 'The Library', dark wooded den of fabulous books, trinkets and furnishing leaving my teen daughter yearning to redecorate for a similar professorial-Indiana Jones feel. I arrived expecting a lovely but one dimensional venue and walked out smitten with the Broadmoor's multi-layered offerings perfectly balancing its rich, dynamic history and equally delivering to modern day sensibilities.
The most recent jewels in the Broadmoor crown (which would have to copper as it was founded on the proceeds of Colorado copper mine) are The PLaY and the updated Golden Bee. The PLaY is a perfect example of the Broadmoor's knack of staying current. An indoor 6 lane bowling alley featuring a 60 item food and drink menu including their signature 'adult milkshakes'. Adjoining the chic, cozy bowling alley is an eatery where one can also order off the same menu, or pop over to play a favorite gaming system game or table top shuffle board. We loved their menu of upscale bar food, using quality ingredients and innovative spins on the expected. Upon recommendation I tried the Purple Pin Shake, made with vanilla ice cream, crème de violette, gin and raspberries. Before trying it I was admittedly dubious, now I can't imagine too much time passing before having one again!
The Broadmoor has been generous to share their signature recipe with Boulder Locavore though consuming it while enjoying a round of bowling with New Mexico Nachos, Big Island Fish Tacos, hand cut French Fries, Frank's Red Hot Wings really can't be beat.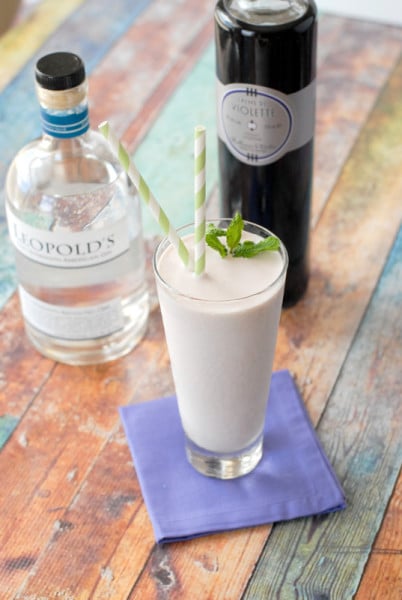 The Play has a playful verve leaving everyone excited to be there. The staff is excited and helpful (I even got a few bowling tips from our server upping my game a bit). Reservations were dense over the weekend we visited proving the ingenuity of the concept is spot on.
The Golden Bee is a bonafide English Pub from the 1800's shipped over to the Broadmoor and installed in the 1960's. Before going my son asked me what a pub actually is. Having spent a great deal of time in the U.K. I can say there really is not a pure American equivalent however a bar is the closest. Pubs are really a center of social gatherings, a place to meet family and friends and wile away the hours while eating and drinking. It's about the time spent, not going to get drunk or just for drinking (although that can happen too). The Golden Bee has successfully replicated the pub scene with an American twist and has just reopened after a 5 month expansion artfully recreating the original pub woodwork and tiled ceiling flawlessly.
I loved the menu which has been thoughtfully constructed to feature more traditional pub fare. Bangers and Mash, Chicken Tikka Masala, Pork Rillettes, Sheperd's Pie, Scotch Eggs, Lamb Burgers, Crumpets and of course Fish and Chips. They have been tenacious about their sourcing and preparations to ensure authenticity. An added bonus for us (and this holds true of eating anywhere at the Broadmoor) was the Golden Bee was completely capable of making our pub visit a gluten-free one. A piano player was banging out cover tunes with a saloon flair that wove a bit of Colorado into the British experience, as patrons sang whole heartedly if they chose while drinking their yards of ale. The Golden Bee does not accept reservations and the wait was 90 minutes when we arrived. Word has it a weeknight is a better bet and once the season warms there is roof top dining as well.
Some of my favorite aspects of the Broadmoor were those less prominent. As we wandered on the downstairs floor of the main building we came upon a hallway leading to the loo and a staff room lined with liquor bottles saved from the years of the Broadmoor's existence. As I was looking a man passed by and nudged me toward one he found especially interesting with a handwritten inscription from 1910. The hallway was alive with bottles all having a story. My teen recognized a bottle of Amontillado Sherry from Edgar Allen Poe's 'The Cask of Amontillado'. We all found it magical and could have spent the better part of the day following history through this unexpected display.
The hallway leading up to The Play is covered with neatly framed photographs of famous visitors to the Broadmoor from Heads of State, to movie stars, sports icons and other dignitaries. As with the bottle hallway it wraps into a larger hallway giving way to fabulous art pieces and more historical paraphernalia. These vignettes punctuate the hotel in such a way to give glimpses to the depth of the property's history without turning it into a virtual museum.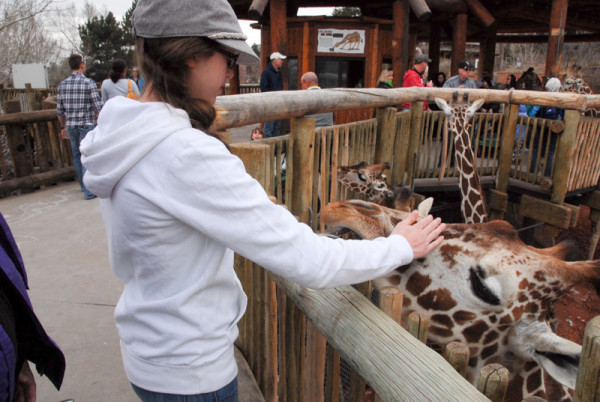 When the time came to depart we all reflected on what we'd seen and experienced (which recounted here would leave this a tome). We found The Broadmoor to be stately and elegant yet not pretentious, artfully bridging the more luxurious aspects of a bygone era with conveniences of more hip, modern-day travel. It truly has something for every age, every life stage, every level of activity (or not). The Broadmoor is a unique property with many secrets to tell, rife with memories yet to be woven. Whether for a walk around and a meal, or for a stay, it is a treasure that should not be missed.
Disclosure: My thanks to The Broadmoor for hosting our stay and a wonderful weekend of discovery.