Funfetti cake is a popular choice for birthday cakes, and this Minecraft cake is made with gluten-free funfetti cake mix! It's the perfect gluten-free birthday cake recipe for anyone who loves to play Minecraft. This post sponsored by the J.M. Smucker Company, sharing exciting gluten-free cake mixes and frostings from Pillsbury!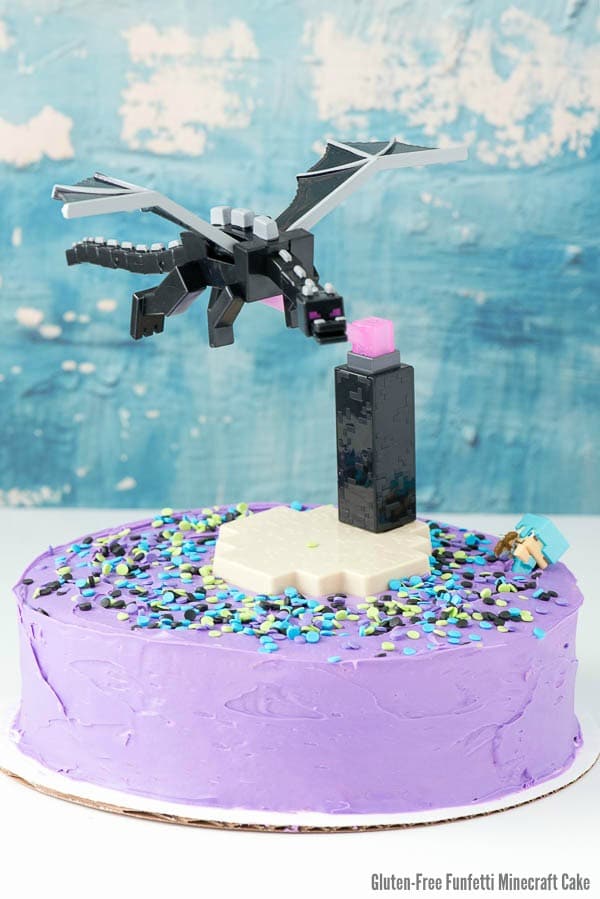 We've just exited birthday season in my house. Both of my kids have birthdays within a week of each other, and like me they are gluten-free (and have been for a decade). When learning they needed to maintain a gluten-free diet I vowed I would make special gluten-free birthday cakes for them every year so they'd never feel left out.
Over the years I've purchased special cake pans in the shape of their favorite characters or sports. I've tried my hand at homemade ice cream cakes. We've had TV show character cakes. When some local bakeries began to make gluten-free cakes I thought that would be a treat since they hadn't ever had a store-bought cake. Though the cakes looked great, the dense buttercream frosting put the kibosh on that choice for future birthdays.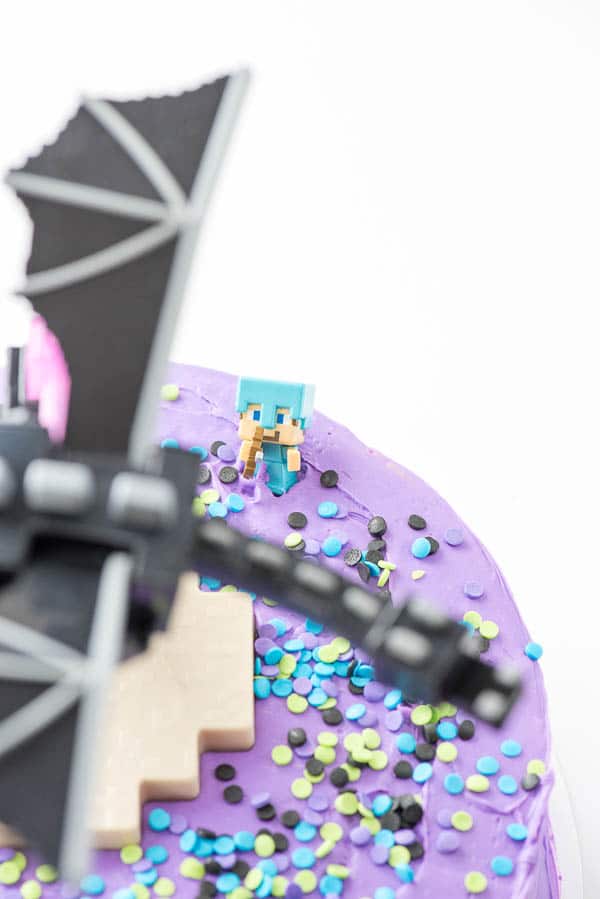 Gluten-Free Funfetti Birthday Cake
This year I asked my son about a week before his birthday what type of cake he'd like. 'A Minecraft cake'. Do you know Minecraft? It's a video game and everything is pixelated in appearance. I hopped on Pinterest and was horrified at the detailed Minecraft cakes I found there. One had taken sheets of marzipan and dyed them various shades of green, cut each sheet into perfect squares and then meticulously assembled an intricate example of a Minecraft structure. It was well past my abilities and the time at hand. Candidly, I felt discouraged but driven to make him a cake he'd love.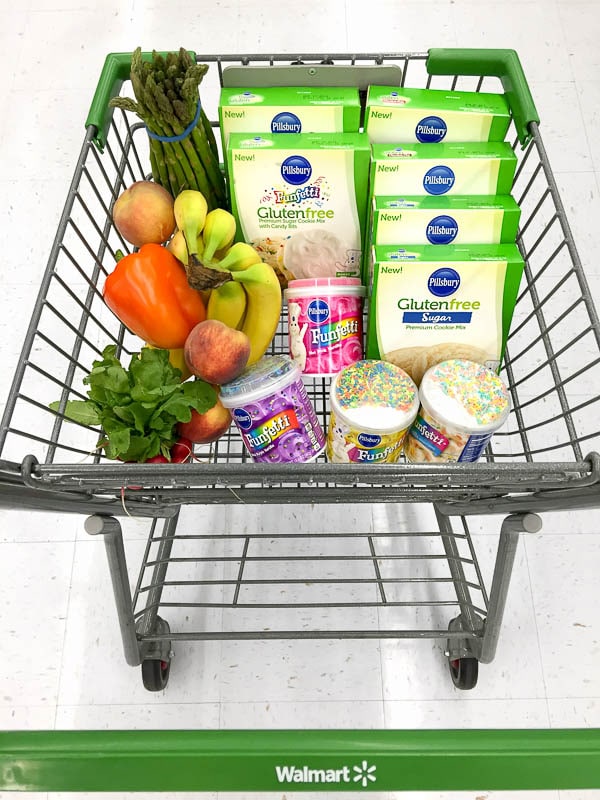 There is a little Walmart Neighborhood Market near me that opened a bit over a year ago. It's not in my usual commute pattern so I've never really spent time there, however I happened to be driving by and decided to check if there might be some cake mix or decoration that could save the day; I was running out of time and had no idea how to pull off this cake.
The baking aisle happens to be shared with a dedicated gluten-free section. I almost had heart palpitations in seeing all the brands and products in the section. I truly think it's the most well stocked and organized selection of gluten-free products of any local grocery store.
When looking through the cake mixes I was thrilled to find Pillsbury™ now makes a Gluten-free Funfetti® cake mix! It's probably difficult to understand the excitement over finding a company like Pillsbury making a gluten-free cake mix, but for those gluten-free it's an opportunity to have the ease and predictability of a mix that will turn out well in one try. Gluten-free mixes tend to be costly so being able to buy a gluten-free Funfetti cake mix for a few dollars is huge!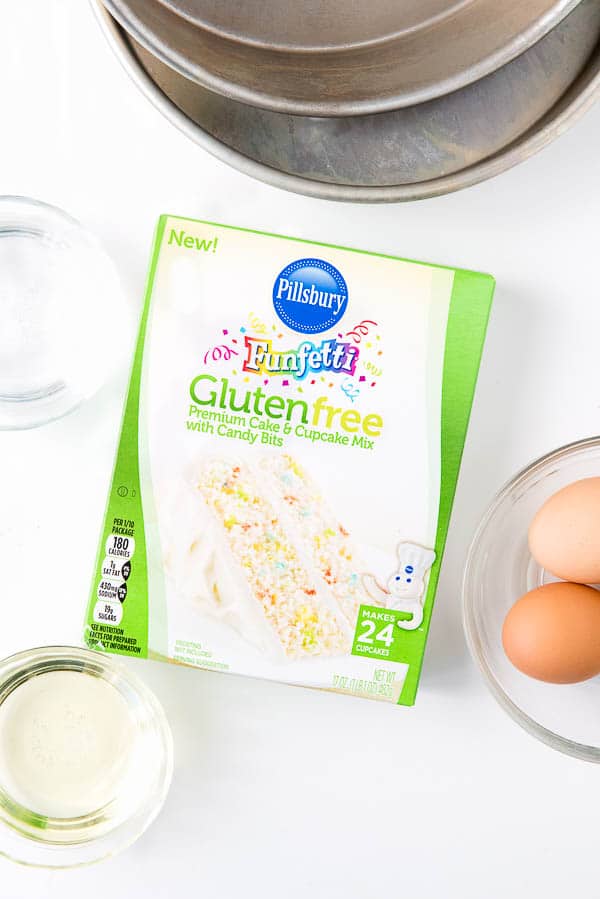 For me it comes right down to my kids having never had a Funfetti cake as well. What is an everyday opportunity for most kids, is a big deal for a child who has never had a Funfetti cake, until now, due to being gluten-free. It was the perfect choice to deliver an unexpected surprise cake without going blind cutting out marzipan squares in 150 shades of green. I bought several mixes as I like to keep reliable gluten-free mixes in my pantry for unexpected cakes or gluten-free cupcakes that need to go to school with little warning or for a special surprise. The price of these mixes made it an easy choice to stock up.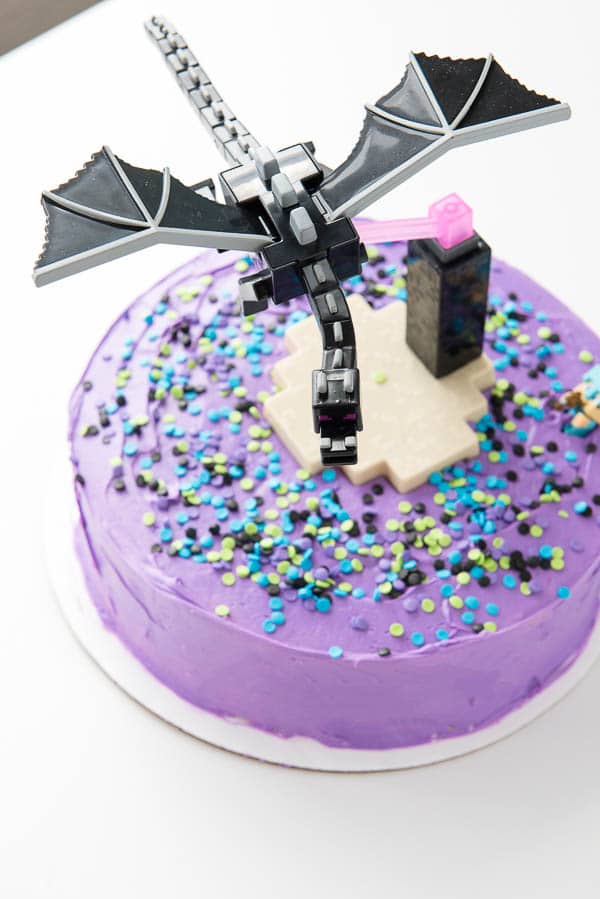 Having Fun with Funfetti
Both my kids and I love baking together. In this case, my daughter and I 'mixed up a moment' making the Funfetti cake in secret, with a coordinating Pillsbury Funfetti frosting in purple that came with color coordinated sprinkles. It became 'Minecraft' with the addition of a Minecraft toy as a cake topper. To say my son was over the moon would be an understatement.
The Funfetti cake was delicious and the kids' favorite over all the pricey bakery cakes I've purchased. So much so that a week later I made another gluten-free Funfetti cake with bright pink Funfetti frosting and pink sugar sprinkles for my daughter. I was thrilled; not only had the kids loved their cakes, but they had no idea how easy they had been to make or how affordable.
Be sure to check out this fun gluten-free springtime project using Pillsbury gluten-free sugar cookie mix and frosting! You can also check out this Pinterest board to #MixUpAMoment of your own.
This is a sponsored conversation written by me on behalf of The J.M. Smucker Company. The opinions and text are all mine.