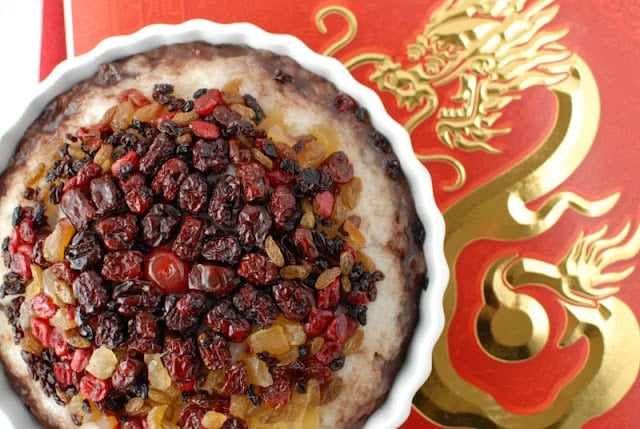 This month's Vintage Recipe Redo/Swap selection is for a Zabaglione from a restaurant in Chicago.
I'll spare you the process of my capricious mind to just say I wove from there through the creamy dessert forest to Chinese New Year which begins on January 23 this year.
I wanted to feature a selection both in the pudding family and associated with this event, finding it fun and festive from all my years either visiting my Grandparents in San Francisco or living there myself.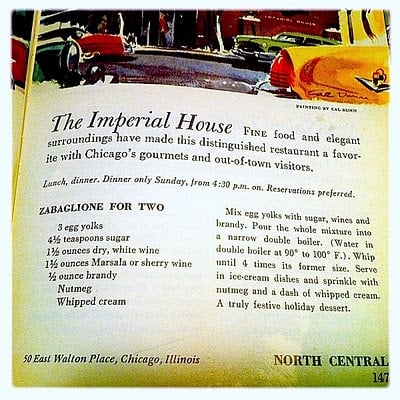 The Chinese culture abounds in California.

I have incredibly fond memories of visiting Chinatown as a child when it really was the part of the city where the Chinese lived; not just associated with being tourist destination.

I loved walking down the side streets to see the unique housing, special adornments in the windows and of course the food.

My favorite?

Pao.

A steamed bun stuffed with either a sweetish pork mixture or red bean paste making it a softly sweet desert.

My mouth waters now recalling them.
Chinese New Year begins on a different date annually as it is based on a lunar calendar.
There are zodiac characters with commensurate characteristics unique to the Chinese calendar as well.
The year upcoming up is the
Year of the Dragon
.
If you were born in these years you are a Dragon in Chinese horoscope:
1904 * 1916 * 1928 * 1940 * 1952 * 1964 * 1976 * 1988 * 2000
.
Dragons are seen to have the following characteristics:
For more details and to see about your compatibility with other zodiac signs (or to find out your Chinese horoscope) visit this fun Chinese Horoscope website (click here).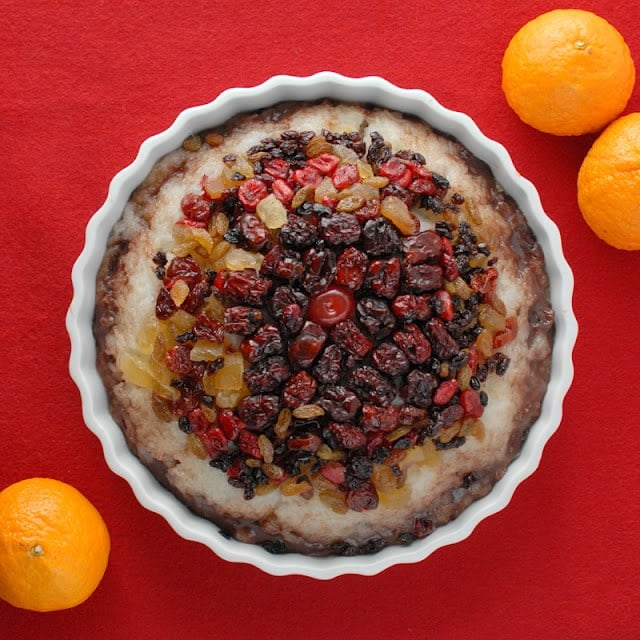 Having traveled in Asia quite a bit in our household we love having access to authentic Asian cooking provisions in Boulder. There is a funny little strip mall in which resides a small Asian market, an Indian shop and a Mexican bakery. I frequent the Asian shop for supplies, fresh produce or just to poke around. The owner makes fabulous Sesame Balls (large round balls with sweet sesame paste in the middle, deep fried with sesame seeds covering the outside; gluten free) and recently a Vietnamese New Year roll. It took me a long time to work up the courage to speak to the owner. She's a bit abrupt and I felt like I might be infiltrating a cultural domain to haul my white girl self in there, unsure I was completely welcome.
She is Vietnamese and speaks in very strong, clipped English (which is much better than I'd do in Vietnamese I'm quite sure).

When I approached her for help to make 8 Precious Pudding, a Chinese banquet and Chinese New Year treat, she held her breathe a moment and sighed; heavily.

I knew of some of the traditional ingredients but had no idea if they were available in our region.

'Oh I know this.

Take very , very long time to make.

Very complicated.'

She was crouched down unloading a new shipment of petite mangos.

I crouched down too with my scrawled list of possible ingredients forged together hopefully making something similar to the original dish and casting no disrespect on this revered dessert due to my geographic restrictions.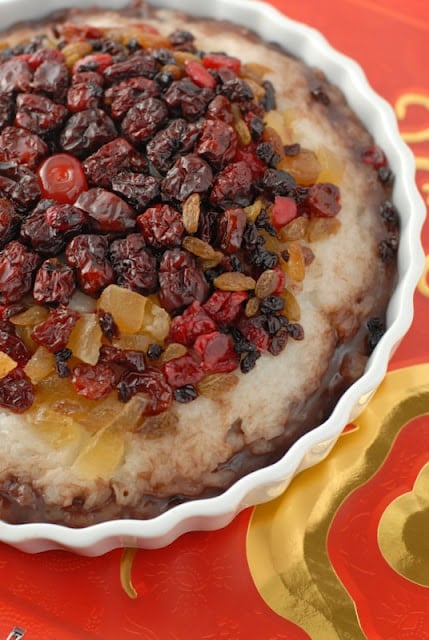 'No lotus seeds.
Use bean instead' (she showed me brined beans in a can I felt sure would not fit, seeming impatient as usual).
'Do you have candied fruit?' I ventured.
'What candied fruit?',
almost in a tone I would consider yelling but knowing her well enough now to know it's her personal exuberant style of expression.
Unphased, I went on to describe I imagined it to be something like the candied fruit that is in an American fruitcake, just with more ethnically appropriate fruits to China.
From her response facially I'm guessing American fruitcake is not her favorite.
We wound around through the tiny crowded aisles finding glutinous rice (which is by the way gluten-free; it just sticks together hence the name), sweet red bean paste, red dates and also some lychee I wanted for a cocktail.

She finally turned to me and said 'Chinese dish too complicated.

I no make'.

We both laughed; me at her constant sense of indignation about everything, and her I suspect at the seeming oddity of me attempting such a foreign undertaking.

I told her if I made it I would bring her a slice.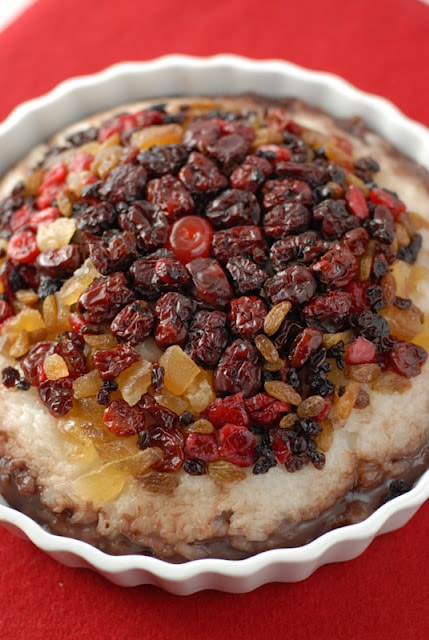 8 Precious Pudding is a sweetened glutinous rice dish really (not what you'd think of as a traditional American pudding but closer to a rice pudding) layered with fruits (8 specifically denoting 8 jewels), red bean paste in the middle, all steamed and served with and Almond Syrup.
It is a beautiful dessert and sweet in a way most would find untraditional.
Mine was very lightly sweet and got rave reviews from my recruited taste testers.
My version is a localized, Americanized take on it.

The traditional dessert would have exotic things like lotus seeds, green plums and other things just not available here.

There is a maraschino cherry (I found some no-dye maraschinos at Whole Foods) and red dates accompanied by candied or dried fruits.

The sum total of these varieties must be 8 to represent the jewels.

I used the red dates and cherry and a combination of both candied fruits and dried fruits that felt to fit the dessert (crystallized ginger, candied pineapple, dried cherries, dried cranberries, Zante currants and golden raisins: the dried cherries and cranberries are juice sweetened) and ensure my lucky 8.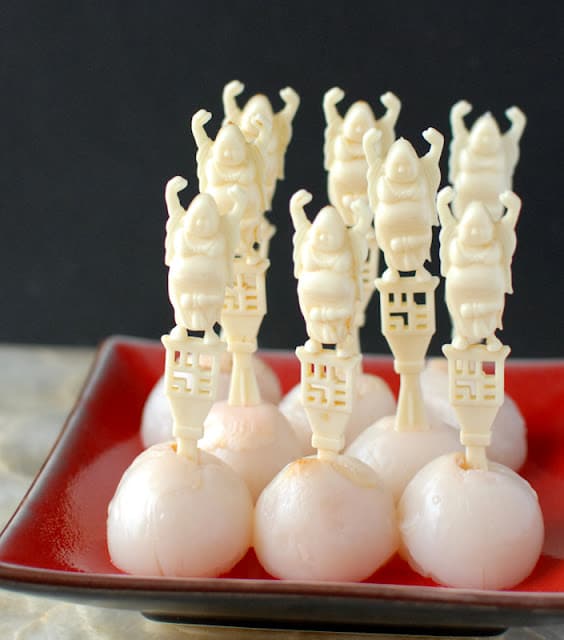 Lychee fruit is a tropical fruit from the south of China.

It is a soft, white fruit about the size of a chestnut that has a flavor unlike any fruit in the U.S.

If it were a wine I'd say it 'tastes a bit like a citrus fruit without the acid, apple with notes of bamboo shoot or artichoke'.

I do not know if it can be purchased fresh in the U.S. but can be found canned in most Asian food stores.
Recipe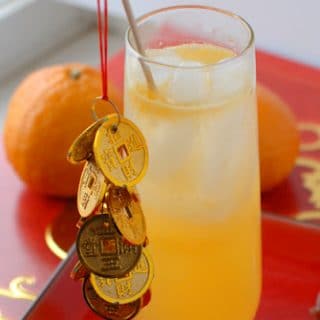 8 Precious Pudding
Despite the warning of complexity from my Asian shop owner, the dish is truly not difficult. There are essentially 4 processes, mainly steaming so it is not labor intensive. Does it take longer than scooping ice cream from the carton? Yes and it's worth it.
Print
Save Recipe
Recipe Saved!
Pin
Rate
Ingredients
Ingredients for 8 Precious Pudding:
2

cups

glutinous rice

(unprepared)

2

ounces

red dates

(dried)

¼

cup

sugar

2

tablespoons

canola oil + extra to oil bowl

1

cup

mixed

, chopped candied or dried fruits (6 varieties for total volume of 1 cup)

1

cup

red bean paste
Ingredients for Almond Syrup:
3

tablespoons

sugar

1

teaspoon

almond extract

1

tablespoon

arrowroot starch

(or corn starch)
Instructions
Instructions for 8 Precious Pudding:
Place rice in a pan. Cover with water allowing ¾ inches of water above the top of the rice. Bring to a boil over medium-high heat then reduce to a simmer, allowing to cook uncovered for 30 minutes total. Add sugar and 2 tablespoons of oil; stir to combine and set aside. In parallel begin step 2….

Place red dates in a steamer and steam for 20 minutes.

While rice and dates are cooking, select a dome shaped heat-proof metal bowl about 8-9 inches in diameter. Oil the inside liberally. Place a maraschino cherry in the middle of the bowl bottom. Once dates are steamed, make a circle around the cherry with the dates. Follow this by making another ring with the mixed candied and/or dried fruits. All of this will become the top of the dessert when turned out so should be layering up the sides of the bowl not on top of each other so they will not show in the final dessert.

Make a layer of prepared rice to cover but not disturb the design on the bottom of the bowl. The rice sticks together but is not 'sticky' so it is very easy to work with by hand. I suggest using your hands to create the first layer using ½ to 2/3 of the rice (to cover my design it took about 2/3 of the rice).

Add the red bean paste in a layer covering the rice. Cover the bean paste with the remaining rice and push down to pack it densely.

Place the entire bowl in a larger pot to steam. In my case the bowl was too large for my bamboo steamer so I placed it in a large Le Crueset Dutch oven with water on the bottom of the Dutch oven and it made a perfect steamer with the cover on. Steam for 1 hour.

Removed from steamer. Run a pliable spatula around the inside edges to loosen the pudding. Place the serving tray right side up on the opening of the bowl and carefully turn it all over allowing the pudding to come out of the bowl onto the serving dish.

Allow to cool to room temperature before slicing (suggest when slicing to wet a sharp knife to do so). Serve with Almond Syrup.
Instructions for Almond Syrup:
Add 1 cup water and the sugar to a sauce pan and bring to a boil. Ensure all the sugar has melted.

In a separate bowl mix the arrowroot and 2 tablespoons of water. Stir to dissolve.

Add the almond extract to the sugar and water. Stir.

Add the arrowroot and water. Continue stirring over low heat until the syrup becomes thicker and a bit opaque.
Nutrition
Calories:
233
kcal
|
Carbohydrates:
48
g
|
Protein:
3
g
|
Fat:
2
g
|
Saturated Fat:
0
g
|
Cholesterol:
0
mg
|
Sodium:
2
mg
|
Potassium:
54
mg
|
Fiber:
1
g
|
Sugar:
19
g
|
Calcium:
9
mg
|
Iron:
0.8
mg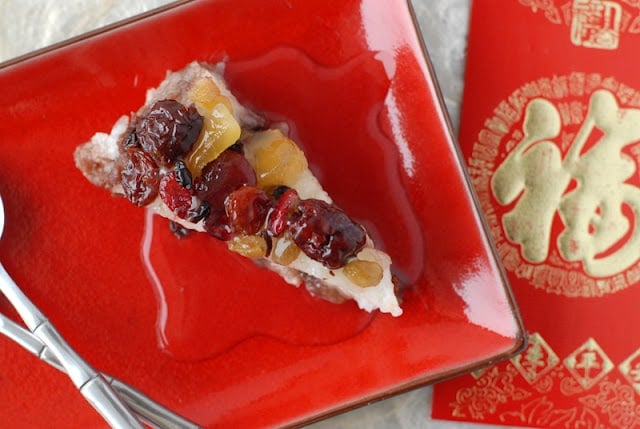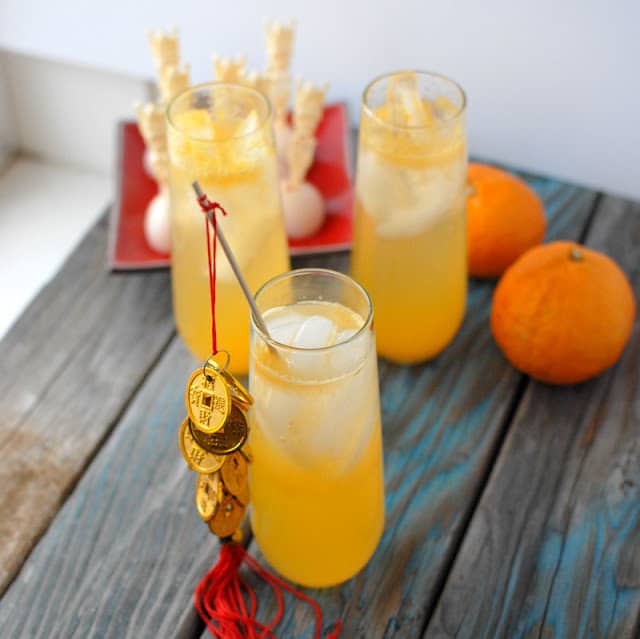 When I thought ahead to a cocktail to pair with the 8 Precious Pudding in the Chinese New Year spirit, I thought to make some
Ginger-Infused Vodka
as the cocktail foundation.
Tangerines are in season and revered as good luck when presented during Chinese New Year.
It seemed auspicious when I came upon Golden Treasure tangerines at my small neighborhood grocery store.
Thus the idea of a
Happy Dragon Cocktail
was born.
This drink is very fresh tasting with the tangerine juice and ginger.

You could easily make it non-alcoholic by omitting the ginger-infused vodka.
·
Juice of 2 tangerines, freshly squeezed
·
Splash lychee fruit syrup (most easily found from a can of lychees)
Fill an 8 ounce flute with ice.

In a separate glass add the ginger-infused vodka, tangerine juice and lychee syrup.

Stir and pour into the flute.

Fill glass with ginger ale.

Garnish with a lychee fruit on a skewer.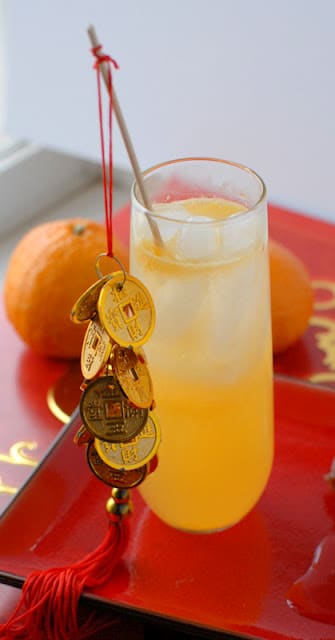 +excerpt taken from profile of the Dragon horoscope on the U.S. Bridal Guide Chinese horoscope section.