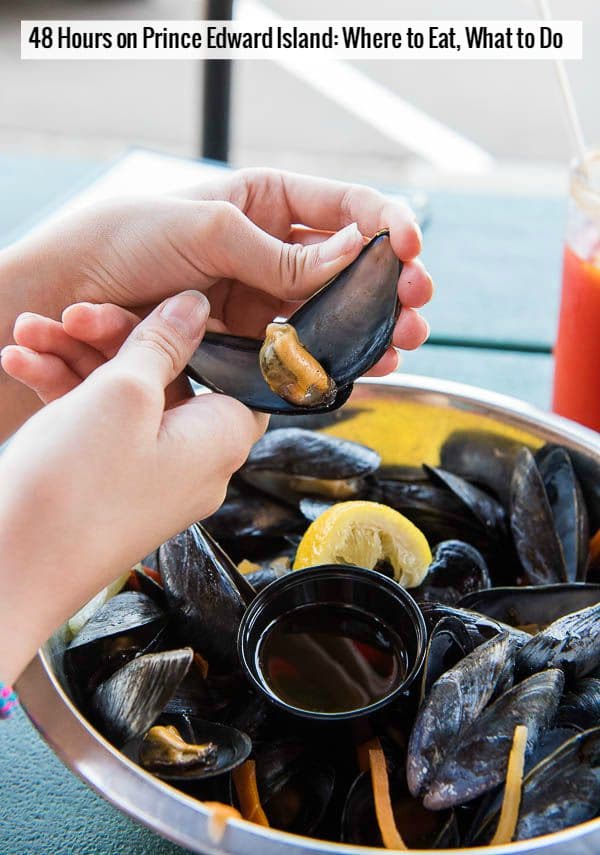 After three 12-hour driving days on our Canadian Maritimes road trip, we landed on Prince Edward Island which was a gem of a first introduction. To set a geographical context, 'PEI' is located off the eastern coast of Canada, nestled between the provinces of New Brunswick, Nova Scotia, Québec and Newfoundland and Labrador in the Gulf of St. Lawrence. Known as 'The Gentle Island' it offers a relaxed setting with beaches, rolling hills, charming buildings, interesting history, a strong Celtic culture and world-recognized exceptional cuisine.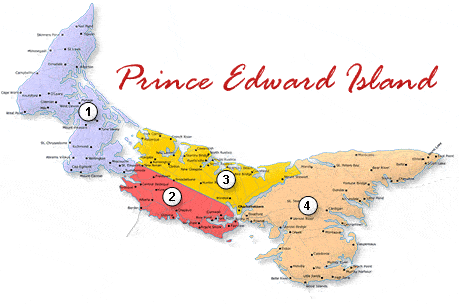 We initially entered the island via the Confederation Bridge. An 8-mile curving feat of architecture allows entry from New Brunswick and is also the longest bridge in the world.
Our stay for two nights was in Charlottetown, the province capital, which we selected due to its size for dining and lodging options, as well as its central location.
Our drive between the bridge and Charlottetown ended up being my favorite drive scenically on PEI. Route 225 wound through the middle of the mid-island, over rolling hills and pastoral landscapes which we found reminiscent of Ireland (and had that same impression validated by an Irishman we met later on in the trip who vacations there annually).
The local seafood, which is shipped all over the world, is probably what non islanders would best associate with PEI, however potatoes are the island's largest crop with over 90,000 acres planted in 2014 and which could be seen all over the island.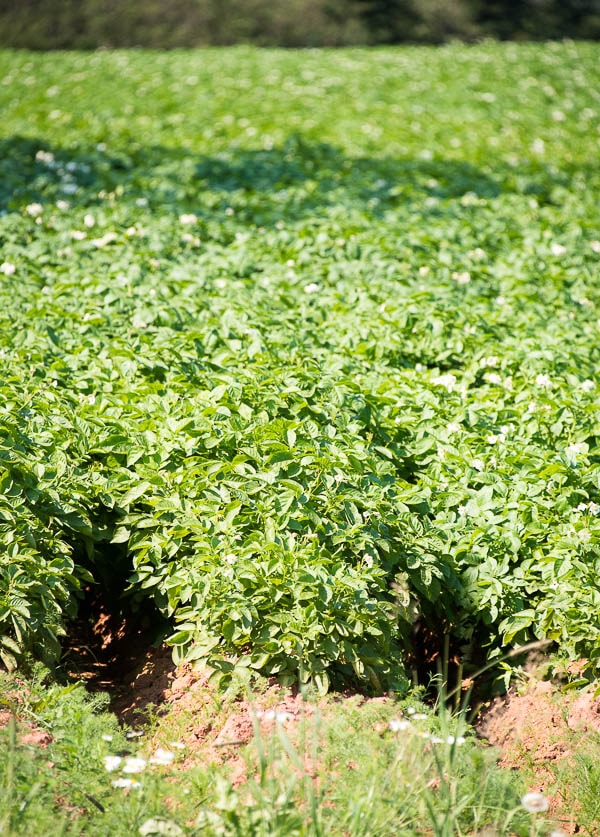 We researched our dining choices while en route, narrowing to a variety of experiences all featuring local ingredients.
I quickly knew that Prince Edward Island had far more to eat than I had stomach space, again beckoning a longer visit in the future.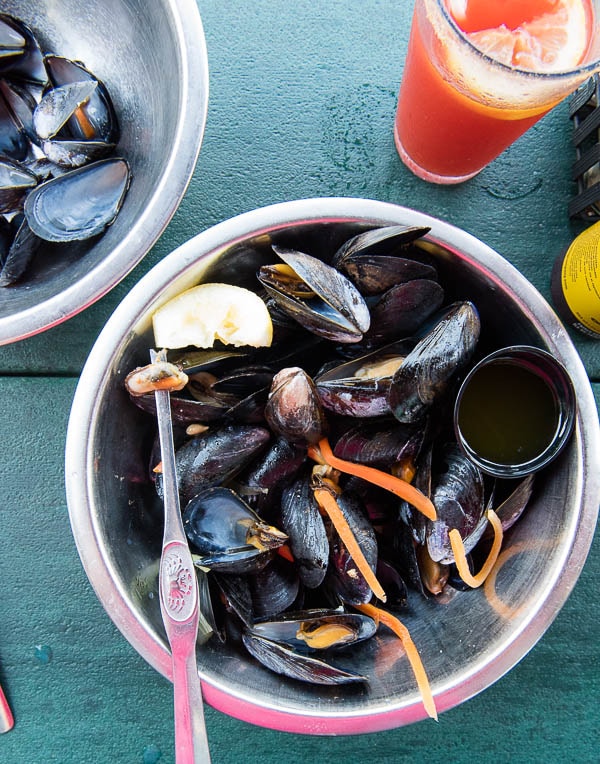 Arriving in Charlottetown midday we sought out Water-Prince Corner Shop for a late lunch.
Close to the wharf and the Historic Charlottetown Seaport, the cozy teal-hued clapboard sided restaurant offers some outside seating (along with tables indoors) to watch the world go by while enjoying local seafood which is their specialty (though they offer other options as well).
With mussels being one of the main seafood PEI is known for we dove in with a large bowl, kicking off our trip with a bang.
My husband ventured back late the following night to enjoy a lobster and found both visits to be superb.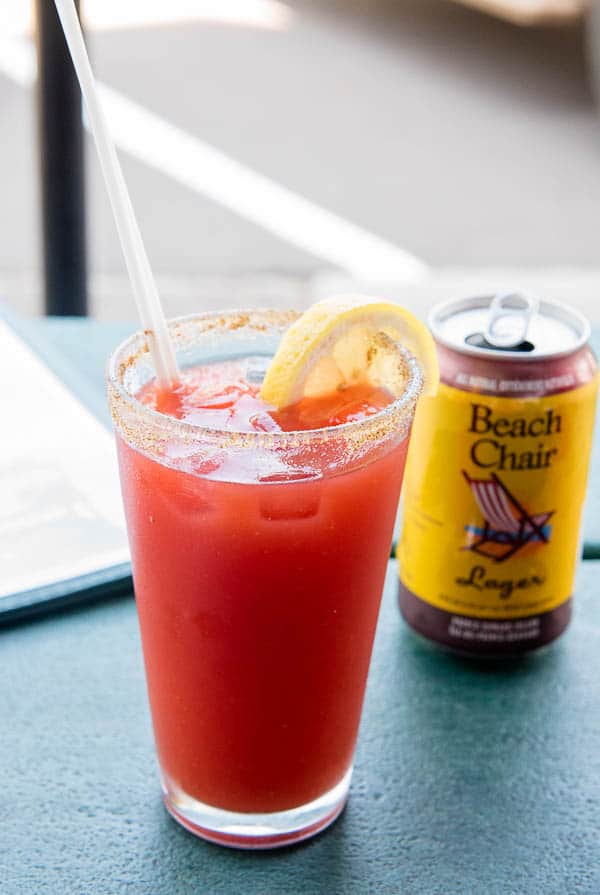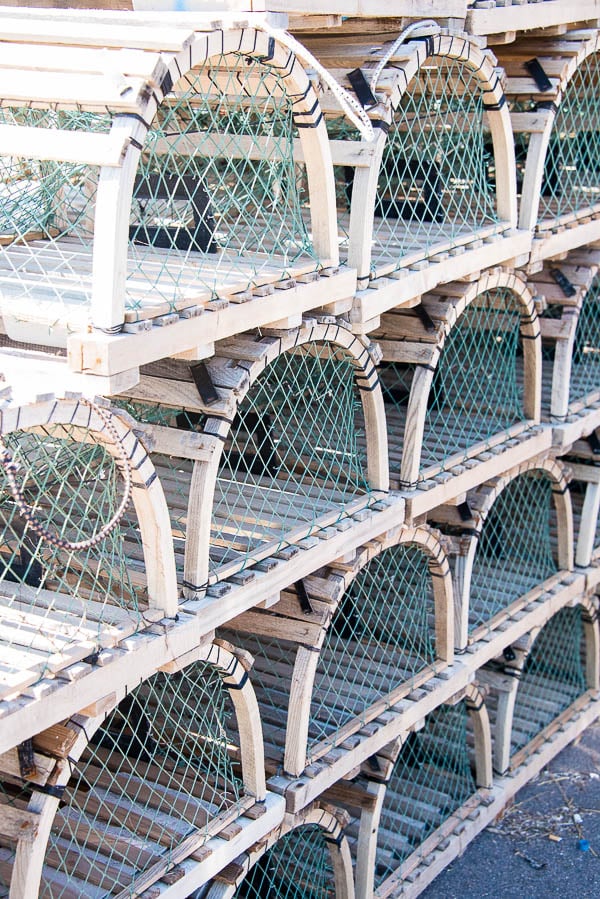 Across a grassy park is the Visitor's Information Center which can't be missed; the current year is installed in red iron art in front of the entrance.
It's a great place to gather maps, brochures and to speak to local representative about questions on PEI history, outings or anything you might want to know.
There is also a gift shop with all local wares in the same building.
Outside across a parking lot is a wharf which features a number of shops mainly aimed at tourists but it's a great spot to pick up t-shirts and trinkets with PEI logos, as well as listen to live music which was playing each time we were in the area.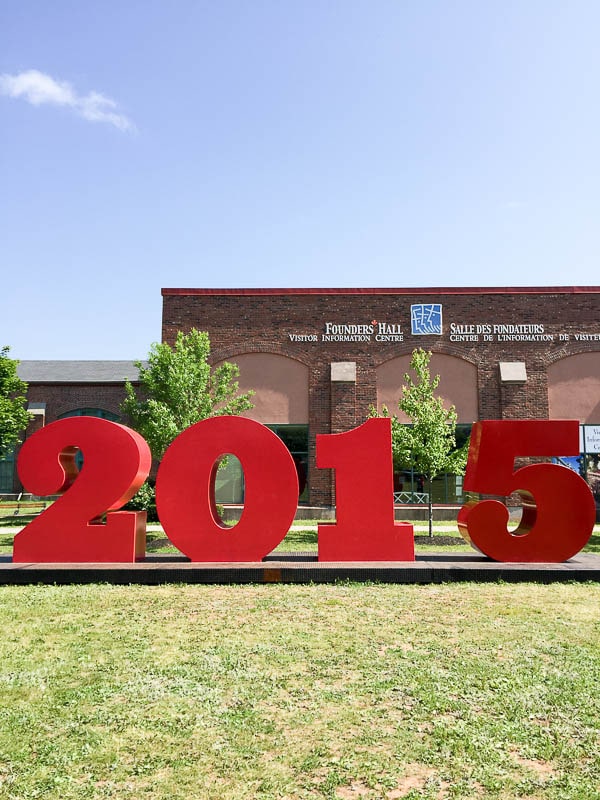 A perhaps lesser known attribute about the island's inhabitants is the strong Celtic population. Up to 50% of the island residents are from Scottish lineage making it the largest Scottish province in Canada as well as the largest outside of Scotland itself.
Followed by English and Irish descendants, we immediately could hear it in the accents as well as noted street names we'd walked when in Dublin.
Charlottetown is a very walkable city and we spent a great deal of our short time strolling from our centrally located hotel to the wharf, to restaurants and around the neighborhood taking in the charm of the city.
We visited The Brickhouse Kitchen and Bar for dinner which inhabits a two story brick building (photo on the menu below) with a hip interior of oversized paintings of celebrities upstairs near a chic open bar area.
The restaurant's kitchen is an open format on the first floor where patrons may watch the food preparation live. Too dark to snap any decent shots, the restaurant offers small plates, 'shareables' (appetizers), pasta and big plates.
Still full from our earlier meal we stuck to lighter options of (local) Haddock Meuniere, Coconut Chicken Curry, Mussels and the Brickhouse Greens an over-the-top favorite of Cranberry Vinaigrette, Marinated Beets, Goats Cheese, and Pumpkin Seed Brittle, all from local sources.
After three days on the road the salad was like reaching a desert oasis for our palates.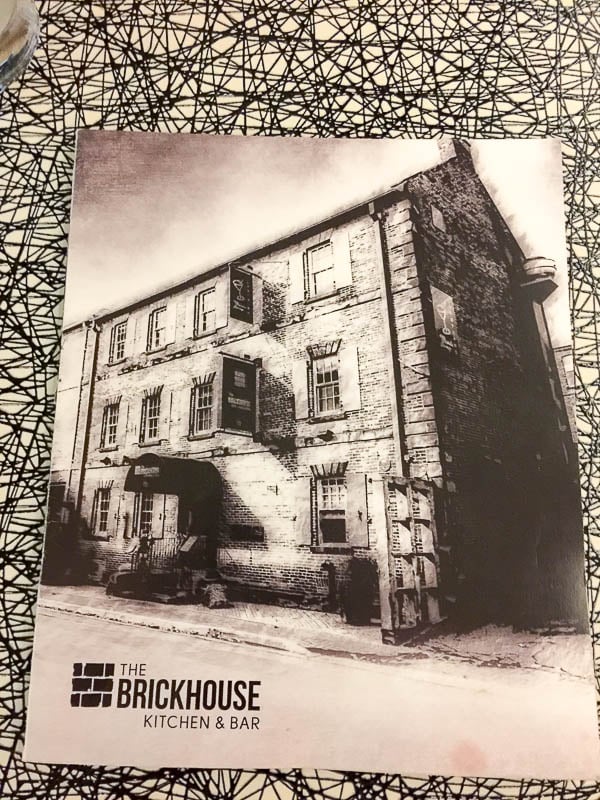 I should make note that eating gluten-free in the Canadian Maritimes was effortless. Many menus are marked with GF options.
Restaurants are very familiar with the preparation needs and we did not have one issue during the trip. It's a wonderful destination for those with gluten restrictions without having to compromise enjoying all the local dining scene has to offer.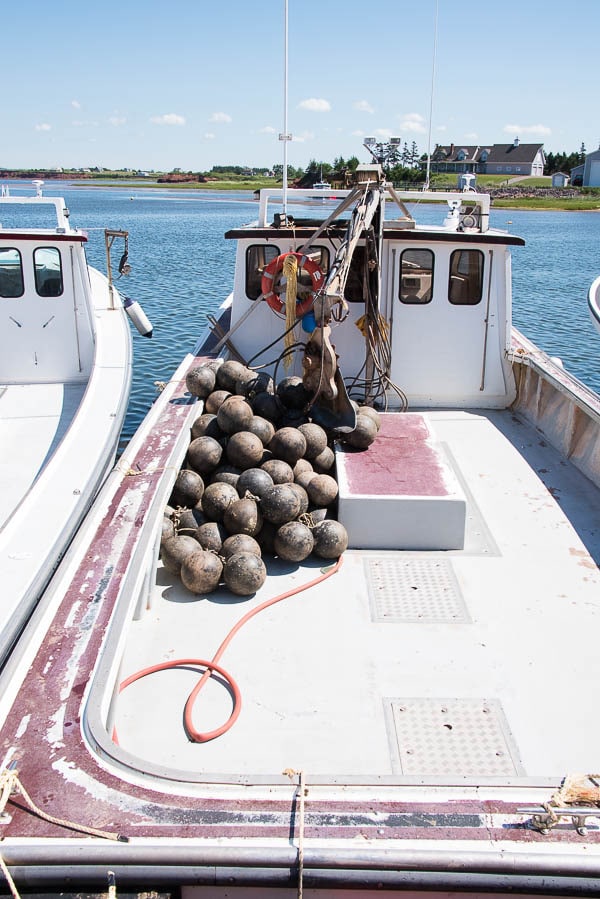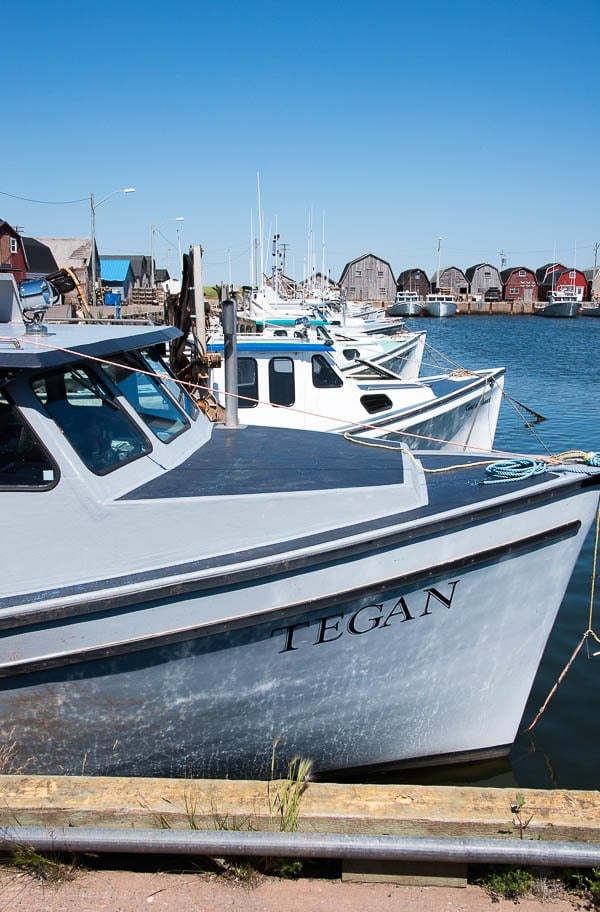 Day 2 offered a day of power sightseeing with an end destination that was probably my favorite meal of the entire trip.
We started out bright and early with a trip to the weekly Charlottetown Farmer's Market.
I find it's always a great way to meet locals and see what the farmers are growing.
A small, well attended market found chanterelle mushrooms in season as well as black and red currants, oysters, a variety of produce and homemade foods.
We bought a loaf of gluten-free bread from a local bakery that was delicious.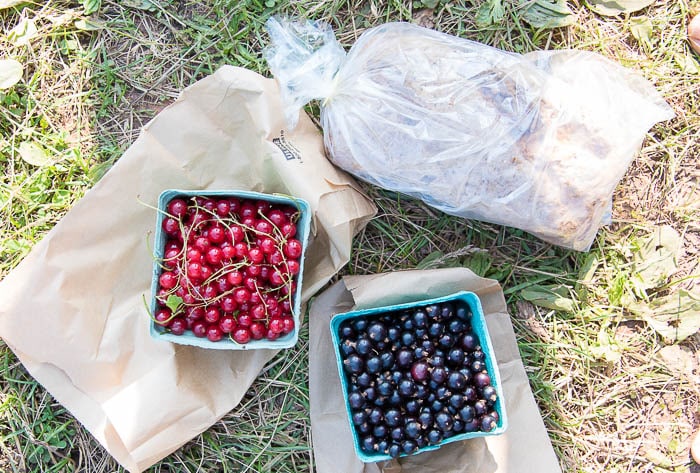 We set out to drive the coastline in Prince Edward Island National Park stopping to walk along the red sand beaches (which are formed from red sandstone and has rust in it). Should you plan to visit multiple Canadian Parks and historic sites it's worth evaluating the cost of buying a
Canadian Park Pass. To evaluate whether it is a cost-effective option, check rates and participating park locations can be found on the Canadian Parks website.
We actually bought the pass in Nova Scotia and were credited for the entrance fees paid prior to buying the pass having held on to our receipts.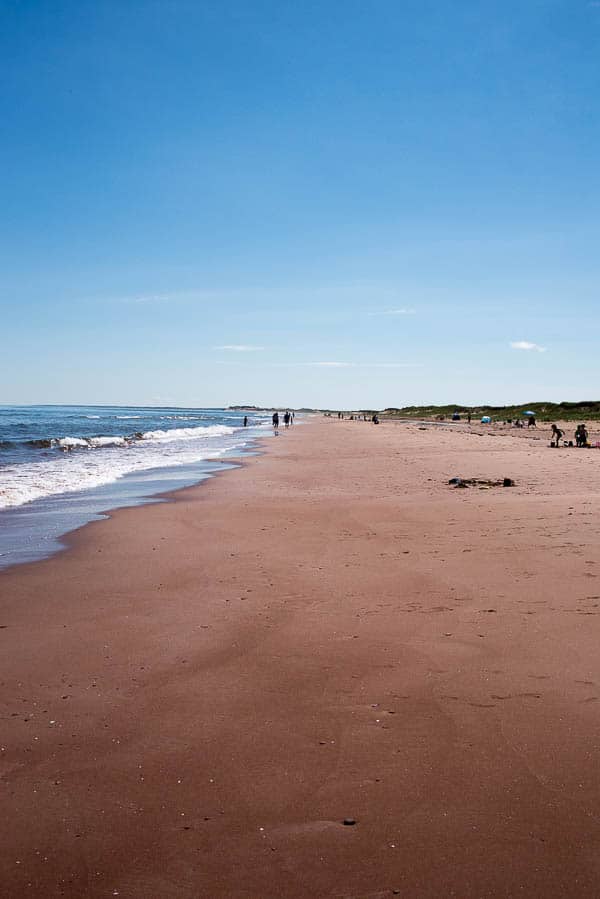 Our drive passed through Cavendish, home of Anne of Green Gables, named a Canadian Historic Site and managed by the park system. The property is comprised of the original home of author Lucy Maud Montgomery's grandparents which inspired her depiction of the green gables home. Many of the geographic spots in her novels can be found here and in the surrounding area. There is a short movie about the property as well as multiple out buildings and short hikes available.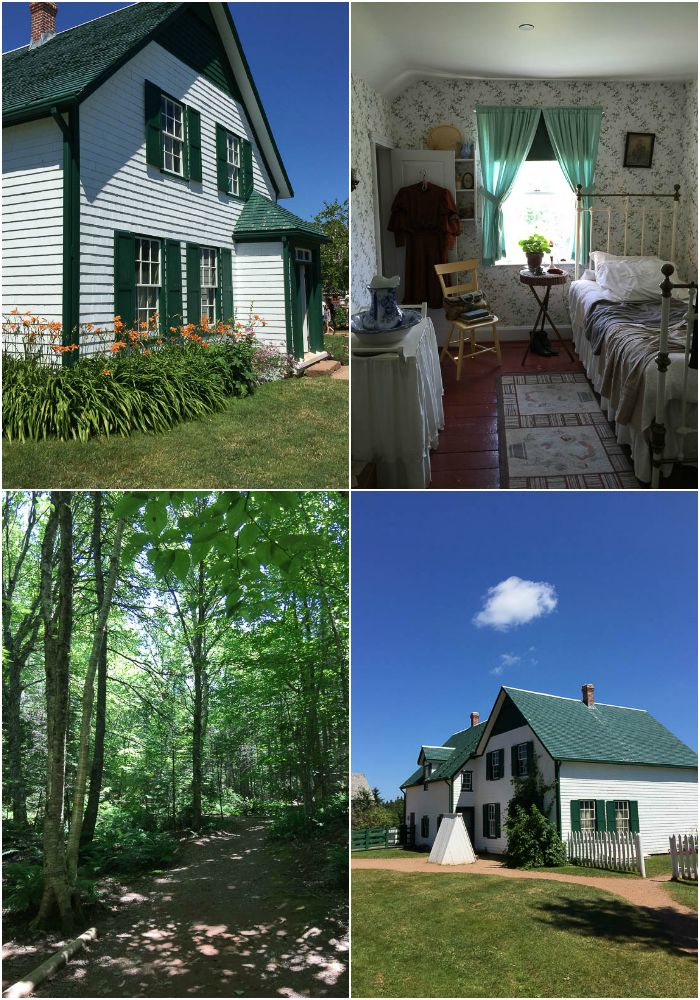 Much like the Junior Ranger Program executed by the US Park Service, Canadian Parks have a fantastic program for kids; Xplorer Program. Each participating park or historic site gives participants a booklet with activities designed for them to experience the site and learn more through fun tasks or observations. At the end a ranger reviews the book and gives them a cool dog tag that quickly became the favorite souvenir for our kids. Our kids participated in several Xplorer adventures and I know we learned more as a family about the history and location than we would have without it.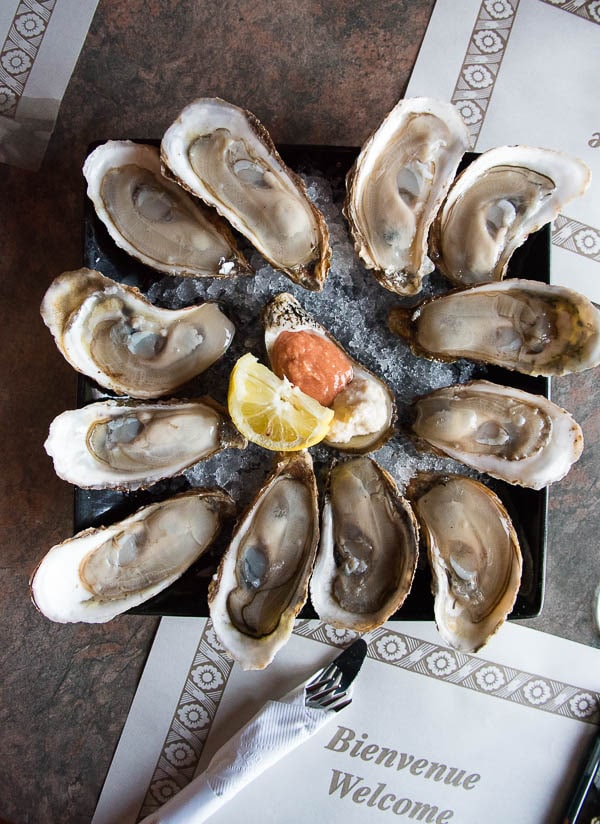 Our excursion continued along the Central Coastal Route (each scenic route is well marked with a specific icon allowing easy navigation) to our lunch destination: The Oyster Barn in Malpeque. Oyster lovers will know Malpeque oysters and those served by The Oyster Barn are harvested at the source. Sitting atop a small fish market by a harbor, the small Oyster Barn delivers local seafood extraordinaire. We ordered a full plate of oysters and when they arrive my husband, who spent a few years in Maine, another great site of seafood, confessed he'd never seen oysters this big. The oyster itself was about 3 ½ inches long and took about 8 years to grow to this size. The texture was delicate, the flavor light and delicious (this from a not-really-an-oyster-lover) with a light brine finish. Our 12 year old son, a first time oyster eater, was sucking them down like nobody's business.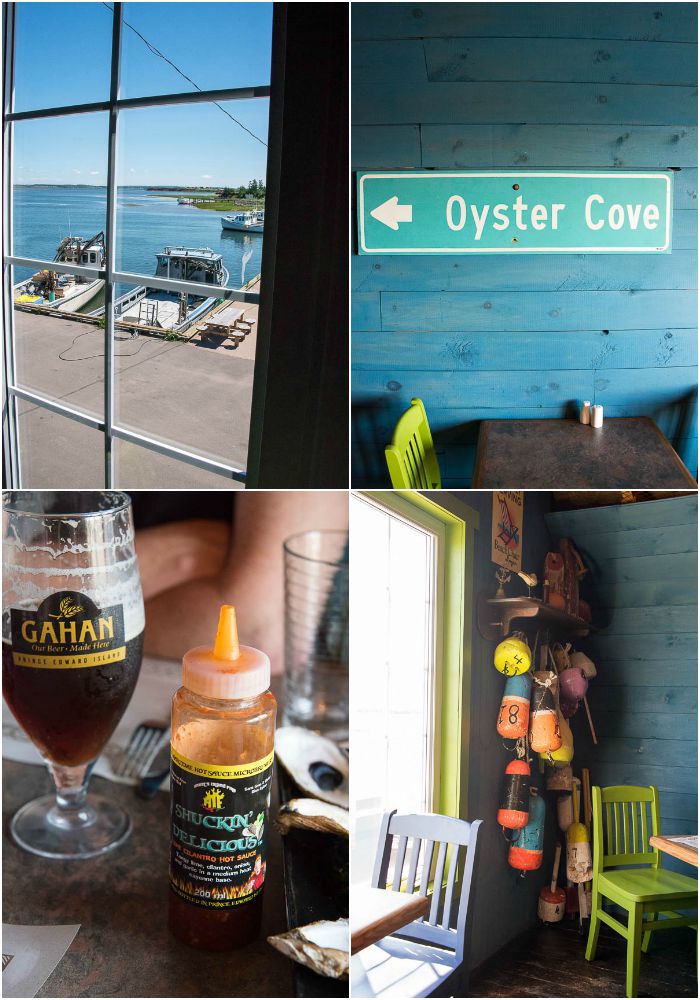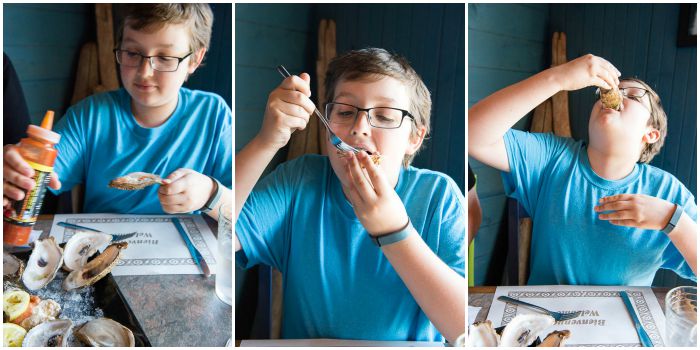 We also ordered mussels prepared in the recipe of the house called out as a favorite on the menu. The broth was out of this world and like nothing I'd tasted before. My husband and I attempted to deconstruct the flavors until finally asking our server what was in it. She politely shared that it is a long time secret recipe from the proprietor's family which is where it will stay. The food was remarkable; fresh, local and the setting authentic and charming as are those who work there. It was a true highlight that will last with us.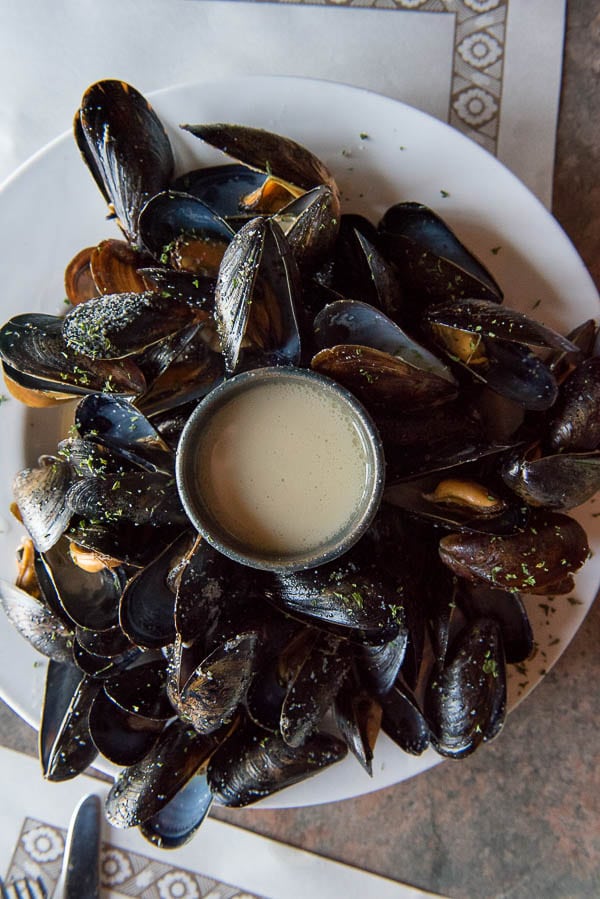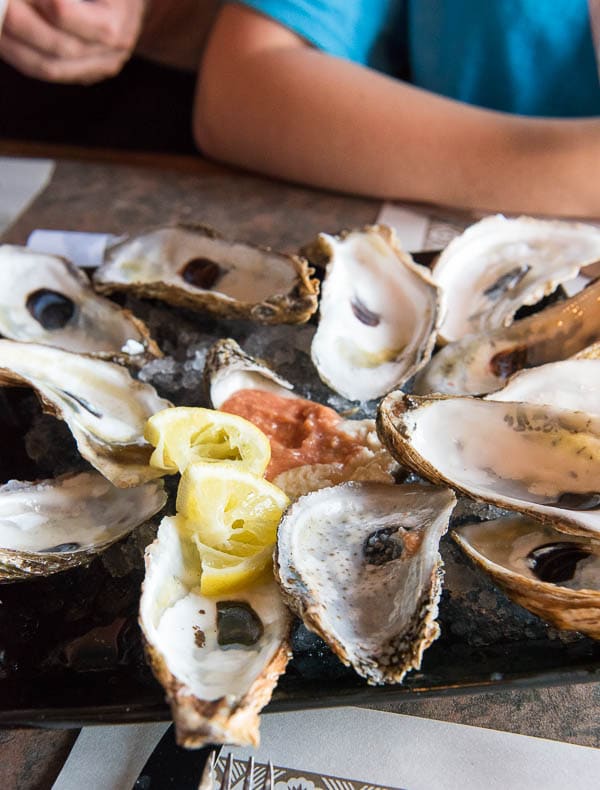 The route back to Charlottetown took us on the southern Central Coast Drive along the Northumberland Strait allowing more lighthouse and countryside viewing along with a stop at Victoria by the Sea for a barefoot walk out onto the red sand at low tide to spot lots of mussels. There is a pier there with restaurants and shops as well.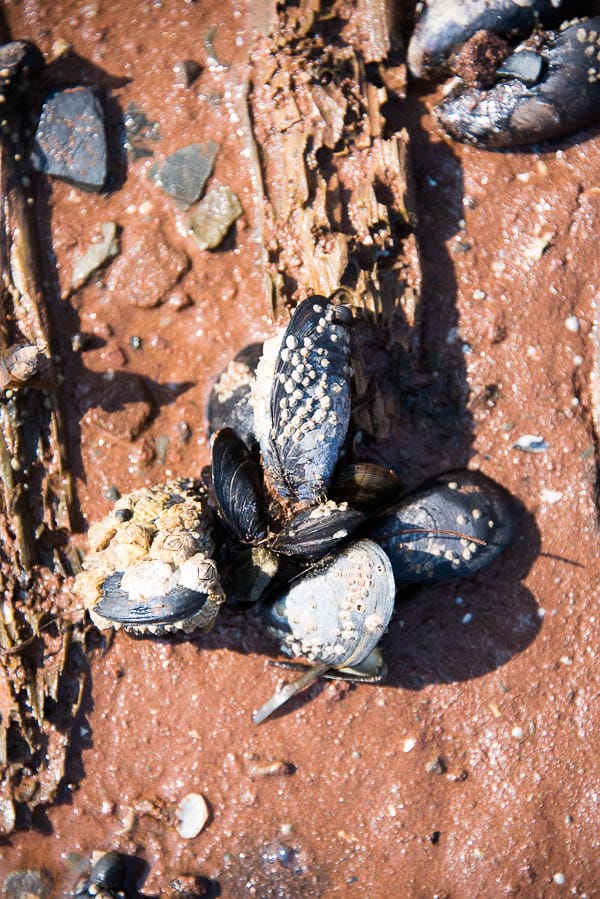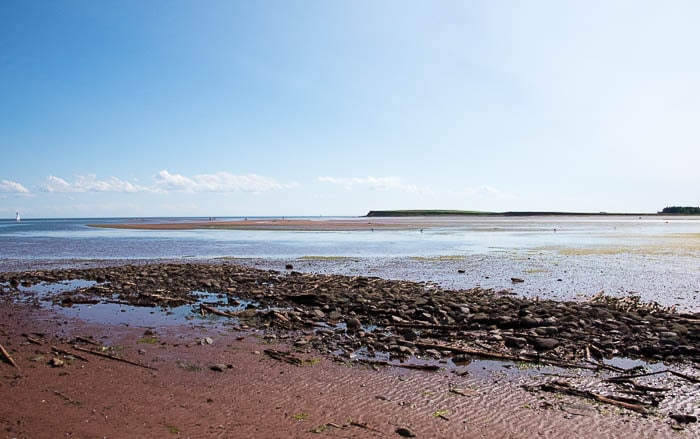 Full from our late lunch, we opted out of a dinner reservation and took our second visit to local Cows Ice Cream offering a variety of cow-themed ice creams (gluten-free varieties well marked) as well as a vast amount of shirts and souvenirs of brilliantly marketed adaptations fitting the Cows theme. The ice cream is locally produced with shops around the island. Tauck World Discovery, which leads tours in 63 countries rated Cows as the #1 ice cream in the world.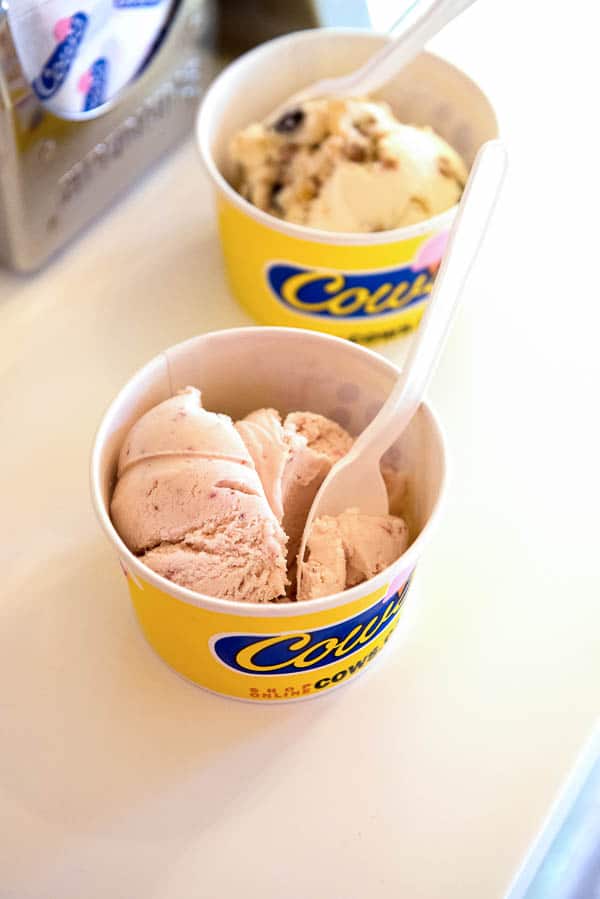 Day 3 started early with a drive along the Points East Coastal Drive to the Woods Islands Ferry Terminal to catch the car ferry to Nova Scotia. A 75 minute trip which proved to be scenic and much quicker than driving back around via the Confederation Bridge. Ferry reservations should be made beforehand and one should arrive about an hour before departure to queue up. Once parked on the ferry, people must leave their cars to sit on the top deck, either indoors or out, for the ride.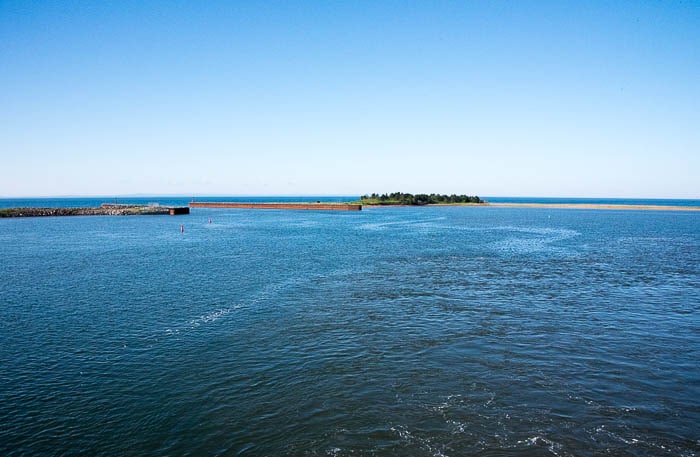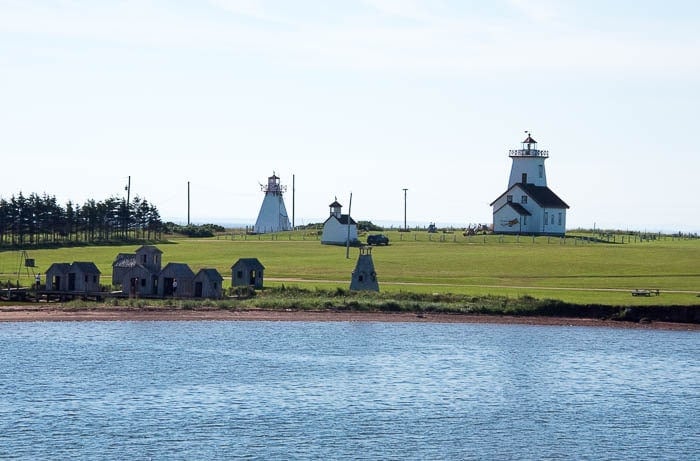 We did leave behind us restaurants we wished we'd been able to visit:
Claddagh Oyster House: next door to Brickhouse on Sydney Street downtown, The Oyster House receives excellent reviews each for their seafood (oysters in particular) as well as their Irish-owned esprit de corps. Reservations during the summer are recommended.
Terre Rouge Bistro Marche: Also in Charlottetown, once discovering Terre Rouge, a bistro featuring local food sourcing woven into innovative dishes such as Roasted Bone Marrow with parsley caper salad, duck fat toast shallot marmalade we were dying to enjoy a meal with them. Unfortunately we were unable to get reservations during our short stay. Great reviews and a wonderful way to try local produce, seafood, PEI beef and food artisans.
New Glasgow Lobster Suppers: A cool concept developed on PEI, lobster suppers were originally held for communities in church basements or town halls where for a set price a lobster was served with appetizers (often seafood chowder and/or mussels), rolls, homemade desserts and non-alcoholic beverages. What began as a way for communities to partake in the local seafood spoils has turned into a multi-generational restaurant and is an island tradition.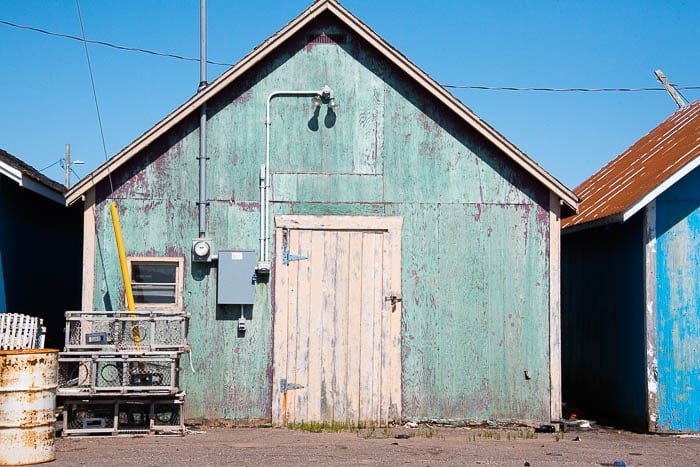 TRAVEL TIP: Investigate an international calling and data plan for your smart phone before departing to Canada. We found my iPhone was in constant use between Google Maps and seeking reviews for dining and other sites to see and had arranged a plan which made using the phone affordable and cut time off the trip from driving in areas with which we were not familiar.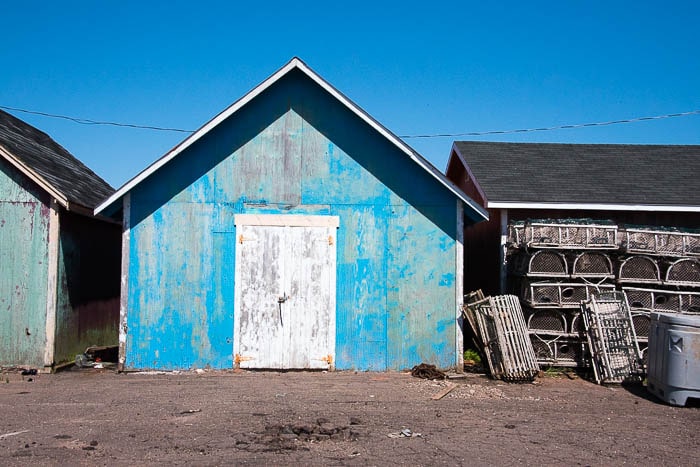 Hungry now? Try this Thai Coconut Milk Mussel recipe inspired by our time on Prince Edward Island!