Print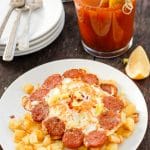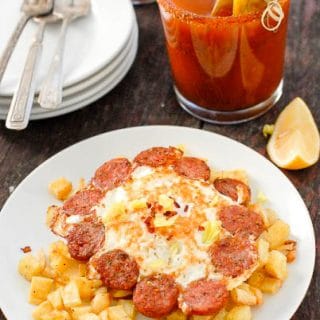 Ring of Fire breakfast
The Ring of Fire offers a hearty, spicy breakfast of sausage and eggs-your-style on a bed of neatly diced roasted potatoes. The savory combination makes for a perfect meal any day. The small size of the potatoes is deliberate and works beautifully with this dish. The potatoes should be started first and the Ring of Fire timed to complete just after the potatoes come out of the oven.
Servings
1
serving each Ring of Fire and Roasted Diced Potatoes (note: increase by the number of servings desired if more than one)
Ingredients for the Ring of Fire (per serving):
1 3-

ounce

, 1-inch

(approximately) diameter precooked Spicy Italian Sausage (or other spicy precooked sausage)*, sliced into 1/2 inch thick slices

1

tablespoon

of vegetable oil or butter

(unsalted)

2

fresh eggs

, room temperature
Ingredients for Diced Roasted Potatoes (per serving):
Instructions for the Ring of Fire:
Heat a large (10 inches or larger), heavy, non-stick skillet heat over medium heat and add butter or oil (if using butter, allow to melt until foaming). Warm the sausage pieces on each side.

Using a heat proof spatula, form a circle with the sausages. Crack one egg carefully so as to not break the yolk and gently place inside the ring of sausages. Repeat with the second egg.

Allow eggs to cook until the yolk is an opaque white and firm. For Over Easy Eggs: Slide the spatula underneath the entire 'ring' and gently flip to the other side. Allow to cook 30 seconds to one minute or until browned to your liking. Remove from pan and serve immediately. For Sunny Side Up Eggs: Cover pan and allow yolks to reach your desired consistency. Egg whites can be basted with the pan drippings for additional flavor and color before covering as well. Remove from pan and serve immediately.
Instructions for the Diced Roasted Potatoes:
Preheat oven to 400 degrees.

In a mixing bowl place potatoes, drizzle enough vegetable oil only to lightly coat when tossed. Salt and pepper to taste; toss with hands to coat.

Place potatoes on a baking sheet and cook for 20 minutes. Remove from oven, turn potatoes over and cook an additional 20 minutes or until desired crispness.
*I purchased a package of precooked Spicy Italian Sausage from Niman Ranch which is natural, vegetarian fed, no antibiotic, humanely raised pork that comes in a 12 ounce package of 4 sausages. I used a little less than one sausage per serving of Ring of Fire. I'm sharing this more for the portion size; the choice of sausage is yours. The originator of this recipe swears by Hillshire Farm.
Adapted from the original recipe created by Larry Haesemeyer.
Nutrition Facts
Ring of Fire breakfast
Amount Per Serving
Calories 807
Calories from Fat 522
% Daily Value*
Fat 58g89%
Cholesterol 413mg138%
Sodium 964mg40%
Potassium 1296mg37%
Carbohydrates 39g13%
Protein 31g62%
Vitamin A 475IU10%
Vitamin C 14.4mg17%
Calcium 97mg10%
Iron 4.7mg26%
* Percent Daily Values are based on a 2000 calorie diet.