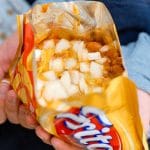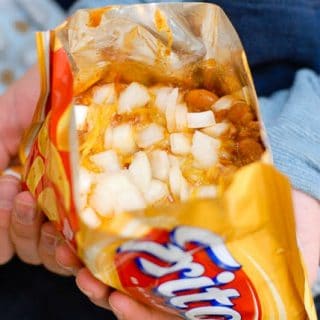 Print
The Original Frito Pie (individual size)
This walking version of Frito Pie is deeply flavorful, spicy and filling. The pinto beans in the Frito Pie are not heavily seasoned nor do they need to be with the chile sauce. Any surplus beans can be added to other dishes or frozen. This version of red chile sauce does not include meat of any sort. You can easily add ground beef, shredded beef or chopped beef if desired.
Ingredients for Frito Pie (in addition to pinto beans and red chile sauce):
Snack size Frito chip bags

Chopped Yellow Onion

Grated Cheddar or Mexican-Blend Cheese

(available pre-grated in the dairy section)
Ingredients for Pinto Beans (from scratch):
1

pound

of dried pinto beans

Water
Ingredients for New Mexican Red Chile Sauce:
½

cup

red chile powder

2 ½

cups

chicken stock or water

2 ½

tablespoons

vegetable oil

½

cup

white onion

, chopped

2-3

cloves

garlic

, diced

1

teaspoon

cumin seeds

, roasted and ground

1

teaspoon

dried oregano

1/8

teaspoon

ground cinnamon

Salt to taste
Instructions for Pinto Beans (from scratch):
Sort dried beans to remove any small stones or shriveled beans.

Soaking: Place the beans in a bowl with double the amount of water to beans and allow to soak overnight, or place beans in a stock pot covered by 3 inches of water. Bring to a boil, and allow to boil lightly for 15 minutes with a lid on. Turn off heat and allow to soak for 90 minutes.

Drain beans and replace water with fresh water to cover beans by about 2 inches. Bring water to a boil, reduce to a simmer, partially cover and allow to cook 3-4 hours until tender. Check periodically to ensure water is still covering the beans and that they are not sticking to the bottom of the pan. Add more water if needed.
Instructions for New Mexican Red Chile Sauce:
Combine chile powder with 1 cup of stock or water; whisk to ensure it is smooth and set aside.

In a large, heavy pan over medium heat sauté the onion for 5 minutes. Add garlic and sauté a few minutes longer.

Add spices and cook for 2 minutes stirring constantly also scraping the sides of the pan.

Add chile mixture and remaining stock or water. Stir to combine fully and heat to simmering stirring frequently. Reduce heat to a low simmer; cook stirring often for about 20 minutes or until chile is the consistency of a thick sauce. Salt to taste. Note: it will not thicken like a cream based sauce but will not be watery either.
To assemble the Frito Pie:
Calories:
199
kcal
|
Carbohydrates:
29
g
|
Protein:
3
g
|
Fat:
8
g
|
Saturated Fat:
1
g
|
Cholesterol:
0
mg
|
Sodium:
161
mg
|
Potassium:
190
mg
|
Fiber:
3
g
|
Sugar:
3
g
|
Vitamin C:
7.8
mg
|
Calcium:
126
mg
|
Iron:
2.4
mg