Print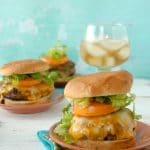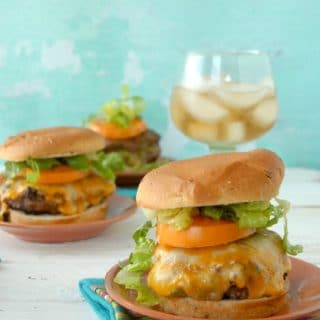 Stuffed Taco Burgers
Stuffed Taco Burgers are not only easy to make but provide the perfect marriage between well-loved grilled Burgers and Tacos. Biting into the burger provides a wonderful surprise of refried beans with green chilies, guacamole, salsa and cheese. No one will see it coming and they'll be back for seconds!
Total Time
1
hour
30
minutes
Servings
4
ample stuffed burgers
1 ½

pounds

85% fat Ground Beef

Heaping 1/3 cup Red Onion

, diced

2

tablespoons

Taco Seasoning Mix

¼

cup

smooth Guacamole

(homemade or store-bought)

¼

cup

Refried Beans with Green Chilies

¼

cup

Salsa

¼

finely grated Mexican blend cheese

(Cheddar, Colby and Monterey Jack; or your choice)

4

hamburger buns

(gluten-free or with gluten based on your preference)

Garnish: Tomato Sliced

, crisp Lettuce (iceberg or Romaine hearts), extra cheese, buns, condiments)
In a large bowl, combine the diced onions and taco seasoning to fully combine. Add ground beef and kneed to combine the onions, seasoning and the beef fully.

Divide the ground beef into 4 equal portions.

Divide one portion in half; knead one half into a patty 4 inches in diameter (about ½ inch thick). Place on a working surface and gently press in the middle of the patty to create a slight indentation.

Spoon 1 tablespoon of the refried beans into the indentation. Gently spread with a spoon or your fingers to create a circle, leaving about 3/4" of ground beef around the circle on the outside. This is necessary to marry the bottom and top portions of the burger with room to pinch them together.

Continue layering the guacamole (on top of the refried beans); also spreading it to cover the beans. Follow with the salsa, spreading it to cover the guacamole, topping the guacamole with the grated cheese.

Knead the remaining portion of the ground beef into a patty 4-inches in diameter. Place on top of bottom patty and pinch sides together to seal.

Repeat Steps 3-6 for the remaining ground beef portions. Place stuffed burgers on a plate, cover and refrigerate for an hour.

Heat a gas grill to High. Once fully heated brush the grill clean with a grill brush tool. Divide the hamburger buns to tops and bottoms; place the inside of each half face down on the grill to mark the buns and warm them (30 seconds to a minute; check frequently so they do not burn). Set aside.

Lightly brush each side of the chilled hamburger patties with olive oil. Place them onto the grill allowing space between them. Close the lid of the grill and allow them to cook for 3 minutes and develop a good sear.

With a grill spatula, gently turn the burgers over. Close lid and allow the burgers to cook an additional 6-8 minutes, checking for doneness by the burger color (should be browned and opaque), any juices coming from the burger naturally being clear and lastly checking for an internal temperature of 160 degrees. NOTE: If desired add a slice of cheese on top a minute before the burger is to finish grilling so it can melt. Remove burgers and place them on a clean plate for 5 minutes to rest.

Serve topped with shredded lettuce and sliced tomato on the warmed bun.
Nutrition Facts
Stuffed Taco Burgers
Amount Per Serving
Calories 593
Calories from Fat 333
% Daily Value*
Fat 37g57%
Cholesterol 120mg40%
Sodium 632mg26%
Potassium 635mg18%
Carbohydrates 26g9%
Protein 34g68%
Vitamin A 220IU4%
Vitamin C 3mg4%
Calcium 115mg12%
Iron 5.1mg28%
* Percent Daily Values are based on a 2000 calorie diet.