Print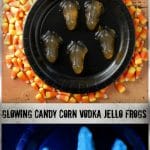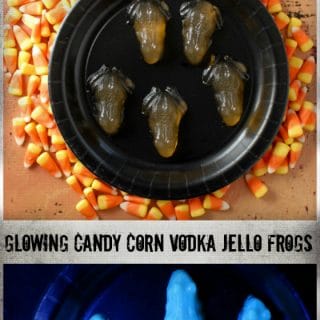 Glowing Candy Corn Vodka Jello Frogs (shots)
These unsuspecting frog jello shots come to ghostly life under a black light! The quinine in the tonic water causes them to glow with a perfect Halloween eeriness. Any molded shape can be used for these Candy Corn Vodka Tonic shots. Pick your pleasure!
Servings
16
recipe yield is 2 cups jello shot liquid
¾

cups

of Homemade Candy Corn Vodka

1 ¼

cups

Tonic Water

¼

cup

cup granulated Sugar

2

envelopes Unflavored Gelatin
Prepare clean, dry mold for jello shots by lightly spraying with cooking spray or wiping with a paper towel moistened with vegetable oil . Set aside.

Pour the Candy Corn Vodka into a small heatproof mixing bowl or 2 cup (or larger) Pyrex liquid measuring cup. Sprinkle the unflavored gelatin on top of the vodka.

In a small saucepan, bring the tonic water to a just to a boil. Pour sugar into the heated tonic water and stir to dissolve the sugar.

Pour the tonic-sugar mixture into the vodka-gelatin; stir to combine and ensure gelatin is dissolved.

Pour into prepared molds. If making smaller sized jello shots, a funnel may be used to better control the gelled mixture into the molds.

Place in the refrigerator until firm. To make the shots glow, display under black lights!
Recipe adapted from Good Cocktails
Nutrition Facts
Glowing Candy Corn Vodka Jello Frogs (shots)
Amount Per Serving
Calories 38
% Daily Value*
Fat 0g0%
Cholesterol 0mg0%
Sodium 1mg0%
Carbohydrates 3g1%
Protein 0g0%
* Percent Daily Values are based on a 2000 calorie diet.