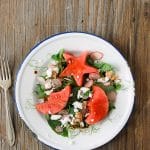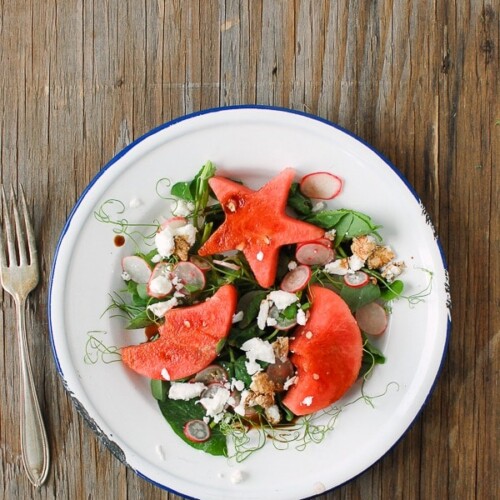 Print
Pea Shoot Watermelon Goat Cheese salad with Balsamic Drizzle
This unusual salad celebrates the flavors of early summer. The sweet, juicy watermelon contrasts to the salty, cream goat cheese; both marrying beautifully with early summer's tender pea shoots. The bright sweet-tang of the quick pickled French radishes bring a crunch and unexpected bite. The pickling though adding some tang also tones down the spicy flavor radishes often have. Only a small drizzle of aged Balsamic vinegar is needed to add a beautiful strong sweet flavor to this salad. Additional portions can be made by maintaining the same ingredients amounts multiplied by the number of salads desired.
Servings
1
personal salad
1

loose cup Pea Shoots/Tendrils

¾

cup

Watermelon cubed

(or cut into shapes with cookie cutters as I did)

1

ounce

Goat Cheese

, crumbled

1 ½

teaspoon

Aged Balsamic Vinegar

(it becomes sweeter when aged)

OPTIONAL: 1/8 cup French Radishes

, cut paper thin (suggest using a mandolin), Apple Cider Vinegar to cover radish slices and ½ teaspoon granulated sugar
Instructions to Pickle the French Radishes:
Combine the apple cider vinegar and sugar in a small bowl; stir until sugar dissolves. Add the radish slices and set aside for 15 minutes. When ready to add to the salad, drain and combine with other ingredients.
Instructions for salad:
On the serving plate, arrange the pea shoots to create a bed. Place watermelon over the pea shoots. Evenly distribute the goal cheese over the other ingredients. Add radish slices if desired. Drizzle the balsamic vinegar over the salad.
Calories:
115
kcal
|
Carbohydrates:
9
g
|
Protein:
6
g
|
Fat:
6
g
|
Saturated Fat:
4
g
|
Cholesterol:
13
mg
|
Sodium:
107
mg
|
Potassium:
127
mg
|
Fiber:
0
g
|
Sugar:
8
g
|
Vitamin A:
940
IU
|
Vitamin C:
9.2
mg
|
Calcium:
40
mg
|
Iron:
0.8
mg