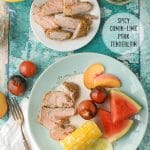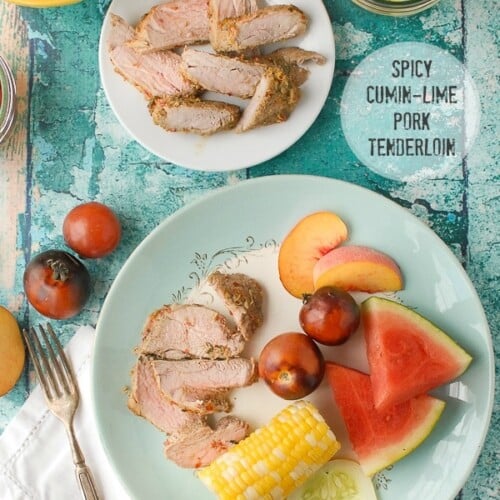 Print
Spicy Cumin-Lime Pork Tenderloin
A marinated pork tenderloin is the best solution for a busy evening. This Spicy Cumin-Lime Pork Tenderloin is bursting with well-rounded flavors and a cinch to prepare. While it's in the oven, preparing a simple green salad, fruit and maybe quinoa, leaves you with a simple delicious meal. Pork tenderloin is a very lean cut of meat which means it can overcook and become dry. I find removing it from the oven when the internal temperature on a meat thermometer reads between 155-160, allows the meat to stay moist, and finish cooking to the final desired temperature of 160 degrees while it rests outside the oven.
ingredients for the Marinade:
1/3

cup

Vegetable Oil

2

large Garlic Cloves

, chopped

1

heaping tablespoon fresh chopped Cilantro

Zest of one small Lime

Juice of one small Lime

2

teaspoons

ground Cumin

2

teaspoons

Red Pepper Flakes

½

teaspoon

Dry Mustard

½

teaspoon

Kosher Salt

½

teaspoon

ground Black Pepper

1 1/2

pounds

Pork Tenderloin totaling approximately

(2 tenderloins - 1 ½ pounds total)
Combine all ingredients except the pork in a gallon size zipper plastic bag. Close the zipper, and shake the bag to combine all the ingredients completely. Add the pork tenderloins; squeeze the air out of the bag and seal. Massage the marinade into the pork through the bag and place in the refrigerator overnight.

Preheat the oven to 350 degrees. Remove the pork from the marinade and discard the marinade.

Place the tenderloins in a baking pan and cook until the internal temperature is between 155 and 160 degrees (check the temperature with a meat thermometer at 25 minutes); allow the tenderloins to rest in the pan for 15 minutes. NOTE: 160 degrees is the temperature at which pork is fully cooked and it will continue to cook once out of the oven. Slice and serve.
Calories:
246
kcal
|
Carbohydrates:
1
g
|
Protein:
23
g
|
Fat:
16
g
|
Saturated Fat:
11
g
|
Cholesterol:
73
mg
|
Sodium:
265
mg
|
Potassium:
470
mg
|
Fiber:
0
g
|
Sugar:
0
g
|
Vitamin A:
230
IU
|
Vitamin C:
0.3
mg
|
Calcium:
17
mg
|
Iron:
1.7
mg