Print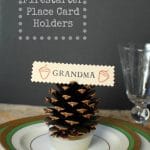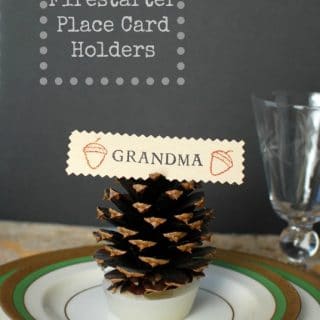 PINE CONE FIRESTARTERS – PLACE CARD HOLDERS
I suggest visiting a thrift store to purchase a dedicated muffin tin and old saucepan for this project (tongs too). It will only cost a few dollars and I would not use pans for wax and food interchangeably. Paraffin comes in set quantities, usually a large block or grated in a tub. You will most likely not need more than one container unless you plan to make a very large quantity. Each firestarter requires a base that is ¾ inches deep in a muffin tin.
Cook Time
7
hours
10
minutes
wax melting time
10
minutes
Total Time
7
hours
20
minutes
Pine cones

gather, buy in craft store or online

Muffin Tin

Old saucepan

Paraffin wax

available at hobby stores

Wax color

if desired (available at hobby stores)

Wax paper

Tongs

Cardstock

Method to Print name on card and decorate: Stamps

stickers, printer, embossing glitter

Pinking sheers
Melt a portion of paraffin wax in sauce pan. If you desire to color the wax, add coloring and stir with a chopstick or skewer to combine. Pour wax into muffin tin to fill ¾ inches deep. Set aside to begin to harden.

Set out wax paper adequate for the amount of pine cones you wish to dip to have room to dry without overlapping. Dip pine cones separately in the melted wax, covering all sides. Using tongs lift pine cones out of wax, allowing extra wax to drip into pan before setting them on the wax paper to dry.

Wax base in the muffin tins will harden from the outside in. As the wax is beginning to set but top is still liquid, place a pine cone base into the muffin tin of wax so it will attach to the base. Allow to sit several hours or overnight to fully harden. Once fully hardened pine cones will lift easily out of muffin tin and are ready for use.

Making Placecards: Print, stamp or hand-write names onto a piece of cardstock. Cut out with pinking shears, adorn with stickers or stamps and place on top of firestarter.

To Use the Firestarter: The flammable paraffin on the firestarter replaces the need for newspaper or kindling to start a wood fire. Assemble logs as normal and place the firestarter on top of the wood or intermixed with the wood. Once lit, the paraffin beings in melt, keeping the fireburning as it spreads over the wood. The wood will begin to burn and the fire starts! The paraffin base of the firestarter makes it easy to place on the wood and stay steady.