Print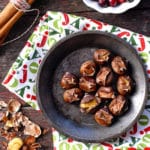 Roasting Chestnuts
Roasted chestnuts are a signature of the holiday season. This easy method leaves them easy to peel and perfectly cooked.
Preheat the oven to 425 degrees.

With a serrated knife (a bread knife works great), slice a large 'X' on the flat side of the chestnuts. Be sure you slice through to the nut itself which allows steam to escape when cooking and easy peeling.

Place scored chestnuts on a baking sheet with the X facing up. Bake for 25 minutes at which time the shell of the chestnut will be peeling back around the 'X'.

Remove from oven and place a kitchen towel over the pan allowing them to steam slightly for 15 minutes. Chestnuts can be peeled when cool enough to handle (peel by pulling the shell away at the 'X'). Chestnuts are best eaten right after roasting (versus saving them for another day).
Nutrition Facts
Roasting Chestnuts
Amount Per Serving
Calories 222
Calories from Fat 9
% Daily Value*
Fat 1g2%
Cholesterol 0mg0%
Sodium 2mg0%
Potassium 548mg16%
Carbohydrates 50g17%
Protein 1g2%
Vitamin A 30IU1%
Vitamin C 45.6mg55%
Calcium 22mg2%
Iron 1.1mg6%
* Percent Daily Values are based on a 2000 calorie diet.