Print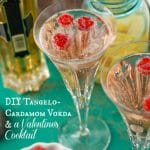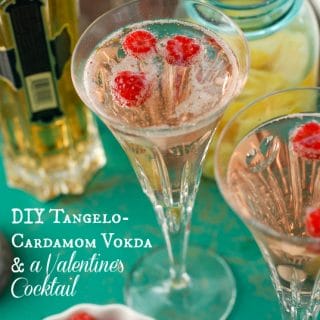 Tangelo-Cardamom Vodka & a Valentine's Cocktail!
A simple, seasonal vodka infusion of Tangelo and Cardamom pods renders a unique, refreshing vodka perfectly paired with many mixers. The Valentine's Cocktail is a very light, refreshing cocktail with a hint of sweetness, the freshness of citrus and the joy a bubbly cocktail brings!
Total Time
5
days
10
minutes
Servings
2
cups aproxmiately Tangelo-Cardamom Vodka; 1 cocktail per recipe below
Ingredients for the Tangelo-Cardamom Vodka:
Ingredients for the Valentine's Cocktail:
1 ½

ounce

Tangelo-Cardamom Vodka

½

ounce

St. Germain liqueur

Sparkling Raspberry Italian Soda

(or a splash of sparkling raspberry soda combined with club soda or seltzer water)

Raspberries
Instructions for Tangelo-Vodka:
Allow to sit for 5 days. Taste. If the flavor is strong enough for your liking, pour liquid through a strainer pressing on the tangelo with a wooden spoon to extract all the juice and liquid but restraining the peel and membrane from the final product. If wishing to have a stronger flavor, allow to sit longer, tasting daily until the desired result is achieved.
Instructions for the Valentine's Cocktail:
Place a few raspberries in the bottom of a champagne flute. Combine the vodka and St. Germain in champagne flute. Top with sparkling raspberry soda.
*I always recommend tasting what you will be infusing. I'd suggest buying an extra tangelo to gauge how full its flavor is. I'm sure you've encountered desiccated fruit with barely any juice and even less flavor. This infusion is best with juicy, distinctly flavorful fruit.
Nutrition Facts
Tangelo-Cardamom Vodka & a Valentine's Cocktail!
Amount Per Serving
Calories 74
% Daily Value*
Fat 0g0%
Cholesterol 0mg0%
Sodium 0mg0%
Carbohydrates 2g1%
Protein 0g0%
* Percent Daily Values are based on a 2000 calorie diet.