Print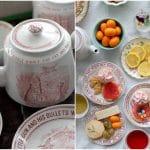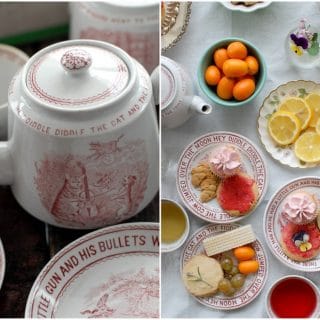 Edible Flower Springtime Tea Party
These bright spring recipes for Rose Cupcakes with Whipped Cream Frosting and Lemon-Honey glazed Shortbread with Lavender Buds are the hit of any event of meal. Using edible flowers adds a unique touch as well as visual beauty! These versions are gluten free based on the mixes and cookies selected. Any cake mix or cookies may be used.
Ingredients for Rose Cupcakes with Whipped Cream Frosting:
1

box favorite Vanilla Cake mix

(I used Lillabee's Gluten Free cake mix)

½

teaspoon

Rose Extract

Red Food coloring

(I like India Tree Dyes, all natural, but they can fade when baked)

1

pint

Heavy Whipping Cream

1 1/2

teaspoon

Vanilla Extract

2

tablespoons

granulated Sugar
Ingredients for Lemon-Honey glazed Shortbread with Lavender Buds:
1

dozen

(12) Shortbread Cookies (I used Amy's gluten free Shortbread)

1

cup

Confectioner's Sugar

3-4

tablespoons

freshly squeezed Lemon Juice

2

teaspoons

Lemon Zest

1

tablespoon

Honey

Small lavender buds; 1 for each cookie
NOTE: The cupcakes may be made the day prior (keep in a sealed, refrigerated container). If using this Whipped Cream frosting it is best to frost them right before serving them. Though the frosting will hold up and they can be refrigerated, they look best when freshly frosted.
Insructions for Rose Cupcakes with Whipped Cream Frosting:
Prepare vanilla cake mix adding the rose extract and food coloring to make cupcakes pink (if desired) to the mix. Line muffin pan with decorative cupcake papers (I double line them so if any oils soak into the liner, the outer liner is still pristine in appearance). Fill as directed and bake as directed. Remove and cool on a cooling rack.

In a free standing mixer all heavy whipping cream, sugar and vanilla. Beat slowly until cream thickens and then on high speed until whipped cream thickens past the 'stiff peak' phase to be a lightly spreadable frosting. Note: monitor the cream closely because it can turn to a butter thickness quickly.

When rose cupcakes are full cooled pipe or spread frosting on cupcakes. Keep chilled until serving.

the refrigerator. Ideally they would be made the morning of an afternoon tea party._
Instructions for Lemon-Honey Glazed Shortbread:
Gently rinse and pat dry all the lavender buds.

In the bowl of a freestanding mixer (handheld mixer is ok too) combine sugar, 3 tablespoons of the lemon juice, lemon zest and honey. Beat until fully combines and thick. Dip a spoon into the glaze and allow it to drip back into the bowl as a test for thickness. The thicker the glaze the more heavily coated the cookie will be. If it's spreadable thickness, add more lemon juice a teaspoon at a time until thickness desired.

Place a cooling rack on a baking sheet. Place cookies on the rack (this allows excess glaze to drip into the baking sheet, keeping the cookie from sitting in glaze and not create a mess in your kitchen).

Slowly pour the glaze over each cookie to cover the full top.

Place a lavender bud in the glaze. Allow glaze to fully harden before serving (30 minutes approximately). If not serving immediately, keep in a sealed container, chilled until serving.
Nutrition Facts
Edible Flower Springtime Tea Party
Amount Per Serving
Calories 160
Calories from Fat 9
% Daily Value*
Fat 1g2%
Cholesterol 0mg0%
Sodium 298mg12%
Potassium 26mg1%
Carbohydrates 35g12%
Protein 1g2%
Calcium 94mg9%
Iron 0.8mg4%
* Percent Daily Values are based on a 2000 calorie diet.