Print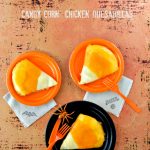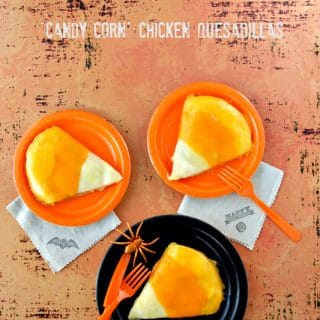 'Candy Corn' Chicken Quesadillas
Simple, flavorful food made fun for Halloween! This filling chicken quesadilla is laced with salsa, sour cream and green chilies and topped with cheese in a candy corn pattern.
12

corn tortillas

2

cups

Roast Chicken

, diced

3

tablespoons

Salsa

,

3

tablespoons

Sour Cream

1 ½

tablespoons

Green Chilies

(roasted, canned or fresh), chopped

Salt and pepper to taste

1

package sliced Monterey Jack or white Cheddar

(white cheese)

1

package sliced Mild or Sharp Cheddar

(dark orange)

1

small block Tillamook

(light orange) cheese
Preheat oven to 350 degrees.

Cut the tortillas into a triangle, leaving the bottom uncut and round (see diagram). Cut them in pairs so they will match together. Place all tortillas in a sealed zipper plastic bag to prevent drying out.

In a small bowl combine the salsa and sour cream; stir to mix.

In a medium mixing bowl combine the chicken, green chilies and salsa/sour cream and stir to completely combine. Salt and pepper to taste.

Place one side of a pair of cut tortillas on a large baking sheet. Spoon 1/3 cup of the chicken mixture onto the tortilla and evenly spread it over the tortilla. Place the corresponding tortilla on top of the chicken mixture. Repeat for all the tortillas to make 6 quesadillas.

Using kitchen scissors or a sharp knife, cut the cheese to cover the top tortilla in a candy corn pattern: white for the tip, dark orange for the middle (the largest section) and light orange for the top. Cover the whole tortilla. Repeat for the remaining quesadillas.

Place quesadillas in the oven. Bake until the cheese has totally melted but don't over bake until the cheese is thin and runny (about 5 minutes). Remove from oven, trim any extra cheese if desired and serve.
Nutrition Facts
'Candy Corn' Chicken Quesadillas
Amount Per Serving
Calories 234
Calories from Fat 81
% Daily Value*
Fat 9g14%
Cholesterol 39mg13%
Sodium 134mg6%
Potassium 226mg6%
Carbohydrates 24g8%
Protein 14g28%
Vitamin A 115IU2%
Vitamin C 0.6mg1%
Calcium 57mg6%
Iron 1.3mg7%
* Percent Daily Values are based on a 2000 calorie diet.