Print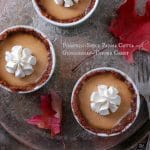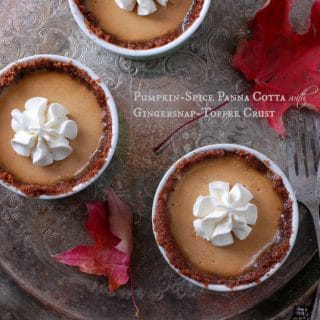 Pumpkin-Spice Panna Cotta in a Gingersnap-Toffee Crust
This perfect fall dessert reminds one of a lighter version of pumpkin pie served in individual ramekins. The gingersnap and chocolate English toffee crust adds a surprising burst of flavor and texture to the pumpkin panna cotta. I usually make panna cotta using heavy cream but considering it as a possible Thanksgiving Day dessert opted to use whole milk and Half and Half which still create a rich dessert but perhaps not quite as rich as cream. Certainly cream can be substituted for with the milk, or Half and Half, or both if wishing pure decadence!
Total Time
3
hours
30
minutes
Ingredients for Gingersnap-Toffee crust:
4

cups

Gingersnap cookies

(gluten-free or with gluten)*

5-1.4

ounce

/39 gram Heath Bar candy bars

3

tablespoons

unsalted Butter

, melted
ingredients for Pumpkin-Spice Panna Cotta:
1

cup

Whole Milk

1

cup

Half and Half

1/3

cup

granulated Sugar

1

cup

Pumpkin Puree

1/2

teaspoon

Pumpkin Pie spice

1/2

teaspoon

Vanilla extract
Instructions for the Gingersnap-Toffee crust:
Preheat the oven to 325 degrees. Lightly butter 6-1 cup volume ramekins.

Add gingersnaps to the bowl of a food processor and pulse until making sand-like crumbs. Add Heath Bars and pulse until they too have turned into small crumbs.

While the food processor is running, drizzle melted butter into the crumbs to fully combine. The mixture will have a texture of lightly wet sand.

Scoop 1/2 cup into each ramekin and press into a crust covering the bottom and sides of the ramekin evenly.

Place all prepared ramekins on a baking sheet and bake in the oven for 10 minutes for the crust to set. Remove and allow to cool to room temperature on a cooling rack.
Instructions for Pumpkin-Spice Panna Cotta:
In a small bowl pour 3 tablespoons of the whole milk and the contents of the gelatin packet. Stir to combine. Set aside.

Place all the cooled ramekins with the crust onto a baking sheet. This will stabilize the finished panna cotta to be chilled in the refrigerator. Set aside.

In a blender combine the remaining whole milk, Half and Half, sugar, pumpkin puree, pumpkin pie spice and vanilla extract. Pulse to fully combine.

Pour the pumpkin mixture into a medium saucepan. Heat over medium-low heat, stirring frequently, until the sugar fully dissolves.

Add the milk-gelatin mixture (which will be solid) to the saucepan, whisking to blend in. Stir constantly for an additional 2 minutes to ensure all ingredients have blended well.

Remove from heat and pour panna cotta into the ramekins (approximately 1/2 cup per ramekin). Place the ramekins on the baking sheet into the refrigerator and chill for 3-4 hours, or until fully set.

The panna cotta may be covered and chilled overnight, then served chilled or allowed to come to room temperature before serving.
*I used Midel gluten-free gingersnaps and found one package supplied the amount this recipe requires.
The majority of the recipe time is for the panna cotta chilling.
NOTE REGARDING CHANGING THE RECIPE FORMAT: This recipe was developed as a single-serving scoopable dessert. Based on the qualities of the dessert components I do not recommend changing the format of the recipe into a tart. Should you wish to increase the servings I suggest increasing the number of single-serving ramekins prepared by making additional batches of the dessert to fulfill your serving needs.
Nutrition Facts
Pumpkin-Spice Panna Cotta in a Gingersnap-Toffee Crust
Amount Per Serving
Calories 626
Calories from Fat 234
% Daily Value*
Fat 26g40%
Cholesterol 39mg13%
Sodium 497mg21%
Potassium 450mg13%
Carbohydrates 91g30%
Protein 7g14%
Vitamin A 6740IU135%
Vitamin C 2.1mg3%
Calcium 159mg16%
Iron 5.4mg30%
* Percent Daily Values are based on a 2000 calorie diet.