Print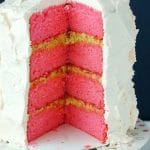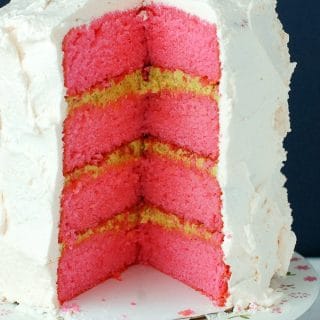 Rose-flavored Cake with Pistachio Filling and Whipped Cream frosting (gluten-free)
My muse for this cake was absolutely Marie-Antoinette. Her adoration of all things pink, living in Versailles which was so opulent and in a time that was decadent and somewhat over the top in the face of the social downfall happening around her. She is of course known for the famous phrase 'let them eat cake', which she apparently did not say, but meaning the poor and starving in France could eat bread while she lived the high life. In that spirit this cake is eccentric with four 6-inch layers of unexpected pink Rose-flavored cake, filled with Pistachio Cream and sculpted Whipped Cream Frosting. Two layers of cake may not have been enough for Marie-Antoinette, but may be plenty for your needs and if so halve the recipe. The pink coloring is optional; it may be turned down a notch or not used at all. I personally love natural vegetable food coloring however it would not have been able to deliver the 'wow' of this cake but could be used instead.
Total Time
1
hour
30
minutes
Servings
16
-20 four-layer cake slices
Ingredients for the Rose-Lime Cake:
4

eggs

, room temperature

2

cups

Granulated Sugar

1

cup

Milk

1

cup

Vegetable Oil

¼

cup

Lime Juice

, preferably freshly squeezed

1

teaspoon

Vanilla Extract

1

teaspoon

Rose Extract

2 ½

cups

Gluten-Free Flour blend

(I used King Arthur's)

½

teaspoon

Kosher Salt

1

tablespoon

Baking Powder

Optional: Pink food coloring

(I used Wilton Rose ¼ teaspoon to achieve the pink tone of this cake)
Ingredients for Pistachio Cream:
¾

cups

Raw Pistachios*

4

tablespoons

Unsalted Butter

½

cup

Superfine Sugar

¾

cups

Heavy Whipping Cream

1

teaspoon

Vanilla Extract
Ingredients for Whipped Cream Frosting:
1 ½

cups

heavy whipping cream

1 ½

tablespoons

sugar

1

teaspoons

vanilla

Pink food coloring
Instructions for the Rose Cake:
Preheat the oven to 350 degrees. Prepare the 6-inch cake pans by cutting a circle of parchment paper to line the bottom (place the cake pan on the parchment paper, trace around it with a pencil and cut out). Using a stiff pastry brush, brush a light coat of softened butter on the pan bottom, insert parchment circle, smooth out wrinkles or bubbles. Brush a light coat of butter over the parchment and on the pan sides. Place a small amount of gluten-free flour in the pan; swirl it around to coat the bottom and sides of the pan. Turn upside down and tap pan to release any excess flour.

In the bowl of a standing mixer combine the eggs and sugar. Beat on medium-low for 2-3 minutes until mixture is thick and creamy.

While the eggs and sugar are beating, in a separate medium mixing bowl combine the milk, oil, lime juice, vanilla and rose extracts.

In a second medium mixing bowl, combine the flour, salt and baking powder. Stir to fully incorporate.

Continue running the mixer at medium speed. Alternate adding the wet ingredient mixture and flour mixture into the mixing bowl with the eggs and sugar until fully combined.

If desired add food coloring and mix to fully combine.

Evenly fill the prepared cake pans and place in the preheated oven for 25-30 minutes until the top of the cake has risen and bounces back when lightly pressed. Remove from the oven and place pans on a cooling rack for 15 minutes.

After cooling in the pan for 15 minutes, run a knife along the inside of the cake pan and gently invert the cake layers onto a cooling rack; remove the parchment paper and allow to cool fully (important for gluten-free cakes to retain their structure).
Instructions for Pistachio Cream:
In the bowl of a food processor, process the pistachio nuts until they are granulated and beginning to stick together. Add the butter and sugar. Pulse to fully combine.

In a chilled bowl of free standing mixer with whisk attachment, combine the heavy whipping cream and vanilla. Beat until stiff peaks form.

Fold the pistachio-butter into the whipped cream until it is fully mixed together.
Instructions for Whipped Cream Frosting:
In the chilled bowl of a standing mixer with whisk attachment combine the heavy whipping cream, sugar and vanilla.

Beat on low speed to combine the ingredients. Add a very small amount of food coloring to create a pale pink color (if desired). Increase speed to high and beat until stiff peaks form.
Assembling the cake:
Level all four layers of the cake so they are flat on top. Place the bottom layer on a cardboard cake round or serving platter.

Divide the Pistachio Cream into third. Spread one third onto the top of the bottom layer. Add the second cake layer and repeat with the second third of Pistachio Cream. Add the third cake layer and repeat with the final third of Pistachio Cream. Place the fourth cake layer on top.

Frost the cake with the Whipped Cream Frosting. Serve immediately. Cake can be refrigerated for a short time before serving however the whipped cream frosting is best served shortly after frosting. Cake should not be left at room temperature.
*Raw Pistachios can be difficult to find but are available in larger stores carrying bulk nuts such as Whole Foods. If the skins remain on the pistachios the color of the filling will be tinged a brownish color, more of an ripe avocado shade. To keep the pistachios bright green, the skins need to be removed by scraping them off or lightly toasting them in a 350 degree oven for about 5-10 minutes and rubbing them off with a kitchen towel. Be careful not to toast them to the point of browning which will change their flavor. Blanching is not recommended for this recipe as the pistachios loose their flavor.
Nutrition Facts
Rose-flavored Cake with Pistachio Filling and Whipped Cream frosting (gluten-free)
Amount Per Serving
Calories 402
Calories from Fat 189
% Daily Value*
Fat 21g32%
Cholesterol 95mg32%
Sodium 109mg5%
Potassium 199mg6%
Carbohydrates 50g17%
Protein 5g10%
Vitamin A 690IU14%
Vitamin C 1.7mg2%
Calcium 97mg10%
Iron 1.2mg7%
* Percent Daily Values are based on a 2000 calorie diet.