Print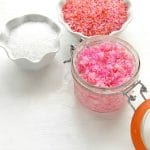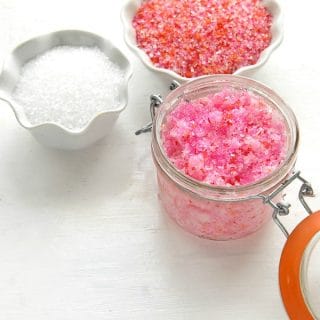 Sparkling Flower-Scented Coconut Oil Sugar Scrubs
Homemade spa gifts using edible ingredients are simple and rewarding to make. The special flower-scented sugar scrubs are also unexpected and eye-catching thank to the brilliance of baking sugars. Colors and floral scents can be matched.
½

cup

Coconut Oil

¼

cup

plus 3 tablespoons Sparkling Sugar

(larger granule decorative sugar), colored or white

2

tablespoons

Sanding Sugar

(small granule decorative sugar) or Granulated Sugar

Flower-scented Essential Oils; start with 20 drops and adjust to your scent preference as needed

Supplies: Jars with lids

, gift tags, instruction tags
In a mixing bowl, combine the coconut oil and sugars. Stir together using a sturdy mixing spoon or wooden spoon. If there are larger pieces of solid coconut oil use the back of a wooden spoon to break them apart.

Add the flower essential oil and mix fully.

Spoon the sugar scrub into a container, add a final sprinkling of Sparkling Sugar and seal. Note: if the process of blending the coconut oil and sugar has significantly softened the coconut oil, the container may be placed in the refrigerator to allow the mixture to become more solid. Store sealed at room temperature.
The floral scent and India Tree Sugars combinations I made (shown in the photos) are:
Rose: a combination of Hot Pink and Cherry Pink (the variegated sugar) Sparkling Sugar with White Granulated Sugar
Lilac: Electric Blue Sparkling Sugar with Lavender Pastel Sanding Sugar
Violet: Ultra Violet Sparkling Sugar with Lavender Pastel Sanding Sugar
Honeysuckle: Star Gold Sparkling Sugar with Green Pastel Sanding Sugar
Gardenia: Bright White Sparkling Sugar with White Granulated Sugar
Orange Blossom: a combination of Star Gold and Bright White Sparkling Sugar with Green Pastel Sanding Sugar