Print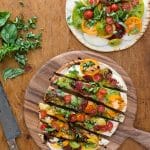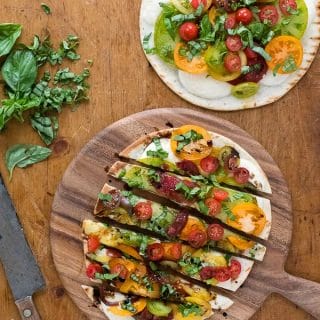 Grilled Caprese Pizza
Griling pizza is a summery way to get some extra flavor without heating up the kitchen. Cooking on indirect heat allows the fresh tomatoes and buffalo mozzarella to gently cook while still maintaining their fresh flavors. Both the ripe, juicy tomatoes and buffalo mozzarella will release liquid when cooking. Placing the tomato slices on paper towels and dabbing the top of the slices with paper towels, as well as dabbing the cheese slices will reduce the moisture. Additionally liquid can be dabbled with paper towels during or following cooking if needed to keep the crust crisp!
Servings
2
9-inch pizza; serves 2-4
1

cup

Balsamic Vinegar

1

9-inch

Pizza Crust

(I used Udi's Think and Crusty Pizza Crust)

2-4

tablespoons

Olive Oil

3-4

medium

fresh Tomatoes

, sliced ½-inch thick or thinner (note: a mix of large and small or medium tomatoes may be substituted); set on paper towels to absorb extra moisture

8

ounces

Buffalo Mozzarella Cheese

, sliced into ¼-inch thick slices

¼

cup

fresh Basil Leaves

, sliced into thin ribbons (refer to photos)

Kosher Salt
Pour the vinegar into a small sauce pan and bring to a boil. Allow the vinegar to boil until it reduces to 1/3 cup (1/4 cup for a thicker reduction); approximately 10 minutes. Remove from heat and allow to cool.

Heat the grill to high heat (400 degrees) and set the grill up for indirect grilling (gas: turn on burners next to the location the pizza will be placed on the grill; charcoal: move coals to the sides of the grill leaving a spot with no coals underneath for the pizza). Clean and oil the grill.

Brush one side of the pizza crust lightly with olive oil and place it facing down on the grill. Close the lid and allow it to cook approximately 2 minutes until grill marks form (the curst can be checked while cooking to ensure it doesn't overcook). While the crust is cooking, brush the top lightly with olive oil.

Flip the crust over, and layer the mozzarella slices followed by tomatoes. Close the lid and cook until the mozzarella begins to lose its form (it will not melt like cheddar cheese); 2-10 minutes depending on the thickness of the cheese and heat of the grill. Note: Released moisture can be dabbed up with paper towels if needed.

Remove pizza from the grill, top with the basil ribbons, drizzle with the balsamic reduction (note: there will be enough for multiple pizzas) and sprinkle with salt if desired. Slice and serve.
Nutrition Facts
Grilled Caprese Pizza
Amount Per Serving
Calories 1125
Calories from Fat 432
% Daily Value*
Fat 48g74%
Cholesterol 89mg30%
Sodium 1793mg75%
Potassium 339mg10%
Carbohydrates 122g41%
Protein 44g88%
Vitamin A 1310IU26%
Vitamin C 6.9mg8%
Calcium 792mg79%
Iron 7mg39%
* Percent Daily Values are based on a 2000 calorie diet.