Print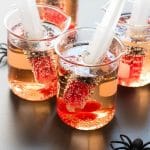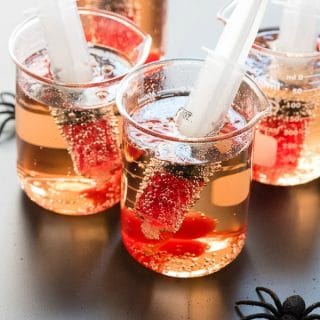 Creepy Shirley Temples
A simple mocktail Shirley Temple can be creeped up for Halloween with the addition of a few fun props! A great option to keep the party fun and alcohol-free. Ingredients may be multiplied times the number of Creepy Shirley Temples desired.
Fill the beaker or glass with the soda. Fill a shot syringe with 1/2-3/4 ounces Grenadine. Add the cherries to the beaker or glass. Place the syringe in the beaker/glass for guests to 'inject' the grenadine into the Creepy Shirley Temple.
Nutrition Facts
Creepy Shirley Temples
Amount Per Serving
Calories 123
% Daily Value*
Fat 0g0%
Cholesterol 0mg0%
Sodium 19mg1%
Carbohydrates 31g10%
Protein 0g0%
Iron 0.4mg2%
* Percent Daily Values are based on a 2000 calorie diet.