Print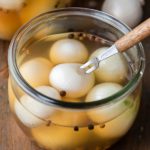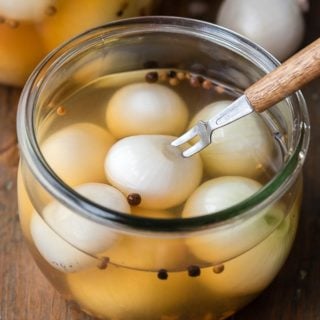 Gluten-Free English Pub Pickled Onions Recipe
English Pub Pickled Onions are a delicious, crisp addition to any meal. The tangy, sweet vinegar has a wonderful flavor making the onions irresistible. Unlike the traditional pickled onions made with malt vinegar, these are made with distilled white vinegar which is gluten-free.
Total Time
1
day
20
minutes
Servings
2
pint jars of pickled onions
Removing the onion skins: Cut the tip and the root end off the onions and place them in a mixing bowl. Cover with boiling water and allow to sit until the water has cooled (20-30 minutes). The skins should slide off the onions easily.

Brining the onions: Place the skinned onions in a medium mixing bowl. Combine 3 cups boiling water and salt; stir to dissolve the salt. Allow the brine to cool and pour it over the onions. Place a plate on top of the onions to hold them down. Let sit at room temperature for 24 hours.

Drain the brine, rinse the onions and pat dry. Place the onions in two clean pint volume jars.

Combine the vinegar, pickling spices and brown sugar in a medium saucepan over medium heat and bring to a simmer. Stir to dissolve the sugar and remove from heat to fully cool. Once cooled pour over the onions to cover, seal and place in the refrigerator for at least a month (may be stored in the refrigerator up to 6 months). Note: the vinegar may be strained though I like the look of the pickling spices in the jar.
Nutrition Facts
Gluten-Free English Pub Pickled Onions Recipe
Amount Per Serving
Calories 241
% Daily Value*
Fat 0g0%
Cholesterol 0mg0%
Sodium 10491mg437%
Potassium 574mg16%
Carbohydrates 49g16%
Protein 4g8%
Vitamin A 40IU1%
Vitamin C 28.1mg34%
Calcium 158mg16%
Iron 1.2mg7%
* Percent Daily Values are based on a 2000 calorie diet.