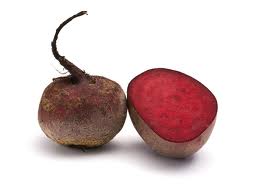 Who knew beets were such a subject of personal controversy.

 

I thought I was running a recipe contest to align my future beet trajectory with successful consumption and it turned out to be so much more!
Beets are a tormenting food.

 

I cannot enumerate the recipes that began with 'I really hate cooked beets but…'

 

I learned from one responder that red beets turn your urine a different color (never had the heart to look so I cannot elaborate).

 

Someone had been brutalized by an employer who forced them to eat beets and just wrote in to share their story (as you might imagine they did NOT have a recipe to share).
Fortunately most who shared a recipe were kind enough to prompt that beets stain.

 

I knew this already so donned latex medical gloves before embarking on recipe testing.

  

Though I kept my hands from getting stained, I sloppily transported beet juice from the gloves to the food processor plug, the switch plate, the handles for the sink, etc.

 

My kitchen quickly took on the tone of a murder scene gone awry.
What I Know About Myself and Beets
Raw beets will be the graduate course for me.

 

Despite a few delicious sounding recipes (one is printed below), I really cannot meet raw beets on their terms…..yet.

 

I also am not ready to drink beets.

 

That is not where a phobic beet eater can begin their journey of triumph over evil and dirty-tasting vegetables with a funky texture.
That I am sure I have a twin beet-sister separated by geography.

 

My first clues?

 

Her email began confessing to not liking beets herself, being on the same path to get over that AND the words I wanted to hear:

 

YOU HAVE TO HIDE THEM IN YOUR FOOD (let the angels sing on high).
I'm delighted to announce my winning recipe: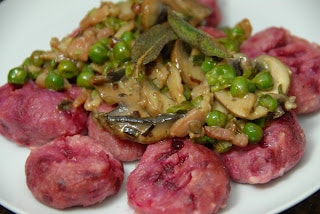 RED BEET GNOCCHI WITH MUSHROOMS, PEAS AND FRIZZLED SAGE
Charisse and her husband Eric share their glorious food blog with Eric as the photographer and main writer and Charisse manning the cooking.

 

You must check out their blog.

 

As I popped over for some facts today I noted a Roasted Fig and Goat Cheese Ravioli with A Simple Sage Sauce. Yum!
Please find their winning recipe below with links to their blog for more photos.

 

I will add I had a double personal win with this in that I'd wanted to learn to make gnocchi (which was incredibly easy).

 

I found a beet taste in the gnocchi but not so strong I couldn't take it.

 

The Mushroom sauce was rich and delicious (has bacon!) and the frizzled sage a new favorite.

 

Really wonderful aromas and blending of flavors.

 

Thank you Charisse and Eric! I will be sending them a copy of Michael Pollan's 'Food Rules'.
Honorable Mentions Are Warranted:
Killarney Carnohan
(So. California) for the 'Beetini' suggestion and her righteous position on beets: 

 

'

I am an adult and I don't have to like beets because they really do taste like dirt. But I think the highest and best use is to pickle them and drop a chilled beet cube into a well-built vodka martini and watch it turn the most beautiful fuchsia'.
New friend Joe-the-International-Hockey-Star from Vic's Coffee Shop in Boulder for the suggestion of The Red Square Euro Bistro in Denver which aptly serves up Beet Infused Vodka.

 

I think I'd need the liquid courage to get over the creep out over drinking beets.
THANK YOU to everyone that so kindly took their time, shared their suggestions, stories, and humor about the vegetable that has been dominating me for so long……
RED BEET GNOCCHI WITH MUSHROOMS, PEAS AND FRIZZLED SAGE
Beet Gnocchi
What You Will Need

2 large beets
1 egg
1 lb. ricotta cheese
3/4 cup Parmesan cheese
2 cups flour
salt and pepper


Wash and trim your beets and wrap individually in foil. Roast for about one hour, then let cool for 15 minutes. Once the beets are cooled the skins should slip off easily. Using a grater, coarsely grate the beets, you will want to end up with 3/4 cups of grated beets at the end of this process.
In a large bowl or your stand mixer, mix together the ricotta cheese and 3/4 cups of grated beets. Add the egg, Parmesan, salt and pepper and mix thoroughly. Add flour and mix, this is where you will want to check the consistency of your dough. I thought my dough was still a bit wet so I added a 1/2 cup more of flour. My beets were pretty juicy so depending on your beets and dough consistency, add a bit of flour at a time until you get a dough that is not too wet, it will still be a bit sticky but you want to be able to roll the dough into the little pillows.
Now it's time to get your hands a bit dirty. Throw a 1/2 cup of flour on a large baking sheet and flour your hands. Drop teaspoon amounts of dough onto the floured surface. Gently roll the dough in your hands until a ball forms, next roll the ball into a more of oblong shape. Using a fork or a gnocchi roller, press lightly so you get those pretty little groves in the top of the gnocchi. Set back onto the floured baking sheet and continue until you are finished. Chill your gnocchi until you are ready to cook them.
When ready to cook, bring a pot of salted water to a boil. Cook the gnocchi, when they are ready they will float to the top of the water. Cook another minute or two, then scoop them out of the water with a slotted spoon, you can drain them on a paper towel if you want as well. Top with sauce, Parmesan cheese, and frizzled sage and serve hot.
Mushroom and Pea Sauce
What You Will Need
2 Tbsp olive oil
1 cup of peas
1/2 lb of mushrooms sliced. (We used cremini mushrooms but I think oysters or morels would also be amazing)
1 shallot minced
2 cloves of garlic minced
fresh sage mince some but set aside a handful of whole leaves to make the frizzled sage
2 green onions sliced
3 slices of bacon finely chopped
1/4 cup heavy cream
a bit of freshly grated nutmeg
salt and pepper to taste
In a large skillet heat up your oil and brown your shallot and garlic, add in the green onions and some of the sage and cook until the shallot is translucent.
Add your peas, cook for about one minute and then throw in your bacon and the rest of your minced sage. Sauté until the bacon is cooked and add in your mushrooms. Continue cooking until the mushrooms are soft and fragrant. Add the nutmeg, salt, pepper and cream. Simmer on low until sauce has thickened lightly and you are ready to serve.
Frizzled Sage
What You Will Need

10 sage leaves
1 Tbsp butter

In a small fry pan, heat your butter until it foams, add the leaves making sure to keep separated. Fry about 1 minute until crispy, be careful not to burn. Drain on a paper towel.
Adapted from Bon Appétit magazine
Beet, Orange and Goat Cheese Salad
Submitted by:

 

Janis Grummitt
(New Zealand)
Note:  This salad is beautiful. The combination of the grated beets (which for both this and the recipe above I did in my food processor), chopped orange and goat cheese provided a wonderful visual combination. I tasted the spoon I stirred it with and liked the flavor (which I think was heavy goat cheese). When I tasted it the next day as instructed the beet flavor was just too strong for me BUT some other more beet-evolved testers loved it!
I hate beets when they are cooked (see!; beets are controversial). I like them raw. My favourite recipe is:
·

        
Grated red beets (one large)
·

        
One thinly sliced and chopped orange
·

        
Small amount of goats cheese
·

        
Fresh chopped Parsley or coriander
·

        
One teaspoon cider vinegar
·

        
Salt and pepper to taste
Mix together and – here's the important part – leave in the fridge over night. The beets won't go mushy but the flavours will combine!
I find that there is a lot of dark pink juice – which can be used as a colour for other things. It can be used sparingly (because it is intense) so has no real taste – just a safe way to get pink or red colour into things! Try using in icing or sponge cake mixture for children's parties…..looks lovely and they will never know there is beetroot in their birthday cake!