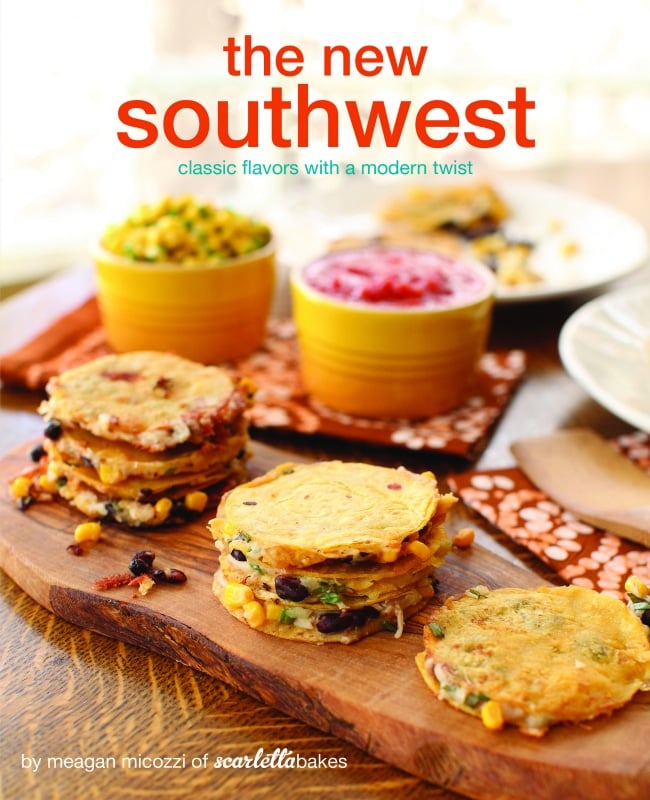 Chances are if you read food blogs you may have already heard of  The New Southwest, a cookbook featuring classic southwestern food with a modern twist. The book has hit the blogosphere with ferocious coverage without a doubt why. The New Southwest is brimming with tasty dishes to fill the senses and warm the stomach, which are easy to prepare and sing the flavors of the Southwest.
I've shared before that Southwest cuisine is my all time favorite. I've always loved the earthy depth of chile sauces and mole, the singe of chile peppers, textured cornmeal and the cheese. The New Southwest offers all of those served up with contemporary flair by skilled cook Meagan Micozzi. I originally fell in love with Meagan's cooking through her food blog Scarletta Bakes. Her passion for the southwest has taken flight on her blog, where one can expect an unending parade of satisfying and alluring recipes. She does not disappoint with her now published collection in The New Southwest.
The New Southwest should come with a warning label: Do Not Read When Remotely Hungry. The photos of sultry, crimson Red Chile Sauce, Roasted Garlic Guacamole, and Chipotle-Spiced Grilled Cheese Sandwiches are almost unbearable to look at for their appeal. To ensure all cooks are armed, The New Southwest begins with a pantry guide explaining all key ingredients one might to have on hand. It covers spices and herbs (including how to Toast and Grind your own), Chilies, Produce and Dairy as well as other baking ingredients The Building Blocks chapter instructs on the basics of Roasting Fresh Chilies, making Salsas and Sauces and some all time favorites such as Navajo Fry Bread and Corn Tortillas.
The New Southwest is organized with recipes for every meal and every occasion including Drinks (all the cocktails can be made 'virgin'), Desserts, grilled fare, even some Christmas-Style Seasoned Beef Burritos. Familiar dishes can be found interspersed with delights such as Sweet Glazed Avocado Doughnuts, Caramel-Soaked Mexican Chocolate Pancakes, Savory Baked Pumpkin Flautas, Sage and Honey Skillet Biscuits, or Picadillo Meatloaf with Habanero Ketchup. With 80 recipes and enticing photos, this book will be in high rotation in my kitchen and I think you'll feel the same!
With Thanksgiving headed our way I'm sharing one of Meagan's delicious recipes for Sweet Potato and Bacon Sopes that would be a great addition to Southwest-up your Turkey Day menu! Sopes are thick, fried, savory Masa (corn flour) cakes topped with a variety of ingredient combinations. Meagan's pick for this recipe is a spicy Ancho chile, sweet potato puree with crumbled bacon. Move over Sweet Potato Mini Marshmallow casserole, there's a new side dish in town!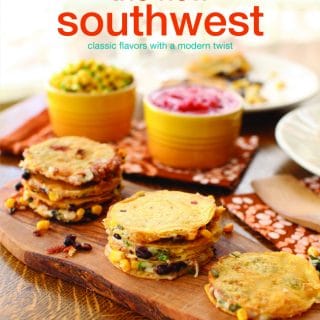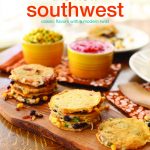 Sweet Potatoes and Bacon Sopes
"Sopes are thick, fried masa cakes topped with the savory stuff of your choosing. These hearty sopes carry one of my favorite combinations: mashed sweet potatoes, caramelized onions, and salty crisp bacon. While you may opt to form your masa into smaller, bite-sized sopes, I prefer mine on the larger side. All the better for conveying a maximum amount of the irresistible topping." -The New Southwest
Ingredients
Ingredients for the sopes:
3

cups

masa harina

1

teaspoon

salt

2½

cups

warm water

¼

cup

canola oil + more as needed for frying
Ingredients for the topping:
1

tablespoon

extra virgin olive oil

½

cup

diced yellow onion

2

teaspoons

minced fresh garlic

2

cups

sweet potato purée

1

teaspoon

ground cumin

¾

teaspoon

ground ancho chile

½

teaspoon

salt

1

cup

crumbled

, crisp-cooked bacon
Instructions
Instructions for the Sopes:
To prepare the sopes, place masa harina and salt together in a large bowl and slowly pour in the warm water. Stir the mixture with a fork for several seconds and then switch to clean hands as the dough begins to come together into a ball. Knead the dough several times and cover with a damp cloth. Set aside to rest for 30 minutes.

After the resting period, heat a dry large heavy-bottomed skillet over medium-high heat. Pinch off plum-sized pieces of dough and flatten to a thickness of approximately ½ inch. Have a piece of parchment paper and a glass or other small vessel with a bottom diameter slightly smaller than that of your sopes on hand in order to finish shaping the cakes. Add a sope to the dry skillet and cook for just 1 minute on each side. Remove and immediately press down with your glass with a piece of parchment paper in between; the idea is to form a rim on your sope so that it can better hold your topping. Set aside the warm, formed sope and repeat with the remaining masa.

Once all of your sopes have been formed, add the canola oil to the pan and warm over medium heat.

Working in batches and refreshing your oil as necessary, add the formed sopes and fry until golden, just 2 to 3 minutes on each side. Remove to a paper towel-lined surface to drain and cool.
Instructions for the Topping:
Meanwhile, to prepare the topping, heat the olive oil in a large heavy-bottomed skillet over medium heat. Add the onion and sauté, stirring frequently, until tender, fragrant, and translucent, approximately 5 minutes. Add the garlic and sauté for just 2 minutes more. Remove and set aside to cool. Place the sweet potato purée in a large bowl and stir in the cumin, ancho, salt, and bacon. Stir in the cooked onion and garlic.

Top each fried sope generously with the sweet potato mixture and serve immediately.
Recipe Notes
Recipe from The New Southwest: Classic Flavors with a Modern Twist by Meagan Micozzi of ScarlettaBakes.com. Reprinted Courtesy of Hippocrene Books, Inc.
I would not describe all the wonderful food from The New Southwest without offering a chance to win a copy! If you have a U.S. shipping address, please enter below. The New Southwest is also available for purchase now on Amazon.com.