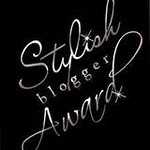 What a surprise to learn yesterday I was awarded with the Stylish Blogger Award!

 

It was generously bestowed upon me by a esteemed blogging colleague, Ping of Pings Pickings.

 

It is an award amongst peers based on personal view of blogs upholding the criteria; being Stylish!

 

I'm thrilled and will proudly display it on my blog.
It comes with conditions (as so many desirable things do).

 

I must uphold the following:
1.
Thank the person who awarded me.
2.
Share 7 things about myself.
3.
Pass the Award on to bloggers I think are fantastic.
I will begin by thanking Ping!

 

I found Ping through a food blogging community of which I am a member; Food Buzz.

 

It is a wondrous international community offering insight on every aspect of food, cooking and international cuisine you can imagine.

 

Ping, who resides in Malaysia, caught my attention for a number of delicious recipes not the least of which was her Fried Pumpkin Indian Style
.

 

It was recognized in Food Buzz's Top 9 recipes (and I will note the community is made up of thousands upon thousands of food bloggers) and is a flavorful twist on the pumpkin dishes we become mired in at this time of year in the U.S. (my opinion).
Ok 7 things about myself.

 

Since this is already sounding like an Academy Awards acceptance speech I'll keep this short:
1.
 

I'm passionate about farm fresh food.
2.
 

I have a serious case of wanderlust.

 

Would happily travel anywhere in the world at the drop of a hat.
3.
I love the color lemon yellow.
4.
I get bored easily and I do not do well with routine.
5.
I am a Gemini and by virtue of that see many options in life and sometimes have trouble narrowing my choices.
6.
I am enthusiastic and love life.
7.
I think one should always keep' their knees bent' in life and keep a sense of humor on the ready.
Now for the fun and most difficult part. I travel the world daily through so many wonderful blogs and bloggers. I peek at 100's a week, even if just for a second. I'm sure even with my lengthier list I will forget some and not have seen others. This list represents my tried-and-true faves whom I visit or follow regularly that I feel represent the Stylish Blogger Award.
Congratulations to my following selections in complete random order:
Awardees:  Please copy the award from my blog and display it on your own blog if you so choose.

 

I of course need to pass along the criteria that accompanies the award and ask that you also fulfill the three items listed above (as well as notifying your selected recipients).

 

Congratulations and thank YOU for expanding my world with your incredible blogs!